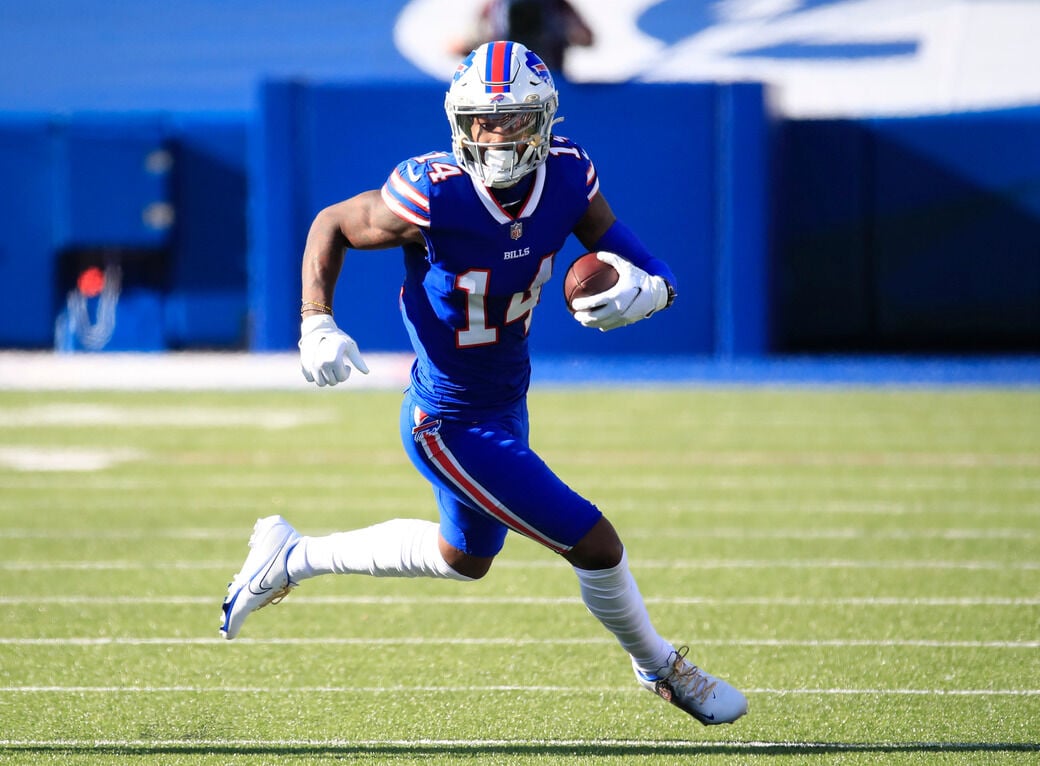 Stefon Diggs has struck an endorsement deal with the Jordan brand.
The Buffalo Bills wide receiver and the athletic shoes and clothing brand produced by Nike announced the partnership Friday. Diggs will be wearing the brand's "Jumpman" cleats in the coming NFL season.
The Jordan brand stable of athletes is large and includes NBA stars Russell Westbrook, Jayson Tatum, Bradley Beal, Zion Williamson and Luka Doncic, along with other NFL stars such as Stephon Gilmore, Devante Adams, Jamal Adams, Michael Thomas and Cameron Jordan.
The sponsorship deal comes in the wake of Diggs' first first-team NFL All-Pro season. Diggs, 27, led the NFL in catches and receiving yards in helping the Bills to a 15-4 record.
Diggs has worn customized cleats each week for the past several seasons. They're made in collaboration with sneaker artist Dan "Mache" Gamache, a Poughkeepsie native who also creates designer shoes for LeBron James, Dwayne Wade, Steph Curry and other famous athletes.
"It's funny because shoes have always been a key thing, a way to tie the whole outfit together," Diggs said in an interview posted on the Jordan website. "When you first see somebody, you might see their face or their hat. My mom always told me, 'People look at your shoes.' My shoes always had to be clean. Before, I was a clothes guy. I went through my shoe phase. Now, I'm back on my shoe phase. If I get 12 pairs of shoes, I'm trying to wear them all."
Other nuggets from the interview:
Diggs on his resilience and his parting with his former team, the Minnesota Vikings: "I've had some highs and lows, I've battled injuries, I've been in difficult mental spaces with my past team. I learned how to shake it off. I learned how to roll with the punches, for the most part. I understand that I'm an adult now. It's not always going to be good, you're going to go through some stuff. And I realize that. I'm a resilient person, I'm not going to give up."
Diggs on his commitment to practice and Michael Jordan's influence: "It's crazy because one of the things that motivated me was practice. I've heard stories about MJ being a person who practiced hard. I always took practice super seriously. When people say, 'You're doing too much in practice,' or, 'You're going too hard,' I knew I was doing the right thing. I feel like, if you want to be great, you're going to take practice seriously. There are guys who try to take my job each and every day. I stay hungry."
Diggs on his father, Aron, who died at age 39 of congestive heart failure: "The more pivotal part of my story is when I lost my father at the age of 14. I grew up faster than everybody else. When you lose somebody so big in your life, you learn to deal with loss. I was always trying to make my dad proud because my dad was super serious about football. He wanted my brothers and me to do well. My dad never congratulated anybody, he'd just say, 'Good job.' He knew we could always get better."