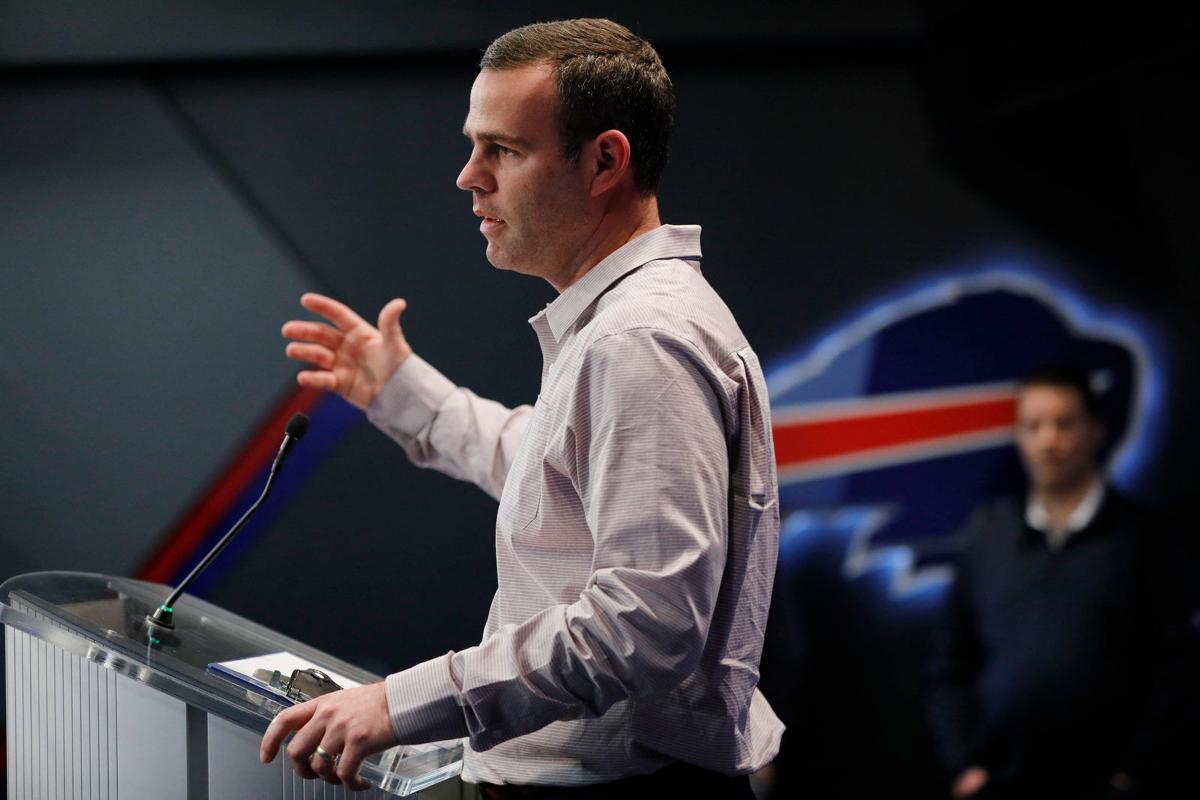 The Buffalo Bills will not immediately hire a replacement for Dan Morgan.
In detailing several promotions to his staff,
General Manager Brandon Beane told The Buffalo News on Monday that Morgan's duties as the director of player personnel will be split among several current staff members. Beane will take on some of the duties occupied by Morgan, who left the team a little more than a week ago to become assistant general manager of the Carolina Panthers. Joe Schoen, the Bills' assistant general manager, also will handle some of the workload, as will senior personnel advisor Brian Gaine.
Additionally, Beane made a pair of promotions on his staff, with Terrance Gray going from director of college scouting to assistant director of player personnel and Malik Boyd going from director of pro scouting to senior director of pro scouting.
Both Gray and Boyd interviewed for Morgan's job, but Beane is electing to give them each a promotion that comes with more responsibilities.
Grey will continue to lead the college scouting department, but will have a couple times a year where he presses pause on that to focus on the pro side, especially during the preseason and approaching free agency.
Anderson started all 38 games of his four-year career at Texas Tech at right guard. Yet he viewed it as no sweat to line up at center during the Bills' rookie minicamp last weekend.
"Just to teach him that and give him a chance to grow and hopefully one day continue to ascend," Beane said. "He's done a great job as our college scouting director and this is a step in the right direction of where he wants to go. He's highly motivated. We took him from area scout to a college director, so he kind of skipped a couple of levels when we put him in this director role four years ago. While that was a big jump for him, he's handled the challenges. This is the right progression for him to continue to grow."
Boyd has some previous experience on the college side, but will get an expanded opportunity to do more of that this fall.
"He's done a great job with his staff and I want to continue to give him opportunities to expand as well," Beane said. "We want to grow our own. … This gives us a chance to expand what they're doing and not give them too much before they're ready. This is a great way to do that. Brian Gaine is going to be a great resource. Obviously, he's been a GM. He was the VP of player personnel here before, so he's going to be a great resource for me and for Joe."
Morgan's departure stung on more than just a professional level. He lived in the same neighborhood as both Beane and Schoen, and the three families are exceptionally close.
"Dan was such a valuable piece to what we've been building here," Beane said. "Obviously, I knew him coming in. When you bring someone from the outside, which I'm not doing here, it's got to be the right person. I want to grow our own. We were still so new here and I knew Dan would mesh with the guys we have. Losing that is hard. … Cool story for him to go to the team that drafted him, but selfishly we'll miss him."
In his mind's eye, Wildgoose is already focused on something far greater than merely dipping his toe in the massive pool that is the NFL.
Beane also made several other promotions and one new hire to his staff. Those moves include:
• Promoting Kevin Meganck from director of football administration to vice president of football administration and creating a new position – senior advisor to the general manager/football operations – that will be filled by Jim Overdorf.
"Kevin's going to move to the lead negotiator role," Beane said. "He's going to take the title of vice president of football admin, but Jim is a very valuable resource for us here. He'll continue to negotiate contracts and do a lot of the things, it's just Kevin's really been a rising star and has earned the right. It allows us to still rely on Jim and his long history with this organization. He's got great relationships with agents around this league. He's a valuable asset not only to me, but football operations in general.
Overdorf has been with the Bills since 1986.
"Things come up. Situations come up. Sometimes it's contract related, sometimes it's just player related. Chances are he's seen an exact case or he's seen something similar," Beane said of Overdorf. "He's got a great memory of how things were done. He's got a great rolodex around the league. If we have any issues with some type of understanding of the CBA or anything like that, he's probably got the answer, but if he doesn't, he knows right who to call at the league office. You can't replace historical value and historical knowledge. There's some agents that have been in the league a similar amount of time that Jim's done a ton of deals with and will continue. I mean, why change that? That's the value."
The 6-foot-2-inch, 234-pound Giles-Harris played in nine games for the Jaguars last season and five as a rookie, and has made two starts.
• Curtis Rukavina was named assistant director of pro scouting/free agency and Chris Marrow was named assistant director of pro scouting/team advances. Both were previously pro scouts.
"It'll just give these guys a chance to learn a big piece of being what a director would be," Beane said. "They don't have to do the whole thing. Curtis has done really good at his presentations. We feel he's earned the right to lead our free agent meetings. This will give him a chance to grow. Chris has done a great job with our team advances. That's a vital piece to our game-day stuff. These guys who do the advances of our upcoming opponent. They work so close with our coaches and our coordinators."
Beane explained why promoting from within is so important to him.
"The first thing you should always do is look for the people who have put it on the line for you and your organization," he said. "Sometimes you've got to allow people to stretch maybe further than you're sure if they can, but give them a chance, give them the tools and let them have a shot. Make them fail before you look outside.
"That's not to say you would never look outside, but we firmly believe we have a good talent pool here and expect to continue this as more people move on. You hate to see your people leave, but it generally comes when you have some success, so we hope that we have that problem down the road."
"We grew up together, we played football at Pitt together, and now we get to play at the highest level together," Jackson said.
• R.J. Webb has been promoted from scouting assistant the past two seasons to pro scout. Webb was previously a Bills scouting intern through the league's Nunn-Wooten Fellowship program, which was created by the NFL in January 2015 as a way of giving interested former players a path to a career in professional scouting.
• Tyler Pratt was named an area scout. Pratt worked as the team's player personnel coordinator last season. He will handle scouting the west coast.
• Andrea Gosper will join Beane's staff as the player personnel coordinator. Gosper has spent the past two seasons as a scouting intern.
"She just brings a great perspective. She played college sports," Beane said of Gosper, who was a softball player at the University of New England. "There's certain times where you want to ask her how an athlete feels or how does it look from your perspective. Obviously, she brings the female perspective and sometimes us men are blinded to certain things.
"She's a grinder. I don't know anybody that's put more hours in this building than her the last two years. She loves it. You can see it. She's just fired up to come in here. While she's still growing, she's got what it takes. In two years, she's come so far. She's going to be a good scout when her day comes, I firmly believe that."
• On June 1, Evan Weiss will join the Bills' analytics department as a football analyst. He has previously served as an intern.