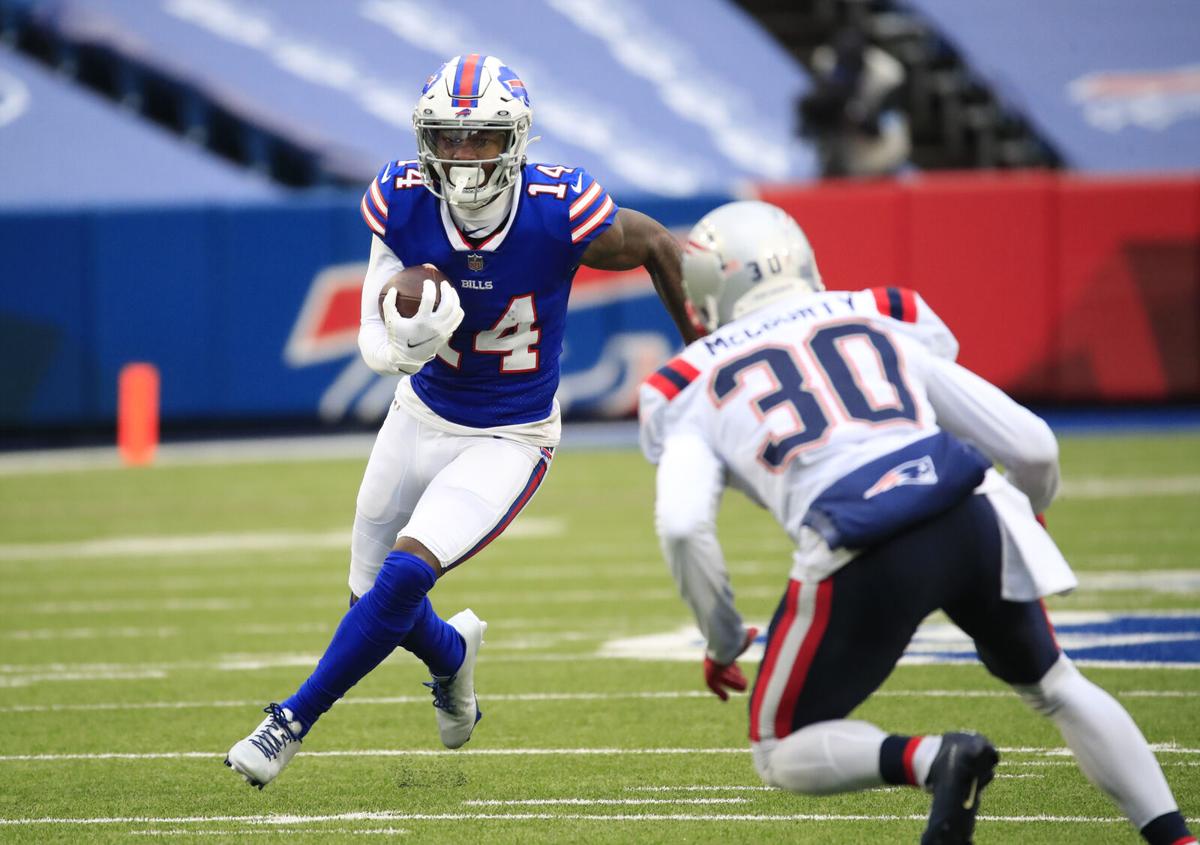 This is the fifth in a series assessing the Buffalo Bills' status at each position. Today's installment looks at wide receiver.
The Buffalo Bills have gone from having the worst group of starting receivers in the NFL to the best over the past four seasons.
That's not a hot take or subjective analysis – it's backed up by numbers.
The Bills' wide receivers led the NFL with 312 catches in 2020, the most by any team since the Atlanta Falcons' wideouts had 315 in 1995.
In 2017, the first year under General Manager Brandon Beane and coach Sean McDermott, the Bills had 115 catches by wide receivers, which is still tied for the worst total by any NFL team over the past 12 years. The next year, quarterback Josh Allen's rookie season, that number improved to just 149, which was No. 31 in the NFL.
If there's one spot on the Bills that doesn't need to be addressed in the offseason, it is quarterback.
Gone are the days of throwing to Jordan Matthews, Deonte Thompson, Kelvin Benjamin, Zay Jones and Robert Foster.
Beane has amassed a collection of talent at wide receiver that rivals any team in the NFL. The addition of Stefon Diggs last offseason made that so. Diggs, who was acquired from the Minnesota Vikings for a package of draft picks that included the Bills' 2020 first-rounder, proved to be more than worth the price tag. He set single-season franchise records in leading the NFL in both catches (127) and yards (1,535), being named a first-team All-Pro in the process.
Diggs was not only a perfect match for Allen, he was also a perfect running mate for slot receiver Cole Beasley. With defenses forced to choose on whom to focus their coverage, Beasley had a career-best 82 catches for 967 yards. He probably would have topped 1,000 yards, but a broken fibula suffered in Week 16 against New England meant that he missed the season finale against Miami. Beasley, though, returned for the postseason and caught 14 passes for 145 yards. Yes, you read that right. Beasley played on a broken leg. He's a tough dude, and fits the offense perfectly.
The Bills struggled all season to get any semblance of a consistent running game going, finishing 20th in the NFL with 107.7 yards per game and tied for 19th in the league at 4.2 yards per rush.
Behind those two, things get a bit murkier. John Brown had a 1,000-yard season in 2019, but suffered through injuries in 2020 that limited his production. More on him in a minute.
Rookie receiver Gabriel Davis finished fourth in the NFL in yards per catch, with his 35 receptions going for 599 yards, an average of 17.1 yards. He also had seven touchdown catches.
Davis is ready for a bigger role. But how big? Again, more on that in a minute.
With those as their top-four receivers, the Bills ran 10 personnel – one running back, no tight ends – more than all but one other team in the league.
Beyond those top four, however, the Bills have some questions. Isaiah McKenzie and Andre Roberts are scheduled for free agency. McKenzie ran about a million miles, keeping defenses honest by going in motion so frequently. He finished with 30 catches for 282 yards and five touchdowns. That's solid production for a No. 4 receiver. If McKenzie leaves, the Bills will be on the hunt for a jack-of-all-trades receiver to fill his role.
Patience is the question for the Buffalo Bills at the tight end position after the 2020 season.
Roberts, meanwhile, remains one of the best returners in the NFL. The Bills will likely want to bring him back.
The free agency class has plenty of huge names – Chris Godwin, JuJu Smith-Schuster, Kenny Golladay, Will Fuller V, Allen Robinson and Sammy Watkins are some of the players scheduled to hit the open market next month – although it remains to be seen just how much the Bills will be willing to spend, given that they are expected to be up tight to the salary cap.
Under contract: Stefon Diggs, Cole Beasley, John Brown, Gabriel Davis, Jake Kumerow, Duke Williams, Isaiah Hodgins, Tanner Gentry.
Pending free agents: Isaiah McKenzie, Andre Roberts.
Strengths: It starts with Diggs and Beasley. With them, the Bills have one of the best No. 1 receivers and one of the best slot receivers in the NFL. That's huge for the offense. The Bills also have a promising, cost-controlled player in Davis, who has shown he can produce at the highest level.
A lot of factors will go into the O-line equation, especially the yet-to-be determined level of the NFL salary cap for 2021.
Weaknesses: Not many. True, game-changing speed is what every team craves. The Bills could use more of that. None of the receivers on the active roster at the end of 2020 are particularly big, but that didn't seem to be much of a detriment to the offense. With Williams, Hodgins and Kumerow under contract, there are adequate size receivers to try and develop.
Key question: What happens with John Brown? The Bills' No. 2 receiver was limited to nine games because of ankle and knee injuries, finishing with 33 catches for 458 yards and three touchdowns. He'll be 31 at the start of next season, and has a salary-cap charge of more than $9.5 million next season in the final year of his contract. The Bills could save nearly $8 million of that, but will have to determine if Davis is ready for the No. 2 role, or if they want to go outside the organization for a replacement.
Free agency priority: Medium.