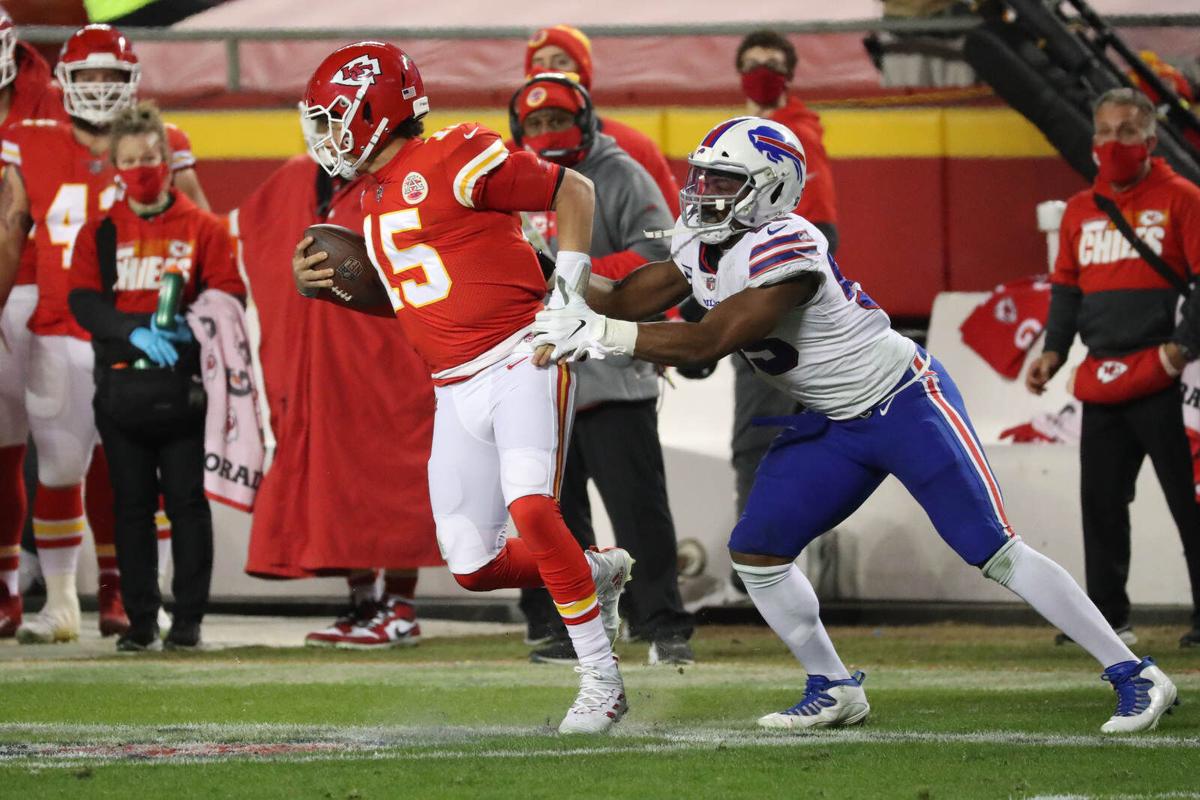 This is the tenth in a series assessing the Buffalo Bills' status at each position. Today's installment looks at defensive end.
It might not be quite this simple, but it's close.
The Buffalo Bills failed to take the fullest advantage of their dynamic passing offense because their defense didn't do enough to defuse opposing passing attacks.
And by fullest, we're talking about a victory in the AFC championship game against the Kansas City Chiefs and a trip to Super Bowl LV.
It's hard to ignore the fact that the Bills sacked Patrick Mahomes only once and hit him only three times as he threw for 325 yards and three touchdowns. Meanwhile, the Chiefs sacked Josh Allen four times and had 10 hits on him.
The one uncertainty for the Bills' kicking game entering the offseason is the status of Pro Bowl return man Andre Roberts, set to be a free agent.
It's also hard to find an area of greater weakness on a team that otherwise was so impressive. As poorly as the Bills ran the ball, that shortcoming rarely undid the potency of what Allen and his dynamic receivers produced through the air – or, in Allen's case, on the ground, for that matter.
"Affecting the quarterback, how we do that, whether it's the pass defense or the pass rush, those are things that we probably didn't do enough (in the AFC title game) against Mahomes," General Manager Brandon Beane said during his season wrap-up news conference last month.
In the 2020 season, the Bills had only 13.5 sacks from edge rushers. That was 35.5% of the team total, which ranked last in the NFL. Mario Addison, in his first season with Buffalo, tied for the team lead with linebacker A.J. Klein with five.
The Bills' sacks on four-man rushes dropped from 25 in 2019 to 18 last year. Some of that resulted from a significant loss of talent in the middle of the defensive line with the free-agent departure of Jordan Phillips, who signed with Arizona, and Star Lotulelei's decision to opt out of the 2020 season due to the pandemic.
Still, the sagging sack numbers paint a compelling picture that upgrading defensive end should be a top offseason priority.
This is the eighth in a series assessing the Buffalo Bills' status at each position. Today's installment looks at linebacker.
The Bills are known to be among a half-dozen teams in the running to sign free-agent end J.J. Watt, a three-time NFL Defensive Player of the Year who recently had a mutual parting of ways with the Houston Texans. It seems less likely that the Bills would pursue high-end edge rushers due to hit the open market, but that's also a possibility.
Even if the Bills sign Watt, it would seem to make sense that they would use a high draft choice, perhaps their first-round pick (30th overall), to bolster their pass rush.
"I don't think, as a group, they were in sync early; no preseason probably didn't help that group with all the changes, including both coaches there," Beane said, referring to first-year defensive line coach Eric Washington and assistant D-line coach Jacque Cesaire. "But I thought Eric did a great job, and (defensive coordinator) Leslie Frazier, too, of figuring out what these guys do well. We were a little smaller up front this year, just the way it worked out. And so figuring out who can anchor in there, who can provide pass rush.
"We don't want to get run on all day. We also got to get some guys in there to affect the quarterback. ... We feel like it starts up front and we've got to be good there before we can worry about the back end."
Last year, without a first-round choice, the Bills used a second-round selection on former Iowa end A.J. Epenesa, whose impact was minimal as a pass-rusher and against the run. He never displayed much speed or power. He appeared in 14 games, playing 25.2% of the defensive snaps, with his percentage increasing after the bye. He was credited with one sack and four quarterback hits.
In terms of collective talent, no area of the Bills is stronger than their secondary.
"A.J. played at a much heavier weight at Iowa and we asked him to get his body weight down, make it a better body comp from a fat percentage," Beane said. "And not only did he get it down, he went way down, and he came in probably a little too light, lighter than we wanted. But that showed how hard he had worked this offseason, and I think he came in and started a little slow, and we were a little worried how he was going to hold up against the run early on. He added a little bit (of weight), but then he just couldn't move the needle. But I thought he played well, he improved his pass rush."
Under contract: Mario Addison, A.J. Epenesa, Jerry Hughes, Darryl Johnson.
Pending free agents: Trent Murphy.
Strengths: Not many. The Bills' inability to generate consistent pressure on the quarterback was a factor in the team's inability to reach the Super Bowl and would likely remain an obstacle if it not corrected.