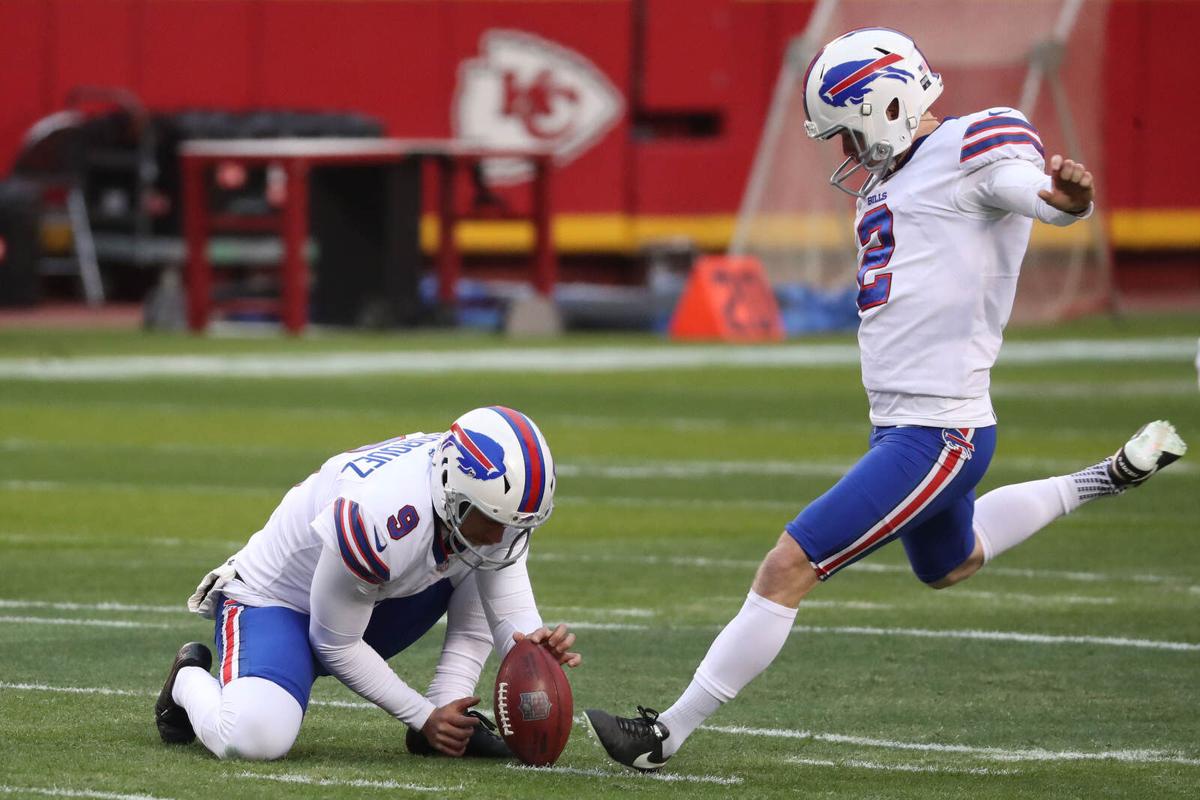 This is the ninth in a series assessing the Buffalo Bills' status at each position. Today's installment looks at special teams.
The Buffalo Bills' kicking game is set up for a long run of dominance.
Corey Bojorquez is 24 years old and coming off one of the best punting seasons in team history. Tyler Bass just turned 23, enjoyed a brilliant rookie season and arguably has the strongest leg of any placekicker in team history.
Superb long-snapper Reid Ferguson will turn 27 next month.
"We've got really good players," special teams coach Heath Farwell said before the AFC title game. "We've got good specialists. Corey Bojorquez has had a fantastic year. Tyler is a weapon. ... Reid Ferguson, he's the captain of our special teams. He leads the group. ... I am really fortunate to have really good players."
Bojorquez set a team record for gross average and led the NFL at 50.8 yards on his 41 punts. His net average of 44.0 yards was a team record and ranked fifth best in the league.
The only reason his performance probably doesn't rank as the Bills' finest punting season ever is he was so little used. His 41 punts were the fewest in a Bills full season, 13 fewer than the old low mark of 54 in 1991. (Poor Paul Maguire was forced to punt 100 times in a 14-game season, the Bills' per-game record, in 1968.)
Bojorquez is a restricted free agent, but General Manager Brandon Beane is certain to lock him up for 2021, if not beyond.
"We're not surprised," Farwell said. "We always knew he had the talent. Beane did a good job of getting him here. Of course, everybody trusts him and stuck with him. You see why. He's loaded with talent."
Bass, the Bills' sixth-round draft pick, set a team record for points in a season at 141. He made 19 straight field-goal tries over the second half of the season and made 21 of his last 23 FG tries. Bass was 7 of 9 from 50-plus yards, including 3 of 3 in the playoffs.
"Part of what we saw in Tyler not only when he got here but in college was nothing was too big for this kid," Beane said. "He was not afraid of the big moment and never made an excuse. I've been around kickers. A lot of times kickers will make excuses of 'Oh, the wind, the ball, didn't get my footing right.' Any miss he had, he took it right on him. I thought that was a great quality, one I haven't seen in many kickers. He made some big-time kicks. And I was happy for him (in Kansas City) to hit a couple of 50-some yarders in that pressure situation. He was a great weapon on kickoff whether we hung them up or wanted to kick it out of the end zone and not let them return."
The one uncertainty for the Bills' kicking game entering the offseason is the status of Pro Bowl return man Andre Roberts, set to be a free agent. He's 33 but had one of his finest seasons in 2020. He played on a two-year deal worth $2.3 million a year.
Taiwan Jones, who formed a good gunner tandem with Siran Neal, also is a free agent. So is Isaiah McKenzie, who returned a punt for a TD vs. Miami. The Bills' top four special-teamers in terms of playing time (Tyler Matakevich, Neal, Darryl Johnson and Jaquan Johnson) are under contract.
Under contract: Bass, Ferguson.
Pending free agents: Roberts, Taiwan Jones, Bojorquez (restricted).
Weaknesses: Return game, if Roberts leaves.
Key question: Will Roberts return and who takes over if he leaves?
Free agency priority: Low.