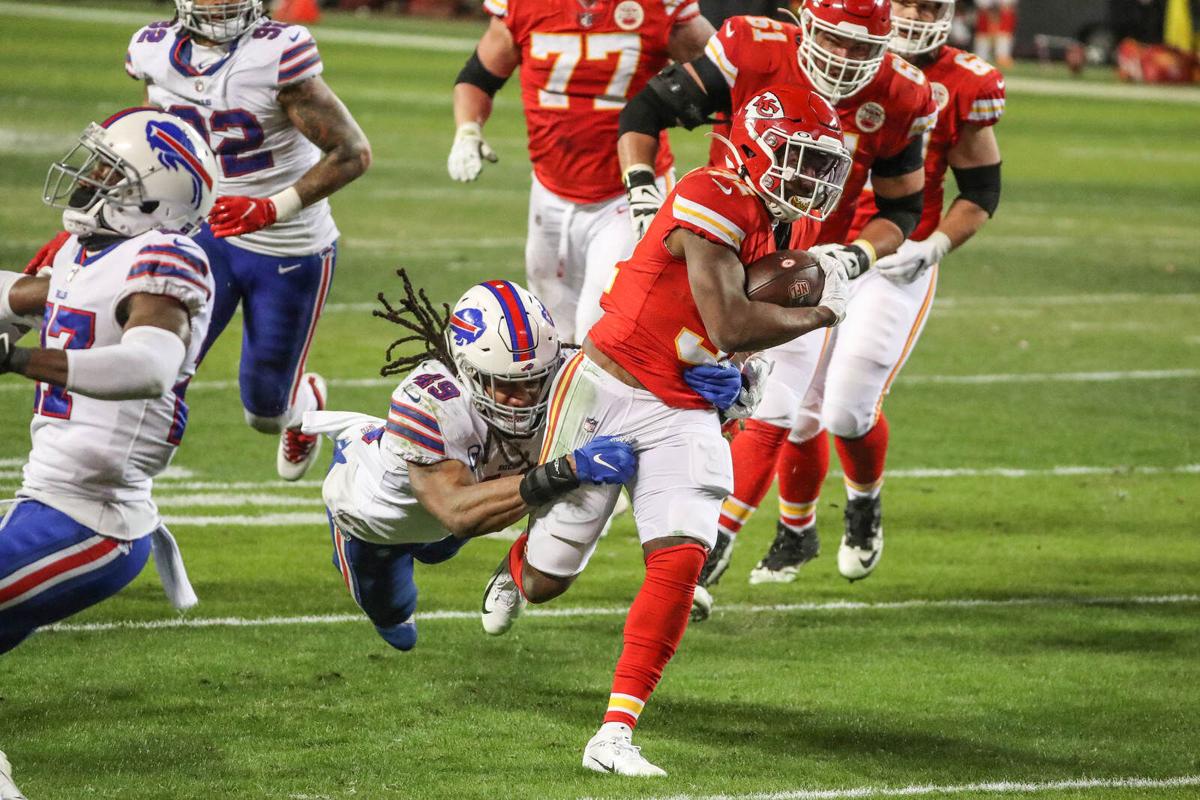 Brandon Beane kept everyone waiting, but in the end the Buffalo Bills' general manager did the expected Monday.
The team announced that it has exercised the fifth-year contract options on their two 2018 first-round draft picks – quarterback Josh Allen and linebacker Tremaine Edmunds, meaning they are now both under contract through the 2022 season. The deadline to do so was Monday. Beane said after the conclusion of the NFL Draft on Saturday that his attention would soon turn to making those option decisions.
There was little suspense on Allen, who finished second in the MVP race behind Green Bay Packers star Aaron Rodgers and blossomed into one of the league's elite quarterbacks. The option on Allen's contract will cost $23.016 million.
The decision on Edmunds figured to be more difficult. His option cost $12.791 million.
Edmunds, who turned 23 on Sunday, fought through a shoulder injury suffered in the season opener. He missed the Week 2 win against Miami, but was back the following week and played 93% of the snaps in games in which he was active (a big chunk of the snaps he missed came in Week 17 against Miami when the Bills took it easy on most of their starters).
He has made back-to-back Pro Bowls, but for all of the physical gifts the 6-foot-5, 250-pounder possesses, Edmunds in some ways has yet to blossom into the player the Bills thought they were getting when they traded up in the first round of the 2018 draft to acquire him.
"I think Tremaine would say the same thing, that he really grew this season," Bills coach Sean McDermott said after the Bills' 2020 season wrapped up with a loss in the AFC Championship Game. "He's grown in his first couple seasons here together and I'm excited about what the future holds for his development. I think more than anything, the area I saw him grow the most in was just his impact as a leader, his impact in terms of his personality coming out a little bit more on our defense and his intensity. If you want to be a really good player, you've got to play at a very intense level all the time, from the beginning of the season to the end. Tremaine worked through a couple challenges early in the season with an injury or two and I thought that that would be a good learning experience for him, as well. So these are all growing opportunities for our young linebacker."
Combined, Allen and Edmunds will count $36 million on the 2022 salary cap, which is another reason there was at least some question as to whether the Bills would pick up both options. That money is fully guaranteed. 
"You can't really be flexible with those cap numbers, so we've got to make sure if we pick them both up, that we're going to have close to $35 million space in next year's cap," Beane said before the draft. "It's not an ideal scenario for that to pick them both up and not extend them. So we just got to kind of figure out how we can make that work in our system, but we'll have that answer once the draft is over."
As Beane referenced, the fifth-year option numbers may not matter if the Bills agree to contract extensions with Allen and/or Edmunds before the 2022 season. In the case of Allen, there is a clear, mutual interest on both sides to get an extension agreed to, preferably later this spring or perhaps before the start of training camp in late July. 
"We would love to get Josh extended. No doubt," Beane said before the draft. "It has to be a number that works for him and works for us. That's been my conversation with them and they know the same. We're all on the same page. Josh wants to be here. That's the first thing. Does the player want to be here? Josh wants to be here. That gives me hope we'll get something done at some point. I can't guarantee you it will be this year. But the good thing is we do have time."
Like with the decision to pick up Edmunds' option, there is a bit more of a question about the Bills' desire to offer him a contract extension. The Bills just gave linebacker Matt Milano a new deal this offseason, so it remains to be seen how much money they want to tie up at the position. 
Even though he's entering his fourth NFL season, Edmunds is still younger than four of the players the Bills drafted this past weekend.
"When he banged his shoulder up that first game, he got back out there, I think it took him a while," Beane said of Edmunds after the loss to the Chiefs." It was his first injury he played with. I think he struggled with it, but I thought he played overall solid down the stretch. Are there more plays out there? Probably so, but he makes the Pro Bowl. I think that's legit. I think he's respected by his peers.
"Sometimes in your own fan base or your own house sometimes you can be more critical of your own than than seeing how they compare across the league, but Tremaine … is a young player, we still have a lot of confidence in him and where you'll grow into."
Picking up Edmunds' option shows that to be true.