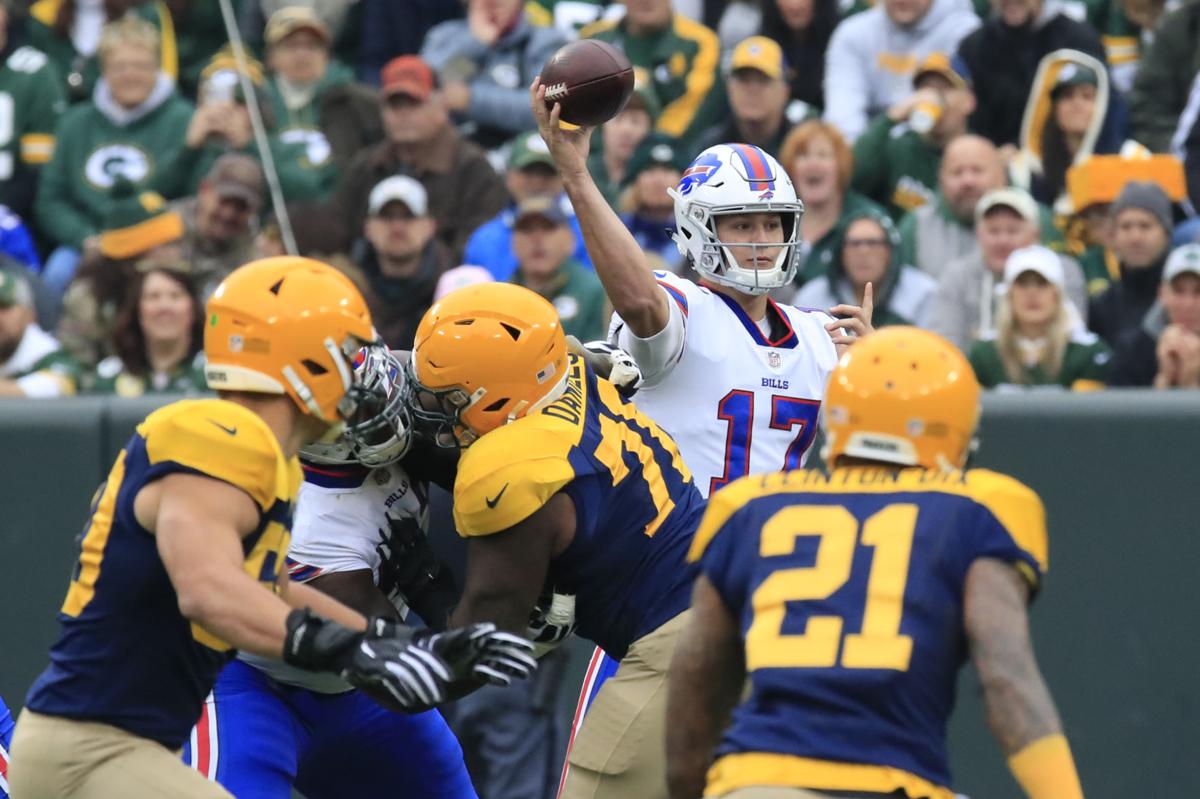 LeSean McCoy's rushing totals this season: 22, 39, 24. As a team, the Buffalo Bills rushed for 58 yards on 16 carries. Through a quarter of the season, quarterback Josh Allen remains the team's leading rusher, with 31 more yards on the ground than McCoy. That's obviously a big problem. The offensive line got no push on the first series, as Chris Ivory got stuffed for no gain on third-and-1 despite the team going with six offensive linemen. Ivory is averaging 2.6 yards per carry this year. Marcus Murphy missed the game because of a rib injury. Maybe he could have helped.
This was the Allen we were warned about coming out of college. The draft gurus who were down on Allen looked right Sunday. The rookie looked worse than his final stat line, which was aided by some garbage-time completions: 16 of 33 for 151 yards, two interceptions and seven sacks. His throw across his body to the middle of the field in the first half that resulted in an interception is one a junior varsity quarterback knows not to make. On the occasions Allen did have time to throw, he was either late pulling the trigger or way off target. The protection completely broke down, particularly in the second half. No. 1 receiver Kelvin Benjamin finished with one catch. On one of Allen's better throws, Andre Holmes dropped the ball along the sideline. The Bills have the NFL's worst group of wide receivers by a wide margin.
Missed tackles were far too frequent. Runs off left tackle in particular killed the team in the first half. Defensive end Jerry Hughes finished with three tackles for loss, while Eddie Yarbrough made a nice stop in the first half to stop a run for a loss of 1 yard. That wasn't close to enough, though, as the Packers piled up 141 yards on 32 attempts, an average of 4.4 per rush. That came after the team had allowed just 17 rushing yards in the last six quarters coming into Sunday's game.
No. 1 cornerback Tre'Davious White gave up some big completions to Davante Adams, including one that went for 25 yards. Packers tight end Jimmy Graham was able to waltz into the end zone on a third-and-goal play from the Bills' 3-yard line in the first quarter. It took a couple of nice blitz calls in the second half for the Bills to get to Aaron Rodgers. They resulted in rookie defensive backs Taron Johnson and Siran Neal each recording their first career sack.
When's the last time the Bills made a big play on a kick return? Taiwan Jones' two attempts went for just 37 yards. He's better off taking a touchback whenever possible. Punt returner Ray-Ray McCloud lost a yard on his only attempt. The Bills gave up just 20 yards on five punt returns. Lorenzo Alexander had a big hit in the second half on punt coverage.
Not going for it on fourth-and-5 from the Packers' 44-yard line midway through the second quarter with his team already trailing 13-0 was a gutless move by Sean McDermott. The offense initially stayed on the field, but the thinking here is they were going to try to draw the Packers offside, but not actually run a play. After the Packers took a timeout, the Bills had all the time they needed to come up with a play that could have picked up a critical first down, but passed on the opportunity. Offensive coordinator Brian Daboll could never get his group into any kind of rhythm. Slow starts are killing the Bills. The average margin of defeat this season is 25.6 points. They're not just losing, they're getting demolished. Not being ready at the start of games is a big reason why.
The return of Aaron Jones has added another dimension to the Packers' rushing attack. He finished with a team-high 65 yards on 11 carries, an average of 5.9 yards per rush on a day when Jamaal Williams averaged just 2.5 yards on 11 carries and Ty Montgomery averaged 3.6 yards on five carries. Rodgers showed good mobility on his injured knee, gaining 31 yards on five scrambles. He hurt the Bills by stepping up and taking off when the pass rush closed in.
Adams had a fine game, making eight catches for 81 yards. That led the seven players who made at least one catch for Green Bay. Rodgers finished 22 of 40 for 298 yards, one touchdown and one interception – an average game for the future first-ballot Hall of Famer. "It was as bad as we've played on offense with that many yards in a long time," he said. With Randall Cobb out because of injury, Geronimo Allison stepped up to make six catches for 80 yards.
Defensive backs Kentrell Brice and Jaire Alexander combined to stop an early third-and-1 play for no gain by the hard-charging Ivory. That was a big-time play by two smaller guys. Blake Martinez had a bad penalty – more on that later – but led both teams with nine tackles. Playing without Muhammad Wilkerson for the first time, defensive end Dean Lowry contributed three tackles to the win.
Safety Ha Ha Clinton-Dix had an interception for the third consecutive game. Linebacker Kyler Fackrell set a career high with three sacks, part of a team total of seven. "We made sure to keep him in the box and get him on the ground when we had the chance," said Martinez, who also had a sack. Alexander started in place of Kevin King and got his first career interception in the first half.
Kicker Mason Crosby rebounded from an early missed extra point to hit a pair of 52-yard field goals. He was also good from 36 yards in the third quarter. As mentioned above, both the coverage units played lights out. Punter JK Scott put two of his four punts inside the Bills' 20-yard line, although another one went into the end zone for a touchback.
It didn't matter much at the end of the game, but it was easy to second-guess the decision to try a draw play on third-and-11 on the opening series. Coach Mike McCarthy was playing to get into field-goal range, but if you have Rodgers throwing it, that should be the call. Martinez took a personal foul that kept a Buffalo drive alive when he took his helmet off on the playing field during a skirmish. That's not good discipline. Defensive coordinator Mike Pettine ordered off his lengthy menu of exotic blitzes.