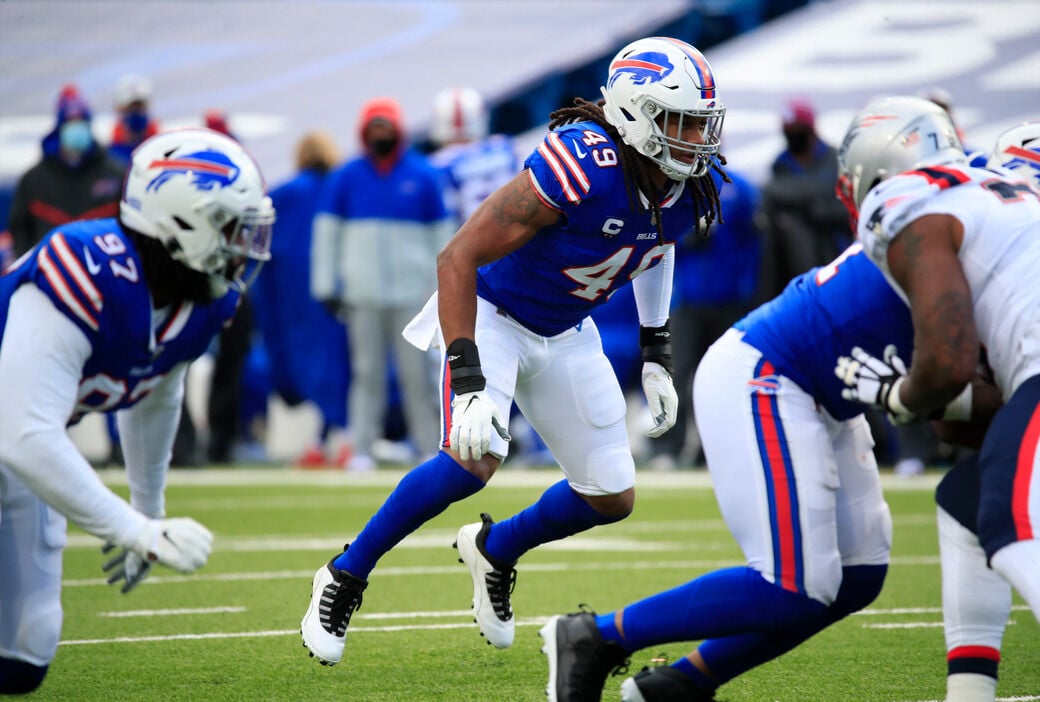 This is the ninth in a series on key offseason questions facing the Buffalo Bills. Today's installment looks at linebacker Tremaine Edmunds and whether the Bills will pick up his fifth-year option.
The Buffalo Bills face more than one big decision at linebacker this offseason.
The impending unrestricted free agency of Matt Milano has rightfully garnered much of the attention, but General Manager Brandon Beane also has to concern himself with another matter: What to do about the fifth-year option on Tremaine Edmunds' rookie deal?
What kind of blocking scheme do the Bills want to run? The answer to that question may determine Mitch Morse's future with the team.
The Bills have until May 3 to pick up the option. Because Edmunds was named to the Pro Bowl for the 2020 season, his fifth-year option will be equal to the transition tag for a linebacker in the 2021 season – projected to be about $13.4 million. If they choose not to pick up the option, their middle linebacker will enter the final season of his contract in 2021.
In previous years, teams had a loophole that they could exploit when it came to the fifth-year option for first-round draft picks. The old collective bargaining agreement between players and the league stipulated that the option was guaranteed for injury only. That meant teams could pick up the option, but essentially change their mind, because as long as the player was healthy, he could be released before the start of the new league year. If a player's performance dipped or there was a coaching change that resulted in the player no longer being a scheme fit, teams could avoid the option.
"When you look at the film, I think Ed has made improvements in his second season," offered coach Sean McDermott. "Do I think there is more work to be done? Absolutely."
The new CBA does not allow that. If the Bills pick up Edmunds' option, they're guaranteeing him more than $13 million for the 2022 season. Beane and head coach Sean McDermott will need to be convinced in what they have before doing that.
"I think Tremaine would say the same thing, that he really grew this season," McDermott said at his end-of-season news conference. "He's grown in his first couple seasons here together and I'm excited about what the future holds for his development. I think more than anything, the area I saw him grow the most in was just his impact as a leader, his impact in terms of his personality coming out a little bit more on our defense and his intensity.
"If you want to be a really good player, you've got to play at a very intense level all the time, from the beginning of the season to the end. Tremaine worked through a couple challenges early in the season with an injury or two and I thought that that would be a good learning experience for him, as well. So, these are all growing opportunities for our young linebacker."
The Buffalo Bills' linebacker has given the team a terrific return on investment over his first four years in the NFL, developing into an impact starter after being a fifth-round draft pick.
As McDermott mentioned, Edmunds fought through a shoulder injury suffered in the season opener. He missed the Week 2 win against Miami, but was back the following week and played 93% of the snaps in games in which he was active (a big chunk of the snaps he missed came in Week 17 against Miami when the Bills took it easy on most of their starters).
"When he banged his shoulder up that first game, he got back out there, I think it took him a while," Beane said. "I think it was his first injury he played with. I think he struggled with it, but I thought he played overall solid down the stretch.
The good news for GM Brandon Beane is this is a good year for offensive tackles in the draft, presuming the Bills can't afford Daryl Williams, Mark Gaughan says.
"Are there more plays out there? Probably so, but he makes the Pro Bowl. I think that's legit. I think he's respected by his peers. I think sometimes in your own fan base or your own house, sometimes you can be more critical of your own than seeing how they compare across the league."
That's what you would expect to hear from Beane and McDermott. Until the option is picked up, though, it's fair to assess both sides. Here is why the Bills will pick up the option – or maybe why they won't:
The Buffalo Bills have a speed situation to sort out at wide receiver this offseason.
Edmunds is entering his fourth season, but he's still just 22 years old. He turns 23 the day before the Bills have to make their decision on his option.
"We still have a lot of confidence in him and where he'll grow into," Beane said.
It is reasonable to think that Edmunds still has untapped potential, even with 50 NFL starts (regular and postseason).
While $13 million is a huge jump from the $4 million Edmunds will count against the Bills' cap in 2021, it's not an impossible number to fit under what is expected to be an increased salary cap in 2022.
This is the fourth in a series on key offseason questions facing the Bills. This installment looks at the team's options for backup quarterback behind Josh Allen.
McDermott has talked this offseason of a desire to keep the core of this team together, which makes sense, given it fell one win shy of the Super Bowl. Edmunds is a team captain and the signal caller of the defense. He's a huge part of what they do and who they are defensively.
It took until the second half of the season, but Edmunds' play improved as his shoulder injury healed. He played well in postseason wins over Indianapolis and Baltimore, finishing with 18 tackles, two quarterback hits and three passes defensed.
Depending on what happens with Milano later this month, the Bills may want some stability at linebacker, and picking up Edmunds' option provides that. It also gives them one more season to evaluate whether they want to offer him a long-term extension.
Devin Singletary is only 23 years old, so we know he didn't lose any speed or quickness in his second season for the Buffalo Bills. His production, nevertheless, decreased.
The last game Edmunds played in the postseason might have been his worst of the season. In a game that the Bills needed him to play like a star, Edmunds struggled mightily against the Chiefs. That's a microcosm of his career to this point.
For all of the physical gifts the 6-foot-5, 250-pounder possesses, Edmunds has yet to blossom into the player the Bills thought they were getting when they traded up in the first round of the 2018 draft to acquire him.
While he has made back-to-back Pro Bowls – the first as an injury replacement in 2019, then being voted to the game (even though it wasn't played because of the pandemic) last season – it's hard not be left wanting more from Edmunds. Those physical tools, which teammates rave about, and his draft status have saddled Edmunds with some pretty lofty expectations.
This is the first in a series on key offseason questions. Today's installment looks at whether now is the time to give Josh Allen a contract extension.
He hasn't always met them. Edmunds has too often taken poor angles to the football and has been slow to react to plays. While he led the Bills with 119 tackles, his impact plays were minimal. Edmunds made just four tackles for loss, and did not record an interception, forced fumble or fumble recovery.
Analytics website Pro Football Focus ranked Edmunds 44th out of 51 linebackers who played at least 600 snaps. Quarterbacks had a passer rating of 129.9 when throwing to receivers Edmunds was in coverage against, the third-highest figure in the NFL. Edmunds had just three passes defensed, despite being in coverage on 491 snaps, according to PFF.
If the Bills declined Edmunds' 2022 option and he had a huge year in 2021, the team could always bring him back by using the franchise tag.
Beane has declined the option before, failing to exercise it on defensive end Shaq Lawson for the 2020 season. The big difference there, of course, is that Lawson was not drafted by Beane, whereas Edmunds is one of the GM's biggest acquisitions.