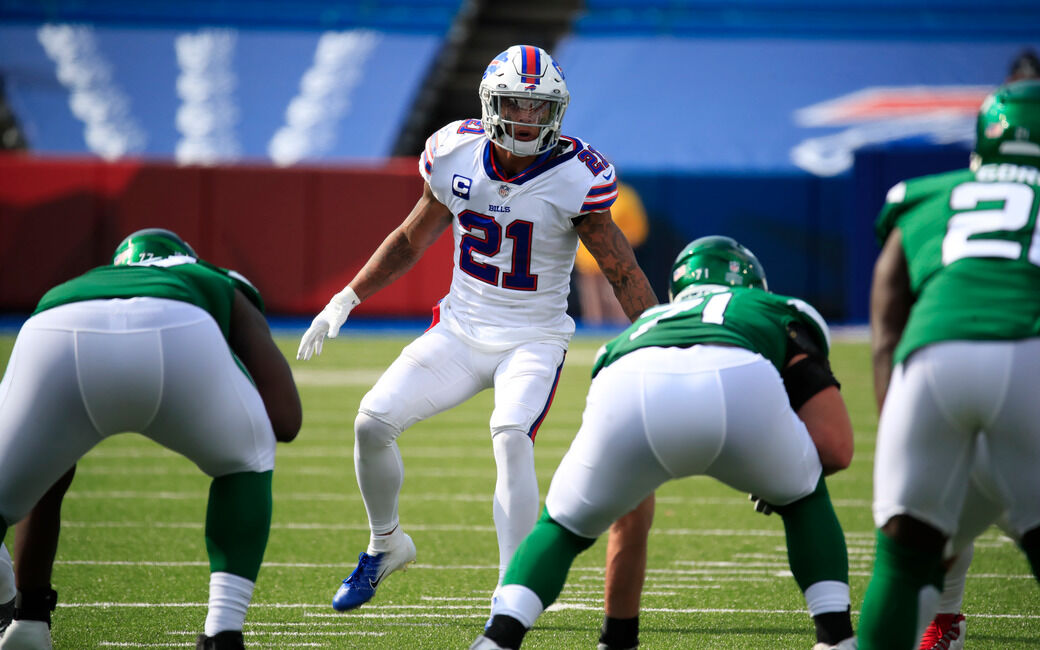 Jordan Poyer's exceptional instincts and timing were in midseason form in Sunday's season-opening win over the New York Jets.
Poyer made one of the defensive plays of the game when he closed fast on a screen pass to tight end Chris Herndon and forced a fumble, which the Bills recovered at the Jets' 38. It led to a field goal that stretched the Bills' lead to 24-10.
It almost looked like Poyer blitzed on the play. He started from a deep-half safety position and ran toward the line of scrimmage as the ball was snapped. But Poyer said Wednesday he was simply disguising the coverage.
"We were basically just in a man call," Poyer said. "I was showing the split safety and kind of walking down into it, which I guess helped me diagnose the play because I was able to see it from depth."
Poyer easily avoided big Jets tackle Mekhi Becton, who moved out to block for the play.
"I saw my key block out, so I triggered and I was able to read the play as I triggered, kind of redirect myself as the blocker was out of phase with the ball carrier," Poyer said. "I was able to get around him. I knew it was going to be a bang-bang play. I got my hand in there."
The Bills held the Jets to only 202 net passing yards. Poyer was in the middle of the action, as usual. He made three tackles and rushed the passer on four occasions, one of which helped produce a sack.
"I think we always talk about doing your one-eleventh," Poyer said of the Bills' defense. "Most of the time the plays come to you, not trying to get out of character and doing too much. We always talk that. Doing your one-eleventh, the plays will come to you. Make the tackle when you're supposed to. It wasn't nothing out of the ordinary. It was all 11 guys doing their job."
Pro Football Focus graded Poyer as the second-highest rated starting safety in the league in Week 1, behind only Cincinnati's Jessie Bates III.
Neither Bills middle linebacker Tremaine Edmunds nor outside linebacker Matt Milano practiced on Wednesday. However, Edmunds showed some encouraging signs in his bid to face the Dolphins on Sunday.
Edmunds wore a red non-contact jersey and was moving around on the field and watching all of the drills. Edmunds suffered a shoulder injury in the second half of the game against the Jets. Milano, who suffered a hamstring injury, did not appear to be on the field during the first part of practice that the media is allowed to watch.
Meanwhile, second-year linebacker Tyrel Dodson (neck) was able to practice on a limited basis. He wore a red jersey. Rookie linebacker Del'Shawn Phillips (quad) sat out.
Receiver John Brown (foot) also did not practice. Defensive tackle Vernon Butler (hamstring) was a full participant. Quarterback Jake Fromm was limited due to practicing away from the other quarterbacks on the roster.
History will be made Sunday when the Bills long snapper Reid Ferguson takes the field against his younger brother, Blake Ferguson, the rookie long-snapper for the Dolphins. Reid is 26, Blake is 23. It's the first time they've ever played against each other on the football field.
It's also believed to be the first time two brothers played against each other in an NFL game as opposing long-snappers. Many brothers have played with each other and against each other in NFL games, but not as long-snappers.
"It's extremely special, whatever the word is for the most special thing it could be," Reid said. "This is obviously something we have dreamed about as a family, especially Blake and myself, for many years now, something we've worked extremely hard to do. I'm definitely looking forward to Sunday. It's going to be pretty emotional for me I think, just to look across and see him on the other sideline, especially because we've never competed against each other in anything sports related."
The Fergusons grew up just outside of Atlanta. Reid played at Louisiana State, snapping in 51 straight games from 2012 through 2015. Then Blake took over for him at LSU, snapping 53 straight games over four seasons, capped by LSU's national championship victory over Clemson in January.
"I've heard some rumblings through our family group text that my mom is considering a split jersey," Reid said. "I haven't seen it yet, so I don't know if she's hiding it. Or maybe she'll wear a jersey of the home team and the hat of the away team. Not sure what the official game day attire will be yet."
There was a father-son long-snapping duo that played in the NFL. Steve DeOssie was a long snapper from 1984-95, mostly with the Cowboys and Giants. His son, Zak, played 13 years with the Giants, from 2007-19.
Miami's most significant injury Sunday in New England was to No. 1 wide receiver DeVante Parker. He missed the second half with a sore hamstring. He was limited Wednesday. Also limited were top cornerbacks Xavien Howard (knee) and Byron Jones (Achilles), No. 4 wide receiver Jakeem Grant (calf) and backup safety Clayton Fejedelem (pectoral). Starting linebacker Elandon Roberts (concussion) did not practice.  
ESPN reported the Bills are among the teams that have shown an interest in veteran free agent cornerback Prince Amukamara. He has been available since Aug. 31 after being released by Las Vegas. Amukamara has started 99 games over nine seasons and played the last two years in Chicago. He lingered on the free-agent market for two months this spring before being signed by the Raiders to a one-year contract.
Be the first to know
Get local news delivered to your inbox!