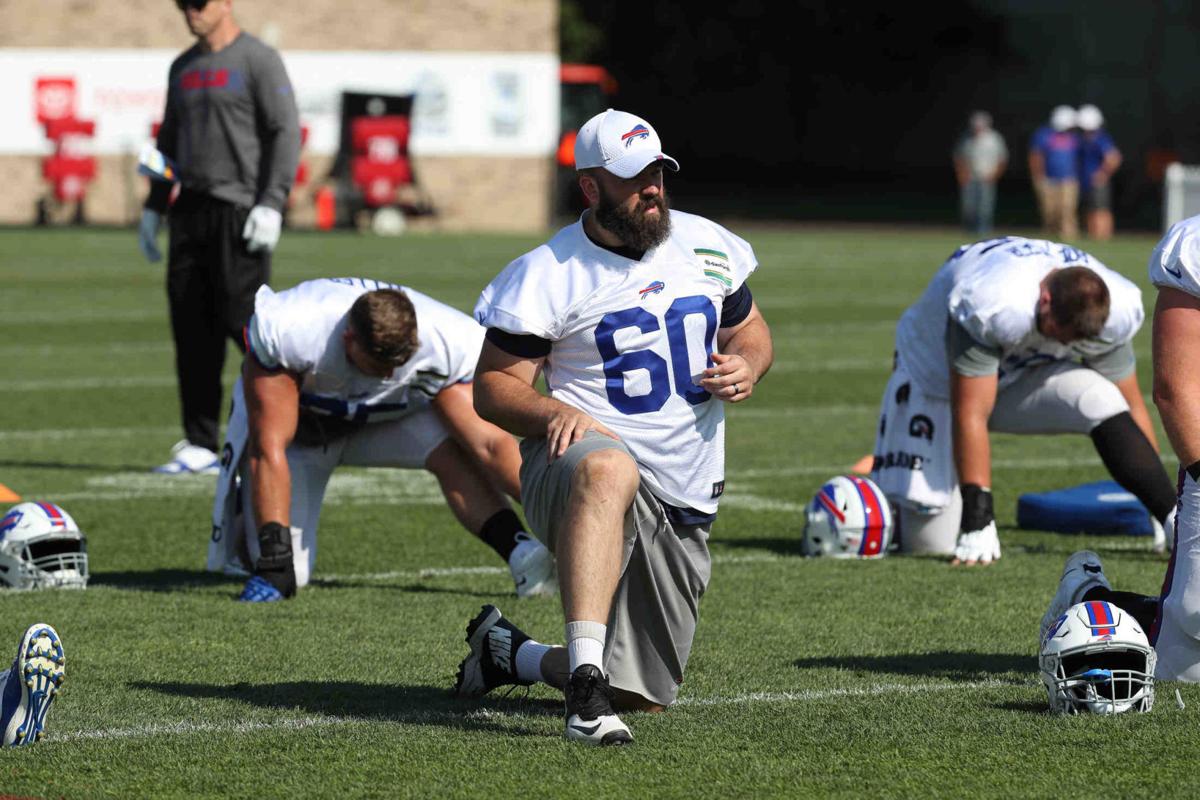 Mitch Morse acknowledges the risks of returning to the Buffalo Bills' practice facility with all of his teammates, coaches and other club staff for the scheduled opening of training camp July 28 in the midst of the ongoing coronavirus pandemic.
"We're eventually going to have to show up at some point if we want to have a season," Morse said Monday in a Zoom call with The Buffalo News from his home in Kansas. "We're eventually going to have to practice and we're going to have to have contact. There's going to be 90-some dudes and even with (doing) the best you can, inside, quarters will be close, contact will be close.
"Personally, I think you have to take that leap of faith, and you have to understand that this is going be around for quite some time. This is me, personally. And that doesn't make it where you should be laissez faire, you should just forget everything you've learned. You take care of yourself the best you can, take the right precautions, do the best we can. But don't live in fear and understand that, if we're going to play football, I think a few of us are going to get this thing."
According to multiple media reports Monday, four total players from the Dallas Cowboys and Houston Texans have tested positive for Covid-19. One of those players is Cowboys running back Ezekiel Elliott, whose agent confirmed the positive test to NFL Media.
Von Miller of the Denver Broncos is another NFL player known to have tested positive for Covid-19.
"It's what it is," Morse said. "I wish I had more answers, but I think when everyone shows up, they're going to understand the risk of it and understand that the NFL and the Bills are going to put us in the safest, best position possible.
"But there's going to be a little bit of unknowns, and you're going to have to deal with it and the season's going to be just a different one in general."
The NFL has established protocols for its teams to follow at their facilities once players return, though the league has not announced plans for testing. There must be physical distancing in the locker room, meeting rooms and other enclosed areas. That presents obvious challenges when it comes to balancing the amount of time available each day for activities such as weight-lifting and showering, and the limits that distancing places on the number of players allowed to do them simultaneously.
"Yeah, I don't know how feasible that all is," Morse said. "We're trying to get what you usually get out of training camp, so you do the best you can, follow the rules. But I have a feeling some of those are going to change as time goes on, just understanding that they're impossible to keep up with even how great they are."