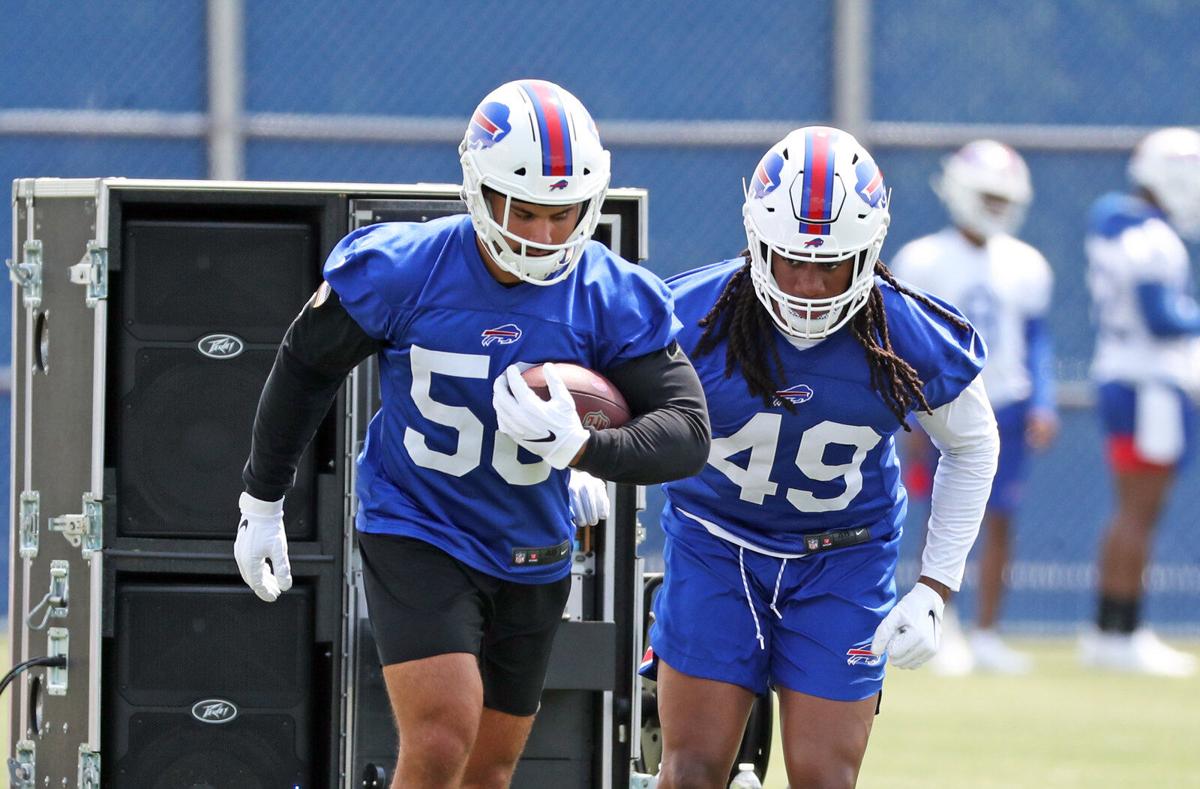 The Buffalo Bills' mainstays on the back end of the defense were showing off their coverage ability in Wednesday's minicamp practice in Highmark Stadium.
Here are observations from the mandatory session:
Milano is entering year five on the Bills with Jerry Hughes, Micah Hyde, Jordan Poyer and Tre'Davious White.
1. Good coverage. The defensive play of the day arguably was made by middle linebacker Tremaine Edmunds, who put his 83-inch wingspan to work. Edmunds got a deep drop up the left seam against a spread formation pass play and dove to deflect an on-target pass from Josh Allen to Emmanuel Sanders. Not many linebackers would have made the play.
Overall, the starting defense played quality coverage throughout the practice.
Linebacker Matt Milano showed his tight coverage in red zone work. He blanketed rookie tight end Quinton Morris in the corner of the end zone to force an incompletion that had no chance.
Lotulelei never entertained the idea of making his one-year sabbatical a permanent retirement. That was mentioned as a possibility by Bills fans on social media, but Lotulelei was direct in saying that he'll be back in 2021.
Two plays later, Milano, safety Jordan Poyer and cornerback Tre'Davious White all had tight coverage to one side of the field and weren't fooled by misdirection. That forced Allen to quit on the play and throw the ball into the dirt.
Then, Poyer had tight coverage on tight end Dawson Knox up the seam to force an incompletion. Knox could only get one hand on an on-target throw from Allen.
Early on, Taron Johnson was quick to read a short pass wide to the right flat and fouled up the timing a little, forcing a semi-drop by Taiwan Jones.
White gave up a couple big-separation completions to Stefon Diggs in Tuesday's practice (they may well have been zone coverages). On the first pass by Allen intended for Diggs on Wednesday, White closed fast on the back side of the 15-yard route and batted the ball to the turf.
Jerry Hughes blew up a dropback by Allen with quick pressure, which forced the QB to scramble toward the sideline and throw downfield. Levi Wallace intercepted near the sideline. But it was a "free-play" throw by Allen, who appeared to recognize that Mario Addison had jumped offside.
The Bills return all but one starter from a team that finished one victory short of the Super Bowl and an offense that shattered numerous franchise records.
Among the backup units, cornerback Dane Jackson raked the ball out of the hands of receiver Isaiah Hodgins on a hitch pass, to the delight of his defensive teammates.
Milano was happy with the coverage.
"He's been balling out," he said of Jackson. "He made a couple plays today actually in the short amount of time we were out there. So he's looking good. The whole secondary has been bringing a lot of energy juice to the team the past few days. It will be interesting to see this season."
On the back end of the roster, linebacker Marquel Lee had two good coverage snaps in a row, getting good depth in a zone drop on an incompletion for Duke Williams and then breaking up a pass in the flat for Jones. Cornerback Cam Lewis, the former University at Buffalo star, had two straight tight coverages on incompletions for Jake Kumerow and then Hodgins.
2. That's a wrap. The Bills are done for the spring. It's no surprise coach Sean McDermott called off the third and final scheduled minicamp practice for Thursday. That has become common practice in Buffalo and around the NFL. The players are off until the start of training camp July 27.
Mark Gaughan shares his observations from the Bills' minicamp practice Tuesday at the team's training complex in Orchard Park.
3. Quality reps for young DEs. Rookie draft picks Greg Rousseau and Carlos Basham got a lot of run in 11-on-11 work both Tuesday and Wednesday. The coaches obviously wanted to get them acclimated in preparation for training camp. For what it's worth – not a lot – they made their presence felt in the spring.
Basham penetrated the backfield against rookie tackle Spencer Brown to foul up a dropback by Mitchell Trubisky early on.
Rousseau got inside Brown for a potential would-be sack. We say potential because with no pads on and no real blocking, it's hard to project how pressure on the quarterback would go.
4. Isaiah McKenzie and Gabriel Davis did good spring work. McKenzie, the 5-foot-9 backup slotman to Cole Beasley, re-signed with the Bills on a one-year contract on March 23. McKenzie had a career-high 30 catches last season and showed good separation in spring practices.
Davis continued to demonstrate reliable hands, consistently plucking the ball out of the air in individual drills. He caught a 25-yard sideline pass from Trubisky, then had a 20-yard catch from Davis Webb against zone coverage.
"Highmark Stadium is considered an outdoor venue, which can operate at full 100% capacity without restrictions," state Department of Health spokeswoman Samantha Fuld said Tuesday.
5. Trubisky started hot then cooled off. Overall, Trubisky seemed to pick up the Bills' offense reasonably well in spring work.
The former Bears QB hit his first six pass attempts. They included a tight throw underneath to Hodgins, a cross to Brandon Powell on which he smoothly went through his progressions and a confident, on-rhythm throw to Davis downfield. Trubisky was 2 for 6 on his next two turns at QB, then took a coverage sack on which nobody was open and he held the ball until the whistle was blown.
Those kinds of plays used to happen all the time in spring and training camp during the playoff drought, with either the quarterback not knowing where to go with the ball or the receivers not getting separation.
You rarely see it these days with Allen under center. Allen had a sharp spring.
6. Injury report. Not on the field was defensive end Brian Cox, who was carted off Tuesday after suffering an injury that appeared to be to his lower left leg. He was not happy when carted off.
Cody Ford, recovering from offseason knee surgery, remained in a red jersey and didn't participate in team drills. That provided Ike Boettger with some quality snaps. Ford was moving around well working on the side with members of the training staff and presumably will be good to go for training camp.
Beasley, coming off a leg fracture at the end of last season, remained out of team drills. But he participated in individual drills and was running at full speed. Also not participating were running back Zack Moss and tight end Jacob Hollister. Running back Matt Breida didn't participate in 11-on-11 work.
7. Extra point. Owners Terry and Kim Pegula were on the field watching practice.