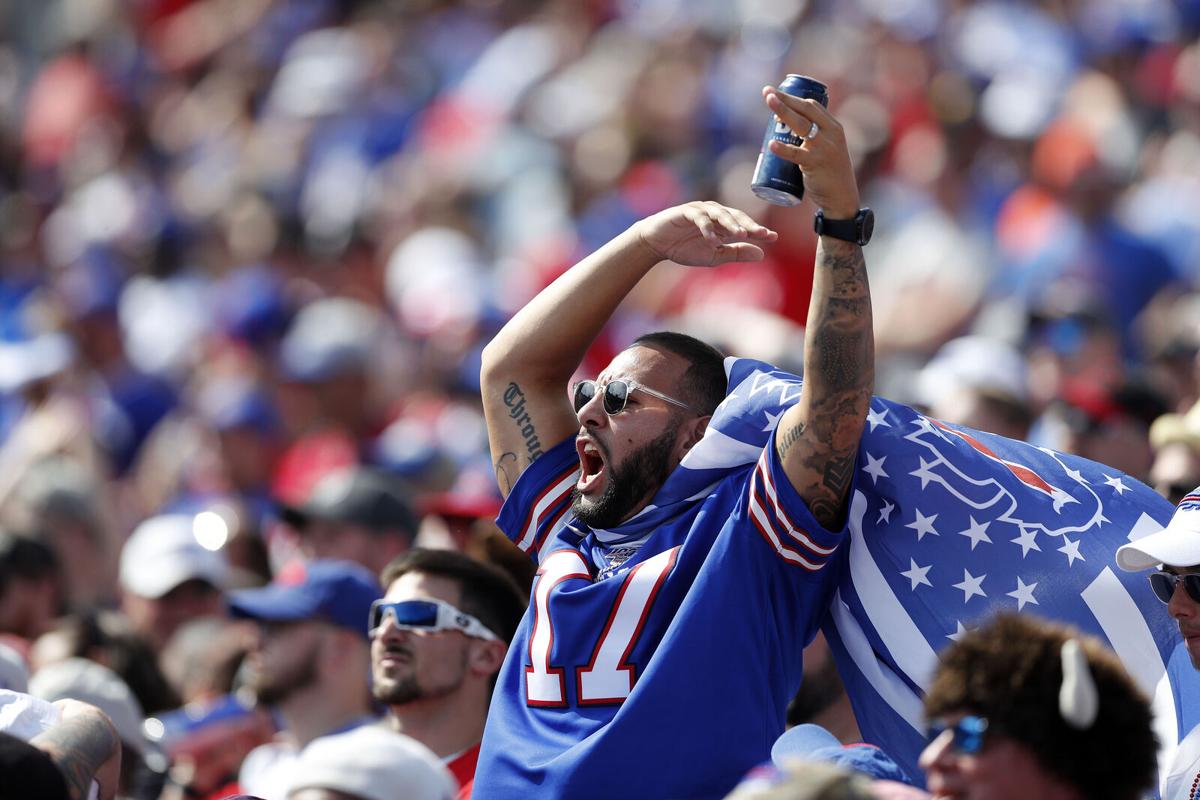 After a year spent mostly away from its beloved team, Bills Mafia returns to Highmark Stadium on Sunday to welcome back the Bills. The home opener is one of the best days of the year in Buffalo. That's always true, no matter what the outlook for the team might be. This year, though ... well, this year should be, in a word, legendary. A team with legitimate Super Bowl aspirations gets to play in front of its fans again after a year mostly lost to the Covid-19 pandemic. The atmosphere in Orchard Park should be unforgettable.
Let's get to this week's Bills Mailbag ... 
Jeff Miller asks: What second-year players are there who haven't played in front of a full Highmark Stadium? I don't remember the attendance allowed at last year's playoff games, but this year's preseason game of 50,000 must have been a taste – and it probably goes without saying that they are just as ecstatic to experience it as we are to see them.
Jay: Attendance for the two playoff games was about 6,700 for each. The players who went through an empty Highmark Stadium in their first year with the team last season are: Stefon Diggs, Gabriel Davis, A.J. Epenesa, Tyler Bass, Dane Jackson, A.J. Klein, Andre Smith, Tyler Matakevich, Vernon Butler Jr., Mario Addison, Justin Zimmer, Jake Kumerow, Reggie Gilliam, Zack Moss and Daryl Williams. Sunday should be extra special for all of them.
Matt Corey asks: Who's the Bills' best offensive red zone threat? Do you think the Bills bring back the red helmets for a game in 2022 with the new helmet rule change? Why did Josh Allen wear a visor all summer and none during the Packers game?
Jay: Allen is the Bills' best red-zone threat because he can make things happen on the run. If taking the quarterback isn't fair, though, I'll go with Stefon Diggs – although it should be pointed out the Bills spread the ball a lot in the red zone. According to advanced stats kept by the website Pro Football Reference, Diggs received 16 targets inside the opponent's 20-yard line, which was 20.8% of the team's total. For comparison, the league leader in share of his team's red-zone targets was Green Bay receiver Davante Adams, with 37.3%. For the Bills, Gabriel Davis was next with 10 targets, followed by Cole Beasley and Dawson Knox with nine each.
Allen has been wearing a visor during practice since last year. He jokingly said he does it because his teammates like to make fun of him for it, but made it clear that he would not wear it during games.
As for the red helmets, the Bills seem to have a pretty good grasp of what the fans want, so if that's popular, yes, I'd expect them to bring them back for a game.
Luigi Mike Speranza asks: With Mitch Trubisky sure to leave at the end of the year, who do the Bills bring in as Josh Allen's backup?
Jay: He may be in house. The Bills kept both Davis Webb and Jake Fromm on the practice squad. In Fromm's case, that's a clear sign the Bills want to see more from him after his rookie year was disrupted by serving as the team's Covid-19, emergency quarterback. That meant being isolated, basically erasing any practice time with the full squad. If Fromm shows promise this year on the practice squad, he'll at least be a candidate for the backup role, which is a good reason to keep him around. If Fromm doesn't develop the way the team hopes, plenty of veterans should be available on the open market.
Mark Metz asks: I'm not convinced the defense will be improved. The coverage against the teams with premier tight ends has me concerned. What can this defense do to overcome this weakness? Josh Allen will roll on Sunday!
Jay: Last season, the Bills gave up 92 catches to opposing tight ends, according to Pro Football Reference, the most in the NFL. They also allowed 993 yards, which was second most; only the New York Jets allowed more (1,105). Opposing tight ends caught eight touchdowns, which was tied for 12th, so defending the position was a problem. The hope this year will be that linebacker Matt Milano can stay healthy and help improve those numbers.
There is a bit of pick your poison at play here, too. The Bills allowed just 2,334 receiving yards to opposing wide receivers, which was the sixth-best total in the league, along with just 13 touchdowns, which tied for fourth best. If given the choice, slowing the other team's wide receivers is more important on a weekly basis than shutting down tight ends.
Buffalo Storm Chaser asks: With the new young bucks on the pass rush, will either rookie get a sack this game?
Jay: Greg Rousseau? Maybe. Boogie Basham? Probably not. In fact, it wouldn't surprise me if Basham is a healthy inactive against the Steelers. Remember, A.J. Epenesa was a healthy inactive for the season opener last year as a second-round draft pick. Based on where Basham has been on the depth chart all summer, he figures to have a hard time cracking the game-day lineup at least at the start of the year. Rousseau, meanwhile, should get a significant amount of playing time, even if he doesn't start. He had a terrific training camp and preseason. The challenge now will be to carry that over to the regular season.
Bills Helmet Bar asks: Be interested in your outlook on one- and three-tech defensive tackles, particularly against a rookie center.
Jay: This question takes on added significance this week after coach Sean McDermott announced Friday that Star Lotulelei has been ruled out with a calf injury. McDermott mentioned Harrison Phillips and Justin Zimmer as being part of a rotation to replace Lotulelei, which fits with how the team does business along the defensive line. I'm most interested in Phillips' performance. He's in the final year of his rookie contract and needs a good individual season if he wants to return. He has looked more the part of a one tech in practice. Even though he's added just a few pounds, Phillips said early in training camp his body-fat percentage is down, so it's good additional weight. As for the penetrating, three-tech role, all eyes will be on Ed Oliver. The Bills need him to be great this season. Defensive coordinator Leslie Frazier suggested during the practice week that Oliver could be in for a breakout season. Against an offensive line with some inexperience, Sunday would be a good to show it.
Tony Valvo asks: Who will lead the Bills in rushing yards this season?
Jay: I believe I was asked this last week and don't remember who I chose, which might be a sign of my poor memory. I'd rather look at it as how close of a call it is between Devin Singletary and Zack Moss. My final take on this ahead of the regular season is Moss, mainly because I can see him getting more carries, especially if the Bills have a lead in the second half of games and are attempting to bleed the clock.
Bogey Golf asks: Is running in the NFL dead unless it is the quarterback? Why ever run?
Jay: Pretty good transition by me here, right? As referenced above, running isn't totally dead. There will always be a place for it when teams want to keep the clock running. It's importance in today's NFL, though, is understandably questionable. Look at Thursday's game between the Cowboys and Buccaneers. Dallas' Ezekiel Elliott, one of the premier running backs in the NFL, gained 33 yards on 11 carries … and his team was a missed field goal away from winning. Admittedly, that's just a one-game sample size, but with Cowboys quarterback Dak Prescott throwing for 403 yards and three touchdowns, it shows that passing games have to be dynamic.
Jeff Cooke asks: If the Bills had moved up in the draft or he was available at the time they picked, would the Bills have selected Najee Harris?
Jay: I'm not privy to the Bills' draft board, but my strongly held opinion is that they would not have done that. General Manager Brandon Beane set a clear goal of improving the pass rush in the offseason, and adding a first-round pick at defensive end is a significant way of trying to do that. Beane has also been consistent in saying he believes the running game can be better with those who were already here – namely Singletary and Moss.
Bomber78 asks: The president is ordering companies with more than 100 employees to make sure they're all vaccinated. Would that include the Bills and their unvaccinated players?
Jay: It would, although the federal regulations call for businesses with more than 100 workers to require vaccinations or face weekly testing. The NFL already tests daily for those who are unvaccinated and weekly for those who are vaccinated, so nothing changes.
Eli Padilla asks: You expect a close game on Sunday or a blowout?
Jay: Blowout. Bills, 35-20, was my prediction, which I'm sticking with.
geeDub02 asks: Who can stop TJ Watt?
Jay: Last year, Watt had four pressures against the Bills, according to Pro Football Focus. He had just one game the rest of the season with fewer than that. Watt's pass-rush grade from PFF for the game against the Bills, 62.6 out of 100, was actually his lowest of the season. That says the Bills did a pretty good job against him. It remains to be seen how much Watt plays against Buffalo after not participating in team drills during training camp. He very well could be on a pitch count. On Friday, coach Mike Tomlin told reporters he has "no reservations" about Watt for the game, adding, "I expect him to be TJ Watt."
Bills offensive coordinator Brian Daboll is fully aware of what a great player Watt is, so he'll provide help on his side.
Ed Helinski asks: What's your thoughts on the Bills' kickoff and punt-return game? Is Isaiah McKenzie durable and dependable enough to handle it?
Jay: I'm optimistic he is, but agree it remains a bit of a question mark heading into the opener. McKenzie had a scary collision during training camp with safety Jordan Poyer, but looks to be ready to play against the Steelers. He also muffed a punt against Chicago, but was able to recover. Until he consistently demonstrates he can be trusted to make the right decision and cleanly field the ball, that will be a bit of a concern. It will take multiple games for McKenzie to build that trust.
John Sengbusch asks: If tomatoes are actually a fruit then wouldn't ketchup be considered a smoothie?
Jay: As the old saying goes, knowledge is the understanding that a tomato is a fruit. Wisdom is not putting it in a fruit salad – or, in this case, drinking ketchup through a straw.
Louis Stromberg asks: In honor of the first halftime of the NFL season, please rank the following halfs: "Two and a Half Men," "Harry Potter and the Half-Blood Prince," Half Baked (the ice cream), halfbacks, half marathon. Thanks and go Bills!
Jay: 5. Half marathon. Goes against my rule of not running unless you're playing a sport – or being chased. 4. "Harry Potter and the Half-Blood Prince." I know roughly 3 billion people have read this. I'm not one of them. 3. "Two and a Half Men." The Charlie Sheen version, not Ashton Kutcher. 2. Half Baked. One of Ben and Jerry's best offerings. 1. Halfbacks. As long as they're not drafted in the first round.
As always, thanks for the questions, which can be submitted via email – jskurski@buffnews.com – or on Twitter, @JaySkurski. Enjoy the home opener!