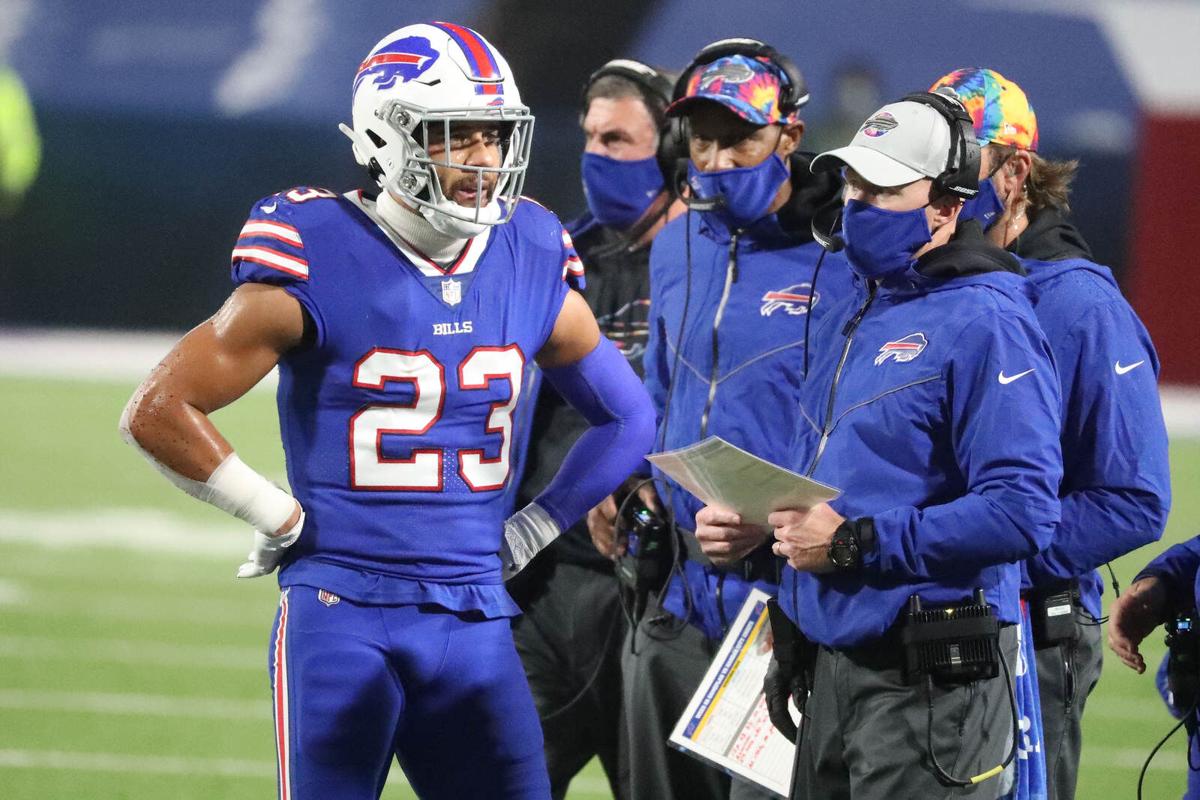 The pre-draft process will kick into high gear in the coming week.
With the NFL scouting combine being canceled this year because of the Covid-19 pandemic, more attention will be paid to college pro days. Northwestern (Tuesday), Wisconsin (Wednesday), Clemson (Thursday) and Oklahoma (Friday) are just a few of the big-time programs who will hold their pro days in the next few days.
Let's start this week's Bills Mailbag with a couple of questions about the approach to the draft and free agency …
TNFP69 asks: Nearing free agency, what do you think the Bills will be looking to do: 1. Go young and longer term or 2. Go older for a short time and a shot at the ring?
Jay: The preference would be No. 1. Think about what the Bills found with Jordan Poyer and Micah Hyde – two young players who became solid starters and team leaders. The same goes for wide receiver Cole Beasley. Those signings were exactly what any team hopes to accomplish in free agency. General Manager Brandon Beane has shown he's not against option No. 2, either, as evidenced by the addition of cornerback Josh Norman last year. The big thing for the Bills is they can sell a winning program with a star quarterback. That should be attractive to either type of free agent.
McNutty asks: What needs are they more likely to fill via draft versus free agency?
Ed Helinski asks: In your estimation, what team and depth needs do the Bills address in the draft? Is it predicated on free agency and cut players?
Jay: Any predictions on the draft before free agency are wildly premature. Beane tries to go into every draft without any glaring holes on the roster, but Beane's three first-round picks have been defensive tackle Ed Oliver, quarterback Josh Allen and middle linebacker Tremaine Edmunds. Those players just so happened to fill arguably the biggest holes on the roster at the time they were selected. It's funny how the idea of taking the "best player available" seems to coincide with the needs of the roster.
Entering the offseason, the Bills have stated goals of improving the four-man pass rush, running the ball better and getting production from tight ends. That makes edge rusher, tight end, offensive line and possibly running back as positional needs. Depending on what happens with Matt Milano, linebacker could be added to that list, as could cornerback.
So, which of those is best filled in the draft? From a salary standpoint, edge rushers are the most expensive from the list, so hitting on one of them on a rookie contract would be ideal. Given where the Bills are picking in the first round, tight end does not look like a match with the anticipated available talent, so free agency might be the route to explore.
Al Runkel asks: I may be the only person in Bills Country that is glad the Bills did not win the J.J. Watt lottery. A player in his twilight years of his career and on the down side of playing time and abilities. Let's use the money that would have been used on Watt to re-sign the players deemed as necessary to win. If the Bills think they need an upgrade at defensive end, let's look at a younger player like Carl Lawson of Cincinnati who has a huge upside on abilities.
Jay: I don't think you're alone, especially given the contract Watt received. It would have been difficult for the Bills to fit that type of deal under their salary cap while still trying to re-sign some of their own players. Beane said not to expect a "splash" move this offseason similar to last year's acquisition of Stefon Diggs, and perhaps we should believe him. I still think Watt would have helped the defense, but your concerns are justifiable. As for an upgrade at defensive end, it comes down to what the Bills are willing to spend. They will need to make other roster moves to free up salary cap space either way.
Ray Dworzanski asks: How likely do you think it is that the NFL owners will approve going to a 17-game season this coming year? It's looking like it will happen and with the recent loss in revenue due to Covid, it makes sense the NFL would want to make up that lost revenue. Do you think it's fair that some teams would get an additional home game in this format? I'm surprised the NFL wouldn't make the additional game a neutral-site game and then expand their international game series or even play in college stadiums so more people can experience an NFL game. Thoughts?
Jay: I think the 17-game schedule will become a reality. Owners will be eager to recoup some of the lost revenue from 2020, and an extra regular-season game is a great place to start. I'm in favor of it, although I would have liked to see an outside-the-box idea that limited players to 16 games. There would have been strategy involved and it would have required expanded practice squads, but doing so would have preserved the 16-game records and also been a way to at least consider player safety. A 17-game schedule with no additional bye week is going to be an adjustment for players. Hopefully, it does not lead to an increase in injuries, although that seems inevitable. As for the extra home game, by rotating it via conference each year, that preserves equality. As long as the Bills have the same number of home games as every other team in the AFC, there is no advantage or disadvantage for any team. Perhaps in future seasons neutral-site games, whether internationally or in college stadiums, will become more of an option. That seems to be far off, though, given the pandemic.
Ryan Mazurkiewicz asks: With the cap increase being minimal, it's hard for me to see the team getting better over the offseason. Please tell me I'm wrong.
Jay: You're wrong! Improvements don't only have to come from outside the organization. The Bills have several young players who can take a step forward. Gabriel Davis and Zack Moss should be better in their second seasons. It's too soon to give up on Devin Singletary. Dane Jackson showed promise when given an opportunity – perhaps he's the solution at No. 2 cornerback. The Bills also have an entire draft class that can help. Given the cap constraints, it's a requirement for Beane to draft well. He's surely aware of that. Defensive tackle Star Lotulelei should be back, which should positively impact the run defense and linebackers. I don't want to minimize the cap concerns, because they are legitimate, but Beane can find ways to move money around to be compliant while still improving his roster. All that ignores the single biggest influencer of success – Josh Allen. If he takes another step forward in his fourth season, the team can be better.
RocknesAra asks: If there was a "normal" salary cap for next year, by how many percentage points would it increase the Bills' chances of winning the Super Bowl? Or same question in reverse.
Jay: I like this question. I'll say the Bills would have a 25% worse chance of winning the Super Bowl with a "normal" cap, which means they actually have a slight advantage in a lesser-spending year. While that might seem strange, my thinking goes like this: Beane's best hits in free agency have been modest- to low-priced players. Jon Feliciano, Daryl Williams, Beasley, John Brown … none is what you would consider big-game hunting. The few big-money contracts the team has given out have produced mixed results. Primarily, I'm thinking of center Mitch Morse and defensive end Mario Addison. A lesser cap should benefit the smarter front offices around the NFL. I believe the Bills have one of those. Any GM can write huge checks to attract free agents. It takes a more keen GM to recognize players who are undervalued and who fit what the Bills want to be.
Dan in Saratoga asks: I saw what Kansas City did to the Bills and I saw what Tampa Bay did to Kansas City, and I couldn't help but think we don't have playmakers like I saw in the Super Bowl. With the salary-cap challenges we won't have them next year, either. I agree with the point you made on Sports Talk Live Buffalo about Matt Milano. He is a solid linebacker and I hope he is re-signed, but he's not close to the Tampa Bay linebackers I saw dominating the Super Bowl. Am I too negative or is there a path to get to that level next year? Finally, isn't it a shame neither the Bills-Tampa Bay nor the Bills-Kansas City game are in Buffalo next year?
Jay: I'll just be happy to see fans in the stands at Bills Stadium. Playing the two Super Bowl teams on the road will be a challenge, but in that sense we'll get a good idea of just what type of team the Bills are. It wouldn't be a surprise to see the Bills as the Buccaneers' opponent for the kick off game of the regular season (although I still think it will be Tampa Bay-New Orleans, especially if the Saints re-sign Jameis Winston to be their starting quarterback should Drew Brees retire). As for linebacker play, as mentioned above, the Bills have to hope the return of Lotulelei frees up Edmunds and Milano, if he returns, to make more big plays.
Thomas Larsen asks: Since when does the quarterback control what the franchise does? Deshaun Watson, Carson Wentz, Russell Wilson … are they so overpaid they can demand things? It is out of control for these quarterbacks!
Jay: Quarterbacks are the most important players in all of professional sports. It's somewhat of a surprise it's taken them this long to recognize that power and try to capitalize on it. I disagree with the first part of the question. The Texans are not obligated to trade Watson just because he asked. They have been adamant that they won't, but I have my doubts on that. If Watson digs in his heels and says he's not going to play for them, it becomes a standoff. Wentz does not belong in the same category as Watson and Wilson, who are two of the five or six best in the game. Philadelphia traded Wentz because he was awful in 2020 and the team has a potential replacement in Jalen Hurts. No two situations are the same, so they are all hard to compare, but in a general sense, I'm fine with players fighting for themselves. If Watson feels disrespected or Wilson feels the Seahawks aren't doing enough to support him, they are free to request trades. Again, the teams aren't forced to oblige.
Luigi Mike Speranza asks: As a sports journalist, do you get weary of the constant fan comments on the Bills signing every free agent out there no matter what the cap hit and/or fit issues of the players are? As a fan I sure do.
Jay: Does the news of a player getting released happen right before dinner? If so, then yes. Generally, though, it's good to work in a market where people actually care about the team I'm covering – even if the joke about player or coach X being spotted at Duff's does get a bit tiresome.
Rick McGuire asks: With the Covid vaccine now here and slowly being administered, do you think the NFL will permit players to opt out again this coming season? Could there be a "must be vaccinated" rule implemented by training camp?
Jay: It's purely a guess on my part, but with the situation improving and the vaccination effort picking up steam, I do not see players being given the option to opt out again. As for requiring vaccination, the NFL can not do that. It will be up to the individual players to decide for themselves whether they want to be vaccinated.
Paul Catalano asks: What problems, if any, do you foresee with the Bills' cap with big contracts for Josh Allen and possibly Tremaine Edmunds lurking?
Jay: Long term, the Bills are in very good shape with the cap. The team has just 11 players under contract for the 2023 season and holds the fifth-year option for defensive tackle Ed Oliver. Of those 11, six are from the 2020 rookie class, so they are on cheap deals. The other players are Tre'Davious White, Dion Dawkins, Stefon Diggs, Micah Hyde and Lotulelei. The Bills could get out of Lotulelei's contract with no dead money, while White, Dawkins and Diggs are core players. So there is no problem fitting a big extension for Allen in moving forward. Of course, the challenge will be keeping the roster competitive around him. The best way to do that is hit on as many draft picks as possible, given those young players come with cost-controlled contracts. Thanks for all the questions this week!