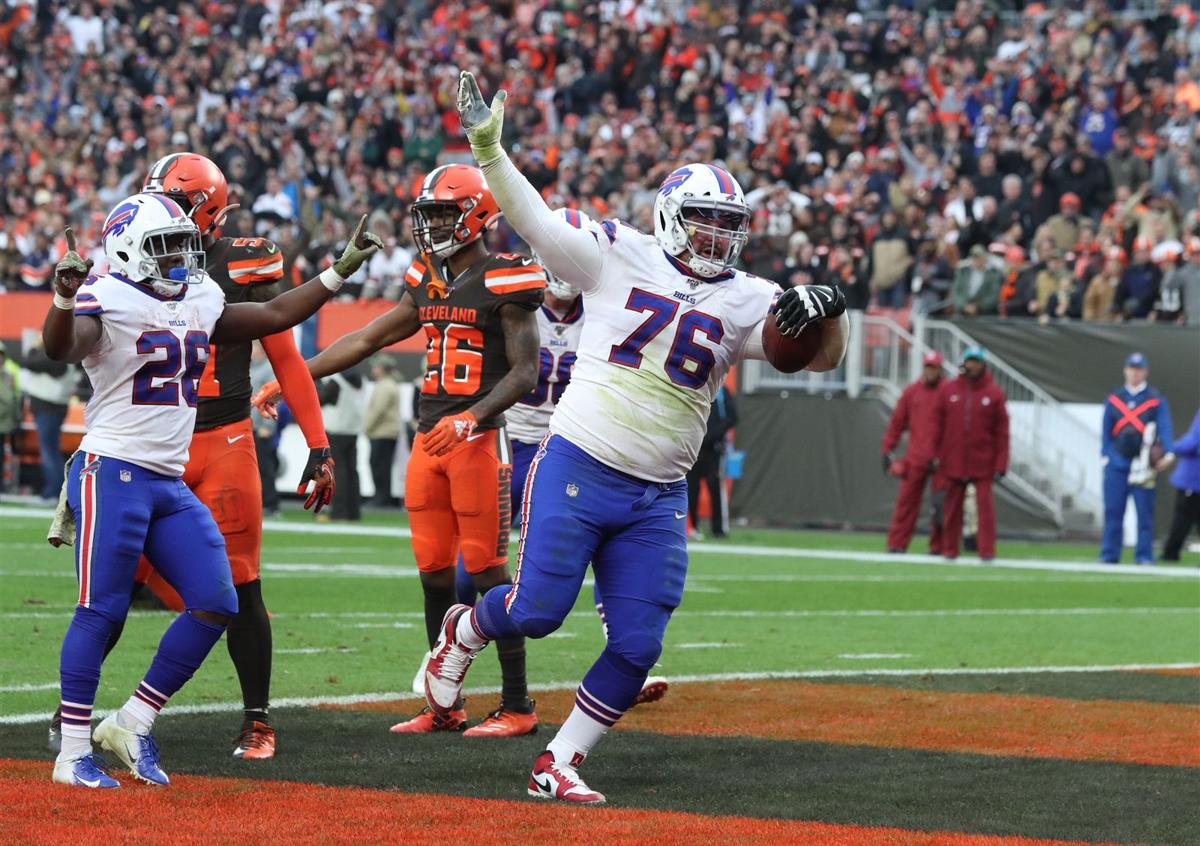 Welcome to another edition of the Bills Mailbag. Although practices have yet to start, with five positive coronavirus tests, a starter on the defensive line opting out of the season and a starter on the offensive line suffering a major injury, there is plenty to cover. Let's get right to it …
cannoncbs asks: The offensive line – never the strong point – just got weaker with Jon Feliciano out. Move Cody Ford to right guard and bring in LaAdrian Waddle or another free agent tackle? The line scared me before this.
Frank Pro asks: With Jon Feliciano now gone for at least half the season (we all know it's the entire season), I'm fully confident in Ryan Bates stepping in. This dude is very athletic and smart.
Jay: Based on the reactions I've seen on social media, I'm in the minority on this, but I'd leave Ford at tackle. Among Spencer Long, Ike Boettger, Daryl Williams and Evan Boehm, the Bills should be able to find a capable replacement for Feliciano. Bates would be an option, too, although he has seen more time at tackle since joining the Bills and told The News in June that his favorite position is center. The argument for moving Ford would be putting the five best players on the field, but I disagree Feliciano is going to miss the entire season. He's one of the toughest players on the team, and I expect him to rehab hard to rejoin his teammates as soon as possible. If the Bills believe Ford's best position in the long term is tackle, they need to leave him there and let him develop. The best-case scenario is he becomes a quality right tackle. One injury should not mean they abandon that plan.
IDiggIt asks: Assuming the salary cap stays flat for 2021, knowing Josh Allen and Tremaine Edmunds are likely to get fifth-year options after 2021 and with the availability of the franchise tag and transition tag, in what order do you think the Bills get extensions done for Dion Dawkins, Matt Milano, Tre'Davious White, Allen and Edmunds? Long-term deals for Allen and/or Edmunds could possibly wait, but cost more in the long run by doing so. The 2020 season will be a big factor to an Allen extension, too. Do you see the Bills somehow being able to keep all five long term?
Jay: I'd go with exactly the order in your question – Dawkins, Milano, White, Allen and Edmunds. This is based on remaining time left on their current deals. Dawkins and Milano are under team control for only the 2020 season, while White is signed through 2021 and Allen and Edmunds are under team control through 2022, assuming the Bills exercise the fifth-year option on their contracts. A reduction in the salary cap in 2021 is going to be difficult for all teams to handle, but Bills General Manager Brandon Beane has done a masterful job managing the cap. We'll have to see what happens with the league's revenue moving forward to get a complete understanding of the cap situation, but I do believe Beane could re-sign all five players if he wants to. Of course, that will mean making difficult decisions in other areas of the roster. As mentioned, the ability to use the franchise or transition tag means Beane does not have to rush any of these decisions. There is a risk that the price tag for Dawkins and Milano could rise if they play well this season, but that would be a good problem to have. The risk goes the other way for the player, too, with either a significant injury or a drop in production potentially lowering his value on the open market. Especially with Allen, he has more to prove. Of the five players, White has proved the most and would be my top priority to re-sign today.
Bill Tooke asks: Likelihood the season gets delayed?
Kevin Theel asks: Do you expect the season to get started/completed?
brett asks: What are you going to do with all of your free time when the NFL cancels the season?
Jay: I continue to believe there will be a season, if only because I can't imagine the reaction around the country if there weren't one. With players reporting to training camps and going through testing, I think there is enough time to get things right and to start the season as scheduled in September. Given what has happened in Major League Baseball, it's not going to be easy, but perhaps the NFL can learn from MLB's missteps. Without a true bubble, which isn't possible in the NFL, there is the obvious possibility of positive tests disrupting the season. That would be way more of a problem in the NFL than it is baseball, which can make games up with doubleheaders. Players will need to make good personal decisions to reduce their risk of infection. Hanging out on a boat with a bunch of people who aren't wearing masks, for example, might not be against NFL rules, but probably isn't using sound judgement.
Ed Helinski asks: Given this new training camp approach and no exhibition games, how are players going to be properly evaluated to make the roster?
Jay: Coaches will have to make do with what they have, which in this case are practices during training camp. There is no doubt players will have fewer chances to impress coaches, and that's particularly true for young players fighting for the last few spots on the 53-man roster or a spot on the practice squad. Preseason games are significant for those players. Without those games, coaches are likely to stick with what they know. The good news is, expanded practice squads will allow teams to keep promising players in their system – provided those players make it through waivers.
Jesse F. asks: When is the deadline for players to report for testing? Seems like some noteworthy vets (Stefon Diggs, Tre'Davious Whtie, etc.) haven't reported or been talked about yet.
Jay: Diggs posted a video on social media of the Bills' locker room Saturday, so he is here and posted two negative Covid-19 tests. The deadline for players to inform their team of their decision to opt out of the season is seven days after the adjusted collective bargaining agreement is signed by the league and players association. The agreement has not yet been signed, so at this point, the deadline is no earlier than Aug. 8. So far, Star Lotulelei is the only Bills player who has informed the team that he will opt out. 
Jon Smith asks: With Covid-19 closing so many bars etc., where a lot of us out of market go to watch Bills games, what are the chances the NFL creates some new avenue to pay for/watch games beyond beyond Direct TV/Sunday Ticket?
Jay: I have not seen anything from the league on that, but have you considered CBS All Access? I believe several games are streamed on there. A friend of mine who lives in Cincinnati also uses a Slingbox from his parents' TV in Kenmore, so if you have a friend in Buffalo, that could perhaps be an option. I agree the league should do its part to keep people from traveling to big gatherings by making its product more accessible in 2020.
Mark L. Finn asks: How much will the Bills miss Star Lotulelei? Who is going to step up and fill his shoes?
Jay: Because he doesn't post a lot of stats, it's easy to downplay Lotulelei's impact, but make no mistake: He plays an important part in the Bills' run defense. Ask any of his teammates on the defensive line, and they'll tell you he's the most underappreciated player on the team. That doesn't mean I'm anticipating the Bills falling out of the top 10 in total defense, but the reaction I've seen on social media that Lotulelei being gone is addition by subtraction is misguided. Luckily for the Bills, depth along the defensive line is a team strength. The biggest benefactor should be Harrison Phillips, although he's coming off a torn ACL, so it remains to be seen if he'll be 100% at the start of the season. Vernon Butler, who was signed as a free agent, is familiar with the defensive scheme from his time with the Carolina Panthers and also figures to see an increased workload.
Michael Lenhard asks: When's Elliott's next tournament?
Jay: Aug. 16! We only have to go to Rochester, since there will be a U.S. Kids Golf local tour there in the fall. This was supposed to be the week he was at the U.S. Kids Golf World Championship, but with it taking place in Pinehurst, N.C. Because we would need to quarantine upon returning to New York, we had to pull the plug on that. The hope is he qualifies again for worlds and he can enjoy the entire experience next year.
Louis Stromberg asks: Great time for a mailbag! With the Blue Jays (shout out to the name Jay) playing at Sahlen Field, please rank the following fields: "Angels in the Outfield," Mrs. Fields, Sally Field, Rodney Dangerfield, "Field of Dreams." Mask up! Go Jays.
Jay: Some absolute classics here. No. 5 – Mrs. Fields. Did you know that a tin of cookies costs $49.99? I knew that because I did the research for this question. That's outrageous. 4. Sally Field. She's a two-time Oscar winner for best actress and only cracked No. 4 on my list. 3. "Angels in the Outfield." We could do a whole power rankings of baseball movies. This one is solid, but there are so many good ones to choose from. 2. Rodney Dangerfield. Happy 40th anniversary to "Caddyshack." 1. "Field of Dreams." Not my favorite baseball movie – nothing will top "The Sandlot" – but still No. 1 on this list.
Be the first to know
Get local news delivered to your inbox!