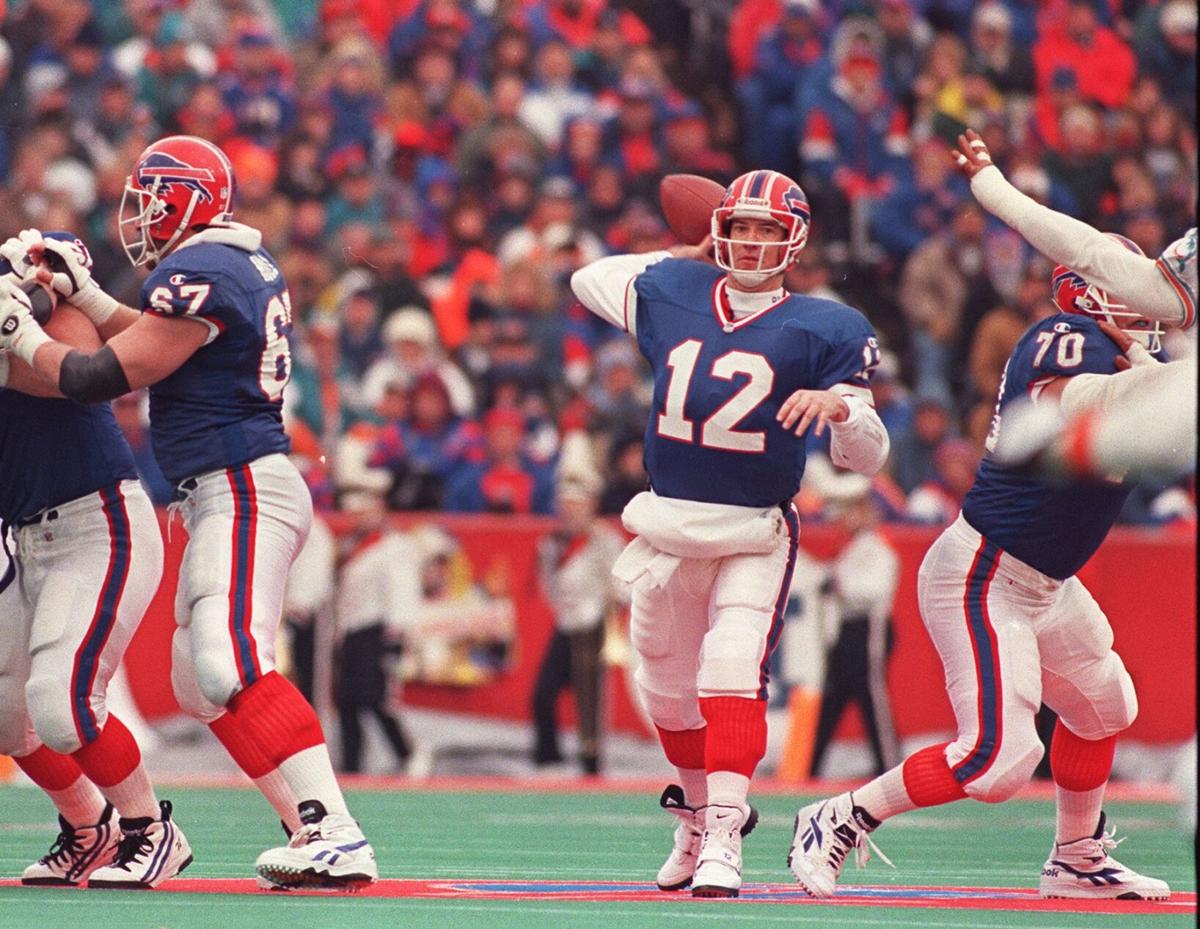 Welcome to another edition of the Bills Mailbag. Let's get right to your questions ...
Rich Ullman asks: What kind of numbers do you think Dan Marino, John Elway, Jim Kelly, etc. would put up in today's pass-happy, fantasy-driven, "it's illegal to even THINK mean things about the quarterback" NFL?
Jay: Let's put a Bills spin on this. Last season, Josh Allen went 396 of 572 (69.2%) for 4,544 yards, 37 touchdowns and 10 interceptions. He also rushed 102 times for 421 yards and eight touchdowns, and even caught one pass – a 12-yard touchdown. That gave him 4,977 total yards and 46 touchdowns. Marino in 1984 threw for 5,084 yards and 48 touchdowns – absolutely amazing numbers looking back on them. He also threw for 4,746 yards and 44 touchdowns in 1986, but those are the only two seasons of his career that statistically are in the same category as Allen's 2021 season. Elway topped 4,000 passing yards just once in his career – in 1993 – and his single-season high for touchdown passes is 27, set in 1997. In 1991, Kelly threw for 3,844 yards and 33 touchdowns, which marked career highs in a single season. All three of those quarterbacks are in the Pro Football Hall of Fame, but only Marino had even one year that touched Allen's 2020 season statistically. As Rich alludes to, that's driven more by the change in how the game is played. Today, Marino would put up numbers the way Drew Brees has, while Kelly and Elway would be not too far behind.
Jay Mapstone asks: I feel like the Bills passed more in the red zone last year and did it well. This year, they've been so run heavy in the red zone and haven't done much. Against the Jets, they passed more in close. Do you think that helped, and has that been part of the issue this year?
Jay: Through 12 games this year, the Bills have run in the red zone 61 times for 191 yards and 11 touchdowns. They've thrown it 67 times, completing 44 of those passes for 251 yards and 18 touchdowns. Last year, the Bills completed 54 passes in the red zone for 352 yards and 26 touchdowns. Last year, the team attempted 79 carries in the red zone for 194 yards and 14 touchdowns. Those numbers show an across-the-board increase from last year, and more balance this season as compared to last. One thing I liked about the game plan against the Saints on Thanksgiving in either short yardage or the red zone was rolling Allen out. That gives him a run-pass option that is tough for defenses to defend.
James Bratek asks: Do you think that Brian Daboll has been off his game over the last few weeks? Is it possible the recent deaths of his grandparents, with whom he lived during his formative years, have caused him to lose some focus?
Jay: I think after every game, there are plays Daboll would want back to call differently. It's impossible for me to know what type of impact the death of his grandparents has had on him, and I would never say that's a reason for the Bills' offensive struggles. From what I know, Daboll was very close with them, as they largely raised him, so of course this has been an emotional time for him. It would be completely unfair, however, to say that their deaths have in any way impacted how he coaches. He's as committed as ever to figuring things out.
Dave Carver asks: Why did the Bills get rid of Corey Bojorquez from last year? I thought he did well and Matt Haack has punted poorly. Nobody does the coffin corner any longer. Need that type of punter.
Jay: Simple – he wanted too much money. Keep in mind, the Bills didn't punt a lot last season. Also, Bojorquez wasn't great as a holder, which was a concern for the team. It's a legitimate second guess, however, because Haack has struggled, as Dave points out. Entering the rest of the Week 12 schedule, Haack ranks 26th in the NFL in net average, at 38.0 yards per punt. He's got a maddening habit of taking forever and a day to punt the ball. He has four touchbacks, which is tied for sixth most in the league, and just nine punts downed inside the opponent's 20-yard line.
Mike from Hamburg asks: Brandon Beane's and Sean McDermott's obsession with small running backs is now costing the Bills games. Last offseason, they had chances to upgrade the position, but didn't. Is Karlos Williams available and in shape? How about Christian Okoye or Bill "Earthquake" Enyart? We need size and speed.
Jay: It's a fair criticism. Zack Moss was supposed to provide the physical element for the Bills' running game, but he really hasn't proven himself in that regard. After Thursday's win over New Orleans, Moss has been a healthy inactive twice in the first 11 games. A physical, bruising running back should be available in the draft without having to spend a premium pick. It would be a wise investment.
Robert Hauser asks: Everyone is sick and tired of the referee conferences with every flag thrown. To speed up the process and hopefully make it fair to all watching the game how about having the referee's microphone on during the conference so we can all hear what they are discussing? Why all the secrecy? No. 2, how about doing away with the flip of the coin prior to the game and just let the home team receive the ball in the second half? Come Super Bowl flip the coin. This seems to be a more balanced/fair method if you ask me. It's been working in baseball for over 100 years.
Jay: No. 1, I'm not sure how having the referees on microphones would speed up the process. They'd still conference together. Hearing what they say wouldn't make things go faster. No. 2, are we really that fired up about the coin flip? How about we fix the ridiculous taunting rule or get some consistency about what's holding or what's pass interference? There is a lot more to fix in the NFL than the coin flip.
Joe from Grand Island asks: When we hear that an NFL player's contract is worth, say, $300 million with $150 million "guaranteed" – what exactly does that mean? If a player gets convicted of a crime and his career ends because he's in jail, or if a player just decides to stop playing (like Andrew Luck), is that "guaranteed" money still his to keep, regardless?
Jay: I'll try and make this as simple as possible, which isn't easy when it comes to NFL contracts. Base salaries are what a player makes over the course of the 18-week regular season. Usually, those are not guaranteed, meaning if a player is released, his base salary disappears from the salary cap. As for guarantees, there are three types of them in the NFL.
Injury guarantees protect a player who is hurt. If he gets released when he can't participate in football activities or pass a physical, his money is protected. If he gets released when healthy, however, then the money guaranteed for injury only is lost.
The other two guarantees are known as skill guarantees and cap guarantees. A skill guarantee protects a player from being released due to the player not having the requisite skill needed, according to the team. A cap guarantee protects a player from the team cutting them to get under the salary cap or to make room to sign somebody else.
Full guarantees encompass all three and mean a player will receive his money if he's cut. A signing bonus is exactly what it sounds like – money paid to a player when he signs his new contract. That money can be split over a maximum of five years on the salary cap.
As for whether players have to return bonus money in the case of retirement – that depends. The Colts didn't ask Luck to pay his money back after he retired early, but the Lions did with wide receiver Calvin Johnson. In so doing, they basically ruined their relationship with Johnson, so teams have to tread carefully in those situations.
Brett Halla asks: My most crucial needs in the 2022 draft are left guard, center, No. 2 cornerback, running back (one with speed), wide receiver (more speed) and tight end. What are your thoughts on what positions we most urgently need to address in this year's NFL draft?
Jay: It's hard to quibble much with your list, Brett. The Bills have to get better up the middle on both sides of the ball, so interior offensive line and defensive line are my top two priorities. If the Bills want to draft two guards the same way they drafted two defensive ends last year, I'd be fine with it. I wouldn't have had cornerback as high as you did, Brett, but with Tre'Davious White suffering a torn ACL, leaving his availability for the start of 2022 in question, cornerback probably does sneak its way onto the needs list, especially considering Levi Wallace is a pending unrestricted free agent. Running backs are always available later in the draft, as are wide receivers – a position that seems to be deep year after year. It's a good idea to draft at least one receiver and one cornerback each year.
Matt Corey asks: What do you think is the best offensive line and defensive line combination?
Jay: On offense, from left to right, it's Dion Dawkins, Jon Feliciano, Mitch Morse, Daryl Williams and Spencer Brown. Defensively, it's Jerry Hughes, Ed Oliver, Star Lotulelei and Mario Addison. Maybe early in the season, rookie Greg Rousseau would have been the choice on the defensive line, but he's not been as impactful recently.
Richard S. asks: Mitch Trubisky hasn't played much so far this season. Hopefully, that continues, as it would mean that Josh Allen has remained healthy. If it does continue, what impact will that have on his market value?
Jay: Trubisky's value will be tied almost entirely to the number of potential starting quarterback jobs that are open. As such, it's tough to peg right now, because with the second half of the season still to be played, some teams haven't reached the point of moving on from their current plan. A quick scan of the NFL standings showed 22 teams, in my mind, that definitely won't be in the market for a starting quarterback after this season. Just like that, Trubisky's market is down to 10 teams – and not all of them may ultimately go after a new starter, or if they do, they might look elsewhere, like the draft or at another player in free agency. The point is, much the same way Trubisky found a difficult market in the 2021 offseason, he may face a similar problem in 2022, especially if he doesn't play any meaningful snaps in Buffalo.
Michael Castanza asks: Can you give a brief comment or two about how being called up from the practice squad affects a player monetarily? Do they get a one-game share of the contract they signed up for? Does it accrue retirement benefits for instance? Just wondering about the impact.
Jay: A player promoted from the practice squad earns a prorated salary based on his years of experience. So, if a rookie was called up, his weekly pay would go from $9,200 on the practice squad – the minimum for the 2021 season – to more than $36,000 – which is 1/18th of the minimum rookie salary of $660,000. That figure goes up based on the number of years of experience for a player. So, for example, quarterback Davis Webb has made a nice raise in the last couple weeks as a promoted player from the practice squad. A player requires an accrued season toward his retirement on the practice squad as well as the active roster.
Mark Coughlin asks: Many times we see offsetting penalties wipe out a play even though the consequences for the two infractions are not equal. For example, let's say the offense is flagged for an illegal shift (5 yards), but at the end of the play the defense incurs a personal foul penalty for a late hit on the quarterback (15 yards). Since the personal foul is much more egregious (and potentially dangerous), it would seem fair that the offense be awarded a net gain of 10 yards. I'll give you a spot on the rules committee for a day. What say you?
Jay: Let me start, Mark, by pointing out that I dove into the NFL rule book to answer this question, and now I have a headache. Here's what I found, though, in relation to your specific question: If one or more fouls by one team includes a 15-yard penalty, and the penalty for the foul or fouls committed by the other team is for a 5-yard penalty without an automatic first down, a loss of down, or a 10-second runoff (15 yards versus 5 yards), or that is not a spot foul, the 15-yard penalty is enforced from the previous spot, and the 5-yard penalty is disregarded. So in your example, the late hit on the quarterback would be enforced. If we expand on this idea, however, there is logic to your question. For example, if a defense commits two penalties on a play, and the offense commits one, why should all of that offset? The offense should be able to accept one of the defensive penalties.
Bob Heim asks: Since Aaron Rodgers is getting Covid vaccine advice from Joe Rogan, is he also getting quarterbacking advice from Nathan Peterman?
Jay: And with that, I think we'll wrap up another week of the Bills Mailbag. Thanks, as always for the questions. As a reminder, they can be submitted via email to jskurski@buffnews.com or via Twitter, @JaySkurski.