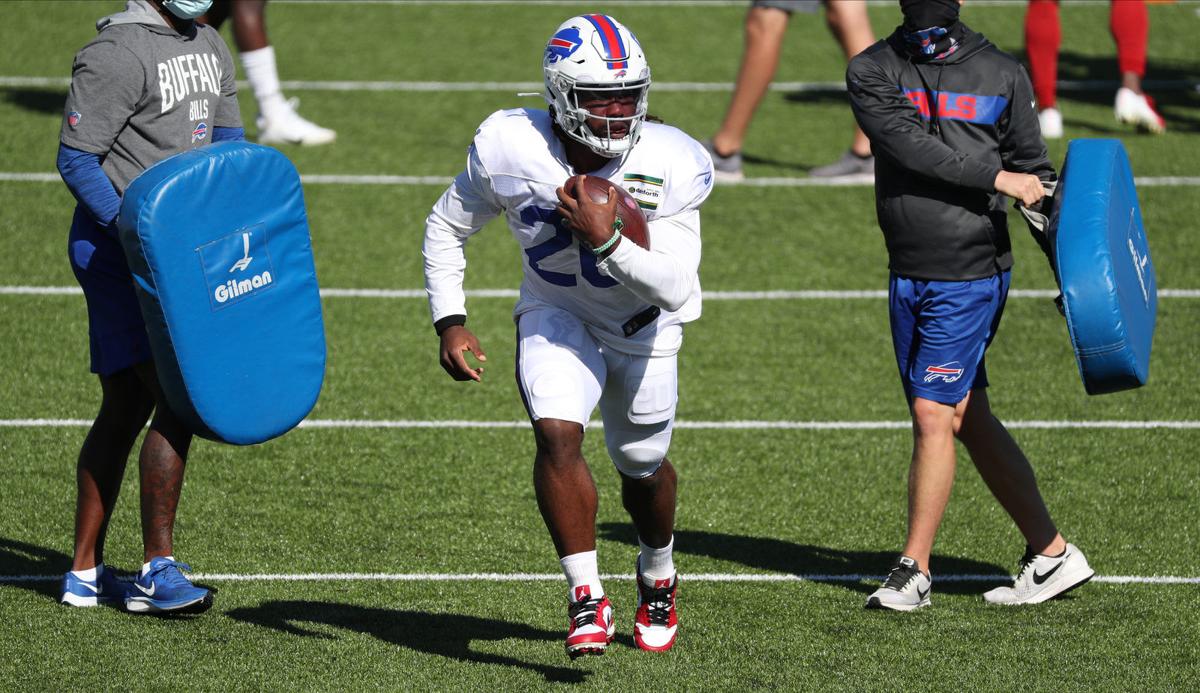 This week's Bills Mailbag is here. Without further ado ...
Eric DuVall asks: Does it look like they're slotting Zack Moss into the Frank Gore role of last year for goal line and short yardage?
Jay: That and more. Like the rookie receivers, Moss has been really impressive during the first week of practices open to the media. He's flashed good hands; Sean McDermott said Moss has done a good job of blocking; and he's lived up to his reputation as a tough runner who specializes in the tough yards Eric references. No disrespect to Gore, who is a future Hall of Famer, but Moss should be an upgrade. I'd go as far as saying he might even share carries with Devin Singletary. It won't be a perfect, 50-50 split, but the more I see Moss, the more I think it's going to be closer than some realize. Moss is a good sleeper in your fantasy drafts.
IDiggIt asks: With Star Lotulelei opting out and Harrison Phillips likely not to be 100% at the start of the season, the Bills' one-technique defensive tackle position could be a problem in stopping the run this season. Why don't the Bills kick the tires on "Snacks" Harrison?
Jay: I can't say with 100% certainty they haven't – but Harrison hasn't been on the tryout or visit list, which the NFL has made public during training camp. Imagine that – the league actually releasing more information instead of trying to restrict it. I understand the nature of the question. Lotulelei is never going to be a fan favorite because he doesn't put up stats, but his loss is a significant blow to the run defense. Can Phillips give the Bills 30 or 40 quality snaps a game? That's a big ask for a player less than a year removed from a torn ACL. From a size perspective, Vernon Butler is a logical fit at one-technique defensive tackle, given that he's 330 pounds. Butler, though, had six sacks last season, and might be more comfortable at the three-technique position, which has more of an emphasis on rushing the passer. After Butler, the biggest defensive tackle on the team is Vincent Taylor, who is listed at 311 pounds.
ThEliW asks: Does Josh Norman look like a second cornerback slot?
Jay: I'll point out here that the Bills have restricted the media from reporting where players are lining up or whether they are with the first or second units. I'd refer you to Norman's history, though. He has been an outside cornerback before for McDermott in Carolina, and when he was signed, the idea was that he would compete for the job opposite Tre'Davious White. The Bills have a slot cornerback they like in Taron Johnson. I'll let you connect the rest of the dots.
Kennedy asks: How improved does Josh Allen look?
Jay: You're not going to like this answer, Kennedy, but the truth is, I don't know. We aren't really going to know until the games count. Physically, he looks maybe a little bigger. His arm strength is as impressive as ever. He still makes some throws that leave you asking "what was he thinking?" and some others that blow you away. He did connect on a deep ball with Stefon Diggs during Thursday's practice. While the pass might have been slightly underthrown, it gave Diggs a chance – as opposed to wildly overthrowing him – and the receiver came down with it. A lot of attention will be paid to Allen's deep passing because that was such a point of emphasis during his offseason training. Allen checks all the boxes. He puts the work in during the offseason from all accounts. His teammates and coaches believe in him. He simply has to go out and prove them right. He can't do that in August. It has to happen in September and beyond.
Ed Helinski asks: Who's impressed you and who's distressed you this first week of training camp?
Jay: The first one is easy – rookie receiver Gabriel Davis looks as though he has NFL-level strength and speed. He has jumped out at just about every practice. It's too early to say I've been truly "distressed" by anyone, but Stephen Hauschka coming up short on 51-yard field goals inside Bills Stadium falls into that category. Injuries have been distressing for different reasons. The longer fullback Patrick DiMarco misses, the more I wonder whether rookie undrafted free agent Reggie Gilliam can challenge for that job. Robert Foster suffering a concussion basically takes him out of the running for a roster spot, in my opinion.
Don Horton asks: I want to know why individual teams get to decide if and how many fans can be in their stadiums? Shouldn't this be an NFL decision? The other major sports have made one rule for all their teams.
Jay: Ultimately, it's not the Bills' decision. State and local governments have a say in it, too. As of now, fans would not be allowed inside Bills Stadium based on New York's guidelines that were announced in July. I do agree that it's peculiar that the NFL would allow fans in some stadiums, but not in others, given that it would seem to be a competitive advantage for some teams. If state and local governments allow it, though, the league isn't going to turn down the revenue. I'm not an epidemiologist, but it seems as though the players will be kept far enough away from fans so as to not to be at additional health risk. For individuals, it's a personal decision on whether they would feel comfortable inside a stadium with thousands of others.
Adam Rigoli asks: How likely do you think they get fans inside this season?
Jay: I believe they're holding off as long as possible in hopes that the guidelines in New York change and at least a limited number of fans can attend. Given that Western New York's numbers have been holding steady, I'd say there is at least a chance of that happening.
Rick McGuire asks: Just wondering how media coverage this year will be done for games, especially road games. Will you be traveling to away cities or watching the way the rest of us will … on TV from home?
John Jarzynski asks: Curious about your task of covering the team this year. How does it change? What are the challenges for reporters?
Jay: Travel plans are to be determined. The team is expected to conduct all interviews of players and coaches this season on Zoom. Without being able to go in the locker room, there is less reason to travel. I plan on attending home games because I like to be able to see the entire field and what's happening on the sideline. The job itself doesn't change – I'll still attempt to break news, write interesting feature stories and offer my opinion in the form of my weekly report card or this mailbag. Doing it virtually, however, means that certain stories are going to be harder to write. Last season, for example, I did a story on players swapping jerseys with opponents. I talked to 10 members of the Bills about who they swapped jerseys with and the meaning behind the swaps. Doing a story like that this year will be more difficult, because I can't go through the locker room and talk to each player. Conducting interviews over Zoom is a challenge because you might only have a chance to get one or two questions in during a group session. Like everyone else, my hope is things are back to normal soon, and our usual access returns.
Dennis Priore asks: Before the NFL preseason was canceled this year, the Bills were scheduled to host the Atlanta Falcons this weekend. With that in mind please rate the following: Peregrine falcons, Falcon Crest, Ford Falcon, Edie Falco.
Jay: Dennis, loyal mailbag readers will tell you that Louis typically dominates the power rankings space, but what the heck, I'll play along. 4. Falcon Crest. According to Google, this show debuted a month before I was born. Hence, I have no opinion on it. 3. Ford Falcon. According to Google, Ford stopped making this car a full 12 years before I was born. Again, no opinion. 2. Peregrine falcon. Did you know these bad boys can fly more than 200 mph? 1. Edie Falco. Carmela Soprano for the win.
Louis Stromberg asks: Because of the first practice at Bills Stadium (working title), can you please power rank the following Bills: Bill Murray, Billie Jean, The Beverly Hillbillies, duckbilled platypus, Bill and Ted's Excellent Adventure. See ya next week!
Jay: 5. The Beverly Hillbillies. Also according to Google, this show debuted in 1962. I missed it. Apparently, there was also a movie, but I missed that, too. 4. Duckbilled platypus. Did you know these things are venomous? I just found that out, thanks to National Geographic. 3. Bill and Ted's Excellent Adventure. I remember nothing about it, but Keanu Reeves seems like a good dude. 2. Billie Jean. Any time you want a Michael Jackson songs power rankings, you let me know, Louis. 1. Bill Murray. "Hey Lama, how about a little something, you know, for the effort?" What a great line.
Be the first to know
Get local news delivered to your inbox!