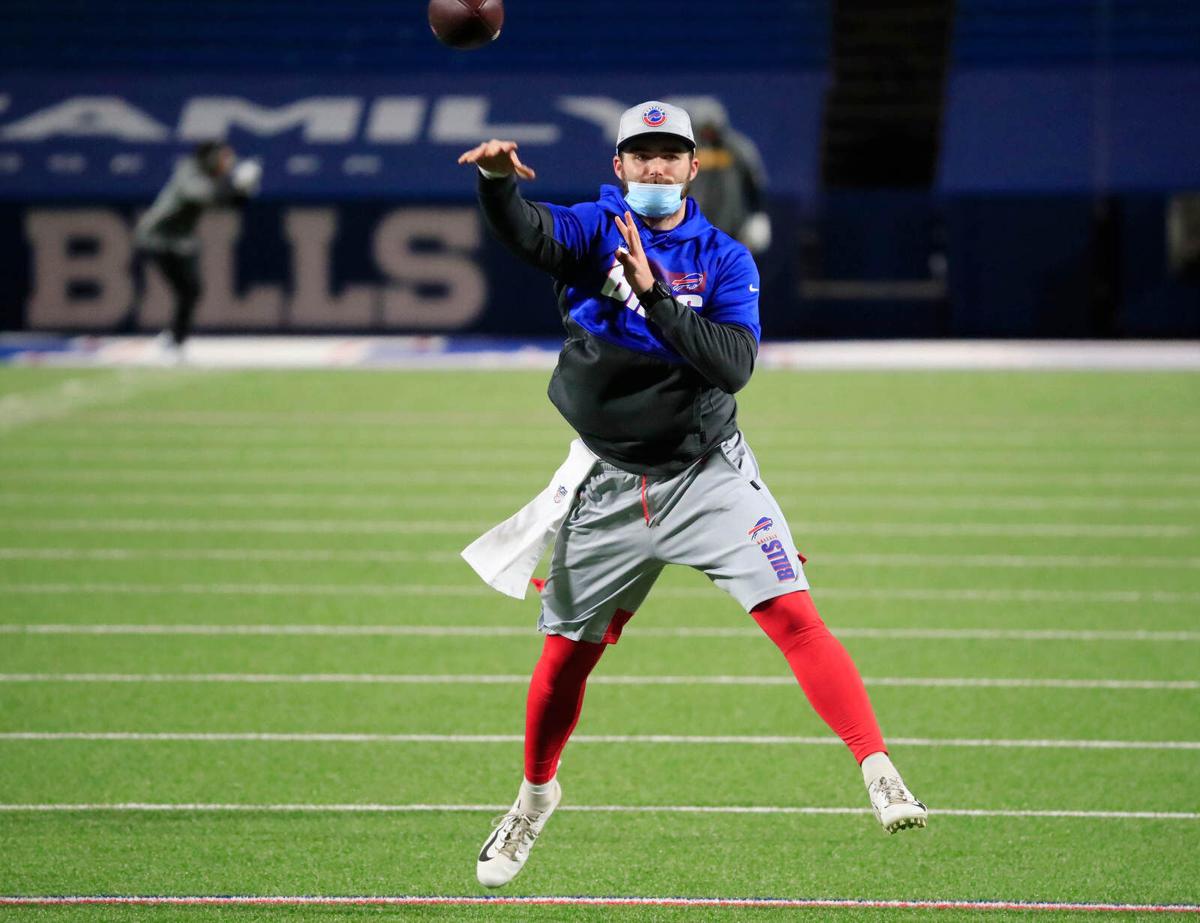 Welcome to a big edition of the Bills Mailbag. Let's open it right up ...
the big game asks: Is the Mitchell Trubisky signing a sign that the Bills are admitting Jake Fromm is not a viable NFL backup?
Rick McGuire asks: It appears that Mitchell Trubisky's one-year contract is intended to be just that … for one year. If he hits free agency again next year and is signed elsewhere, do you think the Bills are expecting Jake Fromm to be ready to be the No. 2 QB behind Josh Allen or will they sign someone else?
Jay: Trubisky's signing does indicate the Bills feel like Fromm is not ready to be the No. 2 quarterback, but that is not a real shock after he spent his rookie season without participating in a real practice with the team as a Covid-19 precaution. It's simply too hard to know what they have in Fromm until they can see him in a legitimate setting. With Allen and Trubisky set as the team's top two quarterbacks, it sets up an interesting question about what to do behind them. In 2019, the team kept just two quarterbacks – Allen and Matt Barkley – on the active roster. If that's the plan again, Fromm's job could be in jeopardy. The Bills will keep a quarterback on the practice squad, but the team really likes the job Davis Webb did in that role last year. Fromm could be in a position in which he has to convince the Bills to keep him on the 53-man roster, because carrying two quarterbacks on the practice squad seems unlikely. It's silly to do a 53-man roster projection until after the draft, but Fromm would not be on mine right now.
Thomas Larsen asks: Are we in trouble next year signing so many players to one-year deals? Or is it like right tackle Daryl Williams: prove you belong here, we'll have more cap money next year.
Jay: Short-term deals were to be expected this year because of the reduction to the salary cap. It's nothing to be concerned about. If anything, the Bills will want flexibility knowing that Allen is in line for a massive payday. Yes, some of those on one-year deals might perform well, like Thomas mentions with Williams, and thus drive up their price. That can be filed under "good problems to have." The key for the Bills moving forward is to draft well. That's the best way to acquire cost-controlled talent. It's even more important when a quarterback is on a massive second contract, which Allen soon will be.
Hot takes asks: Do you know if the Bills are going to mandate that all their players will get vaccines?
Jay: They will not. The NFL and the league's players' association have determined vaccines will not be mandatory, but highly encouraged among players, coaches and staffs around.
Luigi Mike Speranza asks: I'm wondering if you think the NFL will ever implement a hard salary cap. It's cheaper for the owners and while we have a general manager who is a master at it, it seems that too much of the success of a team is based on cap machinations and not football expertise.
Jay: The current collective bargaining agreement runs through 2030, so there won't be any change coming to the structure of the salary cap any time soon. I don't believe there should be a change, either. The cap has done its job in keeping things fair for all 32 clubs. It's big enough that every team can pursue any player it wants. Remember when the Bills signed Mario Williams? Imagine the No. 1 or No. 2 free agent in baseball signing with the Pittsburgh Pirates. Not going to happen, right? It also puts a limit on spending so the Cowboys and other big-market teams can't simply flex their financial muscle to acquire any player they want. Teams that manage the cap well through rolling over available space and proper use of resources deserve to have an advantage.
Mark Wooster asks: How much would the Bills have to give up to move to No. 4 so they could pick Kyle Pitts?
Jay: More than you'd be comfortable with. It's a huge jump to get from No. 30 to No. 4, one that would likely involve multiple first-round picks. That's hard to stomach for a quarterback. It might be impossible to digest for a tight end – even one as well regarded as Pitts. Don't forget it took two trades for the Bills to get in position to draft Josh Allen in 2018, from No. 21 to No. 12 and then to No. 7.
Craig Hausrath asks: If all these guys are taking pay cuts to keep the team together to make a run for the Super Bowl, will Josh Allen do the same?
Jay: It's conceivable Allen will take some form of "hometown discount," although I don't think he'll have much trouble paying his mortgage either way. The difference between Allen and the players who reworked their contracts is an important one – Allen's not getting cut. Any player approached about a pay cut has a decision to make: Say no, and risk being let go on the spot. When considering that, it's not a bad idea to maybe take a bit less, but get more in guaranteed money. Expect Allen's contract to land somewhere in the neighborhood of $40 million annually. After that, it comes down to how it's structured.
Paul Catalano asks: With Cole Beasley and Emmanuel Sanders possibly gone after this season, do you see the Bills drafting a wide receiver, possibly a speedster?
Jay: Yes, I do. It's thought to be another exceptionally deep class of wide receivers, so why not add some more depth to the position? You're absolutely right, Paul, that receiver is a long-term need because Sanders and Isaiah McKenzie are signed through 2021 only. Those two, along with Stefon Diggs, Cole Beasley and Gabriel Davis, make up the projected top five at the position. After that, the Bills have bigger receivers Jake Kumerow, Duke Williams and Isaiah Hodgins, who missed all of his rookie season with a shoulder injury. Any draft pick will compete with those three for maybe one or two spots. McKenzie's spot isn't guaranteed, especially if the Bills committed an early draft pick to a player with return ability at the position. I'm all for drafting a receiver and stocking the cupboard for Allen as full as possible.
Mike Pasquarella asks: Will the Bills make at least one more "significant" free-agent signing? For example, Melvin Ingram or Richard Sherman?
Jay: I'll say yes, although it could come after the draft. General Manager Brandon Beane has over the last three offseasons favored signing a veteran cornerback on a short-term deal to compete with Levi Wallace for the starting position opposite Tre'Davious White. Sherman would be an intriguing addition in that regard, but if the Bills spend a first-round pick on a cornerback, it likely wouldn't happen. As for a pass rusher, the addition of Efe Obada might not move the needled the way Ingram would, but the former Panthers defensive end did have 5.5 sacks last season and is a known commodity to defensive line coach Eric Washington. I'd say cornerback is more likely a target.
Jeff Landers asks: How many of the Bills' draft picks will have a legit shot at making the roster? Three? Four? It won't be that many.
Jay: Let's look at recent history. Last year, five of the team's seven draft picks made the team – A.J. Epenesa, Zack Moss, Gabriel Davis, Jake Fromm and Tyler Bass. Sixth-round receiver Isaiah Hodgins was placed on injured reserve, while seventh-round cornerback Dane Jackson was a member of the practice squad who was called up to the active roster on more than one occasion. The year before, Ed Oliver, Cody Ford, Devin Singletary, Dawson Knox, Jaquan Johnson, Darryl Johnson Jr. and Tommy Sweeney all made the 53-man roster, while linebacker Vosean Joseph was placed on injured reserve. In 2018, Josh Allen, Tremaine Edmunds, Harrison Phillips, Taron Johnson, Siran Neal, Wyatt Teller and Ray-Ray McCloud made the team, while seventh-round receiver Austin Proehl did not.
So I'd say the estimate of three or four is low. This front office has shown it's going to give its drafted rookies every opportunity to make the team. You can argue, successfully, that the Bills are deeper now than they have been at perhaps any point under Beane and coach Sean McDermott, but I'll set the over/under on drafted rookies making the team at 5.5. I'd lean toward taking the over, too.
bjd asks: If Najee Harris is there at pick No. 30 or even within close range, do you take him? Why or why not?
Jay: I don't. One of the knocks on Harris is he's not a home-run hitter, which is what the Bills should be in the market for at running back. Harris, from Alabama, is more in the style of a bruising, three-down back. That's not the offense the Bills run. Now, if this question was about Clemson's Travis Etienne, the answer would be more difficult.
Scott McInnis asks: Any discussion on if the Bills will be going to Rochester for training camp this year?
Jay: That has not been determined yet. The Bills, like the 31 other NFL teams, are still waiting to see what the guidelines for spring will be and whether any in-person practices will be permitted. They'll need to get an answer on that before any decision about training camp can be made. If the Bills don't want to go to Rochester for any reason, they can use the pandemic as reasoning for staying in Orchard Park.
Kassem Amine asks: Any chance the Bills re-sign wide receiver Kenny Stills? Would like him back on a one-year deal! Should be very cheap.
Jay: As long as he remains a free agent, there's a chance. The Bills liked him enough last season to sign him to the practice squad, so they have at least some idea of what Stills can do. It's possible the Bills – and Stills – wait until after the draft. That way, each side can reassess the depth chart and determine what makes sense. With John Brown gone, a case can be made that the Bills could use a deep threat such as Stills.
DeMayFHS asks: Can Christian Wade return punts and kickoffs? Seems like something he could do after two years of practicing them.
Jay: Wade has worked in practice as a kick returner at times. I don't recall seeing him return punts, although that's not to say he hasn't tried it before. With Andre Roberts no longer on the team, both returner jobs are open. I'd consider Isaiah McKenzie and free-agent receiver Brandon Powell to be ahead of Wade on the depth chart when it comes to who is most likely to take over those roles.
Kevin Wickett asks: Who do you want them taking in the first round of the draft at 30?
Jay: I'll give you a reporter answer and say I only root for the best story. That said, a running back would generate strong takes on both sides, so that would be fun. Add in that Etienne is one of the biggest stars in college football, and that would make the story all the better. So I'll say I "want" the Bills to take him – even though I'm undecided on if I think that's the smartest pick. From a "if I was running the team" view, my hope would be Michigan edge rusher Kwity Paye falls to No. 30, even if that's slightly unlikely. Paye has the physical qualities that are ideal for an edge rusher, and the Bills need to get younger at that position with Jerry Hughes 33 and Mario Addison 34 at the start of next season. Pairing Paye with A.J. Epenesa sets the Bills up well at a premium position moving forward.
Dan Hirsch asks: Are we concerned at all that Josh Allen's improvement was due to the lack of fan noise?
Jay: It's something to consider, but I wouldn't say anything to be overly concerned about. Every quarterback in the league who started on the road last season benefited from greatly reduced home crowds in opposing stadiums. That did make life easier for all of them – but not all of them took the massive leap forward that Allen did. Relative quiet on the road isn't enough to explain his improvement. The NFL said this week it expects to be playing in front of full stadiums this season, so we'll get a good indication in September just how much the noise bothers Allen.
Scott asks: Why is Rob Ray so bad at his job? Why does he stay employed? Don't we fans deserve better? It's not Bills, but it's a couple of questions worth answering.
Jay: I get that you're not a fan of Ray … but complaining about him comes in roughly 482nd on my list of things wrong with the Sabres. Yes, fans deserve better. Let's start with the product on the ice, though.
Louis Stromberg asks: As the Bills focus on the draft in Cleveland, please rank the following lands: Grand Island, "Mr. Holland's Opus," "Landslide" (Fleetwood Mac), Flanders, Marine Midland Arena. Have a good vacation!
Jay: 5. Marine Midland Arena. It'll always be the Crossroads to me. It's also in need of some serious renovation. 4. Flanders. I'm assuming we're talking "The Simpsons" character and not the region in Belgium. 3. Grand Island. As a former resident, it always bothered me you had to pay a toll to get on and off the island. 2. "Landslide." 1. "Mr. Holland's Opus." Rarely do movies make No. 1 for me, mostly because I haven't seen them, but this one is great.
As a reminder, questions can be emailed to me at jskurski@buffnews.com or submitted via Twitter, @JaySkurski. I'm on vacation next week and Vic Carucci has mailbag duties while I'm away.