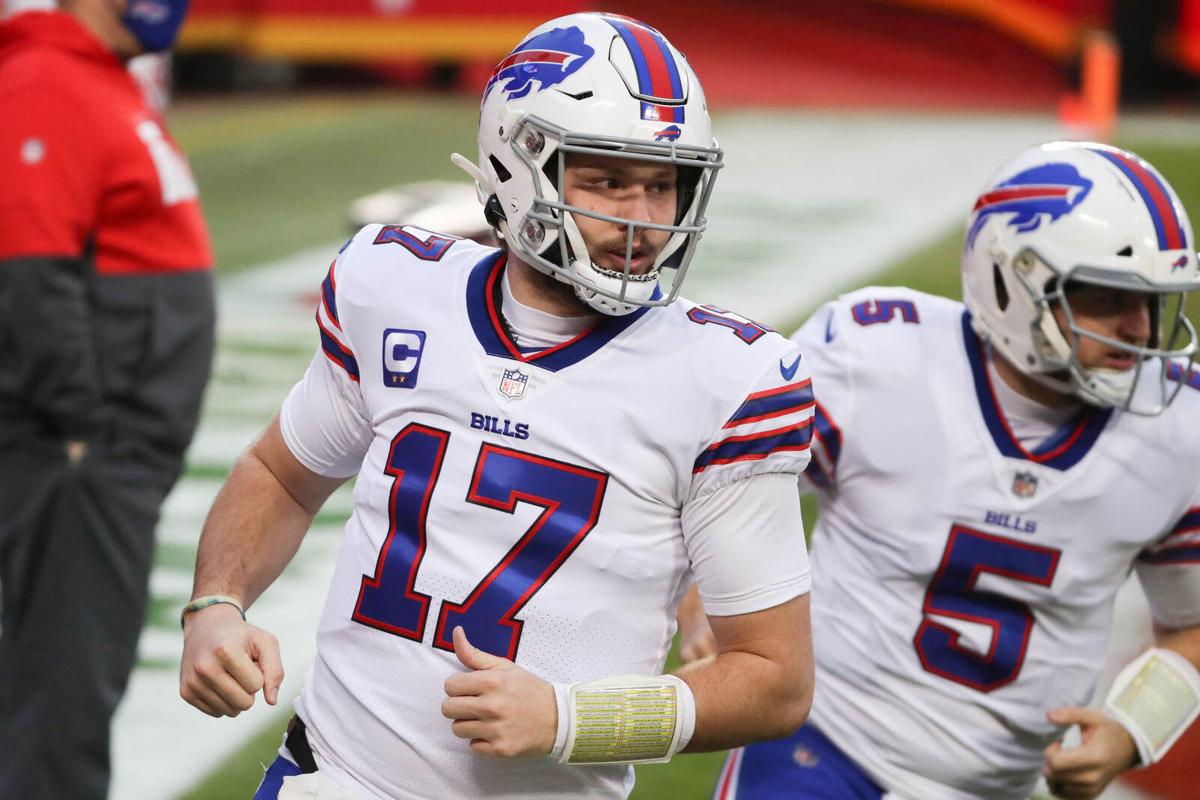 You've got Buffalo Bills questions.
Luigi Mike Speranza: Vic, once Josh Allen gets his well-deserved huge contract will this pull the Bills back to the rest of the pack regarding free agent and draftee signings? 
Vic Carucci: It's reasonable to think, when the Bills are paying Allen at the going franchise-quarterback rate of more than $40 million annually, less cap room is available for free-agent shopping.
I don't know that I'd describe the impact as pulling them "back to the rest of the pack," though. A large part of what teams have to do to remain competitive after their projected franchise QB makes the mammoth financial leap with his second contract is manage their cap accordingly.
I'd say General Manager Brandon Beane has so far demonstrated plenty of competence when it comes to contract maneuvering to create space. He restructured multiple deals and made some cuts to create necessary room to keep all three of the team's top pending free agents: Matt Milano, Daryl Williams and Jon Feliciano.
Another component in those signings was the willingness of each player to accept a "hometown discount" to remain with the Bills because of the belief they're on a contender. Allen's presence is a significant part of that, and if he continues to play at an MVP level, the Bills will likely have more free agents who want to stay or join them.
It will result in more restructurings and tough decisions throughout the rest of the roster. However, keep in mind the salary cap is expected to incrementally increase through the life of the NFL's new 11-year, $110-billion media rights deal.
Also, given Allen's desire to stay in Buffalo for the long term and understanding that he needs a strong supporting cast to thrive, don't be surprised if his deal is structured in a way that it can be adjusted to give the Bills room for more than a massive QB contract.
Kassem Amine: Bills have any chance bringing back Kenny Stills?
VC: I guess it's possible because he's still out there, as of this response.
However, I think they have satisfactorily addressed their wide receiver depth in free agency and have every reason to be happy with their incumbents. For the record, Stills did recently express, through a tweet, his desire to join the Tennessee Titans and be reunited with former Miami Dolphins teammate Ryan Tannehill.
Vince Guarino: With the recent departure of Dean Marlowe, does adding a safety somewhere in the draft become a more pressing need? Also, is there a sneaky pressing need at LB? Is Tremaine Edmunds the answer at MLB? If he goes down, or takes a step back, what then? Plus, what will it cost to keep him?
Pookaill: How is the backup safety position looking?
Daryl Smith: Do the Bills let Edmunds walk or re-sign him? Solid player but a little underwhelming in the impact play department.
VC: I do think drafting a safety, perhaps in the middle rounds, makes sense. I do think an immediate answer, though, will emerge from the existing roster. Jaquan Johnson, who has been impressive on special teams, should have an excellent chance to prove he is a worthy replacement for Marlowe.
I'm not certain Edmunds has made any sort of rock-solid case to be the long-term answer at middle linebacker. I also don't think the Bills are the least bit ready to pull the plug on him; they have until May 3 to pick up his fifth-year option. This year should provide more definitive answers about Edmunds' future, so I would find it hard to think the Bills view his position as a "pressing" need, sneaky or otherwise.
Dustin Hall: Now that we are 4 years in, what noticeable steps did Beane and McDermott take to turn the franchise around?
VC: First and foremost, they found a franchise quarterback.
• Methodically assembled a supporting cast with good, team-oriented players who have created the culture for sustainable success they envisioned from the start.
• Made mostly sound decisions in acquiring players through the draft and free agency.
• Assembled one of the better coaching staffs in the NFL that includes arguably the best offensive coordinator in the league in Brian Daboll.
bjd: Hi Vic, what do you believe is the Bills position of greatest need that they can also realistically fill for this season?
VC: Edge rusher. I think they can realistically fill it through the draft, even if the guy doesn't start immediately.
LDsports: The Bills have filled many gaps this offseason with free agents. It is also likely few roster openings are available to draft picks because of their overall strength. Will this allow the Bills to be in "best available player" mode outside of perhaps their first two picks?
VC: I wouldn't rule out "best available player" for any of their picks. But with a roster they have every reason to believe is ready to content for the Super Bowl, the Bills will likely be position-specific in seeking more backup/developmental types. 
Jeff: Do you think drafting a running back at 30 would solve our run issues despite the same five starting offensive linemen returning, and what could we get in return from trading Devin Singletary or Zack Moss should that happen?
VC: It depends on the back, but my general feeling is a running back usually has the best chance to make a greater impact as a rookie than players at other positions.
I don't see a big return for either Singletary or Moss in the trade market. Even if they drafted a back in the first round, I'd be inclined to hang on to all three because the 17-game schedule will test the depth at what typically is a high-attrition position.
Richard S.: I love the Bills' talent assessment capability, but did they miss badly on Wyatt Teller?
VC: Of course, they did. When you trade away a player a year after making him a fifth-round draft pick and he goes on to become an All-Pro selection for his new team, that's a classic miss.
Through dominant play at guard last season, especially as a run blocker, Teller has exceeded the price the Cleveland Browns paid for him (2020 fifth- and sixth-round choices), even if the Bills put those picks to good use. The fifth was flipped as part of the acquisition of Stefon Diggs and the sixth became Tyler Bass. The deal also included the Bills giving the Browns a 2021 seventh-round selection that Cleveland flipped to the Green Bay Packers.
There's no ignoring that Teller excelled in the area where the Bills showed their greatest weakness last season: the running game. But he isn't the first player who performed far better with his next team than he did with his previous/original one. He won't be the last.
Unless the Bills' ability to move the ball on the ground greatly improves, the what-might-have-been discussion with Teller will probably linger. But that's football. Even the greatest personnel evaluators in the history of the game have had misses.
Joe Bad: Knowing all the signings by GM Beane and the limited position opening there may be, do you think it is more than likely the Bills trade up to get a player they like or move down. I think moving down and adding picks in next year's draft may be the better way to go. Your thoughts?
VC: Trading up is a clear Beane tendency, and I wouldn't rule it out. I also wouldn't be shocked if they traded out on the basis of there not being a genuine first-round-graded player available at No. 30.
I think it's all about what the board looks like as their pick approaches, because there's a fair chance that a good edge rushers, for instance, could be pushed down as teams above them select players at other positions.
Nicholas Lord: Why isn't Josh Allen getting vaccinated? Why isn't the team being required to be vaccinated?
VC: Based on what I heard him say in his recent podcast appearance with NFL Network's Kyle Brandt, I'm not sure I would agree with the premise of the question that he "isn't getting vaccinated." He said he hasn't gotten vaccinated and left open the possibility he could change his mind after getting more information on the subject.
The NFL and the NFL Players Association are not requiring players or coaches to be vaccinated, something with which Allen told Brandt he agreed.
Dr. Allen Sills, the NFL's chief medical officer, is on record as saying vaccines would be encouraged but not mandated.
GaryLo: The Bills haven't signed one free-agent defensive end. It's unlikely they can draft an impact DE at No. 30 in the first round. Since pressuring the quarterback is one of their weaknesses, what is the thinking there?
VC: The Bills have signed defensive end Efe Obada, who had 5.5 sacks last season with the Carolina Panthers and is familiar to Bills defensive line coach Eric Washington. Obada got a one-year deal at a relatively low cost. 
But to your point, they placed a greater priority on keeping their own in free agency, while preparing for when they will be signing Allen to that big contract extension, than investing heavily on an edge rusher in the open market. I also think they believe they can do better using the draft to fill the hole than signing a mid-/low-tier free agent.
Rick McGuire: We know the great trade Brandon Beane made to land Stefon Diggs last year, but I've always wondered if Beane would have put in an offer for DeAndre Hopkins, who was traded to Arizona, had he known Hopkins was available or was Stef his guy from the start?
VC: Diggs was on Beane's radar for awhile, and the pursuit of him intensified after he made clear his dissatisfaction with the Vikings. It would be far too speculative for me to ponder whether knowing of Hopkins' potential availability would have changed Beane's thinking.
However, I think when you end up with the guy who led the league in receptions and receiving yards, you're unlikely to do a whole lot of second-guessing. Also, I would guess at the time of the Hopkins-to-Cardinals trade, bizarre as it seemed for Houston to part ways with such a tremendous talent, the Texans liked the idea of shipping him out of the AFC.
Alex M: Is this the most amount of one-year contracts given out? I don't ever remember this many.
VC: I don't have an official historical context, but I agree that there have been a whole lot of one-year deals throughout the league.
Conventional wisdom is that it's based on the cap being lower than anticipated this year, due to revenues lost in 2020 because of the pandemic, and the expected increase in 2022 and beyond is why players would prefer the ability to be free agents then. 
Dave Universal: Will the Bills become the first team to ever finish 20-0 with the 17 game schedule?!?
VC: With all due respect, if I knew I could accurately provide that answer, I would probably be doing something with my time other than fielding this question. Like flying on that private jet I don't own to that private island I don't have.