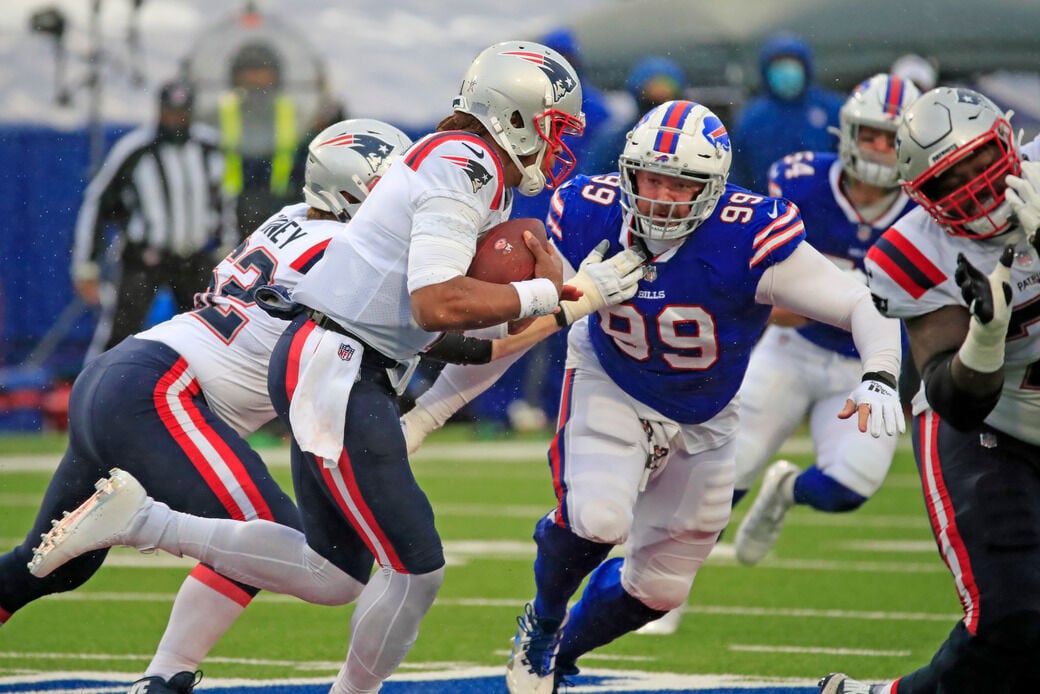 It was nice to be back at One Bills Drive this week for rookie minicamp. Phase II of the NFL's offseason program begins Tuesday, with veterans allowed to report to the facility to do some on-field work.
With that, let's jump into another edition of the Bills Mailbag …
Mike Canfield asks: Which defensive linemen will make the team?
Jay: After drafting Greg Rousseau and Boogie Basham in the first two rounds, this is the toughest group to sort out – with offensive line and wide receiver not too far behind. Let's start with defensive ends. That group includes Rousseau, Basham, A.J. Epenesa, Jerry Hughes, Mario Addison, Efe Obada, Darryl Johnson Jr., Bryan Cox Jr. and Mike Love. The first three on that list are locks. Hughes is darn close to that status. That leaves five players for, at most, two spots. I'll take General Manager Brandon Beane at his word about Addison, who is respected for his leadership. In my 53-man roster projection after the draft, I had the Bills keeping Obada and cutting Johnson, but after more thought, I'm tempted to flip that one knowing how much the Bills value special teams. Johnson plays an important role there. At defensive tackle, it's also crowded with Star Lotulelei, Harrison Phillips, Ed Oliver, Vernon Butler Jr., Justin Zimmer and Brandon Bryant.
For now, I'm keeping the first four on that list for a total of 10 defensive linemen. This position is a definite trade possibility, though. Keep reading for more on that.
Sean asks: Last year, you often reminded readers that Harrison Phillips was coming off surgical repair of an ACL injury and that it takes a year to fully recover. Assuming he's now recovered, do you think he may be a dark-horse candidate to have a breakthrough year?
Jay: He could be. More than that, he needs to be. Phillips is heading into the final year of his contract. If he wants a new deal, either here or in another NFL city, he's going to have to have his best season. Before Phillips got hurt early in the 2019 season, he had started to wrestle some snaps away from Star Lotulelei at one-technique defensive tackle. It was always going to be a challenge for Phillips given the timing of his injury to be back to full strength in 2020. He was made a healthy inactive early in the season against the Chiefs. To his credit, though, he worked his way back into the rotation and his performance seemed to improve as the year went on. Phillips will have every chance during training camp to show he can be a big part of the defensive line in 2021. With Lotulelei back and Justin Zimmer having performed well at times last year, that should be a good competition.
Jeffrey J. asks: In your projected Bills roster, you note the surplus of experienced offensive linemen and defensive ends. Denver just lost a tackle to injury. I'm sure other teams are shallow on the defensive line. Can we trade the surplus now or post-June 1 cuts to get value to back up safety, cornerback, linebacker and more? Or, get more picks for 2022 and/or clear cap space for a tight trade like Zach Ertz, Hayden Hurst or David Njoku?
Jay: There is nothing preventing trades right now, but it's much more likely those will occur at the end of training camp, just before the Bills and the other 31 teams set their 53-man rosters. Teams have spent all offseason building their respective rosters, so it stands to reason they will want to see those players go through spring practices and training camp to have a good feel for what they can do. Remember back to when the Bills traded Russell Bodine and Wyatt Teller after it was clear they were not going to make the 53-man roster (a mistake in Teller's case, a stroke of genius in getting something for Bodine). Injuries will occur between now and then, as Jeffery pointed out with the case of the Broncos, so that could change things, but for the most part we've reached the quiet part of the transactional schedule in the NFL. That will pick up again shortly before the start of the regular season.
Dennis Strimple asks: Does Cody Ford even make the 53-man roster? Or does he end up sitting on the bench? Seems like the moves they are making – Forrest Lamp, Jamil Douglas, Bobby Hart, Spencer Brown, Tommy Doyle, Jack Anderson – are beefing up the offensive line to make Ford irrelevant? He seems to be a bust so far.
Jay: Yes, he definitely makes it. The Bills shouldn't give up on a former second-round pick who has struggled to stay healthy and has bounced between different positions on the offensive line. Assuming Ford is good to go physically for training camp – and there's no reason to believe he won't be – the Bills should stick him at left guard with the first team, where he can work next to Dion Dawkins and Mitch Morse and give him every chance to solidify himself as a solid starter. The coaching staff and front office has to know exactly what it has in Ford, who as a top-40 draft pick needs to be a quality starter.
Jeff Miller asks: Were Greg Rousseau or Carlos Basham Jr. on any of your mock drafts or any of your colleagues' radar? How many defensive ends does that put on the roster competing for how many available spots? Also, since no running back was selected, obviously Brandon Beane's statement about not having a "home run hitter" was pre-draft bluffing. Yes/no? And to what end? Are there any feasible options left for adding a running back, e.g. free agency or some unforeseeable trade of some kind?
Jay: I didn't have the Bills taking Rousseau or Basham in any of my mock drafts, but they were certainly on our radar. Mark Gaughan and I identified 10 players we felt had a chance to be the Bills' first-round pick in the days  leading up to the draft, and Rousseau was on that list. Here's a little "how the sausage is made" about draft night. Myself, Mark, Vic Carucci and Jason Wolf each wrote three "five things to know" stories about potential first-round picks to have them ready to go as soon as the Bills made their first-round pick. Obviously, those are guesses, and it was possible we went 0 for 12. One of my three was on Rousseau, and one of Mark's three was on Basham. Given that those capsules we wrote were supposed to be for the first-round picks only, getting Basham at No. 61 shows pretty good value for the Bills.
As for the running backs, I'm not sure it was bluffing as much as it was simply an admission of truth. Oh, and if it serves as motivation for Devin Singletary and Zack Moss heading into 2021, that's all the better. You have to be careful what to believe around draft time, but I do think Beane is telling the truth when he said he would have no problem drafting a running back in the first round if the value was right. With Najee Harris and Travis Etienne off the board when the Bills picked at No. 30, we didn't get to see how he really valued the position versus his ranking of Rousseau. My suspicion is the Bills would have had Rousseau ranked higher than either of those players.
Colin asks: When is the last time the Bills roster has been this deep and talented?
Jay: Easy. The Super Bowl years. The Bills have gone from a team that missed the playoffs for almost two straight decades to one that ended that brutal streak in admittedly fluky fashion to now having one of the best rosters in the NFL. The goal for the Bills is simple and clear in 2021: Super Bowl or bust.
FanaticCuse asks: What veteran does Beane sign to a veteran minimum, prove-it deal (one year)?
Jay: I'd be most interested in cornerback Richard Sherman, although his price tag could be out of the Bills' range. Beane has shown in his time here that he favors bringing in veterans on short-term deals to compete at cornerback, having done so with Vontae Davis (whoops!), Phillip Gaines, Kevin Johnson and Josh Norman. Taking just one cornerback in the draft in the sixth round can be seen as a vote of confidence for both Levi Wallace and Dane Jackson, but as long as Sherman remains on the open market, there is a veteran who would bring championship experience to the Bills' secondary.
Mark Metz asks: Do you think the Bills' running game will improve with some serious beef up front? I felt the physical games is where the line struggled last year.
Jay: The line projects to have the same five starters as last year – Dawkins, Ford, Morse, Jon Feliciano and Daryl Williams. That means any improvements will have to come either from a tweak to the scheme or simply better individual performance. Having Ford stay healthy and turn into the player the Bills traded up in the second round to draft would help. I would expect Sean McDermott's analysis of the 2020 season concluded with the goal of running the ball better in 2021. To do that requires better coaching and better execution, from both the offensive line and the running backs.
bk asks: Any news on whether or not Josh Allen has heard the statistics of over 95% effectiveness for the Covid-19 vaccines? Hopefully, his research is going well.
Jay: No update on where things stand with that. I can imagine from a public-relations standpoint the Bills are just fine with that. As Beane's comments about potentially cutting an unvaccinated player to gain an advantage for the team and Cole Beasley's apparent vaccine hesitancy have shown, the Bills are in a no-win situation when it comes to addressing the vaccine. It remains baffling to me how something like a global pandemic has become so politically polarizing, but I'm going to take some advice that's often thrown out on Twitter and stick to sports.
HK asks: Is Rachad Wildgoose the best name to put on a Bills uniform since Carlester Crumpler? Speaking of Wildgoose, rank these gooses: Grey Goose, Duck Duck Goose, Goosebumps, Goose Eggs, Getting Goosed.
Jay: It's up there. As for the rankings: 5. Goose eggs. Ouch. 4. Getting goosed. No thanks. 3. Duck Duck Goose. 2. Goosebumps. I get them at times when the right Tragically Hip song comes on. I still can't believe Gord Downie is gone. 1. Grey Goose. No explanation needed. Thanks for all the questions this week and remember, you can reach me on Twitter, @JaySkurski, or via my email: jskurski@buffnews.com. Have a great week!