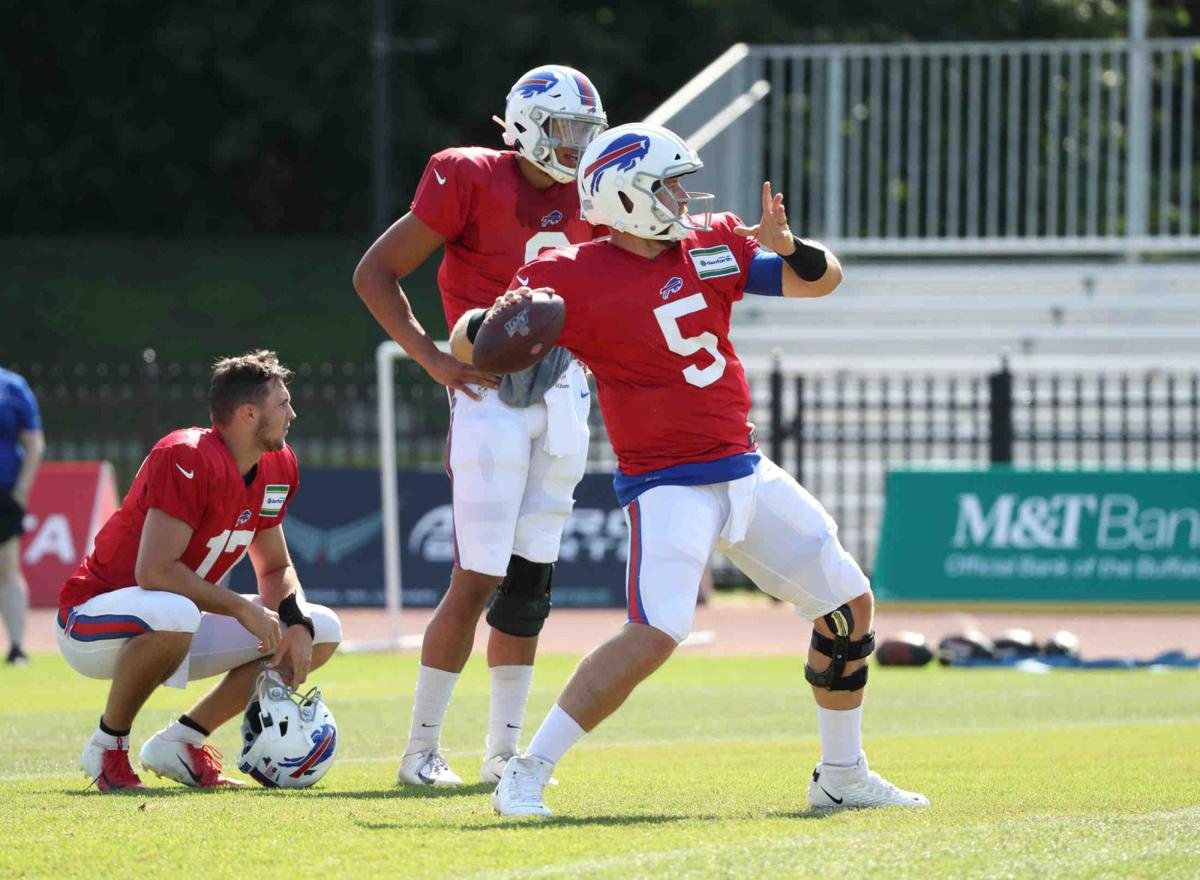 Welcome to this week's Bills Mailbag, which is once again jam packed. Let's get to it ...
Paul Braverman asks: Is it wise for the Bills (or any team) to keep four quarterbacks for the season (three active, one practice squad) so they'll always have two that know the offense should one or more get the virus? Seems like more quarterback jobs would go along with a potentially expanded roster.
Jay: This is a really interesting question, Paul, and something I hadn't really thought about. It makes a lot of sense, though. The Bills are set up well if they decide to go this route with Josh Allen, Matt Barkley, Jake Fromm and Davis Webb. The NFL is considering a proposal to allow teams to expand their practice squads to 16 players this season with the idea being that teams will inevitably have players get sick and need to be quarantined for a certain amount of time. It's a great point made by Paul that keeping only two quarterbacks on the roster, then, would be risky.
Rick McGuire asks: Brian Costello of the New York Post ran a three-part piece on the AFC East. He has the division finishing: 1. Patriots. 2. Jets. 3. Dolphins. 4. Bills. He states Josh Allen as the reason the Bills will fail to make the playoffs. Someone to respect or another idiot?
@jonathankoch77 asks: With Jamal Adams more than likely gone, how does that change the makeup of the AFC East?
Jay: Brian is definitely not an idiot. I do, however, disagree with him here. I have the Bills winning the AFC East. If they don't, something went wrong (a major injury, for example). I think second place in the division will be a close race between the Patriots and Jets. The Dolphins are still last, in my opinion, although their rebuild appears to be on track.
If Adams does change teams, perhaps that moves the Patriots ahead of the Jets. If he's traded, I'd see New York's Vegas win total dropping by maybe half a game.
Fletcher Doyle asks: How does McBeane maintain the culture when veterans have to be cut for cap purposes?
Jay: A couple of things here: No. 1, Brandon Beane has done such a good job managing the cap that the team doesn't have to worry about that right now. No. 2, NFL players understand that it's a cold, calculated business. The Bills didn't lose the locker room last year when LeSean McCoy got cut. If anything, players on the 2019 team said it was one of the tightest teams they've been on. The bigger concern might be who steps in as leaders following the retirements of Eric Wood, Kyle Williams and Lorenzo Alexander in three consecutive years. I'll have more on that topic soon. As for veteran cuts, they could become a possibility when and if the Bills decide to hand out big contracts to quarterback Josh Allen, cornerback Tre'Davious White and others in coming years. Again, though, Beane has managed the cap in a way that should make it possible to do those deals without having to make massive roster changes.
Mike Kickbush asks: Will the Bills make the next step? And will the defense be better against better quarterbacks next year?
Jay: Are they really going against better quarterbacks this year? Here's a look at the projected starters for the Bills' opponents: Sam Darnold (twice), Jarrett Stidham (twice) Ryan Fitzpatrick (twice), Derek Carr, Ryan Tannehill, Jared Goff, Patrick Mahomes, Ben Roethlisberger, Russell Wilson, Kyler Murray, Tyrod Taylor, Jimmy Garoppolo, Drew Lock. Obviously, Mahomes and Wilson are elite players. After that, though, it's not exactly a murderer's row of quarterbacks. It is a challenge for defenses to play at an elite level year after year, but the Bills are well positioned to do it. The new additions along the defensive line and at linebacker are familiar with the system. The depth up front is tremendous. The secondary is strong, and could reach another level if veteran Josh Norman regains his form.
dpr asks: How serious of an attempt did Donald Trump make to purchase the Buffalo Bills? Did he actually bid and provide the NFL necessary qualifying financial disclosures?
Jay: Trump has said he bid on the team "half-heartedly," with the reported offer being for $1 billion. Terry and Kim Pegula's winning bid was for $1.4 billion. Given Trump's willingness to finesse the truth, who knows if that figure is accurate? To do so, he would have had to make the financial disclosures to the NFL, although there have been allegations by his former personal lawyer that his net worth was greatly inflated before doing so.
Jimmybuffalo716 asks: Will my family be able to sit in our season tickets for the 56th consecutive year? Please say yes!
Jay: I'm sorry, Jimmy, but I can't do that. The best I can offer is a "maybe." As my colleague Jason Wolf reported, the Bills are working on contingency plans that would see New Era Field at 15%, 33% or 50% capacity. It remains to be seen which, if any, of those plans are enacted. Assuming one is, the next question becomes, how are tickets distributed? If it's by seniority on the season ticket list, you probably have a pretty good shot. If it's some other way, like a lottery, luck will need to be on your side. We all eagerly await those answers.
RocknesAra asks: It's easy to say the Sabres' disaster in management has not YET crossed over to the Bills. At what point can Brandon Beane, Sean McDermott and others no longer ignore the blazing bright warning signs from the Pegulas' other team?
Rich Chiarelli asks: Any word on extensions for Brandon Beane and Sean McDermott? In two years, they can walk and I'm seeing a lot of other teams extending guys. We lose them, back to hell we go.
Jay: The Bills' general manager and head coach are each under contract for the next two years. Any talk about an extension for either was put on the backburner by the Covid-19 pandemic. To the first question, I'm sure Beane and McDermott are well aware of what's going on with the Sabres. I'm also sure they are well aware that the Pegulas' financial situation has been, shall we say, called into question over the past few months. Let's not sugarcoat this: Terry and Kim Pegula have made some very bad decisions as owners of both franchises (hello, Rex Ryan). The Sabres must be thankful the New York Knicks exist, or they would have a real case for being the worst-run team in all of major professional sports. The Bills, though, have escaped that fate, thanks in large part to the leadership of their coach and general manager. It's only fair to mention that the Pegulas have also given those two whatever they've wanted/needed – whether that be an $18 million sports-performance center or a willingness to spend on free agents, front office members and the coaching staff. I agree that extensions for Beane and McDermott should be a priority. It won't be cheap, but the Pegulas surely realize the situation they have with the Bills is a good one.
Brandon Hotchkiss asks: Zack Moss for Offensive ROY? Yes or yes?
Ed Helinski asks: How do you foresee Zack Moss being utilized in the Bills' offense this season?
Jay: To Brandon's question, if that's the case, what happened to Devin Singletary? As long as he stays healthy, I don't see Moss getting enough carries to truly make a case for that award. That leads us to Ed's question. I see Moss being utilized primarily as a short-yardage and goal-line running back to start. He's also capable of handling an entire series if Singletary needs a rest. A couple of weeks ago, I struggled in trying to divide 100% of the carries (math is hard!). Let's try again: I'll say Singletary gets 50%, Moss gets 25% and the remaining 25% are split by the other running backs, quarterbacks and wide receivers (think jet sweeps).
John Jarzynski asks: After years of constant coaching changes, I feel pretty confident going into the season with the same group. How big of an advantage is familiarity with a system?
Jay: It should be a fairly significant one, especially without any spring practices. McDermott said that meant missing out on 500 reps for his team. Assuming that number is fairly close around the league, that's a lot of lost learning opportunities for teams with new coaching staffs or a lot more player turnover than the Bills have had. Here's what McDermott had to say about that during a recent conference call: "Continuity is good to have, a good ingredient. It's a good start. The thing we have to be aware of is games aren't won this time of year. Games aren't going to be won just because of continuity. So, you know, we've got to make sure that we take that continuity and build on it, and that's what we've got to do when we can come back together."
The Professor asks: If you were stuck on an island with any current Bills player, who would it be and why? Be well, Jay!
Jay: Is this a deserted island? If so, I'm going with the guy most likely to build us a raft to safely take us home (because that certainly wouldn't be me). I'll have to ask the Bills' PR staff who is into woodworking on the current roster. If it's just, like, hanging out on an island for a weekend – I'll go with Tre'Davious White. I did hang out with him once in his hometown of Shreveport, La., for a story. I'd do that again in a heartbeat.
Cole Kline asks: Do the Bills lose at least one home game this year due simply to the chance they could have no fans?
Jay: It's possible, but that could balance itself out by winning a road game that they might not have otherwise for the same reason. The Bills look to be one of the teams that would be hurt most by no fans. They enjoy a distinct home-field advantage at New Era Field, and their fans travel so well that some road games (think Tennessee last year) become de facto home games.
NewWorldMan asks: How much does it stink to know this is the Bills' year and there will be no football?
Jay: Come on, NewWorldMan, you're bringing everybody down. I continue to believe football will be played in some form. As mentioned above, though, it probably won't be what we're all used to. Let's talk about something more positive … like my son's golf game.
Jeff Kamien asks: This week is supposed to be International Junior Masters week at East Aurora Country Club. Seeing Elliott's progress, what year will he be a candidate? Perhaps 2027 or so?
Jay: He'll be 13 then, so that sounds just about right. The Junior Masters is a tremendous event at a beautiful golf course. I'd be thrilled if he competes in it one day. Elliott as a 13-year-old is a scary thought. He's growing up too fast as it is. His golf game is blossoming this summer, though. He's working in a new set of clubs and shooting in the high 30s from about 1,200 yards (think 75 yards for a par 3, 125-150 yards for a par 4 and 200 yards for a par 5). He's qualified for the U.S. Kids Golf World Championship, which is held at Pinehurst in North Carolina at the end of July. I'm proud of how far he's come and can't wait to see where he goes from here.
ACE asks: How many Bills players would Elliott beat on the course in a head to head?
Jay: A whole bunch. Granted, some of them have never played golf, but I'd be willing to bet he'd beat some who have picked up a club before, too. His ability to read greens blows me away. I'll tell him which way I see a putt going. If he disagrees, I'll let him hit it his way and more often than not, he's right.
Louis Stromberg asks: Jay – a lot of Sabres news this week. In honor of their house cleaning in the front office, please rank these houses: Eddie House, Swedish House Mafia, The Real Housewives of Beverly Hills, Animal House, treehouses. BONUS: Your actual house. 
Jay: 6. Swedish House Mafia. Not really my style of music, but that's subjective on my part. 5. Treehouses. I'd probably have a higher opinion of them if I had a really cool one growing up. Alas, I did not. 4. The Real Housewives of Beverly Hills. My wife swears by it. Never seen it. 3. Eddie House. He played for nine teams in 11 years! Amazing. 2. Animal House. A bit before my time, but I recognize its classic status. 1. My actual house. It's a good thing I like it considering all the time I've spent there recently. Thanks for all the questions. See you in a couple weeks!
Be the first to know
Get local news delivered to your inbox!