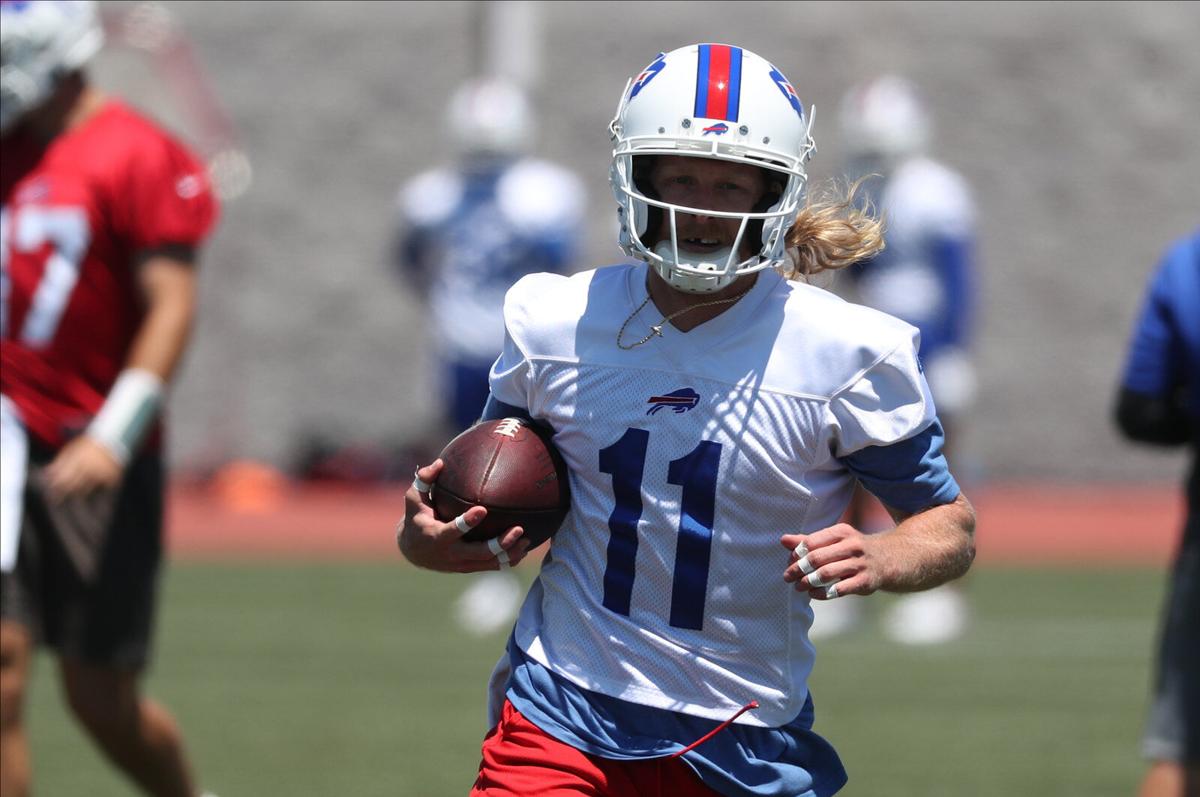 A quick programming note: This week's Bills Mailbag will be split up into two parts, running in the Sunday and Monday editions. I'm headed out for vacation, so this is a way to squeeze in all your questions. Let's get right to them ...
Jim asks: Will Cole Beasley make the Bills' roster this year?
Jay: If he wants to play, yes. Beasley has threatened to retire over the NFL's Covid-19 protocols for unvaccinated players. If those protocols don't change between now and September, we'll see if he follows through. If Beasley wants to play, he's going to make the team. He's a terrific slot receiver who fits well in the Bills' offense. The Bills aren't going to cut a player who can help them – like Beasley can – regardless of his stance on vaccinations.
Mark Metz asks: Do you think Cole Beasley will sit out the season? That will be a huge void to fill. The emphasis on tight end may become a serious problem. Do the Bills trade for Zach Ertz or roll the dice with the current roster?
Jay: I can't get inside Beasley's head to answer that question. I will say, though, that his recent post threatening retirement read like a player who has made up his mind. Given that the league's protocols might change before the season begins, it's tough to speculate on what he might do. If they don't change, it would not surprise me if he walked away. If that happens, the player most likely to benefit on the current roster is Isiah McKenzie. The Bills also surely have potential trade targets in mind, as they do for players at every position. As for tight end, the idea of trading for Ertz continues to make sense. The longer it drags on, it becomes apparent, however, that the Bills either don't have interest or aren't offering the Eagles what they believe to be fair compensation. It's also possible that the Bills feel like Philadelphia will ultimately release Ertz, at which point General Manager Brandon Beane could attempt to sign him without owing Philadelphia anything.
Based on three seasons of Daboll offense in Buffalo, it's apparent that going up-tempo – like most of his tactical decisions – is something he employs based on matchups.
John Jarzynski asks: Do you see any chance that the NFL cancels their rules on unvaccinated players vs. vaccinated players?
Jay: I'd consider it unlikely that they would do away with all protocols, but a further loosening seems reasonable, depending on what's happening in the outside world. If a full stadium is going to be allowed and many businesses have relaxed most, if not all, restrictions, the NFL should follow suit. Of course, the skeptic in me believes the league and players association are dragging this out as long as possible partially in an effort to keep reporters out of the locker room for another season. There is no good reason a vaccinated reporter shouldn't be allowed inside the locker room other than players and teams simply don't want us there. Obviously, that directly impacts me, but it also hurts the ability of every media outlet to tell better stories, which means fans indirectly get shorted.
Ed Helinski asks: Heading into training camp, it looks like the Bills have the most roster depth in many years. And it'll make for interesting watching, to say the least, with the possibility of some shocking cuts, trades and head-scratching results. In your estimation, please rank the team area(s) which could offer these possibilities. How do you feel about the position-by-position depth on the Bills' roster? In your opinion, might there be an area of concern on this team when injuries strike?
Jay: The three areas that look the deepest to me are offensive line, defensive line and wide receiver. The Bills added NFL veterans Forrest Lamp, Jamil Douglas and Bobby Hart to the offensive line in free agency, then drafted tackles Spencer Brown and Tommy Doyle in the third and fifth rounds, respectively. That all came after re-signing Daryl Williams, Jon Feliciano and Ike Boettger. That makes for a crowded room, even if the projected starting five remains the same from last year. Along the defensive line, the team drafted Greg Rousseau in the first round, then doubled down in the second round with the selection of Boogie Basham. Simply put, the Bills have more NFL-caliber defensive ends than they'll be able to keep.
The same is true, although to a lesser degree, at wide receiver. If we consider the top four to be Stefon Diggs, Cole Beasley, Emmanuel Sanders and Gabriel Davis, that leaves Isaiah McKenzie, sixth-round draft pick Marquez Stevenson, Isaiah Hodgins, Duke Williams and Jake Kumerow as the primary contenders for what's likely to be two jobs. All three of those spots are ripe for the possibilities Ed mentioned – a surprise cut or trade.
"It's been a long recovery, but I've been looking forward to this day the whole time. Finally got to take the red jersey off, so I'm excited for the future," the wide receiver said.
As for areas of questionable depth, safety is the most glaring. If something were to happen to Micah Hyde or Jordan Poyer – both of whom work so well together and are such a big part of what the team does – the defense would be in some trouble. Jaquan Johnson and Damar Hamlin are the projected backups, and both are unproven.
Alex M. asks: Read some Buffalo News articles about how Star Lotulelei elevates the play of Matt Milano and Ed Oliver. Do the Bills have anyone on the roster to fill that void if he were ever to retire? Seems like he is irreplaceable to those around him.
Jay: We only have to look at the 2020 season to answer that. The team had added Quinton Jefferson and Vernon Butler Jr. in free agency to join Ed Oliver and Harrison Phillips as members of the defensive tackle rotation, along with Lotulelei. The original plan was to use Jefferson in a hybrid end/tackle role, but he ended up playing more inside after Lotulelei opted out because of Covid-19 concerns. The short answer is that there was no obvious replacement on the roster. Phillips got off to an expected slow start in 2020 as he was making his way back from a torn ACL. The upcoming season is massive for him. The former third-round draft pick is in the final year of his rookie contract, so he'll want to show the Bills or another team he's deserving of another deal. It was speculated that the Bills might want to go after a run-stuffing defensive tackle this offseason, but the team did not make a major investment in the position. It's also worth mentioning that Justin Zimmer is back. He had some nice moments last year after joining the 53-man roster and will push for a roster spot.
Luigi Mike Speranza asks: So much Super Bowl talk and positive media on the Bills both nationally and locally. Even with the great coach Sean McDermott, could the team falter at least temporarily from reading their own great press?
Jay: With McDermott leading the way, that seems unlikely. He's done a very nice job in his four years of keeping the team focused on the task at hand. You are right in that this year teams will be aiming to prove themselves in some ways against the Bills. Winning the AFC East and making it to the conference championship game legitimized Buffalo as one of the best teams in the NFL. There will be no sneaking up on teams in 2021.
Chris Simms described Green Bay Packers quarterback Aaron Rodgers as the "greatest I've ever seen," but has moved the Buffalo Bills' Josh Allen ahead of Rodgers to No. 2 in his top 40 quarterback rankings. 
Jeff Miller asks: Supposing Josh Allen doesn't have the record-setting year he had last year, which isn't a stretch, what does he need to improve on and how much can he regress, i.e. what would be acceptable numbers so that panic doesn't set in upon us in Bills Mafia?
Jay: It's probably not as important to focus so much on the numbers. Let's say the Bills' defense can't find its way this year. The team might lose games 41-38, but Allen's numbers might look even better than a year ago. Or let's say the defense is dominant, the offense plays lights out in the first half of games and the Bills focus more on running in the second half when they have a comfortable lead. That could result in Allen's numbers taking a dip, even if the result that matters most – wins and losses – continues to swing in the Bills' favor. Allen has taken huge leaps each year since coming into the NFL. Statistically, that obviously won't be as easy to do in 2021 after a year in which he finished second in MVP voting. If Allen can duplicate what he did last year and the Bills improve around him by running the ball better and getting a more consistent defensive effort, that would be a major success.
As for areas in which he can improve, he mentioned his short-area accuracy as being a focus this offseason. That doesn't always have to mean completions. It can also mean better ball placement that gives his receivers more of an opportunity for yards after the catch.
Brian Huckle asks: While it appears several Bills players have decided to forgo any plans to get vaccinated, what's the early over/under for players who get tested positive for Covid-19 and thereby need to opt out for two weeks?.
Jay: That's hard to say. As of Friday, the Erie County Department of Health reported 30 Covid-19 positive tests over the past week. That means our area is at a low risk for unvaccinated people. If the team succeeds in increasing the number of vaccinated players, that makes the odds of a positive test even lower. If cases rise with seasonality, perhaps the risk increases some. I'll set the over/under at 0.5 – meaning you'd be betting that the team will have at least one case this season.
When Washington became available after the 2019 season due to the housecleaning in Carolina, coach Sean McDermott wasted no time in hiring him for the Bills.
Tom Healy asks: Maybe it's wishful thinking, but what is the possibility of Mitch Trubisky staying on after this season so that we could have a new version of Kelly/Reich?
Jay: Beane made it clear when he signed Trubisky that he viewed it as a short-term move, believing Trubisky is good enough to have at least a chance to start somewhere else. When I spoke to Trubisky recently, he gave a good answer to the question about what might happen past this season by saying he's focused only on making the most out of the 2021 season and he'll deal with what happens then at that point. Trubisky staying with the Bills will depend on two things – interest from both sides. If Trubisky wants to go somewhere else to try to be a starter again, there's probably not much the Bills can do to prevent that from happening. If that opportunity doesn't present itself, he's happy in Buffalo and the Bills make him a competitive offer to return as the backup, it's possible he returns in 2022.
Sam Ruggiero asks: I've read that Mitchell Trubisky was picked up as A.) A viable backup and B.) The QB1 for the team that Brian Daboll becomes a head coach for? What do you think?
Jay: That would be playing quite the long game. Trubisky can't possibly know what's going to happen with Daboll after this season. While it's true another successful season for the Bills' offense should lead to his being a strong head-coaching candidate again next season, there's no guarantee he lands the top job somewhere. It's hard for me to believe that Trubisky would make such an important decision in his career based on something that is only a possibility. Spending a year in Daboll's system should be beneficial, and if the offensive coordinator does become a head coach next year, there is potential for Trubisky to join him, but the quarterback's decision to sign here had less to do with that and more to do with the opportunity to win a championship while hitting "reset" on his career.
A reminder that Part 2 of this week's mailbag will run Monday. Questions can be submitted to @JaySkurski on Twitter or via email: jskurski@buffnews.com