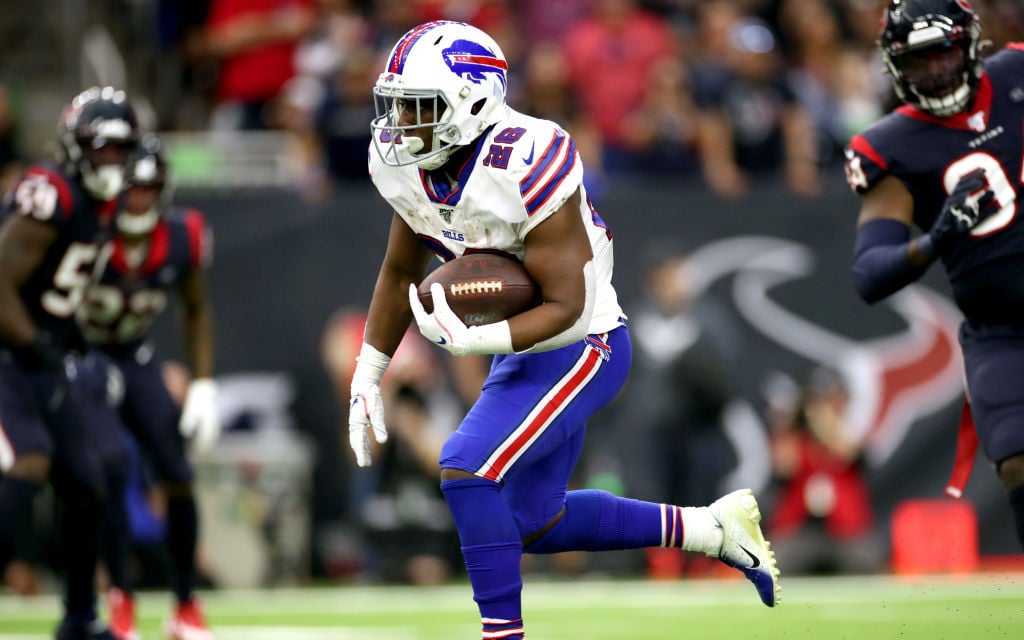 Welcome to a special draft edition of the Bills Mailbag. While the Bills don't have a first-round draft pick at the moment, the anticipation for Thursday is still through the roof.
With the sports world shut down because of the ongoing coronavirus pandemic, the draft has served as a much-needed distraction from everything we're going through. Let's get to it …
Bankojw asks: If you were GM for a day, what do you think is the biggest draft need? When you're not playing GM, we need a golf rematch. It's been snowing long enough we could all use the match.
Jay: I feel like I'm on a bit of an island, but my biggest need is along the offensive line. While the Bills were improved up front in 2019, they still weren't good enough. Even though all last year's starters and top reserves are back, if I were the Bills' GM this week, my goal would be to leave the draft with a player capable of starting on the offensive line.
I feel like most others would peg a No. 2 running back as being the biggest need for 2020. Beyond that, a pass rusher is the biggest long-term need. The Bills are old there with Jerry Hughes, Mario Addison and Trent Murphy, who is in the final year of his contract.
The Bills are in win-now mode. While it's true that drafts aren't only about the upcoming season, the Bills to address both their short- and long-term goals in the second round. That's why a running back to pair with Devin Singletary should be considered a top priority. Let's say that a player like J.K. Dobbins from Ohio State is available. He would split time with Singletary and give the Bills a really good-looking run game.
In addition to the offensive line and edge rusher, I'd also like to add developmental players at wide receiver and cornerback.
And, yes, a golf rematch is a must. We just need it to stop snowing by May.
Rick McGuire asks: If Brandon Beane decides to move up from No. 54, what's the highest you think he'd be willing to go considering what the price would be? Could you see him trying to move back into the first round?
Ed Helinski asks: Jay, does Brandon Beane dip into 2021 draft picks and use some of this year's picks to move up and get his guys?
Jay: Never say never, but I'd put the chances of that at almost nil. The trade for Stefon Diggs reduced the Bills' allotment of draft picks from nine to seven. With just two of those in the top 100, the Bills' draft capital has been graded as the least valuable in the NFL, according to a chart shared last week by ESPN's Field Yates. That means Beane really doesn't have a lot to offer to move up. Turning to 2021 picks is also difficult, given that the team already sent its fourth-round pick to the Vikings as part of the move for Diggs. Last year, it cost the Bills a fifth-round draft pick to move up just two spots in the second round to draft Cody Ford. Perhaps Beane will feel the need to make a similar deal this year, but even that type of a move seems like a stretch with the Bills' limited draft capital.
Alex M. asks: Do you see the Bills drafting a quarterback? How many years does Josh Allen need to play before he doesn't need an experienced backup quarterback on the roster?
Jay: I wouldn't rule out the Bills adding a quarterback, but I'd be shocked if that came any earlier than the sixth round, when the team has two picks. Any quarterback drafted would be brought in to compete with Davis Webb for either the third quarterback job or a spot on the practice squad. It doesn't make a lot of sense to devote anything more than a sixth- or seventh-round draft pick to that. If they do want to add competition for Webb, it's more likely they sign a quarterback as an undrafted free agent.
As for the second part of that question, I don't think Allen needs a veteran backup at this point in his career. He's going into his third year in the same offensive system. He knows the offense. Having a veteran backup quarterback is beneficial because that player can help a younger starter in the meeting room. In the Bills' case, Matt Barkley does that well. If Barkley were to be beaten out for the backup job by a rookie, that would be an indication the Bills are high on that player. That's a slippery slope they probably don't want to go down in the event Allen struggles. Barkley poses no threat in such a situation.
TNFP69 asks: Do you think the Bills are looking at some free agents during the draft in case they can't fills some of their needs in it? Plus some of those players who are targeted to be released June 1. Glad you're back!
Jay: It's nice to be back. The short answer to your question is yes, Brandon Beane will absolutely have an eye on free agency once the draft wraps up. Last year, the Bills signed tight end Lee Smith shortly after the 2019 draft concluded, and that was after drafting a pair of tight ends. There are unsigned free agents who can help teams in 2020. The most noteworthy of those is Seahawks defensive end Jadeveon Clowney. At this point, Clowney is better off waiting until after the draft to see which teams still have a need at his position. There are other options who don't figure to be as expensive, too. Running back Carlos Hyde and linebacker Nigel Bradham fall into that category. With teams being able to release players with post-June 1 designations, the significance of that date has lessened, but it's possible that veterans get replaced by cheaper rookies, leading to a new wave of free agents coming available soon.
Bob Rajczak asks: What percentage of players in the NFL draft are correctly/exactly predicted by all these mock draft gurus over the last 3 to 5 years? For example, if Joe Burrow is predicted as the first pick and he is, then that is correct. If Tua Tagovailoa is predicted as the fifth pick and he goes anywhere else, then that's incorrect. How many picks have you personally gotten exactly right in the last 3 to 5 years? I'd guess 20-25% correct would be the high end for any one guru.
Jay: You're in luck, Bob. Fantasypros.com (amazingly) tracks this very thing. Last year, the best mock draft was turned in by Charlie Campbell of walterfootball.com. He got 10 picks exactly right (team, player, draft spot). That's exceptionally good. Last year, I had six players matched with their team, although two of them were in different draft slots after trades. I'd take that again this year. Your estimation of 20-25% correct is on the high end. All of which is to say, mock drafts are mostly for entertainment purposes.
Dennis Priore asks: In honor of the NFL draft this week, rate the following: DraftKings, your favorite draft beer, draft horse, a cold draft.
Jay: I feel like I need to clear any sort of power rankings with Louis before attempting them. I'll do it for you, though, Dennis. 4. DraftKings – Here's a tip: You're not going to win $1 million with your fantasy football lineup. A better way to make use of daily fantasy is to get some friends together, throw a few bucks in the pot each week and have the winner take it all. You'll actually have a chance, and you'll be playing against buddies. 3. Draft horse – Family farms are the backbone of American society. 2 and 1. A cold draft/your favorite draft beer. These are pretty much the same, aren't they? Draft beer gives me a splitting headache, so it's not my drink of choice. If I'm having one, though, I'll take anything from Resurgence Brewing Company.