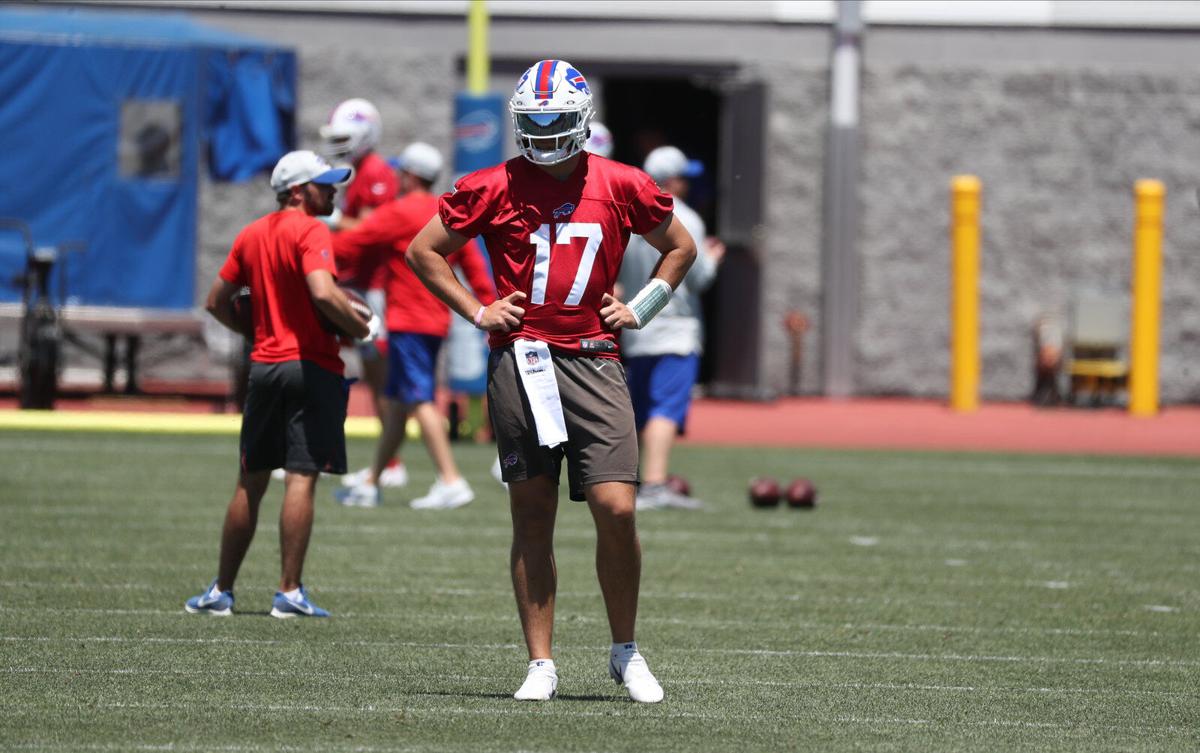 Welcome to the quiet time on the NFL calendar.
With mandatory minicamps around the league wrapping up, the Buffalo Bills and 31 other teams will enjoy a summer vacation of about six weeks before reporting for training camp the last week of July. Let's get right to this week's Bills Mailbag …
Mike Scully asks: I'll paint a highly unlikely and undesirable scenario: The Bills are off to a disastrous start to the 2021 season, like 2-4 or even 1-5. Josh Allen is struggling mightily and has unexpectedly regressed from his all-world season of last year. At this point, Sean McDermott would have no choice but to insert Mitch Trubisky as the starter for the Week 8 game against Miami following the bye week – right?
James Griffin asks: Should Brandon Beane be taking any calls regarding a Josh Allen for Aaron Rodgers deal? Just one Super Bowl is all I want.
Jay: Now, there are two divergent opinions on the Bills' quarterback! Let's tackle these one by one. It's hard to wrap my head around just how far south things must go before benching Allen in favor of Trubisky becomes a viable option. Stranger things have happened, I suppose, but this scenario is one I wouldn't spend too much time thinking about. Trading Allen for Rodgers would be fun to kick around at the bar with your buddies. I wouldn't do it. Rodgers turns 38 in December. He's clearly approaching the end of his career. People will point to Tom Brady to show that quarterbacks can play at a high level into their 40s, but I'm not entirely sure Brady is human. Would Rodgers make the Bills better in 2021? That's entirely possible, but it wouldn't guarantee them a Super Bowl. A trade this monumental would also have to factor in the future, and Allen has a long one of those ahead of him. The goal for the Bills is to build a sustained Super Bowl contender. With Rodgers, that might be true for one or two, or even three years. The hope with Allen is that it's true for the next 10 or 15.
Chip Mayle asks: What do you see for Cody Ford in 2021? Starter or role/bench guy who has to wait for opportunities to get snaps?
Jay: It better be starter, or else that second-round pick will be considered a bust. Ford has had a tough start to his NFL career. He's dealt with shoulder, ankle, knee, groin and concussion injuries during his first two seasons, while also shuffling among right tackle, right guard and left guard. It appears as if the team has finally settled on left guard being his spot and all indications are he should be ready to return to practice in training camp at 100%, so he's on the short list of players with the most to prove entering 2021.
Thomas Larsen asks: What one running back is either still out there unsigned or on a "bubble list" (could be cut) that would draw the Bills' interest?
Jay: Let's just focus on the free agents for now, because speculating on possible cuts makes the list rather long. Several big-name veterans are on the open market, although their age makes it questionable as to whether the Bills – or any other team – should have legitimate interest. We can start with some former Bills. LeSean McCoy and Frank Gore are free agents. Neither has officially announced his retirement, so conceivably they're waiting for the right opportunity. It's hard to see the Bills being interested in either, though. The Bills did have an interest in Le'Veon Bell after he was released by the Jets last year, but he opted instead to sign with the Chiefs, then proceeded to do a whole bunch of nothing in Kansas City. Bell then also went public with his frustration playing for Chiefs coach Andy Reid, who is a mentor to Bills coach Sean McDermott, which wasn't a good look for a player trying to find a job. It seems like the Bills' interest in Bell has expired. Other notable players still on the market include Adrian Peterson, Todd Gurley, Duke Johnson, Dion Lewis and Chris Thompson. At this point, the Bills look content to go to training camp with who they have. If there is an injury at the position over the summer, perhaps they revisit this list.
Rick McGuire asks: Is there a reason why the Bills' organization has never converted the stadium's artificial turf over to real grass? Seems it would reduce the opportunity for injuries.
Jay: If there is one, I'm unaware of it. McDermott prefers to practice on the natural grass fields outside the team's fieldhouse as much as possible, believing the surface is easier on his players. Grass is obviously not easy to maintain in Western New York in December and January, although other teams in cold-weather climates, such as Chicago and Pittsburgh, do it. Green Bay uses a hybrid surface developed by SISGrass. Lambeau Field became the first U.S. stadium to install the surface, which is popular in soccer stadiums in Europe, Asia and Africa. It's made up of a sand and pebble base, along with natural Kentucky bluegrass and synthetic fibers sown into the ground to stabilize footing. There are also heating pipes about 10 inches below the surface to keep the field warm.
That's not to say the surface has been perfect. Before a home divisional playoff game against the Seahawks in 2020, the Milwaukee Journal Sentinel reported on a rash of players slipping, and how both teams were concerned with footing ahead of the game. Part of the problem traced to Lambeau Field sitting low inside a bowl, which reduces the amount of wind and sun that hits the playing surface, causing it to retain moisture. Similarly, the playing surface in Highmark Stadium is 50 feet below ground level. That could play into the reasoning for never going to a natural surface.
Doug Formaniak asks: Do you think the Bills are falling behind the other top teams in the AFC? We have basically the same team as last year, yet a lot of our opponents like the Browns and Titans have added star players.
Kevin Thompson asks: Lots of chatter about improving a perceived weak tight end position, but I am more concerned with what improvements were made to our mediocre run game. Your thoughts?
Jay: In the days after the Bills' loss to the Chiefs in the AFC championship game, McDermott mentioned retaining as many players as possible was going to be a primary offseason goal. By re-signing linebacker Matt Milano, right tackle Daryl Williams and guard Jon Feliciano, the Bills did that. The team also made a significant change at wide receiver, swapping out John Brown for Emmanuel Sanders. Two other goals mentioned by McDermott and General Manager Brandon Beane after the loss to Kansas City were running the ball better and getting more pressure on the opposing quarterback with a four-man rush. The running back room is largely the same, with only Matt Breida being brought in to replace T.J. Yeldon. The Bills did heavily invest on the defensive line by using their first two draft picks on edge rushers Greg Rousseau and Boogie Basham, although it remains to be seen what their contributions will be as rookies. Nothing the Bills did this offseason approached the level of the Titans' recent acquisition of wide receiver Julio Jones. Of course, Tennessee also lost wide receiver Corey Davis and tight end Jonnu Smith in free agency, so adding Jones became more of a priority. The Bills were not in a position with the salary cap to be major spenders in free agency, which also factors into their approach. It's fair to question whether other teams have narrowed the gap, but I'd stop short of saying the Bills are falling behind other teams right now.
Mike Campaign asks: I feel Boogie Basham projects more as a defensive tackle than defensive end long term, maybe as early as this year. l bet this offseason they ask him to bulk up for a full-time shift inside.
Jay: Basham is listed as 6 feet, 3 inches and 283 pounds on the Bills' website. Comparatively, Ed Oliver is 6 feet, 1 inch and 287 pounds. Of course, if Basham moves inside, it makes you wonder what would the plan be for Oliver. The Bills drafted him ninth overall in 2019 with the idea that he would develop into the type of interior pass rusher offenses have to scheme against. It's hard to say he's reached that level after two years. That's not to say he's a bust, but judging from the public comments coming from McDermott, it's fair to think the Bills would like to see more from Oliver in 2021. Last year, the Bills signed Quinton Jefferson with the idea that he could be a hybrid tackle-end, but he ended up playing mostly inside after Star Lotulelei opted out. With Lotulelei back, perhaps Basham can fill the role that was intended for Jefferson last year. My preference would be to get a good sense of what Basham can do as an edge defender before shifting him inside.
Paul Catalano asks: Do you think the Bills were ever in or trying to get Julio Jones?
Jay: It wouldn't surprise me if Beane at least made a call, although the team's cap situation would have made such a move difficult. According to NFL Players' Association records, the Bills have just more than $10 million in cap space as of Friday morning. Jones' base salary for 2021 is $15.3 million, so Buffalo would not have been able to fit him in without either sending money out in the trade or significantly reworking Jones' current deal. To do that would mean committing more money long term to a 32-year-old receiver. Those factors would make a deal difficult, although the potential of pairing Jones with Stefon Diggs was understandably intriguing to fans.
John Jarzynski asks: How do you have the AFC East ranked?
Jay: 1. Bills. 2. Dolphins. 3. Patriots. 4. Jets. I like a lot of the moves Miami has made, but I'm not convinced at all that Tua Tagovailoa is the right quarterback. Similarly, the Patriots have big quarterback questions – both with what Cam Newton can give them in his second year with the team and with what first-round draft pick Mac Jones, who followed Tagovailoa at Alabama, can do as a rookie. The Jets also have a quarterback question with No. 2 overall pick Zach Wilson replacing Sam Darnold. New York, though, has given Wilson more than Darnold ever had to work with. The division has the potential to be loaded, if any or all of those young quarterbacks pan out.
Fittingly, we'll end with a power rankings question. Thanks for all your submissions, and a reminder – you can submit items for the mailbag via Twitter, @JaySkurski, or via email: jskurski@buffnews.com.