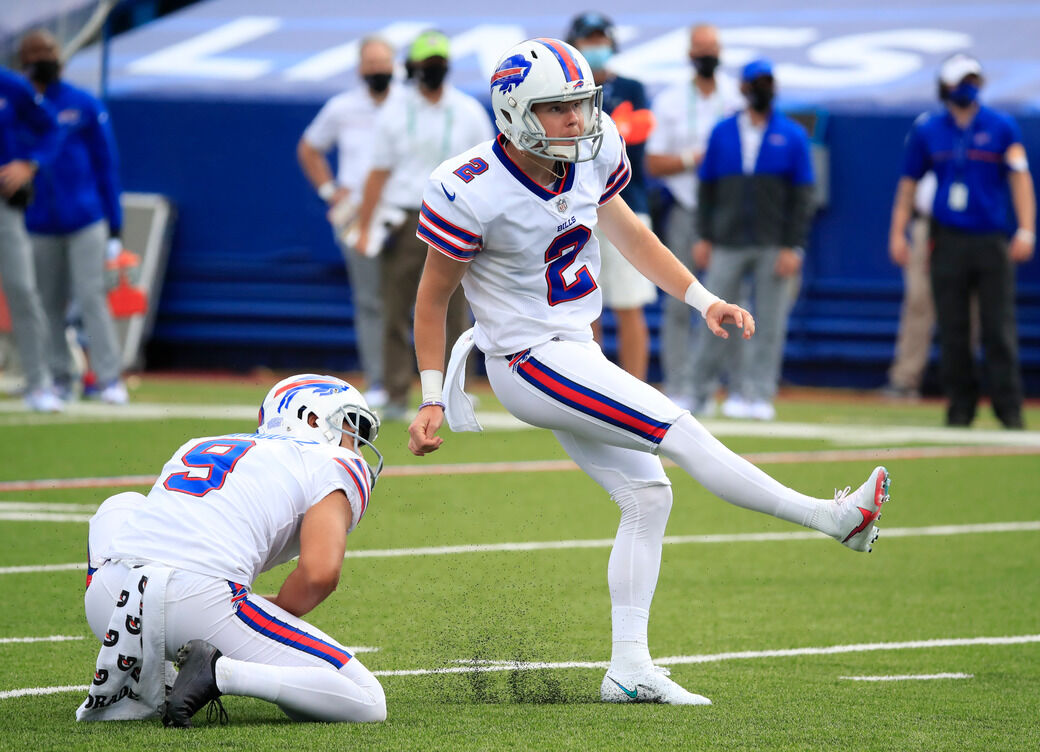 Welcome to another edition of the Bills Mailbag. Lots of questions this week, so let's get right to them ...
bk asks: If Tyler Bass misses two short field goals this week, do the Bills let him ride home on the plane, or do they just cut him immediately and leave him in Miami?
Jay: They'll bring him home and give him another chance. It's been interesting to watch coach Sean McDermott's reaction to Bass' struggles against the Jets. You can really tell he's doing all he can to keep the rookie's confidence up. The Bills made a big decision to go with Bass over veteran Stephen Hauschka, and they desperately don't want that to blow up on them. Perhaps converting a pair of chip-shot field goals in the fourth quarter against the Jets got Bass on the right track. Until he comes through in the clutch, though, there are going to be serious questions about what the Bills really have at kicker.
IDiggIt asks: With Matt Milano and Tremaine Edmunds injured, why haven't the Bills considered bringing back Lorenzo Alexander and Vosean Joseph?
Jay: Let's start with Alexander: While he told my colleague, Jason Wolf, last Sunday that he would listen if the Bills called, there is no indication that has happened. Even though Alexander knows the defense inside and out, it would not be a quick process to bring him to Buffalo. He'd have to go through days of Covid-19 testing before he could join the roster, which made it impossible to have him ready for this week's game. If it becomes apparent that Edmunds and/or Milano are going to be out long term, perhaps the Bills revisit the idea. Keep in mind, though, that Alexander was the first linebacker off the field last year. It's unlikely the Bills see him as an every-down player at this stage of his career, which is what the team is losing with Edmunds and Milano out of the lineup. As for Joseph, we can safely deduce the team just doesn't think he's very good. He wasn't re-signed to the practice squad after being cut, and instead of turning to him this week, the team brought in Deon Lacey for another tour of duty. Not every draft pick is going to be a hit, and it's clear that spending a fifth-round pick on Joseph in 2019 did not work out.
Andrew Sexton asks: How will the Bills have to adapt without Matt Milano or Tremaine Edmunds playing this week?
Jay: As McDermott put it Friday, other players are going to have to step up. The expected starters are A.J. Klein and Tyrel Dodson. Athletically, that is a big step down for the Bills. The best way to overcome that is for the defensive line to dominate the line of scrimmage. That means cutting off running lanes and getting to Dolphins quarterback Ryan Fitzpatrick as quickly as possible. Dolphins running back Matt Breida is one of the fastest players in the NFL, so it wouldn't be a surprise to see Miami offensive coordinator Chan Gailey use him in space. The Dolphins may also try to get tight end Mike Gesicki matched up on one of the Bills' linebackers. If that becomes a problem for the Bills, they may need to use safety Jordan Poyer or Micah Hyde in coverage. There is no doubt losing Milano and Edmunds is going to be a big challenge for the Bills' defense.
Alex M. asks: Would there be any benefit to trading Matt Milano during the season? I know we aren't paying him much right now. However, we can at least get something in return if he were to leave in free agency.
Jay: Under no circumstances should the Bills consider trading Milano this season. This is a team with Super Bowl aspirations. Trading a three-down linebacker midway through the season would be absolutely brainless on the part of General Manager Brandon Beane. Yes, the possibility exists that Milano could depart after the season in free agency. You deal with that problem then, though, not now. Milano is a huge part of what the Bills do defensively, and trading him would open a hole on the roster with no obvious answer to fill it. Keep in mind, on the Bills' depth chart, Milano doesn't even have a listed backup. Trading him does not make the team better in 2020, which is what every decision Beane makes should be about.
Chris Sandoval asks: If Matt Milano misses significant time, does this impact his potential contract extension? Have to be concerned about his availability if this team is a contender.
Jay: It could. Milano has a history of hamstring injuries, dating back to his college days at Boston College. Remember, he missed the Bills' playoff game as a rookie with a hamstring injury. The Bills are going to get to the point they can't pay everybody, especially if Josh Allen takes a big step forward and solidifies himself as a franchise quarterback. That would be a good problem to have, but it could lead to some tough decisions, like letting Milano walk in free agency.
Jeff Bagel asks: If the NFL Hall of Fame selection committee were to ever elect a journeyman, could there be a case for Ryan Fitzpatrick? He's played for eight teams, thrown for more than 33,000 yards with 210 touchdowns and set nine NFL records.
Jay: If that hypothetical category were ever created, sure, but that would sort of defeat the purpose of a Hall of Fame, wouldn't it? I'm all for the Hall being harder to get into – not easier. Fitzpatrick has had a remarkable career. He's a good guy who has a way of winning over teammates and fans. He's made a boatload of money. He's used every ounce of talent that he's been given. He's not in any way a Hall of Famer, though.
John Jarzynski asks: Should we be concerned that A.J. Epenesa did not dress?
Jay: Not overly concerned. The top three defensive ends – Jerry Hughes, Mario Addison and Trent Murphy – are all established veterans. That leaves one spot for Epenesa and Darryl Johnson Jr. to fill. The Bills like Johnson on special teams, so at least for right now, that gives him the advantage. You can look at this one of two ways: The glass-half-full version is the Bills are so deep that they can afford to keep Epenesa sidelined. The glass-half-empty version is you'd like your second-round draft pick to be so good that he forces his way onto the field right away. Obviously, that hasn't happened. The choice of Epenesa was clearly made with at least one eye toward the future, given that Murphy is in his final season. For right now, bringing Epenesa along slowly is OK in my mind.
Ed Helinski asks: What's your thoughts on the Bills' injury situation so far? Any surprises? Or is it about what you've anticipated because of lack of OTAs?
Jay: About what I've anticipated. Obviously, losing both Matt Milano and Tremaine Edmunds this week is a huge challenge for the defense. Outside of that, the team entered the season in fairly good shape. Josh Norman went down with a hamstring injury – you had to expect that type of injury would pop up after such a long offseason with no spring practices. Jon Feliciano's torn pectoral muscle is another one of those injuries that can't really be avoided. For the most part, the team has done a good job of controlling what it can control when it comes to injuries.
Shawn Sherman asks: What can the Bills do to not be so flat in third quarters? I find it difficult they can't scheme after a full, halftime meeting.
Jay: I asked McDermott a variation of this question Friday. Here was his response: "A lot of things we need to work on, to your point, and that would be one of them. Last week, we came out, we went three-and-out on offense. You go back and say 'Hey, OK, what do we need to work on? That's one of them. How can we get better at it?' So ongoing process, ongoing growth mindset as far as that, especially coming out of that third quarter that we had."
That's a lot of words that can be boiled down to: Do better. Last year, the Bills were outscored by 11 points in third quarters, so it wasn't an overwhelming points disparity, but it is an area with room for improvement.
Joseph Genco asks: Will Josh Allen's fumbling trouble lead defenses to bait the Bills into running the read option and then take away the option, knowing they can A) get a hit on the QB and B) get a chance for a strip?
Jay: It's a legitimate concern. Until Allen shows better awareness as a ball carrier, defenses are going to come after it. As for inviting the read option, that's playing with fire in the sense that Allen can make things happen with legs, but savvy defenses may try to pull it off.
LDsports asks: Does it appear fans will be allowed in the stadium after the second home game? Is New York state ready to make a decision? If fans are allowed, would it likely be a lottery among season-ticket holders for the available seating?
Jay: I'm having a hard time understanding the rationale for not allowing a reduced-capacity crowd at this point. In an article published this week by my colleague, Sandra Tan, Erie County Executive Mark Poloncarz is quoted as saying that one of the big concerns is how to get people in and out of the stadium safely. With the number of gates available, it does not seem like that should be an insurmountable obstacle. Poloncarz also mentioned a concern about being able to safely evacuate the stadium should the need arise. If that situation were to occur, it seems to me the coronavirus wouldn't exactly be the top priority at the time. It's also frustrating to read that the region's Covid-19 numbers need to drop … but there is not a specific target figure that would mean it's safe for fans. That's a lack of transparency that makes no sense. Poloncarz said the Bills have a good plan that would allow for reduced capacity at Bills Stadium. If that's the case, it's getting harder to justify fans being kept home. As for tickets, the team has not announced how those would be distributed, but either a lottery among season-ticket holders or going down the seniority list to gauge interest would be the fairest way of doing things.
C Rob asks: Is it cool to cover Gabe Davis? No one at USF could.
Jay: See, now this is uncalled for. I'm just going about my business, and then C Rob here cruises by the mailbag to leave this cheap shot. Come back Nov. 27, C Rob, and let's talk after South Florida takes care of business*. (*-actually, probably, don't come back because UCF has been owning USF lately).
Mike asks: Power rank the following Miamis: Miami Sound Machine, Miami Vice, Will Smith's Miami -- "Bienvenido a Miami," Miami Dolfans TD song, Miami Dolphins Kicker Ray Finkle in Ace Ventura.
Jay: 5. Miami Dolfans TD Song. The absolute worst. 4. Ray Finkle. Laces Out, Dan! 3. Miami Sound Machine. "The Rhythm is Gonna Get You" can still make you turn up the volume. 2. Miami Vice. Don Johnson made rocking a white blazer cool. 1. Will Smith's "Miami." South Beach, bringin' the heat.
Louis Stromberg asks: Morning, Jay. Big call up for UB alum Cam Lewis to the active roster. Let's show him some love, so please go ahead and power rank the following Cams: Cameron Diaz, camouflage, camels, guacamole, Campbell's chicken noodle soup. Have a good weekend!
Jay: 5. Camels – They're actually pretty cool, but spitting isn't very nice. 4. Campbell's chicken noodle soup – It reminds me of being sick. 3. Camouflage – Not much of a need for it here in Amherst. 2. Guacamole – A sign of how I'm evolving: I never liked avocado before, but now I can't get enough of it. Wegman's guacamole is second only to my wife's home-made recipe. 1. Cameron Diaz – If you didn't have a crush on her after "The Mask," well, you're lying. "There's Something About Mary" still holds up, too. Have a great weekend!
[BN] Blitz Daily Updates
Feed your obsession. Start every morning with a guide to the latest news from One Bills Drive and stay informed about what is going on elsewhere in the NFL.