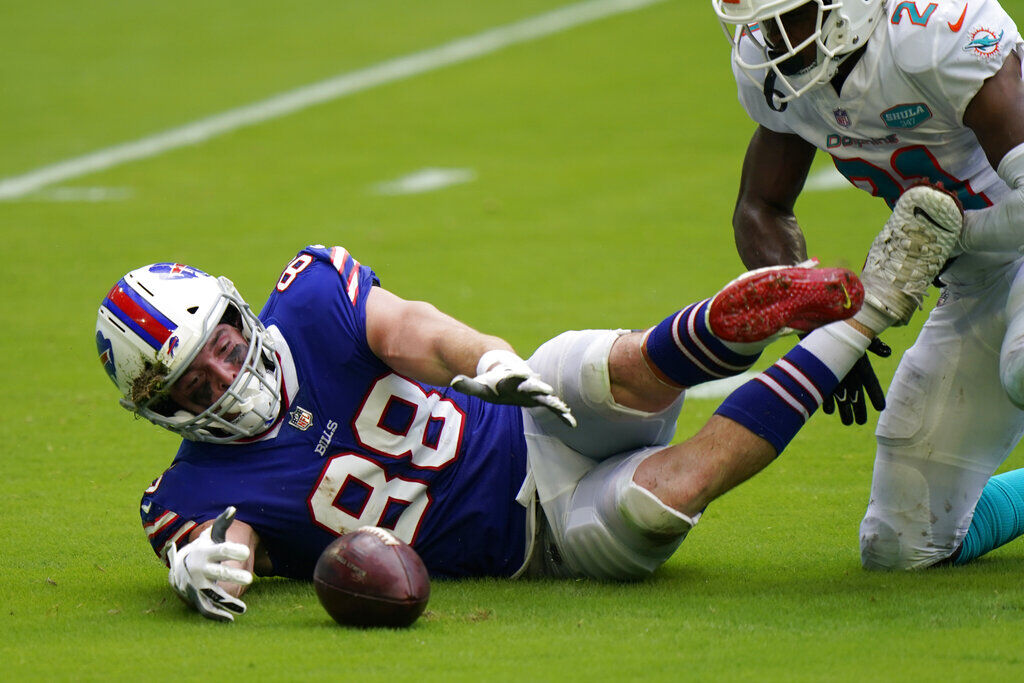 No time to mess around, let's get right to another edition of the Bills' Mailbag …
bk asks: Dawson Knox has talent, but he has too many drops and I hear he had a fumble in Miami (never have seen it – thanks CBS). Should Tommy Sweeney get more of a shot? How about trading for a tight end? Why is that one position where the Bills have been consistently weak?
Paul Catalano asks: Ten years ago we won our first men's league ship – it's a great feeling, enjoy Jay. Not sure we won 10 total games since, but we will always have that! A lot of rumors about Zach Ertz. Do you see the Bills making a move like that or standing still and waiting to get healthy?
Jay: Tommy Sweeney is on the physically unable to perform list, so he's out for at least the first six games. As for Ertz, I'm not sold on the idea. One of the reasons Philadelphia might move on from him is he's going to want a new contract, and the Bills are at the point they need to start worrying about how they are going to re-sign some of their key players soon. Given that the asking price by Philadelphia will be high, I'd much rather get healthy at the position and see what Knox can do before making a big move.
I'm still of the belief that Knox can be a really good NFL player, although the start to his season has admittedly not been great – he lost a fumble on his only catch against Miami in Week 2 before suffering a concussion. He has been working off to the side with athletic trainers during practice, so there is reason to hope his absence will not extend much beyond Sunday's game against the Rams.
John Jarzynski asks: How long before Brian Daboll gets a kick at the head coaching can (and congrats on your championship)?
Jay: Daboll interviewed for the Browns' head coaching job this past offseason. If Josh Allen continues to progress and the Bills make a deep playoff run, it stands to reason that Daboll will be a hot commodity. The ability to develop a young quarterback would have to be very attractive to any team hiring a new coach. It's a very real possibility Daboll could be lost this offseason, which would be disappointing for the Bills, but exciting for the St. Francis High School graduate.
Rick McGuire asks: Are West Coast teams (i.e., the Rams) that have to travel east at play at 1 p.m. EST really at a disadvantage? They're well-conditioned, professional athletes who get a full night's sleep and I can't understand why play three hours earlier would affect their play. Am I missing something?
Jay: According to the Action Network, which is becoming a leader in the sports gambling space, teams traveling from the West Coast to the East Coast since 2003 have gone 95-138, a winning percentage of 40.8. Now, how much of that can be chalked up to the team on the East Coast simply being better is up for debate. This goes back to my take a few weeks ago – I don't believe jet lag is really a thing. I'm with you, Rick. A chartered flight and five-star hotel isn't exactly roughing it. The outcome of the game comes down to performance and coaching, not time zone.
The beard of HR asks: What are the options if Josh Norman isn't available after his injured reserve minimum is up? I know Levi Wallace is serviceable, but he looked like he was having flashbacks to the Browns game last season.
Ulysses asks: Do the Bills have any realistic options at No. 2 cornerback besides Norman and Wallace? 2. Is the offensive line's inability to open up holes in the run game a cause for concern yet?
Jay: The options behind Wallace and Norman are limited. Siran Neal has started to play some outside cornerback, briefly replacing Wallace against the Dolphins. Neal has been used all over the secondary during his time with the Bills. Cam Lewis was also added to the active roster, but the University at Buffalo product has been used mostly on special teams to this point. If Wallace continues to struggle and/or Norman can't get healthy, one option might be to promote rookie Dane Jackson from the practice squad. Jackson, the team's seventh-round draft pick, has the size needed to play outside cornerback. I agree that No. 2 cornerback is a big question mark. As for the offensive line ...
Currently Kabul asks: Is the Bills' running game really missing Jon Feliciano, and do you think Cody Ford will stay at guard when Feliciano returns?
Jay: Without a doubt, Feliciano is a favorite of coach Sean McDermott. The Bills love the edge that he plays with. It's true the running game hasn't done much through the first two weeks, ranking 23rd in the league in yards per game and per rush. However, the passing game has more than made up for that. The hope has to be that the running game finds a groove as the season goes and the weather worsens, when it could conceivably take on more importance. As for Ford, my opinion only is that they should leave him at guard. While it's nice to have positional flexibility, at some point the goal should be to really develop him at one spot. With Feliciano set to be an unrestricted free agent after this season, Ford could be a long-term starter inside.
Kevin M. asks: How much money did Mike Gesicki make Matt Milano? Showing how inept we are versus the tight end without him.
Jay: Here's a mildly hot take: I'm not convinced the Bills are going to pay Milano this offseason. He has a history of hamstring injuries, but the bigger reason is at some point, they're not going to be able to pay everybody, especially with the salary cap expected to decrease in 2021. My thinking is, McDermott will look at drafting Milano in the fifth round and say to himself, "Why don't I just do that again?" Keep in mind, the team will also have to pay Tremaine Edmunds soon, along with the contract that Josh Allen will need that might be getting bigger by the week. Your point about Milano for this season, though, is a good one, starting Sunday against Tyler Higbee and the Rams. The Bills have a run of really good tight ends coming up on the schedule, so Milano's return will be greatly welcomed. He is listed as questionable for Sunday's game.
Brenda Alesii asks: Brian Daboll said John Brown asked him during the game to keep feeding the ball to Stefon Diggs. If true, how unusual is that?
Jay: It's unusual only in the sense that wide receivers have reputations as me-first divas. Players making suggestions to their coaches about what they feel will work, however, happens in every game. It's a great sign for the Bills that Diggs, Brown and Cole Beasley are devising ways to get each other the ball. That has to make McDermott and Daboll smile from ear to ear.
Chris Mazella asks: What's your thoughts on the Stefon Diggs vs. Jalen Ramsey matchup and the Bills' offensive line versus Aaron Donald?
Jay: Even if Ramsey neutralizes Diggs, which I'm not sure any cornerback can do in single coverage, the Bills have options in the passing game with Brown and Beasley. That's what makes the acquisition of Diggs so valuable – it presents the defense with a pick-your-poison situation. I am looking forward to seeing those two line up across from each other, though. As for Donald, it's tough to sometimes appreciate interior line play, since your attention naturally drifts to who has the ball. Donald, though, by all accounts is so good, that you can't take your eyes off of him. It's clear that the Bills will need to double-team him, and even that might not be enough. The Bills signed Mitch Morse to a massive contract last year – he needs to have his best game this week.
Adam Williams: Who do you think has been the most underappreciated bright spot from the first two games?
Jay: Andre Roberts. He leads the NFL in punt-return yardage by a wide margin (Roberts has 86 yards, while the next closest player has 59) and has consistently given the Bills quality starting field position.
Joe Scarsella asks: What's the deal with A.J. Epenesa? Should we be worried that he isn't seeing the field yet?
Bankojw asks: Is it time for Bills to get worried about draft picks A.J. Epenesa and Zack Moss. I heard you had a backward "K" in slow pitch. Say it ain't so?
Jay: Did you mean to type "hit a dinger?" If so, then yes, that's so. As for Epenesa and Moss, it's way too soon to panic. Epenesa did see the field in Week 2, playing more than Darryl Johnson Jr. If he works his way into the rotation as the fourth defensive end this year, that's fine. I also wouldn't worry about Moss. He ran with more conviction in Week 2 than he did against the Jets. Health is now the big question, however, as he's been ruled out against the Rams with a toe injury.
Harry Kozlowski asks: If Zack Moss is out, are we actually going to see T.J. Yeldon play?
Jay: We will see him play, because Moss has been ruled out. I don't expect a huge drop in production, either. Yeldon is a talented player. He's stuck in a numbers game, which is why he's been inactive the first couple of weeks, but the Bills could do much worse for a third running back.
Louis Stromberg asks: Two weeks in, Josh Allen and Stefon Diggs are at the top of the league in yards. Please go ahead and rank the top tops: Tops Friendly Markets, Christopher Walken, "Top Gun," "America's Next Top Model," octopus. Go Bills.
Jay: 5. "America's Next Top Model." You know this is a tough list when Tyra Banks comes in fifth. 4. "Top Gun." This just made me throw on "Danger Zone," by Kenny Loggins. 3. Christopher Walken. More cowbell! 2. Octopus. They are cool ... and delicious. If grilled octopus is on the menu, I'm ordering it. 1. Tops Friendly Markets. Shout out to the BN advertisers! Thanks for all the questions this week.
[BN] Blitz Daily Updates
Feed your obsession. Start every morning with a guide to the latest news from One Bills Drive and stay informed about what is going on elsewhere in the NFL.