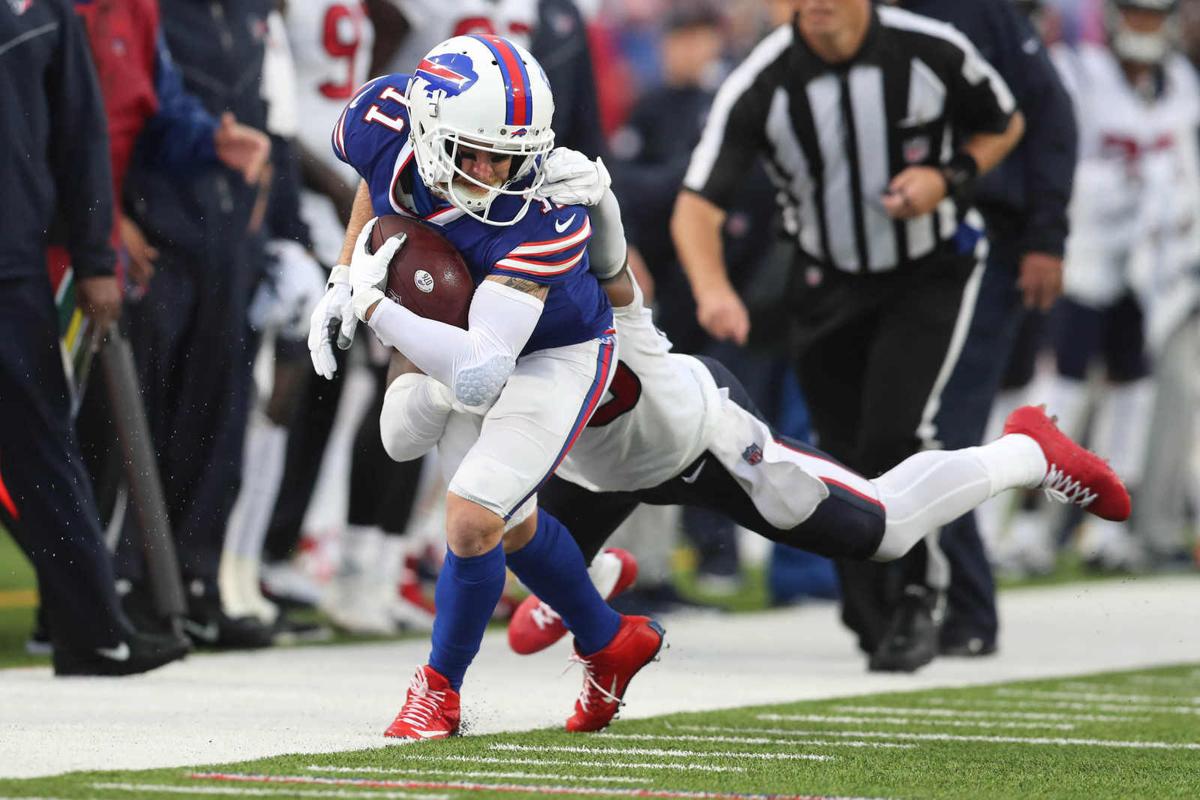 The airport was a sea of red, white and blue Saturday morning.
If that's any indication, Bills Mafia is planning on making its presence felt in Nashville on Monday night. Let's jump right into another jam-packed Bills Mailbag:
Eric Tichy asks: With Dawson Knox becoming more of an option in the passing game and Emmanuel Sanders clearly a favorite with Josh Allen, do we start to hear rumblings from other receivers who aren't getting as many targets lately (... ahem … Cole Beasley)?
Jay: That's been a hot topic this week. Here's what coach Sean McDermott had to say about it, following Beasley's two-catch game against Kansas City, which gives him just three catches for 21 yards over the last two weeks on only four targets: "He's been a pro. It's hard when you don't get the football. And I get that, there's only one football to go around and sometimes it's not just one game, it's two games, it's three games and how are you going to react?
"That's some of what we look for in the character of our players because you're going to go through some adversity, you're going to go through some adverse times in your career or during a season, and how a group of people can stick together. In this case, with Cole, hang together, stay with the plan, stay bought in knowing that your time is going to come I think is all part of the process of a season and a team being a real team. To this point, Cole has been very professional in his way that he's handled it, the last couple of games in particular and I expect the same moving forward so we'll just see where this week goes."
The players asked about Beasley, including Allen, have echoed similar sentiments. Right now, there is no reason to think this will become a distraction, although it's something you can bet McDermott is monitoring.
Michael Pulka asks: Cole Beasley has not been a major part of this offense, especially this week. I hate to bring up the "V" topic since I am sick of the politics surrounding it, but in your opinion, do you feel that being unvaccinated has anything to do with him basically being invisible?
Secondly, I feel strongly that Brian Daboll will certainly get a firm offer in the offseason and am questioning whether he might turn it down as Josh McDaniels did in New England, albeit, probably for a different reason. This is Daboll's home. He has been a winner and to some extent a hero in Western New York. I am sure money is important, but I do not feel that's a major reason to leave what appears to be an ideal situation. Ego is probably the reason to move on, I know. Some tremendously successful coordinators have done little, even though many are great. With the additional fact of being in his hometown, I just wonder. Your opinion?
Jay: I don't feel like being unvaccinated has anything to do with Beasley's role the last couple of weeks. He did have 11 catches for 98 yards in Week 3 against Washington, so it's clear he still has a role on this team. Now, since that game, Beasley has complained about getting booed at home games, which is a fight he shouldn't be picking, but the Bills have lived with his decision not to be vaccinated for this long that it's hard to see it having an impact on the way he's used on the field.
As for Daboll, it's a cliché, but there are only 32 head-coaching jobs in the NFL. It's something he's worked for his entire life. If he leaves, that is my thinking on why. It's true that Daboll can be selective in with whom he interviews because he has a good thing going here, but I still think that if the right position was offered, he takes it. To Michael's point, the money is great, and setting his family up for life has obvious appeal. Daboll, though, has had a long coaching career in the NFL and I tend to agree that money might not be the single biggest factor in his decision. Rather, realizing a dream would be.
Mark Metz asks: With the offense rolling, do you think the Bills are sending a message to Cole Beasley? Matt Milano's injury makes me wonder if he'll ever get through a season injury free.
Jay: No, because if the Bills really wanted to send a message, there would be better ways of doing it. The team could make Beasley inactive. Beyond that, they could trade him or simply cut him. That last option doesn't make the team better, which is why it hasn't happened, but let's just say Beasley continues to have a reduced role and does start expressing his displeasure. If that became a problem in the locker room, the Bills could say goodbye and the offense would still function as one of the league's best.
As for Milano, he's had hamstring problems basically throughout his NFL career. It's worth wondering if that factored into the Bills being able to re-sign him at a price that was lower than some expected it would be.
Ed Helinski asks: Please settle a small wager for us. On a scale from 1-10, I say the Bills are at a 6 offensively. My wife says it's an 8 or 9. I don't feel the Bills' offense is totally in sync yet. Whereas I agree the Bills are good at this point, Janet says they're extremely good by the amount of points scored on offense. What's your take on the Bills' offense? Oh, by the way, the wager is a restaurant dinner.
Jay: Ed, get your wallet out. Janet, pick somewhere nice. Of course the Bills are at least an 8 – they're leading the league in points scored. Have they played perfectly on offense? Of course not. Even last week against Kansas City, the third quarter didn't go as planned. We have to seriously re-evaluate what our expectations are, though. Not every drive is going to end in points. So even though there have been stretches when the offense hasn't executed the way we know it can, it's much higher than a 6. Leading the league in points per game makes an offense extremely good. Sorry, Ed.
Luigi Mike Speranza asks: Does the fact that the Chiefs' defense ranks near the bottom of the NFL color your opinion on the Bills' dominant win last Sunday?
Jay: No, not at all. The Bills went into Arrowhead Stadium and beat the Chiefs by three possessions. Let's not try to find reasons why that's not impressive. The offense put up 31 points, the defense held Kansas City to 20 and also scored six of their own on a Micah Hyde pick-six. It's true Kansas City's defense is a mess, but in no way should the Bills apologize for that – or any victory on their schedule so far. They are doing what good teams are supposed to do – taking care of their business.
Paul Stroheimer asks: After a statement win over Kansas City, the Bills need to refocus for another good opponent. Do you see a possible letdown? Also, is the defensive line up for the challenge of a very good running back?
Jay: Sure, a letdown is possible. The Bills are coming off their most-anticipated game of 2020. Perhaps more pertinent – they're heading into a bye week after this game. McDermott's job is to make sure his team stays focused on the task at hand. That's something he's been good at, with his "24-hour rule" after wins or losses. The only motivation the Bills should need is the tape of last year's trip to Tennessee. The Titans smacked the Bills. As for the defensive line, the run defense has been impressive this season – and the Bills have done a solid job against Derrick Henry in the past. Spoiler alert: I'll have a lot more on those topics in Monday's edition.
Chris Mazella asks: Which rookie has impressed you more – Spencer Brown or Greg Rousseau? Also, with his inconsistent play, does Ed Oliver get his fifth-year extension and/or a new contract?
Jay: Rousseau, although Brown is building a strong case. The idea that Rousseau needed a "redshirt" year has been totally blown up – he's looked ready to play since the start of training camp. As for Brown, the fact he compelled the coaching staff to move Daryl Williams inside to guard within a month is telling. Williams played so well at right tackle on a one-year contract in 2020 that the team signed him to a three-year extension. To move him this quick really says something about what the team thinks it has in Brown.
As for Oliver, yes, I think he will have his option picked up. Defensive tackles Vernon Butler Jr. and Harrison Phillips are free agents after this year. The Bills can get out of Star Lotulelei's contract after this season, as well, if they wanted to. Long term, defensive tackle is a roster need, so keeping Oliver under contract through 2023 would be wise.
David Gadzo asks: Is Tampa Bay the last realistic team we have to worry about? Looking at the schedule, it's hard to find losses in any other game beside that one, to include Monday night.
Jay: It's the last game the Bills are likely to be underdogs in, unless they win the AFC East and secure the No. 1 seed in the conference before the end of the regular season. With that said, just because the Bills will be favored doesn't mean they'll run the table. We'll look back on the loss to the Steelers as "one of those weeks," and with an 18-week regular season, it's possible there will be another one of them along the way. Nevertheless, I'm feeling pretty good about my 13-4 prediction before the start of the season, with the realization that win total might end up being low.
Greg Nichols asks: The weather delay was highly unusual. What if they had to clear the stadium at the two-minute warning? How would the NFL handle that? A delay of 70 minutes. Then come back and complete the last two minutes of the second quarter. Then surely not another break for halftime? Wouldn't they just continue on with the third quarter? Who decides?
Jay: If there is lightning within an eight-mile radius of a stadium, the NFL is required to put the game into a weather delay. It just so happened the delay in Sunday's game went into place before the teams came back out on the field after halftime, but it would have been immediately delayed no matter when the first lightning strike within that radius was observed or reported. All weather-related delays are made by the NFL.
Weathervane Jesus: You have to pick one: Which unit is better, our offense or our defense?
Jay: First of all, I love the Tragically Hip reference. A mailbag guarantee – if the Hip works its way into your name or question, it's getting in. As for your answer, I'd pick the defense right now. They've been the more complete unit through five weeks, which is really saying something considering the Bills have the NFL's highest-scoring offense.