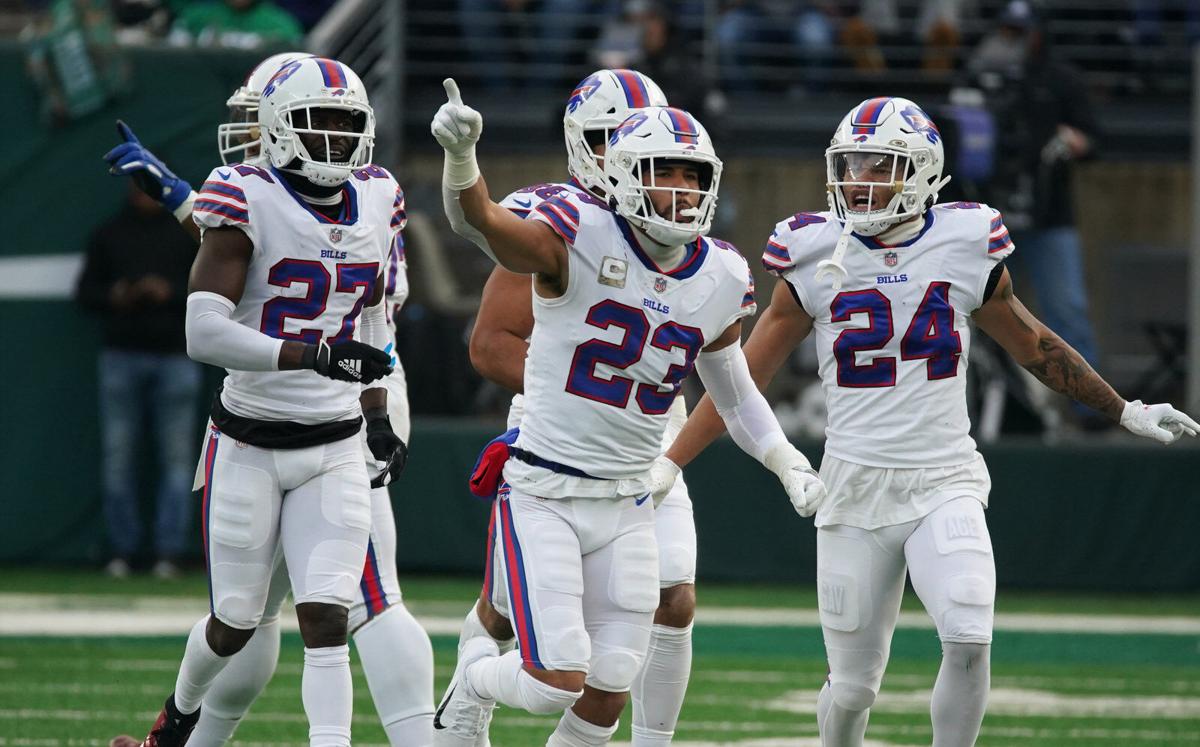 Welcome to this week's Bills Mailbag. Let's get right to your questions …
Ed Helinski asks: Please gaze into your crystal ball for the next four games. Given the way the Bills played in the last four games (2-2 record), how will they do against Indianapolis, New Orleans, New England and Tampa Bay? Will they run the table, go 3-1, split or do worse?
Jay: I'll go with 3-1, winning the first three and losing to the Bucs. Forgive me for going all coaching cliché, but it's true the Bills have to take this stretch one game at a time. This is the meat of the schedule, and with the AFC standings as tight as they are, there is no room for any more slipups like happened in Jacksonville. I still believe the Bills are one of the best teams in the conference, but that loss to the Jaguars has shaken my confidence. A win against the Jets wasn't enough to totally rebuild that for me.
Mike Scully asks: I get that it's a player's individual choice whether to get the Covid vaccine, but with Star Lotulelei, Mitchell Trubisky, Jake Kumerow and now Spencer Brown missing games due to being on the Covid list, shouldn't the Bills' brain trust make it almost mandatory that to keep a player on the roster starting next season, they'll need to be vaccinated so the team can depend on them to be in the lineup on Sundays?
Jay: Brandon Beane got into some trouble during the offseason when he answered a hypothetical question similar to this. Beane, if you remember, said that if releasing an unvaccinated player meant the Bills would be able loosen Covid-related restrictions because it got them to a certain threshold of vaccinated players, he'd do that. The league then spoke with Beane to communicate that a player's vaccination status could not be the sole reason he makes or gets cut from a team. The problem for the league has always been, though, Beane simply verbalized a decision that the league would never be able to prove. Turnover at the bottom of the roster is common throughout the NFL, and there is no way for the league to prove the true motivation for those transactions. As we've seen, if a player is good enough, a team will keep him regardless of vaccination status. Beane told me earlier this month the team has between five and 10 unvaccinated players. That's true because in each case, the Bills have determined those players are worth keeping on the roster. Surely, they've weighed the option of cutting those players, and determined doing so would make them a worse team. So, no, I don't see much changing next year. Those players who aren't entirely sure of their status on the team should get vaccinated, if for no reason other than increased job security. Also, keep in mind that players ending up on the Covid list does not necessarily mean they are unvaccinated. Breakthrough cases of vaccinated individuals testing positive can happen.
Mark Mesmer asks: The federal Covid mandate requiring businesses with 100 or more employees to have all employees vaccinated, or terminate those who refuse, has a deadline of Jan. 4, 2022. The Bills, like all NFL teams, easily have more than 100 employees when you count players, coaches, trainers, front office staff, grounds crew, maintenance, etc. The mandate does not preclude professional sports teams. Jan. 4 falls in Week 18, the last week of the regular season. Somehow, I don't see Brandon Beane cutting Cole Beasley. What is your prediction? Will this become a hot topic in the NFL, or will Roger Goodell be able to sweep this under the rug when nobody's watching?
Jay: It won't be a topic at all, because the mandate calls for employers to get their employees to either be fully vaccinated or undergo weekly testing. The Bills, and every other NFL team, already do that. In fact, unvaccinated players test daily, so the league is ahead of the mandate.
Tananbaums asks: I know Josh Allen is not discussing his vaccination status, but is he following the protocols in the building for a player who is vaccinated or one who is not?
Jay: After the controversy that erupted over Packers quarterback Aaron Rodgers, who tested positive for Covid-19 and subsequently admitted to ignoring protocols that required him to wear a mask while doing press conferences indoors, Green Bay was fined $300,000. You can bet that teams around the league took notice, and will make sure going forward that any players conducting press conferences will be following the protocols. With that in mind, it was significant to see Bills linebacker A.J. Klein conducting his postgame press conference in a mask last week after the game against the Jets at MetLife Stadium. None of the other players who came to the interview room for the Bills – a list that includes Allen – wore a mask. So unless the quarterback and the Bills are willfully ignoring NFL protocols – something that seems almost impossible after what went down with Rodgers and the Packers – there is every reason to believe Allen is vaccinated.
"The comfortable games are over for you, Bills fans. Stress-free fourth quarters do not await you," writes Mark Gaughan.
Jeff Miller asks: The players constantly preach the mantra that they only look towards the next game, and I believe that. But that doesn't hold true to for those behind-the-scenes viewing tape of upcoming games does it? I can't believe Tampa Bay hasn't been watched for a while. Let's corral the Colts, hobble them, and turn them into weanlings.
Jay: It does not. The Bills have advance scouts whose job is to, well, scout Buffalo's advance opponents, then file reports. It is true, though, that coaches and players don't really start diving into those reports and game film until the current week. Even this week, with the Bills playing just four days after the Colts, Sean McDermott and his staff and players have not spent any meaningful time preparing for the Saints. That time will come as soon as the game against Indianapolis ends.
Jim asks: To have a great running game you either have to have a great offensive line or a great running back. The Bills have neither. Do you think Brandon Beane is a good evaluator of offensive linemen? He missed on Wyatt Teller and then drafted Cody Ford, who has been a big disappointment. Also, I have been disappointed in Mitch Morse, who is no Kent Hull!
Jay: It's true Beane has some misses on his résumé up front. The selection of Ford stands out among them at the moment. However, we also have to look at the moves that have worked out. Spencer Brown has played his way into the starting lineup as a rookie, and the team is excited about his potential. Jon Feliciano and Daryl Williams were signed as midlevel free agents and have given the Bills some good football. Morse might be slightly overpaid, but he's been a constant on the interior of the offensive line this season. So, Beane will have some work to do up front in the offseason, but it's not like every one of his moves has backfired.
Steve Bovino asks: In recent weeks, two NFL head coaches, Sean McDermott and John Harbaugh, stated after recent defeats that they didn't have their teams prepared. After intensive preparations that take place before each NFL game, what are these coaches trying to say?
Jay: They're taking the fall for their teams, which is what a good head coach does after a loss. It's a common approach by coaches after a tough defeat, because it shields their players from more criticism. Also, there's some truth to what they're saying. Two weeks later, and it still doesn't entirely make sense that the Bills lost to the Jaguars. McDermott's right that his team wasn't properly prepared. My theory on the loss is the Bills started to believe they could simply show up and win the game. Even with coaches and players repeating some version of the NFL being a "one-week-at-a-time league," it's easy to say that, but not always as easy to follow through. When players said after the Jacksonville game they weren't ready to play, that leads me to believe they overlooked their opponent.
Gerald Volpe asks: My first time submitting a question. I'm a fan of Zack Moss, and Devin Singletary to a lesser degree. That being said, at times I do see things they could do better. Yet, it seems like when people/the coaching staff talk about a failing running game, they seldom mention the O-line. When Emmitt Smith was playing, everyone screamed about what a great running back he was. Yet, he seldom got touched until he got 5 yards downfield. I remember huge holes for him to run through. How much blame does a running back get when he doesn't even make it to the line before getting tackled? I've been a fan since training camp at Niagara University and just want to see one Super Bowl before I die!
Jay: Thanks for writing in, Gerald. Happy to have you. I'll disagree slightly with the offensive line not being mentioned too often when discussing the failures of the run game. In fact, their failures have been rather prominently mentioned – at least here in the mailbag, that is. The truth is, the run game takes all parties involved – scheme from the coaching staff, execution from the offensive line and the correct reads and elusiveness from running backs – to succeed. That has not been there consistently this season.
Drew Shapiro asks: If Buffalo remains relatively healthy, regardless of how well the defense plays and no matter who is playing on the offensive line, will the Bills' inability to run the ball efficiently be their Achilles' heel and ultimately their downfall in the playoffs – whether the team possesses home-field advantage or not?
Jay: It doesn't have to be. A strong running game would be great, but it's not a requirement to win in today's NFL. The Chiefs made it to the Super Bowl last year by running for 114 yards in their AFC championship game win over the Bills. That's a solid amount, but far from spectacular. The Buccaneers made it to the Super Bowl rushing for 76 yards in their NFC championship game win over the Packers. In each case, excellent quarterback play carried the offenses in those games. If the Bills stay healthy, Josh Allen and the passing offense should be plenty good enough to pair up with what has been the league's best defense to make a long playoff run. Anything less than that will be looked at as a great disappointment.
Jeff Rochwarger asks: Given the regression from last year, which of theses coaches is on the hottest hot seat right now: Special teams, offensive line, running back and/or quarterbacks coach?
Jay: Let's rank them (since that's sort of my thing) in order from least to most likely on the hot seat: 4. Special teams. Heath Farwell's unit has been solid, with the exception of some inconsistencies from the punter. 3. Quarterbacks. The Bills might lose Ken Dorsey, but if so, it's more likely to be to another job than because he is fired. 2. Running backs. It's true Singletary and Moss have been stuck in neutral much of the season, but as previously mentioned, there are other reasons for that and issues with position groups beyond Kelly Skipper's backs. 1. Bobby Johnson. It's fair to ask who on the offensive line has improved this season? That's not an easy question to answer, which could be a bad sign for Johnson.
Thanks for all the questions this week! As a reminder, mailbag submissions can be sent to me via email, jskurski@buffnews.com, or on Twitter, @JaySkurski.