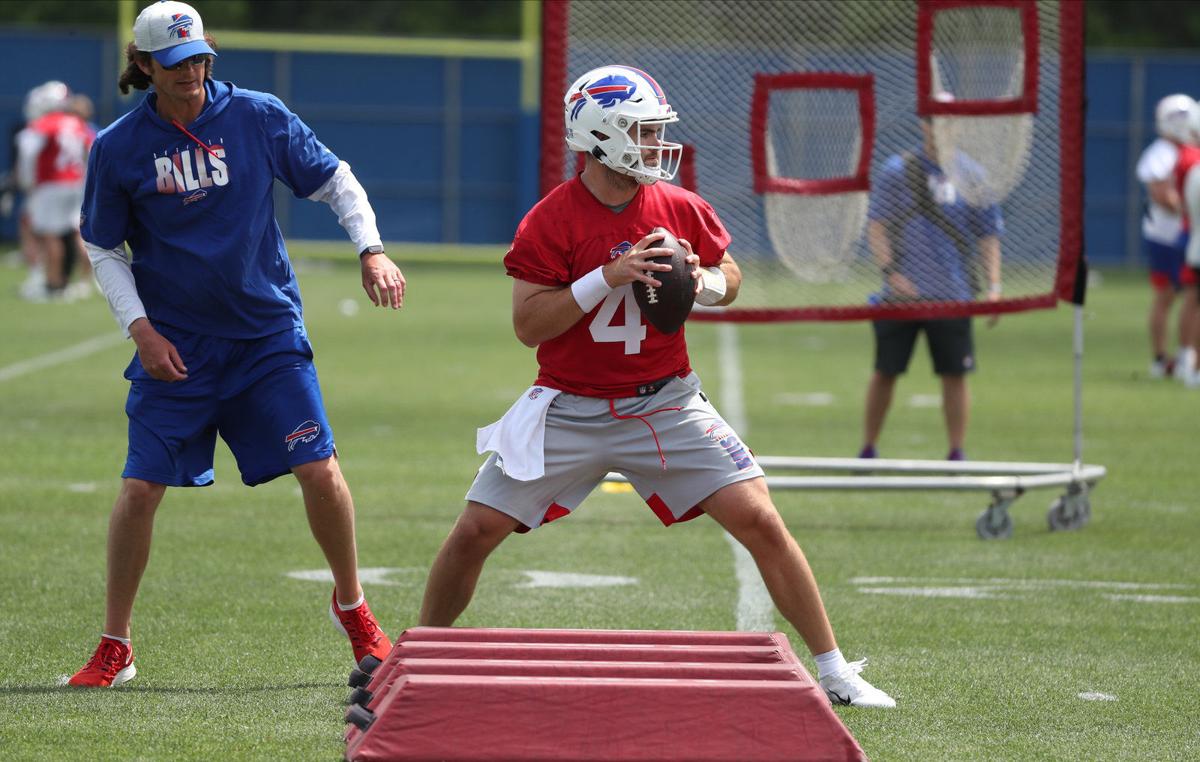 Summer break is almost here.
The Buffalo Bills will hold their mandatory, three-day minicamp Tuesday through Thursday before taking some time off before the start of training camp in late July. Media will be allowed to attend all three days of minicamp, so follow along for updates. Let's get to another edition of the Bills Mailbag … 
Paul Braverman asks: Mitchell Trubisky is a given and it sounds like they love Davis Webb for practice purposes. Is Jake Fromm auditioning in preseason games in hopes he can go for a late-round pick?
Jay: First and foremost, he's auditioning for a roster spot. When the Bills signed Trubisky to a one-year contract to be Josh Allen's backup, General Manager Brandon Beane made it clear he did not think it would be a long-term arrangement. That implied he believed Trubisky was good enough to be an NFL starter, and would get that chance somewhere in 2022. The point about Webb being a valuable member of the organization, even as a practice-squad player, is a good one. The team likes the knowledge and leadership he brings to the quarterback room. He's competing with Fromm for the No. 3 quarterback role. Whoever wins it will have to do so by convincing the coaching staff that keeping three quarterbacks on the active roster gives the team a better chance than, say, keeping seven wide receivers instead of six, or 10 offensive linemen instead of nine. It might be an uphill climb for both of them. The Bills kept just two quarterbacks on the active roster in 2019 before the Covid-19 pandemic altered their plans in 2020. With the depth the team has at other positions, keeping a quarterback who figures to be inactive most weeks might be a challenge.
If that's the case, it's possible they shop Fromm (or Webb) before the season. Neither of them, however, would seem to have much trade potential at the moment. It's also possible a dynamite preseason by one of them changes that.
Sweeney is believed to be the first and, to date, only known NFL player to develop myocarditis following a Covid-19 infection.
ATV3 asks: The special teams were a big weapon last year. Obviously, some key changes occurred in the offseason. Do you think they'll still be effective?
Jay: There are a couple of legitimate concerns. Corey Bojorquez led the NFL in gross punting average, at 50.8 yards per attempt. His replacement, Matt Haack, ranked just 24th at 44.7 yards with the Miami Dolphins. The good news, though, is the Bills barely punted. Bojorquez's 41 attempts ranked 30th in the NFL. The other concern is the return game. Andre Roberts, who signed with the Texans as a free agent, is an established, trusted veteran who can handle kickoff and punt returns. His replacement has yet to be found. It's possible it will take more than one player to do that. Isaiah McKenzie figures to be the top-in house option. The good news for the Bills is that the rest of their key contributors on special teams return, including kicker Tyler Bass, long snapper Reid Ferguson, Tyler Matakevich, Andre Smith, Siran Neal and Taiwan Jones. With all of them back, it's fair to be optimistic that the special teams will play at a similarly high level in 2021.
I VOTED FOR JOE! asks: When do you think we will get to a point when Bills Mafia will stop clamoring for the signing of the latest castoff player, and realize that other teams are waiting to pounce on Bills' castoffs?
Jay: It depends on the player we're talking about, but my guess is that point won't ever come. Projecting how a player on the open market would fit on your favorite team is not a unique trait to Bills fans – it's one shared by fans of every team. It's possible it's done more in Buffalo, but especially now with the team a legitimate Super Bowl contender, it's reasonable that fans will express interest in players whom they believe can help their team get there. That fan interest doesn't necessarily mean it's shared by the team. There are constraints as it relates to the salary cap in some cases, and in others, the team simply doesn't believe the player to be a good fit – either on the field or in the locker room. The second point is a good one, though. The Bills have players who won't make their 53-man roster who are good enough to play in the NFL. That should mean Beane is busy looking for trade partners ahead of final cuts.
Alex M. asks: I remember Jim Overdorf getting blamed for all the bad contracts in the 2000s. Now with all these contract restructurings and savings in cap space, seems like Brandon Beane is getting all the credit. Does Overdorf still play a role in player contracts and how is he still with the Bills?
Jay: He does still play a role. Overdorf recently transitioned into a newly created position as senior advisor to Beane, with Kevin Meganck being promoted to vice president of football administration. In that role, Meganck is the team's chief contract negotiator. Still, Overdorf has 30-plus years of NFL experience. Beane believes that type of institutional knowledge can't be replaced. It's important to point out that contract negotiations are a collaborative effort. For the simpler deals, Meganck might be left to do it all, but when it comes to, say, recent extensions for cornerback Tre'Davious White, left tackle Dion Dawkins and linebacker Matt Milano, it's a team approach. Ultimately, it's Beane's show as the GM. If things go sideways with those deals, he's the one who will answer for them. Mismanagement of the salary cap is one reason why Doug Whaley is no longer the Bills' general manager. Some of his biggest moves – such as the contract extension for Marcell Dareus – were gigantic misses. The guy in charge pays the price when that happens.
"Noise is noise," Singletary said. "I don't pay attention to it. There's always going to be noise if you do good, if you do bad. That's just what it is."
Mark Metz asks: Are the Bills really ready to make the next step – the Super Bowl? If so, what major improvements will contribute to getting them over the hump?
Jay: I'd argue major improvements aren't required in any one area. This is a team coming off an appearance in the AFC championship game, after all. Instead, the Bills need to show improvement in some specific areas. The old cliché about running and stopping the run applies here. The importance of that can be debated in today's pass-happy NFL, but the Bills have room for improvement in both areas. Coach Sean McDermott identified applying more pressure with a four-man pass rush as a priority right after the team's loss to the Chiefs, too. If those three areas improve and the offense continues to function at the level it did last year, that very well might be enough to book a Super Bowl ticket.
TNFP69 asks: Do think that what happened to the PGA golfer last weekend could change the minds of some of our Bills in getting the vaccine shot?
Pat Reale asks: At what point, if any, does the fact that some players and coaches on the team are not vaccinated become an issue?
Jay: You'd like to think so, right? Missing out on more than $1 million – as Jon Rahm did last week – would seem to be enough of a motivating factor. I'm skeptical, though. At this point, any player not vaccinated seems to have his mind made up. It's not like it's hard at this point to get the vaccine. For the players at the top of the Bills' roster, that might not matter. Vaccinated or not, their jobs are safe. If I was on the roster bubble, though, Beane's comments would certainly have me seeking out the shot. Even though the NFL and the NFL Players' Association spoke with Beane about how cutting a player based on his vaccination status would not be acceptable – which came after he responded to a hypothetical question by saying he would cut an unvaccinated player if it meant loosening Covid-19 protocols at One Bills Drive, which he views as an advantage for the team – I'd still be worried if I were at the bottom of the roster. The reality is, players get cut nearly every day, so there would be no way for the league or the NFLPA to prove that Beane cut someone solely because of vaccination status and not because of ability. It remains to be seen what level of vaccination teams will have to achieve to go back to normal during training camp and the regular season. It also remains to be seen whether the Bills will get there.
As for when it becomes an issue, it already is, in the sense that the team has made several national headlines about the situation. Beane has said it won't be an issue within the team and that it's being made a bigger deal by the media and fans. Maybe that's true. Perhaps players on both sides of the debate – if it can be called that – can put it behind them and focus on the task at hand. If a player misses a game after a positive Covid-19 test or because he is deemed a high-risk close contact of someone else who tests positive – which is a situation that played out last year against Arizona – it's definitely going to be an issue. The way to avoid the latter scenario is to get vaccinated, because the NFL protocols state a vaccinated player does not have to quarantine if he comes into close contact with a person who tests positive. The Bills, and every other team, for that matter, will be crossing their fingers that a high-profile player does not have to miss a game this season, either because of a positive test or because of contact tracing. The league and the NFLPA have both stressed that the best chance of preventing that is for players to get vaccinated.
If it is possible for a player who has never been on the 53-man roster to become a fan favorite, Wade's figured out a way.
Jeff Condon asks: I for one applaud the Bills' decision to stay at home for training camp. I know there is much talk about "camaraderie" and "team building" – which is fine – but we're talking about professionals, not high school players. I am sure the players appreciate the opportunity to sleep in their own beds and go to work each day at the Bills' state-of-the-art facilities. I didn't hear a lot of complaints last year. Everyone will be ready come Sept. 12.
Jay: There's nothing to push back all that strongly against here. Beane and McDermott have been consistent in their public comments that they're fans of going away, mostly for the reasons Jeff mentioned. As far as preparation for the upcoming season goes, I'm not sure there is a huge difference either way. Being able to make use of the facilities in Orchard Park is a good point. The real loss with moving training camp back to Orchard Park is for the fans. Getting a chance to see the team up close for no cost is a way for some fans who might not be able to afford tickets to a game to see their favorite team. Kids lining the fence to collect autographs is a big part of training camp at St. John Fisher College, and that will be lost in Orchard Park. If the Bills do move camp home permanently, here's to hoping they find a way to give fans more access than just one or two open practices inside Highmark Stadium.
iMD asks: The salary cap move made with Stefon Diggs has not produced a roster signing. What's up with that?
Jay: Patience. That move might not have because of one specific target. Keep in mind that with Josh Allen's contract extension looming, the Bills can use some of that space for that. The much-rumored potential trade for Eagles tight end Zach Ertz is also another potential use. Even if none of those things happen, the Bills can carry over any unused cap space this year to the 2022 cap. Space for that aforementioned Allen extension will be needed then.
Ryan Mazurkiewicz ask: Any guesses on biggest minicamp stars/busts? Will Gabe Davis be a star again?
Jay: It'll be a skill-position player, because judging any of the linemen – offensive or defensive – at this point in the offseason is difficult without any real contact. Davis is a good pick. I'll go with Dane Jackson, though. To this point, the Bills have not brought in a veteran cornerback to compete with Levi Wallace for the starting job opposite Tre'Davious White. That can be taken as a vote of confidence for Jackson, the 2020 seventh-round pick who spent most of his rookie season on the practice squad, but impressed when he was called up to the active roster. There won't be any busts. Minicamp is too small of a sample size to make that type of conclusion.
Dan Meyer asks: Having a Major League Baseball team playing in Buffalo should be intriguing to Bills players and coaches who live year round in Western New York. Have you heard chatter at OTAs on who attended games at Sahlen Field? Any idea who is the most popular MLB team in the locker room?
Jay: Reid Ferguson is a big Yankees fan. He has tickets to one of the games this week. He's the only one who has been asked about it, although I would think some of the other players have been to a game. As for the most popular team, most of the players are fans of the team they grew up around. Jerry Hughes, for example, pulls for the Houston Astros, while Allen is a San Francisco Giants fan.
Mike Canfield asks: Why does Dion Dawkins like your name so much?
Jay: What's not to like? Honestly, though, I'm not sure. Maybe the "Shnowman" can do a guest spot in the mailbag one week to answer this very good question.
Thanks to all of you who submitted a question this week. If yours wasn't included, check back next week. You can send questions in via email – jskurski@buffnews.com – or via Twitter, @JaySkurski.