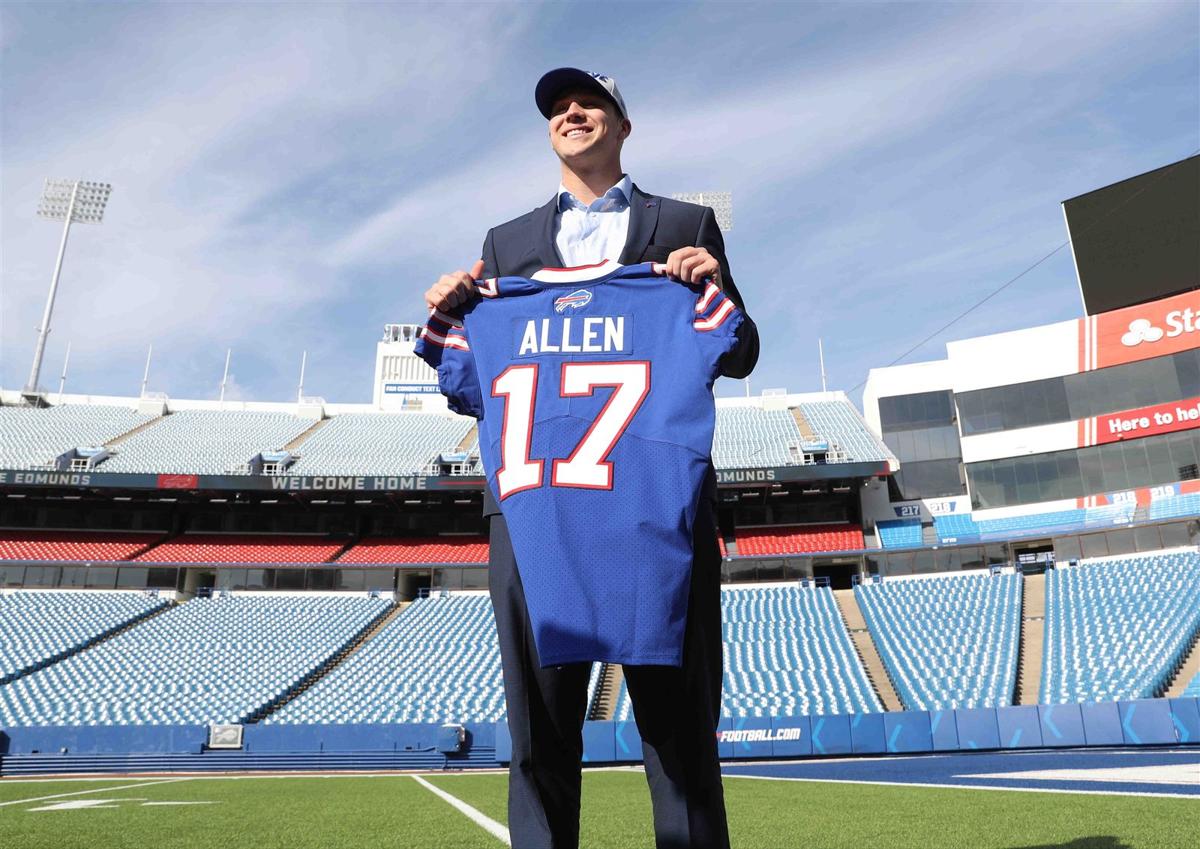 I'm back after a restful vacation week and ready to tackle another Bills Mailbag, so let's dive right into it …
John Jarzynski asks: Lots of talk about quarterback in this draft. Overall, how does this QB draft class compare with 2018?
Jay: It seems guaranteed that at least five quarterbacks will be drafted in the first round this year – Clemson's Trevor Lawrence, BYU's Zach Wilson, Ohio State's Justin Fields, Alabama's Mac Jones and North Dakota State's Trey Lance. If a sixth surprisingly joins them, maybe Texas A&M's Kellen Mond, it would be the first time in history that many have been selected in the first round. The 2018 class became the third in history to have five quarterbacks taken in Round 1, joining classes from 1983 (when the Bills took Jim Kelly and the Dolphins took Dan Marino) and 1999 (when Tim Couch, Donovan McNabb and Akili Smith were the first three picks).
If we're judging the quality of the 2021 class based solely on where the quarterbacks are selected, this year figures to be the best. After San Francisco traded up to No. 3, it's overwhelmingly likely that the top three picks are quarterbacks. That puts the Falcons, with the fourth overall pick, in the spotlight. They could draft Matt Ryan's eventual replacement, or trade away the pick to another quarterback-needy team, meaning the top four picks would be quarterbacks. In 2018, quarterbacks went with picks No. 1 (Baker Mayfield), No. 3 (Sam Darnold), No. 7 (Josh Allen), No. 10 (Josh Rosen) and No. 32 (Lamar Jackson).
Darnold and Rosen are already gone from the teams that drafted them, while Mayfield, Allen and Jackson has each established himself as his team's franchise quarterback.
If we use that definition of success as a class, I'll say the 2021 group duplicates what the 2018 class has done, meaning three of the five become long-term starters with the team that drafted them and two others wash out.
Robert Goodwin asks: J.J. Watt talk a few weeks back had me thinking of all-time Bills initial-only players. O.J. Simpson, C.J. Spiller, J.D. Hill. Who am I missing?
Jay: E.J. Manuel and J.P. Losman are big ones – although I can see why you blocked them out of your memory. I.K. Enemkpali is a memorable part of the Rex Ryan era. A.J. Epenesa and A.J. Klein are on the current roster. T.J. Graham will forever be remembered as the player the Bills traded up for instead of drafting Russell Wilson – whoops! I'm sure there are plenty more I'm also missing, but that's a good start.
Bill Perry asks: What advice would Sean McDermott give Don Granato (and do you ever see that practically happening)?
Jay: You know what word I'm going to use, right? McDermott would tell Granato to continue following the process that led him to where he is today. Beyond that, though, I wouldn't be surprised if McDermott stressed the importance of connecting to a younger generation. That's something the Bills' head coach talked about at the NFL scouting combine in 2019. "I think the older we get, the wider the gap just from an age standpoint becomes and we have to go out of our way to be intentional in our efforts to make that connection," he said then. "We only have so much time to get to know these players and for them to understand what we're trying to teach. That connection is highly important for us."
That's especially true right now for Granato, who is coaching on an interim basis. If he can help players develop and show that he has their best interests in mind, that will surely win support in the locker room. That doesn't guarantee he'll get the job on a permanent basis, but it will give him his best chance.
Marcel asks: Why does Brandon Beane continue to ignore their biggest weakness? Yeah, I'm sure re-signing Mario Addison will help fix the terrible pass rush. He has a blind spot. That's it.
Jay: The offseason's not over, Marcel. If Beane uses a first-round pick on an edge rusher, would you say that he's ignored the pass rush? That possibility can't be ruled out. It's true that, so far, there have not been any major moves made to address the pass rush (Addison's contract was restructured; he was not re-signed), unless you count the addition of former Panthers defensive end Efe Obada, who had 5.5 sacks last season. Some veteran edge rushers remain unsigned, including Justin Houston and Melvin Ingram. Even if Beane does none of the above, the Bills will be counting on young players such as Ed Oliver and A.J. Epenesa to show significant growth in 2021 as pass rushers. Perhaps that's not good enough in your mind, but it's premature to say the biggest weakness has been ignored until the real games actually start.
GDW asks: Nobody seems to bring up the elephant in the room. Corey Bojorquez led the NFL last year in gross punting average. His gross average was 6 yards longer than new punter Matt Haack. He also averaged 4 yards more per punt in net yards than Haack. Bojorquez kicked in the swirling winds, snow, and cold of Orchard Park, while Haack punted in nearly perfect weather conditions in Miami. Bojorquez was also under contract for 2021. Punters are among the lowest-paid players on all NFL teams, so money should not be an issue. For a team that values special teams so much, please give us some reasons why Bojorquez is being replaced by an inferior punter?
Jay: Let's correct one thing here: Bojorquez was not under contract for 2021. He was a restricted free agent, meaning the Bills could have extended him a qualifying offer, but even then he could have signed with another team. When the Bills declined to do that, he became an unrestricted free agent. I'm with you, GDW, in questioning the wisdom of this move. Haack has been pretty much a league-average punter the past four years in good home-weather conditions. Bojorquez was very good for the Bills last year. It's worth noting, though, that he remains unsigned. That just goes to show the replaceable nature of punters in the NFL – the guy with the best average punt a year ago is still without a job! I gave the Bills' addition of Haack a C grade on my report card of every free agent move made a couple of weeks ago and stand by that. He'll need to show he's as good, or better, than Bojorquez before I'll be fully on board with this move. It appears from here, though, that Bojorquez overestimated his value not just to the Bills, but to the rest of the NFL.
Bob Chapman asks: The NFL Players Association is recommending no one attend voluntary minicamps because of Covid-19 concerns, yet the players went through a 16-game season (plus playoffs for some) and after each game they are shown walking around hugging in some cases, slapping hands, etc. with many not wearing masks? Isn't it time the owners make all minicamps mandatory? After all, the players work for the team and are paid very generously. What other profession gets to dictate to the owners like they do? It seems with a year of Covid under the NFL's belts, teams have developed protective measures to allow any type of camp to be held. Perhaps the players would like virtual games!
Jay: It's the use of "minicamps" here that's throwing me off, Bob. There is one mandatory minicamp that lasts for three days in June. The rest of every NFL team's offseason program is voluntary. With that being the case, why should we be offended if players don't show up? Teams already incentivize participation in their offseason programs through workout bonuses written into contracts. Those often reach six figures. It's true that for the most part, those "voluntary" workouts have become considered all but mandatory, either through peer/media pressure or through the simple fact that it's worth showing up to lift weights if someone is going to pay you $100,000 to do so. As for the players "dictating" to the owners … plenty of other professions have unions that fight for their workers, whether it be for better pay, health insurance or safe working conditions. Is the NFL Players Association using Covid-19 as an excuse to fight for something it wants – in this case fewer offseason workouts? Perhaps so. You're right that the NFL will likely respond that the Covid-19 protocols introduced by the league to get through the 2020 season provided a safer environment for players to work in than infection levels of the general public. If the league really wants players to show up for offseason workouts, it should push for them to become mandatory. Until that happens, nobody should be upset if a player treats a voluntary workout as just that.
Jeff Miller asks: I'm sure you just really want to get a question about the 2022 season since 2021 hasn't even gotten underway yet. So here's your first: With all teams, not just the Bills, signing so many one-year contracts, what will that mean for 2022 signings? Keeping in mind there will be more money to use because of the raising of the salary cap, will that lead to inflated salaries or more bargains for teams because of the glut of players available?
Jay: It's a bit of both. When the salary cap rises, you can bet salaries will rise, too. Flush with new TV money, teams will give some players a big bump in pay (Allen figures to be on that list). With more one-year deals being signed this year, though, Jeff is right that some teams will benefit by a flooded market that could leave some players looking for work. It's a bit premature to start sizing up the 2022 free-agent class, because it will change so much. A recent ESPN article pointed out that just two of the 10 best projected free agents in the 2021 class as of March 2020 ended up reaching the open market.
Gary Collins asks: With the Bills not having a No. 1 tight end, maybe they can find a diamond in the rough in Duke Williams. He's a good receiver. He's listed at 225 pounds, all he has to do is gain about 15 pounds. I'm not sure if he is a good blocking wide receiver. With the depth the Bills have at wide receiver, Williams' only chance to make the roster might be as tight end.
Jay: There has been no indication the Bills are considering such a move, which would have to be the first domino to fall in this scenario. If the team doesn't want to do it, it really doesn't matter what Williams wants. Until we get that information, this is a hypothetical. In general, though, I agree with you, Gary. More players should be open to such experimentation if it means potentially lengthening their careers. Interestingly enough, former University at Buffalo quarterback Tyree Jackson, who had a forgettable stint with the Bills in training camp in 2019, recently signed with the Eagles, who have plans to convert him to a tight end. Good for Jackson for being willing to try something new. If the Bills did approach Williams with that plan, he should take a good, long look at the roster and realize that his chances of making the team at receiver are slim.
Chad asks: I was curious who you think was the Buffalo Bills' biggest first-round draft bust in franchise history, or at least the previous 20 years?
Jay: In the past 20 years, it's Aaron Maybin. The Penn State pass rusher was drafted 11th overall in 2009, but lasted just two seasons with the Bills, finishing with 25 tackles and no sacks in 27 games played. Maybin would play two more seasons with the Jets before washing out of the NFL for good.
Joe Brown asks: I seem to remember you saying that only the top-paid 51 players count against the salary cap. Does this mean that the next 40 or so players can be paid any amount that stands below the 51st player? Is there a total team cap?
Jay: The top-51 rule means that in the offseason (defined as the start of the new league year in March until the day before the first regular-season game) only the top-51 salary cap hits for a team count against the salary cap. That means for the Bills (or any NFL team), the salaries of players from 52-90 on the offseason roster could be any amount lower than the 51st-highest salary-cap hit. There is no limit on that. For the Bills, according to contracts website spotrac.com, quarterback Davis Webb has the No. 51 salary-cap hit on the roster, at $850,000. Offensive lineman Ryan Bates is No. 52, also at $850,000. If the Bills signed a player to a $1 million contract, Webb would be pushed out of the top 51, but the team's cap number would only go up by $150,000. It's important to remember, though, that at the start of the regular season, all 53 active players, as well as anyone on injured reserve and the practice squad, counts against the salary cap. That means teams need to have enough space to count for the additional contracts that will count against the cap once the regular season begins.
Thanks for all the questions this week! As a reminder, if you've submitted one and don't see it this week, it will be in very soon. Also, you can send questions via email, jskurski@buffnews.com or on Twitter, @JaySkurski.