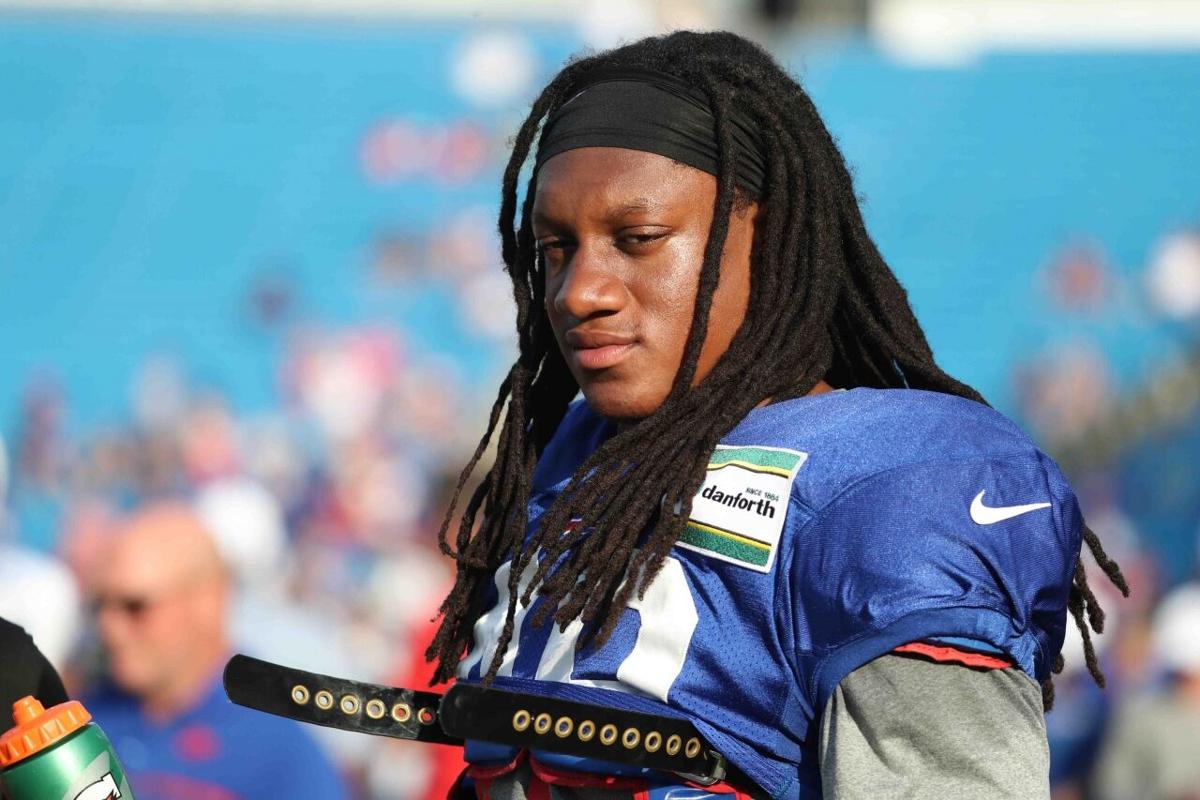 The Buffalo Bills open the 2020 season Sunday against the New York Jets at Bills Stadium. That's a thing that's really happening. Here's to hoping that an entire season can be conducted safely. On to this week's Bills Mailbag …
Jeff Bagel asks: Other than Josh Allen, who is the one player that the Bills can't afford to lose to injury/illness for an extended period of time?
Jay: It's a dead heat between Tre'Davious White and Tremaine Edmunds, but I'll say Edmunds given that he calls the Bills' defense. The truth is, losing either one of them for an extended period of time would be very bad news.
Tom Nazzaro asks: Please predict carry share: Zack Moss vs. Devin Singletary.
Jay: Singletary, 18, Moss 12. Sprinkle in a few carries for Allen and I see the Bills being run heavy Sunday, mostly because I see them winning big, which will lead to a lot more carries in the second half. I'd expect Singletary to get more of the first-half carries, and Moss to catch up in the second half as the team tries to run out the clock.
Ed Helinski asks: In your estimation, what's Buffalo's record after the first four games? Do the Bills run the table or run into a few landmines during this stretch?
Jay: I'll say they run the table. Like last year, when the team started 3-0, a hot start is going to be crucial. I see the Bills being comfortable favorites in the first two weeks. The Week 3 home game against the Rams is interesting. After a Super Bowl appearance in 2018, Los Angeles missed the playoffs last year. The team has a lot of talent, though, and Sean McVay is an innovative head coach. That game could be tricky, as could the Week 4 game against the Raiders in Las Vegas. Ultimately, if the Bills are going to be the team we all think they can be, though, they need to win both those games.
MikeyFromBuffalo asks: Do you think that we are going to make the playoffs?
Brad Bishop asks: What exactly is your take on the chances of this regime to win it all? You're typically the devil's advocate over years past and have seen trends of this franchise's success and failures. What are you thinking?
Jay: First, I do think the Bills will make the playoffs. I predict them to finish with a 10-6 record, but that just might be good enough to win the AFC East. A 10-6 record this year also would be more impressive than last year, when the team's schedule was much easier than it will be in the months ahead.
As for Brad's question, the ultimate determining factor will be finding the right quarterback – be it Allen or somebody else. I believe the Bills have a defense that can be championship caliber and that the offensive weapons are sufficient to win. The last piece of the puzzle, though, is the biggest. If Allen turns into a true franchise quarterback, I could see the Bills making a run at the championship that has eluded the franchise for so long.
TNFP69 asks: The fans are ready. Are the Bills?
Jay: I think so, but it's probably better to take the word of the players. Here's what Micah Hyde had to say on the topic Thursday: "There's a sense of urgency since we got into training camp to know this isn't 2017 where everything's unknown. It's not 2018 where we're trying to figure out the pieces still, we're trying to get a quarterback, we're trying to establish a bunch of different positions. Last year we kind of got a little streak, got a little momentum. This year we're trying to build off that. No one's clueless. Everyone understands the type of urgency you've gotta have to go into this season."
That has been apparent during the practices that were open to the media. Now, the Bills need to prove it on the field. I say they are ready.
Pete Schaub asks: Can Harrison Phillips serve in the same role as Star Lotulelei or is Phillips a different style of player?
Jay: Phillips and Lotulelei split snaps last season, so it's fair to say they have similar skill sets. Lotulelei might be a bit better against the run, while Phillips provides more of a pass rush. With Lotulelei opting out, the Bills are going to need Phillips to be an anchor for their run defense. As I've written plenty of times before, it's optimistic to think Phillips will be able to take 40-50 snaps a game less than a year removed from knee surgery. If he can, it will be a big plus for the defense.
JoshBazookaArmAllen asks: Should fans jump gates and fill stadium Sunday?
Jay: I don't recommend anything that would lead to legal trouble. I get the disappointment for fans, though. Which leads us to …
Yasin Gunay asks: What are the chances of fans being allowed in the stadium this season in Buffalo? And what's the max during Covid-19?
X-JW asks: What behind-the-scenes work are the Pegulas doing with the state to get Bills fans in the stands this year?
Jay: The fact Western New York has had the highest percentage of Covid-positive cases in the state over the last few weeks lessens the likelihood we will see fans in the stands at any point. The News has reported that the team created models, looking at the possibility of having 15%, 33% or 50% capacity. General Manager Brandon Beane said team officials are on calls several times a week with state officials and the team has submitted plans for how fans could return, detailing intentions for the whole stadium. But if I had to guess, I'd say New York will continue to be cautious and, as disappointing as this is, fans won't be allowed.
Sean Wear A McMask asks: Do we see the Bills take more risks given the seemingly better offense, or will we still see a conservative approach to the offense?
Jay: The Bills ranked 26th in the NFL in passing percentage, doing so on 54.96% of their offensive plays. Interestingly enough, three of the league's best teams – Tennessee, San Francisco and Baltimore – ranked 30, 31, 32 in passing percentage. The point being, offenses don't have to be built only around the passing game. I do think we will see the Bills throw the ball more in 2020, though. If that wasn't the plan, why did Beane trade away his first-round draft pick for a receiver? The Bills drafted Allen seventh overall in 2018, trading up in the first round twice to do so. He needs to be able to put the team on his back and throw them to victory when called upon. I wouldn't call Allen's approach to the game conservative in any way, so more risks seems like a good assumption.
Doug asks: Why in Madden '21 does Josh Allen fumble all the time?
Jay: I haven't played Madden since about 2004, when Michael Vick was unstoppable. I couldn't tell you a single thing about any video game made in the last 15 years.
Rick McGuire asks: Do you think players who chose to opt out this season (i.e. Star Lotulelei, E.J. Gaines, Damien Williams, C.J. Mosley) are taking a huge gamble with their careers? A year off and the chance for other players to take their place would make me think twice about it.
Jay: It's an understandable concern, but each of the players who opted out did so for his own, very personal reason. With that in mind, they should be commended for knowing what they might be giving up.
Harry Kozlowski asks: First play, do the Bills go for the home run ball? Allen to Diggs for 6!
Jay: That would be fun … so probably not. Offensive coordinator Brian Daboll showed some creativity last year, with John Brown's touchdown pass to Devin Singletary against the Cowboys and Josh Allen's touchdown reception against the Texans in the playoff loss immediately coming to mind. The NFL, though, is not a league that usually embraces new ideas. How is it possible, for example, that the Bills didn't attempt a single fake punt or field goal last year? You're meaning to tell me there wasn't one opportunity to take a chance? So while I'd like to say Allen will throw the ball 70 yards down the field on the first play against the Jets, smart money is on Singletary running it for 3 yards up the middle.
Gary Gruber asks: Even without Jamal Adams and C.J. Mosley, will the Bills' running game still excel against the Jets' defense? Tell Elliott hello from Mr. Gary, his morning bus driver last year. Hope his first day was great.
Jay: Hi Gary, the first day of first grade did go well, thank you. I know Elliott will miss seeing you this school year. Thanks for reaching out. As for your question, I do think the Bills have a great chance to run the ball Sunday. In addition to the absences you mentioned, Jets linebacker Avery Williamson is out with a hamstring injury and safety Marcus Maye is questionable with a calf/ankle injury and was limited in practice Friday. Those are potentially big absences for the Jets and something Daboll will surely look to exploit.
@suncameup: The Bills' secondary is banged up. When do you see us signing the immortal Captain Munnerlyn?
Jay: I think we're reaching the end of this week's mailbag.
Louis Stromberg asks: Season opener against the Jets, so please go ahead and rank the following Jets: Jethro Tull, Jet Li, jet lag, The Jetsons, jet skis. Go Bills!
Jay: 5. Jethro Tull. Have you ever read the lyrics to their most popular song, Aqualung? What's that all about? Yikes. 4. Jet Li. According to Google, he has a net worth of $200 million! I've never seen one of his movies, though, so none of that money came from me. 3. Jetlag. I'll say it: Jet lag and car sickness are the same thing – I don't think either of them really exist. 2. The Jetsons. "Meet George Jetson … his boy Elroy." Great theme song. 1. Jet skis. The only thing better than owning one is having a friend who owns one and lets you borrow it whenever you want. Thanks for the questions this week!
[BN] Blitz Daily Updates
Feed your obsession. Start every morning with a guide to the latest news from One Bills Drive and stay informed about what is going on elsewhere in the NFL.