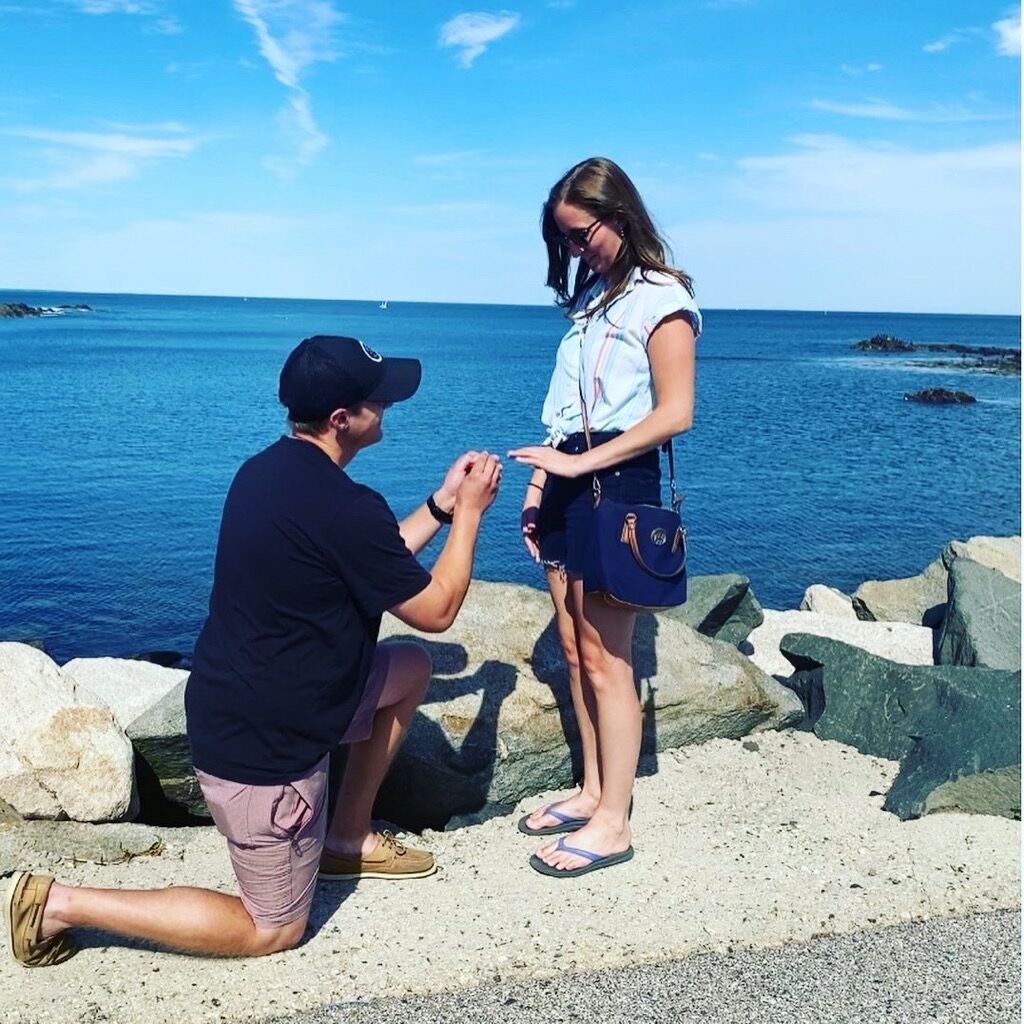 Jason Marks looked around. This was the moment he would ask Sarah Garcia to marry him, and everything seemed just right.
Ring? He reached in his pocket and felt for it. He'd been worrying all day about losing it. But, yes, there it was.
He'd figured there'd be someone around he could ask to take a fleeting moment to capture their forever moment. Normally, on a nice, nonpandemic summer day on Maine's postcard-perfect coastline, there'd be dozens of visitors. But on this day, at first glance, he could see no one else.
And just then, Sarah called out, "Go Bills!"
Jason turned around to see an older couple, off to the side, sitting on a bench. They were wearing masks, as we all should. Better yet, they were wearing Buffalo Bills masks.
Jason's heart sang. He asked one of the Bills maskers if she would be so kind as to take their photo with the ocean as a backdrop. Only Jason knew what was coming next.
He asked Sarah to take his mask; she turned her back to place both of their masks in her purse. When she turned around, Jason was on one knee – and Sarah yelled "Yes!" before he could finish the question.
The woman got a great photo. "That's Bills Mafia for you," Jason says. "Always there when you need them."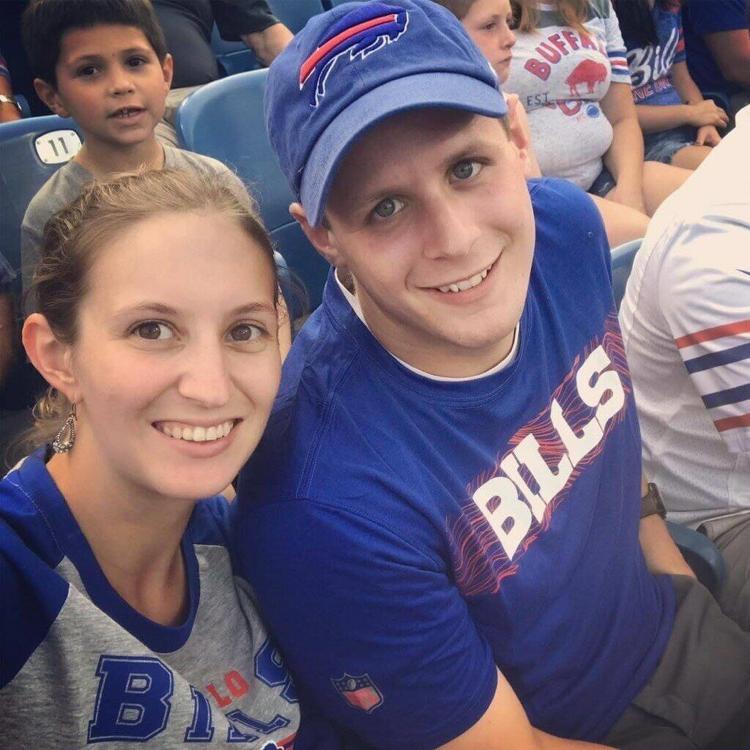 Jason, 26, and Sarah, 27, are Bills season-ticket holders who drive eight hours for games in Orchard Park from their homes in Saint Johnsbury, Vt. They can't go to Sunday's opener, of course, but they'll be watching on TV. And here's the thing: Neither has ever lived in Western New York.
Jason's father, Edward, lived his first six years in Alden before his family moved to Newtown, Conn. Those six years were enough to mark Edward Marks for life: He would always be a Bills fan, and he would raise his five children to be the same.
Growing up, Jason didn't know any Bills fans outside of the family. All the other kids in Newtown were fans of the Giants, Jets or Patriots. He was born in 1993, during the Bills' last Super Bowl season, and was 2 the last time the Bills won a playoff game. So he has no memory of the glory days, but loves his Bills all the same.
Sadly, Newtown is known for the murder of 20 schoolchildren and six others at Sandy Hook Elementary School on a terrible December day in 2012. The shooter killed his mother first, and later killed himself. Jason knew the shooter. They had briefly been in high school together.
He thinks often of the first-graders who died that day. How could he not? He teaches kindergarten now. And he says the murders "played a big role in me wanting to teach, and to teach younger kids."
Teaching is how Jason and Sarah met. She teaches English to middle-schoolers at the St. Johnsbury School, a public school for pre-K through eighth grade. Jason worked in Sarah's class as a peer educator when he was getting his teaching degree at Northern Vermont University. Now he, too, teaches at St. Johnsbury.
Sarah grew up in North Hudson, in the Adirondacks, and wasn't much of a football fan. Later, when she moved to New Hampshire, she sometimes wore a Patriots jersey, but that was only because it was good for tips when she was tending bar. Besides, it was a Rob Gronkowski jersey, and Jason gives her a pass for that, since Gronk is from Williamsville.
Sarah learned to love the Bills because Jason loved them – and she loved him. Now, she's come to love the whole game-day scene: the tailgating in the parking lot, the camaraderie in the stadium, the postgame dinners at Duff's.
They don't have a wedding date yet; they're hoping for next summer, by which time they hope the world is open again, though they're finding many venues already booked by couples who had to postpone weddings this summer.
They didn't get the names of the beach-going couple in those Bills masks. They regretted that later, sort of like the tagline from 1950s TV episodes of "The Lone Ranger": "Who was that masked man? I wanted to thank him."
(Side note: "The Lone Ranger" got its start on WEBR radio as the brainchild of Buffalo native Fran Striker.)
Jason's family is over-the-moon happy to have a new Bills fan in the fold. She and Jason got a group text from his brother pointing out Sarah opted in to the Marks family on the same day that Bills cornerback Tre'Davious White opted in on the season.
"Tre is my favorite player," Sarah says. "I was worried all day whether he was going to play."
Just as Jason worried all day about the engagement ring, which he'd kept loose in his pocket because the box it came in got damaged.
The ring fits perfectly. Sarah loves it. Only one thing could make it better: for the Bills to get fitted for Super Bowl rings before she and Jason slip on their wedding rings next summer.
Be the first to know
Get local news delivered to your inbox!