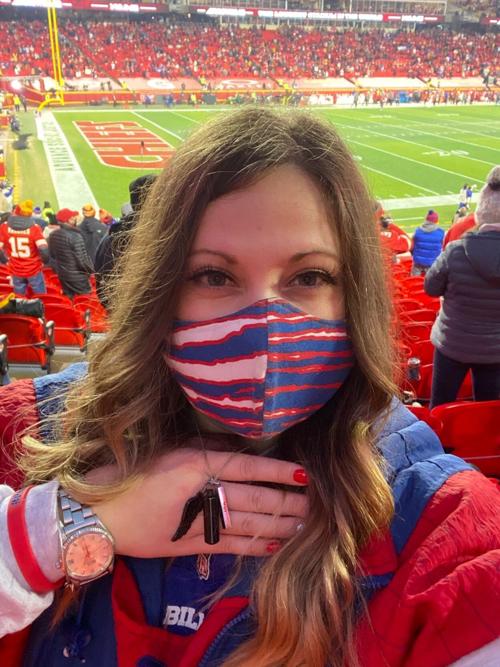 Kristen Kimmick said she was living a "nasty country song."
Her father died just before the pandemic. Her longtime boyfriend split. Then her dog got sick.
"He had spinal cancer growing into his brain aggressively and I had to put him down," Kimmick said. "But in between, I just lost the remainder of my family, so I was not ready to also lose my dog, because he was my rock at that point."
Kimmick's dog, a 10-year-old Siberian husky named Marv Levy, could mimic sounds. She taught him to say, "Go Bills!" And, in a sense, he served as a furry fulcrum on which the Orchard Park native and her grassroots group of female football fans found purpose.
Kimmick, 35, said she created the Facebook group "Bills Mafia Babes" in a fit of rage in 2016, after being talked down to by men on another fan message board. She sent digital invitations to a few dozen female friends, creating a respectful and safe place for women to share their passion for the Bills.
The private group has since eclipsed 12,000 members, including the mothers, sisters, wives and girlfriends of Bills' players, coaches and executives. Its leadership recently filed paperwork to secure 501(c)(3) nonprofit status.
"I didn't ever plan for this or have a vision," Kimmick said. "It's just kind of something that happened organically. And we've been trying to figure out what our identity is going to be and where we go from here."
Each month, beginning this season, the Babes are working to raise money for a different Bills-related nonprofit, continuing displays of generosity among the team's fan base. 
Last month featured "IMagINe For Youth," on behalf of Bills safety Micah Hyde.
Efforts in September have focused on "Kids Escaping Drugs," on behalf of safety Jordan Poyer.
Next month, it's "Bills Muttfia," on behalf of Bills General Manager Brandon Beane and his wife Hayley, a member of the Babes.
The group has also partnered with 26 Shirts and Resurgence Brewing Co. And this week, they've helped to promote a meet and greet with former Bills players John Fina, Butch Rolle and Mark Maddox on Saturday at Resurgence, to raise money for their nonprofits.
But long before the Babes embraced this mission, Lara Faye McKee, a Bills fan from Batavia and one of the group's administrators, held a raffle to raise money to help Kimmick with her dog's medical expenses. The experience, for Kimmick, was profound.
"It ended up having hundreds and hundreds of donors," Kimmick said. "I wanted to try to reach out to thank every single one of them and I just couldn't. It was unreal.
"You know that no matter what life is going to throw at you, the Mafia is always going to have your back. They're like your family. And the Bills Mafia Babes did that for me. I experienced some really rough (times), and I finally understand the depth of really how much a stranger can touch another person by doing something that may seem kind of menial to them. People I don't know donated to my fundraiser and there are just no words when you're on the receiving end."
McKee, who lives in Arizona, met Maddox a few years ago at a Wild West Bills Backers event, and the former linebacker has embraced a special role in the Bills Mafia Babes.
"We actually let him in as an honorary 'Babe,' " McKee said.
Maddox, the first man allowed to join the Facebook group, traces his relationship with the Babes to an online scam. He said he once ordered a shipment of Bills hoodies, expecting to sell them to raise money for his "Help 1 Foundation," a nonprofit that aims to assist several needy groups, from children to senior citizens. But they never arrived, and he was out $1,250.
Maddox said he then ordered a second shipment of Bills hoodies for the same price from another distributor, which did show up.
"I'm thinking now I've got to sell these hoodies and in order to make any money, I have to sell them for over $50, because at $50, I'm just breaking even," Maddox said. "They were supposed to be $25 apiece, but when you have to buy a double batch, your price is double."
Then the Covid-19 pandemic hit.
Maddox decided to start hosting online bingo, with hoodies as the grand prize.
"If I can get 15 people to play bingo at $10, that's $150, and we can make $50 to $70 in profit (on each hoodie)," Maddox said. "That's not a bad idea. I started this bingo and posted it on Facebook. I was doing one game a weekend. And before you know it, I was doing two to three games on a weekend with the Mafia Babes, other Bills groups and just fans. It was like, 'Holy (smokes). This is actually pretty neat.' And the next thing you know, I'm giving away more prizes, pictures, rookie cards and it was just amazing how the people got behind and supported it."
Kimmick and McKee shared information about Maddox's virtual events on the Babes Facebook page.
The relationship evolved into a weekly Bills trivia "ladies night" on Zoom.
Then they welcomed him into the group.
"All of a sudden, they let me start posting," Maddox said, "and the next thing you know, I'm one of the Babes. I created a picture with a wig and makeup with one of those filters on the phone, and I requested to join the group and they just died laughing."
Maddox was a bit apprehensive, at first.
"I didn't want people to think, 'Here's this guy creeping in our room,' " he said. "But it ended up just working out perfect, and now I'm friends with so many of them. They helped me raise a lot. They're a good group and they love football.
"Whether they know a little about football or a lot about football, they're just genuine people who love the game, who love the sport."
There are now three men, all former players, including Fina and Aaron Williams, in the group.
Maddox said he was trying to use the Babes' weekly trivia night to raise money to provide "blessing bags" filled with toiletries and other necessities to the homeless. But the Babes didn't need the hoodies or other trinkets to spur their generosity.
One suggested Maddox create an Amazon wish list for the Babes to buy products to fill the blessing bags, instead of him needing to collect money and go shopping.
A day after he posted the list, numerous packages arrived at his home.
"I opened the door, I pulled the stuff in, I opened a box and I literally started crying," Maddox said. "And I told them I started crying because, 'You guys don't know how good it feels to have people who actually support what you're doing and believe in what you're doing.' Because all the stuff that I did and was doing, I was doing by myself. But now I'm not doing it by myself. I'm doing it with the help of people who really, truly feel and believe in what is going on.' It was just overwhelming."
McKee and Bob Reynolds, another member of the Wild West Bills Backers, helped Maddox assemble the bags, then drove around Phoenix handing them out.
"We piled into Mark's minivan and literally just drove around looking for people," McKee said. "And it's sad. It didn't take us that long to find them. We handed out 40 backpacks filled with gift cards and toiletries, food, whatever we could stock.
"There was one person that caught me off guard because we gave him the blessing bag and then we looped around and you could see him carrying it and just clipping his fingernails. He was so excited just to get a fingernail clipper, and it's stuff like that you don't think about until you see, 'Wow, someone was grateful to be able to clip their fingernails.' That's the first thing he did."
Kimmick said the Babes' relationship with Maddox and their assistance with the blessing bags is just one example illustrating the group's generosity toward strangers and each other.
And it happens organically.
"The women are so kind to each other, everybody inside that group," Kimmick said. "We make it known that we don't tolerate any sort of cattiness or anything like that, but we don't even really need to police it that much. The women are in there donating their children's clothes that they've outgrown to other women that maybe can't afford to get their kid lots of different Bills stuff. Things like that.
"It's who the Bills Mafia is at this point. It's so hard to explain. Where did this come from? I don't know. I'm just like everybody else. But let's do it."