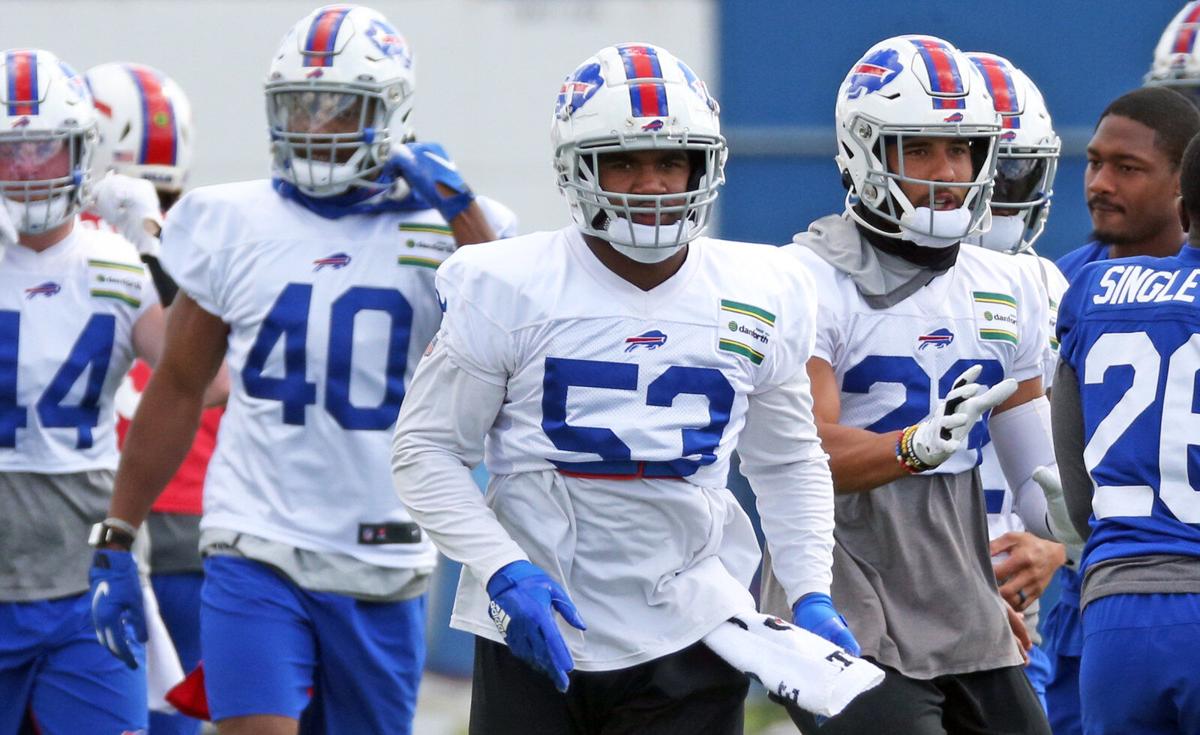 Tyrel Dodson admits he was momentarily overwhelmed.
The Buffalo Bills' linebacker hosted his first football camp last weekend at Centennial High School outside Nashville, Tenn., his alma mater, and seeing all the kids in the bleachers awaiting his arrival was a moment Dodson wasn't quite prepared for.
With Tremaine Edmunds and Matt Milano as the centerpieces, the Bills focused on adding depth around them.
"Honestly, when I was walking up and I saw all the kids in the bleachers, I said to myself, 'jeez, I was one of those kids one day,' " Dodson told The Buffalo News on Thursday. "It's just crazy, being the guy going to camps and now I'm hosting a camp. That goes into the hard work, the late nights and early mornings that I've put into getting here."
Dodson is the first-ever player to make it to the NFL from his high school, so the entire community rallied in support of his camp, which he hopes to make an annual event.
"It was a blessing to give back," Dodson said. " It was pretty cool to see all those support systems and the local businesses that were there to sponsor the camp."
Johnson showed last season he is a capable backup in the Bills' defensive line rotation and a quality special teams player. This summer, he finds himself in a battle for a roster spot on the deepest unit on the Bills' team.
Dodson's father was not a part of his life. Being raised by a single mother has made becoming a positive influence on kids – even if it's just for a day or two – one of Dodson's primary goals since he broke into the NFL with the Bills as an undrafted rookie free agent in 2019.
"I just hope the kids got some knowledge and wisdom out of it," Dodson said. "They don't always have to do what's cool. They can do the hard things and the right things and maybe they can end up in my position or even in a better position. … This is my mission. I think this is why God put me on this earth, to give back and just show kids the things like the drugs and the gang violence, it's all temporary stuff. I want them to have everlasting stuff. Teaching them how to deal with their money, teaching them how to be a good person, teaching them how to deal with adversity, that's my biggest message."
After spending the 2019 season on the practice squad, Dodson made the 53-man roster as a backup linebacker last year. He made his first career start in Week 2 against Miami, stepping in for an injured Tremaine Edmunds at middle linebacker. He finished that game with seven tackles and two passes defensed.
A week earlier, Dodson recorded his first career sack on just his second-ever defensive snap when he dropped Jets quarterback Sam Darnold. He finished the season with 20 tackles in 10 games.
Dodson, though, went through his share of ups and downs last season, which is fairly common for a young player. He was a healthy inactive during the team's playoff run. After the season, Dodson returned home to Tennessee and reviewed what went right and what went wrong with his mom, Angela, who he jokingly refers to as his No. 1 and No. 1 critic.
How will General Manager Brandon Beane and coach Sean McDermott sort out the logjam of talent?
"We talked about the different things that I can do. How to be more professional, how to carry myself a different way, how to really, really maximize energy outside of football if that's hanging around with a different crew or eliminating some people out of my life who are bad energy," he said. "I think I needed to drop some weight, so I dropped a couple pounds. Every year, there's something you need to grow with, and if you don't think you need to grow, time's going to pass you by. There's no such thing as staying the same. You're either getting worse or getting better. I know I have the talent and I know coach Sean McDermott and all those other guys upstairs believe in me so much, so I'm just going to continue to put the work in."
Heading into 2021, he's in the mix for a roster spot again, but knows it won't be handed to him.
"I'm not really worried about the outcome of any situation. I just know that if I put my best foot forward, it can be better than anyone's best foot forward," he said. "I truly think that and I truly believe in myself and all the work that I've put in to myself and I invested in myself. I know a lot of guys talk about competition and stuff like that, if you count the numbers, you're going to count yourself out, because you're too busy counting numbers and not counting on yourself."
For the time being, hope for an upgrade at tight end hinges mainly on Dawson Knox not only rebounding from a disappointing 2020 season, but taking his game to a higher level. 
Edmunds, Matt Milano, A.J. Klein and Tyler Matakevich all look like safe bets to make the 53-man roster, which leaves Dodson battling with Tyrell Adams, Joe Giles-Harris, Marquel Lee and Andre Smith for what may be one or two positions.
It's clear the Bills believe in Dodson's talent. They stood by him after he was suspended six games by the NFL for violating the league's personal conduct policy as a rookie. That suspension stemmed from an arrest in Arizona on a domestic violence charge of disorderly conduct-disruptive behavior-fighting. Dodson entered a diversion program to have that charge cleared from his record.
"It's so cool to see them stick their neck out for me," Dodson said of the Bills' front office. "Not even just off the field, on the field, just being an undrafted guy, believing in myself. They continue to give me confidence. Year by year, I'm playing better and better and it's so cool to see.
"Hats off to the upstairs for not treating all aspects of the game like business. They kind of treat it as real-life stuff, too. They understand that we go through stuff just like any other regular person, so I just think's that cool and I think that's why we are winning games, because coach McDermott cares for you more than football. It's about your mental health. I'm excited to get back and continue to show Bills Mafia what I have."