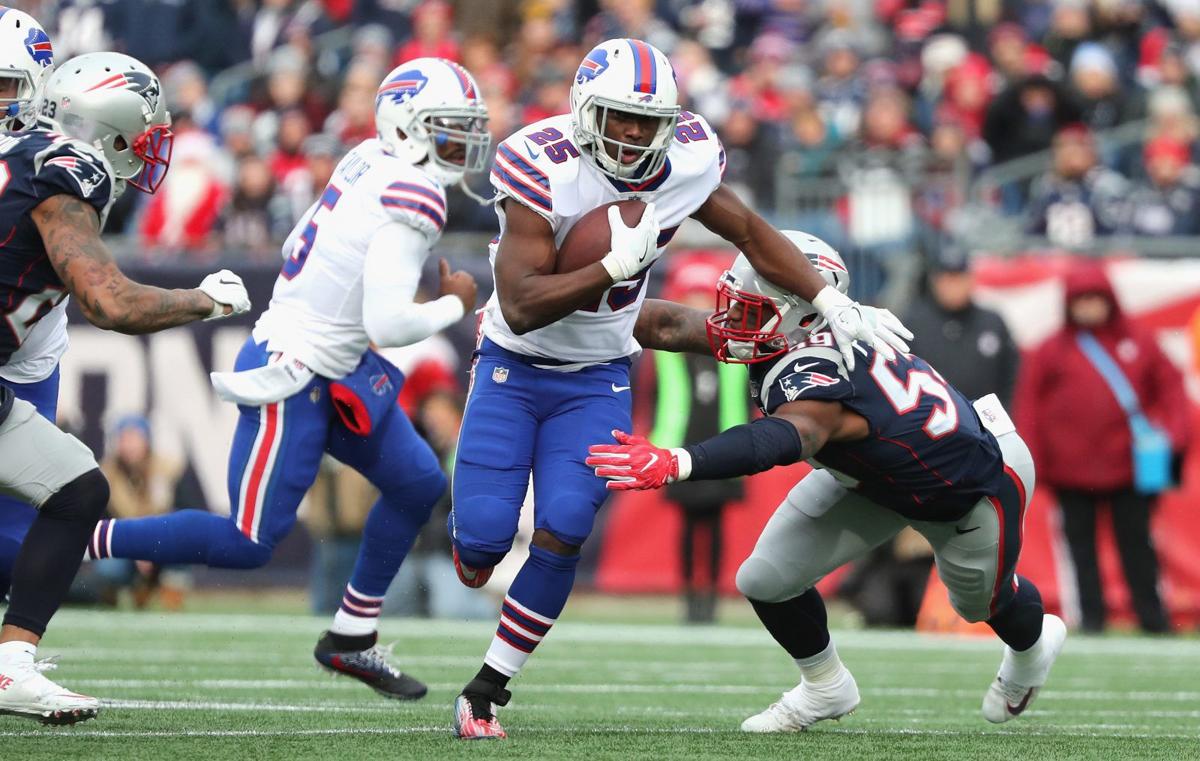 A former girlfriend of Buffalo Bills star running back LeSean McCoy was assaulted early Tuesday morning at a home McCoy owns outside Atlanta.
According to police in Milton, Ga., officers responded at 3:18 a.m. to a home invasion on Hickory Pass and found a woman inside who had been beaten. Police did not release the woman's name, but a lawyer for Delicia Cordon, McCoy's former girlfriend who lives there, identified Cordon as the victim in a statement late Tuesday night.
A photograph that appeared to show Cordon with a bloodied and bruised face was posted on Instagram, with a note blaming McCoy for the violent assault. The post also alleged McCoy had beaten his son, committed animal abuse and had used steroids.
The image was taken down a short time after it was posted and the user's account was made private. Later Tuesday, the user said the image was removed at the request of Cordon's lawyer. However, the poster said, "I stand by what I said ... Lie to these people if you want Shady but you know I know everything."
The Buffalo News is not publishing the photo due to its graphic nature.
McCoy, in a statement on Twitter, denied all the allegations. "For the record, the totally baseless and offensive claims made against me today on social media are completely false," McCoy said. "Furthermore, I have not had any direct contact with any of the people involved in months."
The Bills, who are counting on the veteran McCoy to anchor its running game this season, issued the following statement: "We have spoken to LeSean and have been in contact with the National Football League. We will continue to gather information." The league said it is reviewing the situation but had no further comment.
The Milton Police Department said entry into the house was not random.
"The preliminary investigation indicates that this residence was specifically targeted by the suspect or suspects, and not a random incident," Capt. Charles S. Barstow of the Milton Police Department said in a statement to The News.
"When officers arrived they found one victim who had been physically assaulted by a lone intruder," Barstow said. "During the altercation, the suspect demanded specific items from the victim. An adult female victim was treated and released at North Fulton Regional Hospital. A second adult female victim also sustained a minor injury during the incident."
Barstow said Milton detectives were continuing their investigation, and are asking the public to come forward if they have additional information.
In a statement, Cordon's lawyer, Tanya Mitchell Graham, said Cordon was sleeping when a man "entered the house with no signs of forced entry."
"The assailant demanded specific items of jewelry that had previously been gifted to Ms. Cordon by Mr. McCoy, which Mr. McCoy had requested back on many occasions," the statement said.
Cordon's lawyer said Cordon suffered multiple injuries to her head, face and arms during the attack. She suffered a bruised wrist when the assailant could not get bracelets off her wrist and was struck in the face multiple times with a gun, the lawyer said. Cordon's cousin was hit in the back of a head with a gun, the lawyer said.
Late Tuesday, Cordon's attorney released a statement detailing the situation.
While both McCoy and Cordon acknowledge being in a relationship, their stories veer in different directions, according to documents filed in Fulton County Magistrate Court.
McCoy has tried in court for the past year to remove Cordon from the suburban five-bedroom, 5,506-square-foot house that was purchased for $822,000 in October 2016.
In a lawsuit filed on July 3, 2017, McCoy contended he owns the house, was no longer in a relationship with Cordon and wanted her to leave. He said she was only allowed to live there rent-free for five months.
In another filing on June 6, 11 months later, documents state little had changed. "[Cordon] is ex-girlfriend of [McCoy's] and refuses to leave." McCoy also asks for the "return (of) any and all items removed from (the) premises."
But Cordon, through court filings, tells a different story.
She said in June 22 documents that she and her children have lived with McCoy since October 2016 when the home was purchased. The couple was in a relationship for at least two years, she said.
Cordon said the couple discussed marriage as late as May 28, and that McCoy gave her "a substantial gift" the following day, one day before he left for Buffalo to attend the Bills' offseason training sessions.
Cordon said she traveled out of state on May 31, only to discover that McCoy had "friends, family members and laborers" remove her "furnishings and furniture" from the home without her knowledge. When she became alerted by live footage from security cameras over her cellphone, she called the police and the removal was halted. Cordon's lawyer said McCoy had a new security system installed, but did not provide Cordon with any information about how to operate the system.
The document states McCoy also had the electricity turned off at the residence. Cordon also said she hadn't spoken to McCoy since June 1.
The oft-delayed civil action is slated to be heard at 1 p.m. on Aug. 14 in the Fulton County courthouse in Atlanta.
A woman who answered the phone at the office of Tanya Mitchell Graham, Cordon's lawyer, declined comment. McCoy's lawyer, Jacoby Hudson, and his agent, Drew Rosenhaus, did not respond to requests for comment.
Jacoby told The New York Times that McCoy told him after the Instagram post that McCoy had been training in Miami for the past three or four days. He also told Jacoby he does not live in the house and seldom visits Atlanta.
"He would never put his hands on her," Jacoby said. "He has been letting her live in the house because she said she and her kids have nowhere to go. But now he wants to sell it."
Allegations of domestic violence by players in the National Football League have been a steady occurrence in recent years.
After the NFL was long accused of foot-dragging its investigations and doling out mild penalties to abusers, the league started to take a harder line. Running backs Ray Rice and Adrian Peterson, defensive end Greg Hardy and punter Josh Brown are among the NFL players who have been suspended.
News Sports Writer Jay Skurski contributed to this report.