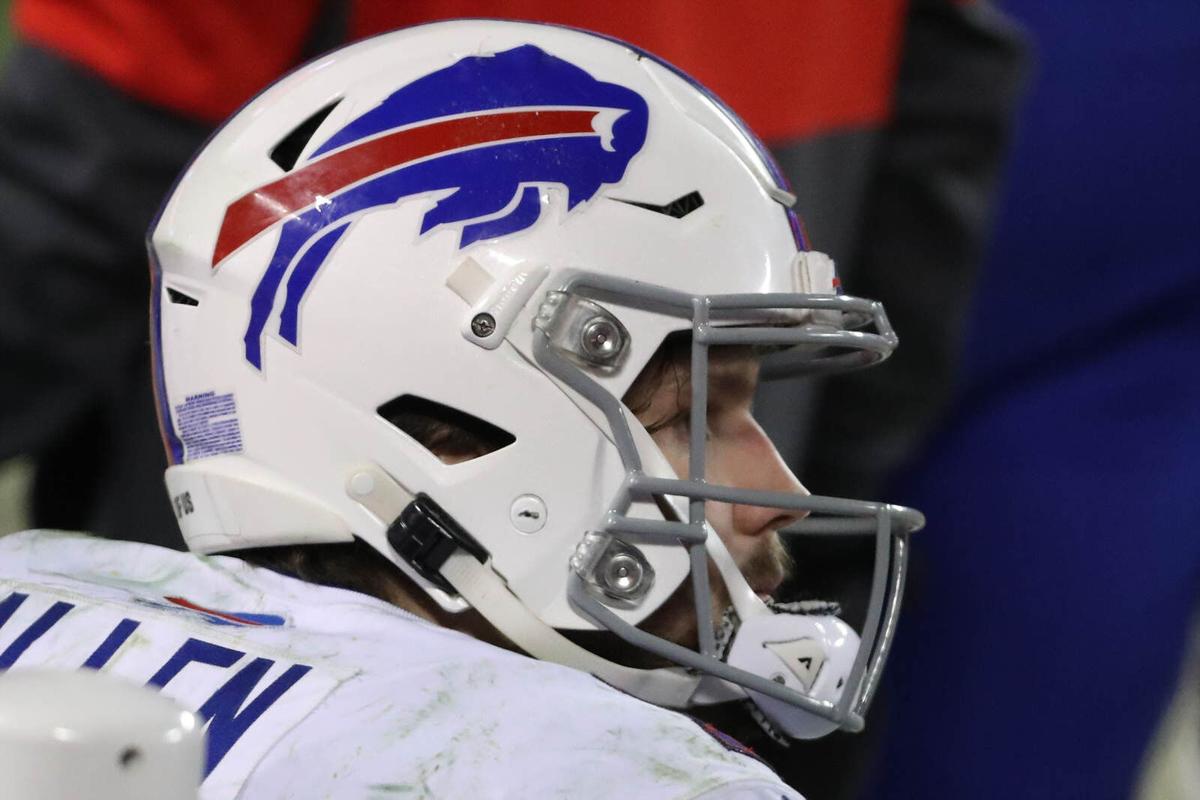 Josh Allen sounds as if he's willing to be patient about receiving a long-term contract extension from the Buffalo Bills.
"When it happens, it happens," Allen said while appearing on the podcast, "10 Questions With Kyle Brandt," which was posted Wednesday morning.
The Bills' quarterback offered no specifics on a timetable or the type of deal he's seeking.
"I mean, honestly, there's a lot of different ways you can go about it," Allen said. "Honestly, I love playing football. I want to listen and be engaged in the contract talks. Ultimately, that's why you pay your agents, and that why you hire a guy like Brandon Beane and (assistant GM) Joe Schoen, and the front office guys and what they do. They'll iron out the details, and if we can get to something soon, I'd obviously love to be locked down in Buffalo for a very long time. It's a place that I call home. I love being there, I love the fan base, I love the city. It's everything that I want, is there.
"If they called up and wanted to talk tomorrow, I'd be willing, but we'll see. We'll cross that bridge when we get there."
Beane said on a different podcast that if an extension with Allen doesn't get done this year, it will be next year. Asked by Brandt what he thought about that, Allen said, "Well, I think Brandon Beane is extremely good at his job and he gets paid to be the general manager of the Buffalo Bills and I get paid to be the quarterback. So, until any of that changes, I'm just going to be the best version of myself, the best quarterback, the best teammate that I can be for the Bills."
When Brandt asked Allen how he felt about the words "franchise tag," the quarterback said, "Eeew. I don't think it's great for the team nor the player. I need to do more research on it, but if you look at the guys that have been tagged in the past couple years, as far as the quarterback position goes, Dak (Prescott) and Kirk Cousins, at the end of the day, you can make the case that they should have just done the deal the year prior or a couple years prior. So, it is what it is.
"At the end of the day, whatever happens, happens. It's not going to deter me from trying to be, like I said, the best quarterback for the Bills."
After revealing he has not received a Covid-19 vaccination, Allen was asked whether he was interested in receiving one.
"I don't know," Allen said. "I'm still debating that. I'm a big statistics and logical guy, so if statistics show that it's the right thing for me to do, I'd do it. Again, I'd go lean the other way, too, if that's what it said. I haven't been paying attention to it as much maybe as I should have. But I've just been doing my thing and masking up when I'm going out and just staying close and hanging around the family."
Allen, who correctly answered nine of the 10 trivia questions Brandt posed, addressed a number of topics with Brandt during the hourlong appearance.
On the NFL not making Covid-19 vaccines mandatory for players: "I think everybody should have that choice to do it or not to do it. You get in this tricky situation now where, if you do mandate that, that's kind of going against what our constitution says and the freedom to kind of express yourself one way or the other. I think we're in a time where that's getting a lot harder to do. I don't know.
"Everybody should have that choice whether you think you should do it or you shouldn't do it. That's your own beliefs. And if you want to do it to protect you and your family, do it by all means and, again, if you're on the other side of the spectrum, too, I believe you should have that choice as well."
On how he coped with the restrictions to last year's offseason workouts and elimination of the preseason due to the pandemic: "I got a lot better at football. I thought I did. We didn't have to go back to OTAs and we kind of pushed back training camp and during that time I got to dive into my mechanics and learn a bunch of different stuff about me and how my body works. And I've got a lot of people to thank for that, (personal QB coach) Jordan Palmer being one. ... And then Sam (Darnold) and Kyle (Allen), who I spend a lot of time in the offseason with just throwing and competing against.
"It was obviously weird times and difficult times at the same time, but I think it was a chance for me to learn and grow kind of and see things from a different perspective. I'm very, I'd say, very blessed that that happened and it was kind of a blessing in disguise."
On Commissioner Roger Goodell saying he expects all NFL stadiums to be filled this season: "That's awesome. Obviously, playing in that AFC championship game (in Kansas City) last year, I know the Chiefs only had right around, I think, 20,000 fans and it was a huge obstacle that we had to climb. When you don't practice for that type of situation and you have to go on silent count and you go up there and you make a check, and they get out of it and by that time, now you're in the wrong play again, there's really nothing you can do to go back and change it.
"So, I see how much of an advantage it is when you have a fan base that is extremely loud on first, second, then, more importantly, third down. What the obstacles and the challenges that it presents to opposing offenses. It's awesome to have. And I know our fans are going to be super pumped this next year and as long as we can get them in the building, it's going to be a huge help for us."
'Mixed emotions' on expanded season
On the expansion from 16 to 17 regular-season games. (Brandt mentioned that New Orleans Saints running back Alvin Kamara called it "dumb."): "I've got mixed emotions on that as well. You change the complexity of the game as far as statistics and trying to ... you know, now you have an extra game every year to develop more passing yards and more touchdowns so that therein lies records being broken. But at the same time, I see that like, OK, it's a chance for me to go out there and do that. But, again, I'm sitting on both sides of the fence there where I'm just like, the integrity of the game and the people that have played behind us, that have had 16 games for the past, since 1970-something, right?
"It's tough, but at the same time it's a very good opportunity to go out there and, again, play another game of football, which I love to do. You can get hurt at any point, whether it's a game, whether it's off the field, whether it's getting up from your couch. Like, stuff happens. So, I see it as an opportunity to play another game that I love and a chance to go out there and put up more numbers and win some more games."
On how often he thinks about the 38-24 loss in the AFC title game: "Every day. I think about it all the time, where we were, where we could have been. Obviously, we had our chances in that game and obviously you can't go back and ... change anything. But it was a chance to learn, a chance to grow. I know Coach (Brian) Daboll and Coach (Sean) McDermott think the same thing. And our goal is to get back to that game next year, but hopefully we play in Buffalo and we move on and we can accomplish the goal that we set out to accomplish.
"Again, I think it's just another step in the gradual progression. Coach McDermott would say it's trusting the process and that's just one of the steps in the process that we're trying to follow. You see what our front office has done this offseason in giving us tools to go back and be ready to compete and try to go out there and do that again. You can do all that during the offseason, but at the end of the day, it's the guys making the plays on the field when you have to. And we're excited to get back out there and show that we can do that, that we're ready to move on and be the team that we think we can be."
On dealing with the Chiefs' dominance: "I think everybody in the league wants to ... it was the Patriots before them. You want to be that team that has sustained success and in order to be that team, you have to beat that team. It's a lot easier said than done. At the same time, we view them the same as anybody else in the league does: they're the guys on top and obviously they didn't win the Super Bowl this year. That's the Bucs.
"On the AFC side, again, they've been to the title game three years in a row and how do we get to that point? How do we continue to adapt and change and be able to go out there and put together our best performances to consistently be in the talks to a title run? That's what we're trying to do in Buffalo and I think we're really close and I think this next year is a real opportunity for, like I said, to go out there and accomplish what we want to accomplish. But I guess it's easier said than done and our actions have got to go do the talking on the field."
On Tom Brady leaving the AFC East: "You know, I've got a lot of respect for Tom and how he's played the game and how he portrays himself, how he lives his life. He's the ultimate pro, the ultimate role model. I've been a huge fan of him for as long as I can remember, to be honest. So, there was a part of me that was sad when he did leave because I wanted to play against him, I wanted to compete against the greatest to ever do it.
"Then, obviously, the other part of me was happy that he was finally out of there and Bills fans don't have to worry about him in the AFC and, hopefully, the only time we get to see him will be the Super Bowl. That would have been poetic, if we ended up doing that. So that's something that I dream about, honestly, and being able to play against him for something super meaningful. The first couple years, they gave it to us, when he was a Patriot. It was fun to compete against him, it really was.
"Again, he's super fun to watch and the way that he consistently gets better, each and every year; how he becomes more proficient in what he does, in his throwing motion, just the little things that he does and tries to find and look for. It's contagious. And when you have such an admiration for him, as I do, you want to emulate that and you want to become that guy that he is and that he's been for a long time. He's one of my favorite quarterbacks of all time and mixed feelings, obviously."
'I thrive in a little chaos'
On "Sugar High Josh," an alter-ego name Brandt gave to Allen when the quarterback becomes reckless on the field: "It means when you take a bunch of sugar and you get all hopped up and your mind doesn't function as well as you want it to function and just kind of all hell breaks loose, no holds barred. Sometimes I can produce a little bit of chaos on the field, but at the same time I say that, I feel like I thrive in a little chaos.
"Chaotic structure is kind of what I'm used to and it's always been a part of my game. It's just, honestly, me trying to make plays and trying to do what I think is right, what I feel is right on the field in order to help my team win football games. Obviously, I think I've slowly moved away from 'Sugar High Josh Allen.' He'll pop up every once in awhile, but it's just because I want it so bad. And, again, there's lessons to be learned in any part of the game. I know I need to limit showing him too often.
"The good thing about my situation is, Coach Daboll, who I love, he's like one of my best friends. We talk about life almost every single day. Just like nothing football-related. It's just like, 'Hey, what are you doing? I'm on the golf course. Let me see your shot.' Just talking crap all the time. He's very similar to me, as far as, 'If it's not there, figure it out. Make a play.' And he's OK with me kind of doing my own thing on the football field. I'm not this actually stereotypical, stay-in-the-pocket, big, strong-armed dude. I tend to make plays and you have to take the good with the bad sometimes. I understand that and I understand that I can't have some of these mistakes and also some of these moments that I've been able to extend and make these plays. It's helped our team tremendously.
"But, again, you have to limit the bad and you have to understand when you can say when. That's something I'm still learning and I think this last year I did a little bit better of a job with that. And as I continue to grow in this league and get those plays under my belt, I think that I'm just going to continue to get smarter with that as I go on."