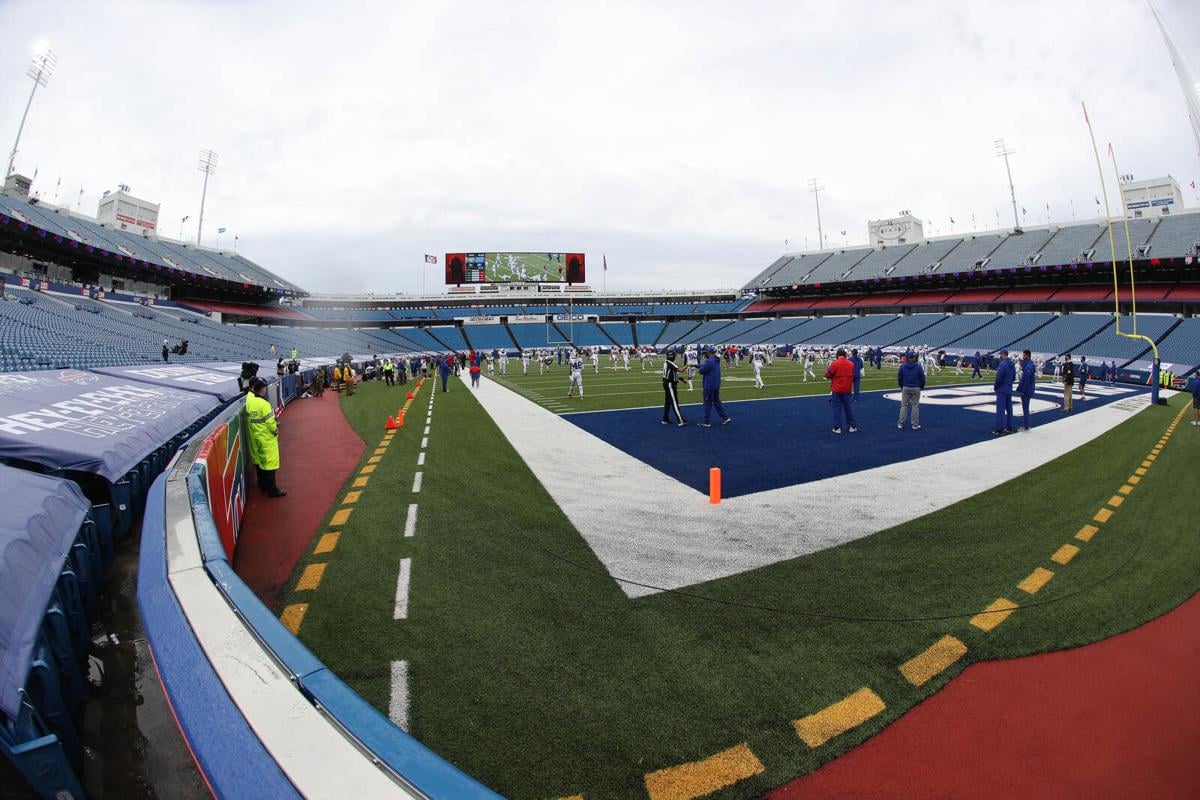 The Buffalo Bills and New York Jets remained in the locker room for the playing of the national anthem and "Lift Every Voice and Sing," what's often referred to as the "Black national anthem," before the season opener Sunday at Bills Stadium.
But it was not a coordinated effort between the franchises.
"It was a team decision," Bills defensive end Jerry Hughes said. "It was something that we spoke about back in training camp. We came together as a team and we felt like, for us, we were going to stay in the locker room as a team because it symbolizes unity."
Jets quarterback Sam Darnold said his team decided how they'd handle the anthem Thursday and did not discuss their plans with the Bills.
"No, we didn't talk to Buffalo about it at all," Darnold said. "It was just a coincidence that both teams did that. I think for us it was just about making a statement and that was really our thought process through that."
Both teams jogged from the field and up the tunnel toward their locker rooms when "Lift Every Voice and Sing" began playing, the timing of which appeared coordinated across the NFL.
The CBS television audience was shown a split-screen featuring Alicia Keys performing the song as an accompanying video played on the stadium's video board. Players streamed off the field, through an end zone featuring the words "End Racism" painted on the turf.
"We just decided as a unit that we were going to hold out and stay inside during the national anthem," Jets safety Marcus Maye said. "We all decided that was something big for us to do. We did it as a group, as a team. Obviously, people had different perspectives on being out there on the sidelines, so we made an emphasis on just staying inside and keeping everybody together inside."
"The Star-Spangled Banner" did not immediately follow "Lift Every Voice and Sing," which played roughly a half-hour before kickoff, at a time when players traditionally return to the locker room for final game day preparations.
But the players didn't return to the field until moments before kickoff, after the national anthem. Television cameras panned the empty stadium as game day officials, stadium employees and security stood at attention with masks over their mouths and hats in their hands.
"It's just something that, as a team we agreed upon was what's best for the team," Bills cornerback Tre'Davious White said, "and I think it was good and I think that everybody was on board with it. It's going pay off for us because we're one team, one unit and I think it's a good deal."
Scenes from an empty stadium as the Buffalo Bills open their season without fans
See photos of an empty Bills Stadium and the parking lots and streets surrounding it due to the coronavirus pandemic, as the Buffalo Bills faced the New York Jets on Sunday, Sept. 13, 2020.
Players and coaches from both teams, and across the league, are wearing the names of social justice victims or one of four preapproved messages, including "Black Lives Matter" and "It Takes All of Us."
"We were able to come together, come to a decision as a group of men, and we felt like that was the best decision for us," Hughes said, "because we're focused more so on a solution and how to get things going. So I think for us, our focal point mainly is how we can get the kids internet and we're just going to keep moving forward as far as having some type of solution."
The Bills are donating a portion of their Week 1 paychecks to help thousands of Buffalo Public Schools students afford internet access, with kids forced to learn remotely because of the Covid-19 pandemic.
"I'm glad and proud of two things," Bills coach Sean McDermott said. "No. 1, that we're doing what we decided as a team and we're sticking together on that; No. 2, the action that has taken place. Really proud of what our guys have set out to do in the community to make positive change with trying to provide the children that need it, the internet. ... It's one thing to do something. It's another thing to take action, and that's the thing I'm most proud of."