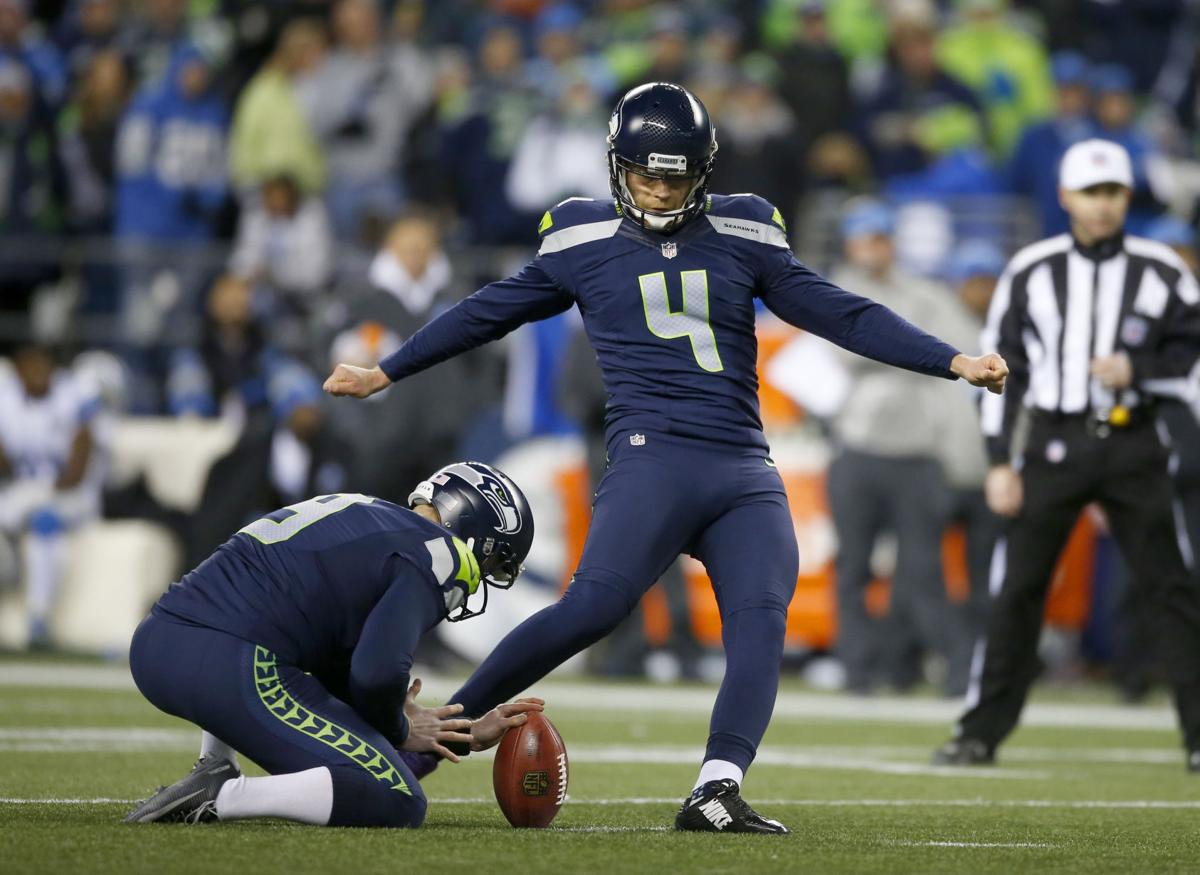 Stephen Hauschka doesn't feel comfortable discussing the subject. As with most kickers, it's always best to try to keep negative occurrences as far in the past as possible.
This one still stings, though. A lot.
The Seattle Seahawks, with whom Hauschka spent six of his last nine NFL seasons, decided they didn't want to keep him. They found what they believed was a better, and certainly cheaper, alternative in Blair Walsh, who had been released by the Minnesota Vikings.
Hauschka insists he's focused on having a bright future with his new team, the Buffalo Bills, yet it's impossible to simply dismiss the circumstances that made him available to replace Dan Carpenter.
One of the toughest parts about Hauschka's Seattle divorce was being supplanted by a kicker whose career has the deep scar of a blown chip-shot field goal that cost the Vikings an upset victory against the Seahawks in a 2015 wild-card playoff game. After missing nine field-goal and eight extra-point attempts in the past two seasons, Walsh found himself out of a job in mid-November.
This was the guy who was going to take the place of the Seahawks' all-time leader in field goals (175) and their No. 2 all-time producer of points (759)? The guy who hit 27 of 28 of his field-goal tries in 14 career postseason games? Who kicked in two Super Bowls and won one? Who has a career field-goal percentage of 87.2 and a career extra-point percentage of 95.4?
"I thought it was interesting that direction that they would go in," Hauschka said. "But I'm not really concerned about that anymore because my job's just to go out there and kick and that really doesn't have anything to do with me now. But, yeah, it was definitely an interesting move."
Interesting. And less expensive. Hauschka made $2.7 million last season, and will get $2.6 million from the Bills this year from a $1.6 million base salary and $1 million signing bonus. Walsh is due to receive a base salary of $800,000 and a $300,000 roster bonus from the Seahawks.
"I just think that at the end of the day, football is a business and teams are going to do what they need to do to get victories," Hauschka said. "And if that means maybe saving a little money on that position, then so be it."
Not that the Seahawks lacked another reason for giving him the boot.
Hauschka had his struggles as well. He missed four field-goal tries and six extra-point attempts last season, and has missed 11 PATs the past two years, including one in the playoffs.
His extra-point misses won't be comforting to Bills fans who saw Carpenter's mounting problems in the same area. The NFL's decision to extend the PAT by 13 yards, to 33, in 2015 has caused its share of difficulties for all kickers and some more than others.
"It's definitely been an adjustment," Hauschka said. "You look around the league, there have been a few guys who have their challenges with it. I'm looking forward to figuring it out, because it's not the same as it used to be. I mean, it's a different kick and it's weird to be going out there and kind of kicking the same distance (for PATs as well as field goals) all the time. I don't really know how to describe it.
"The 20-yard extra points, those were just chip shots, they really were. I don't think many NFL guys were going to miss those unless something were to really happen with the snap and the hold. But a 33-yard extra point just brings out that precision. You need to be on it with the snap, the hold and the kick all need to be there and you can't really get away with it. Plus, I think the biggest difference is you used to have about 25-30 field-goal attempts a year and then a bunch of chip-shot extra points. Now you have 25 field goals and maybe 30 to 50 extra points. That can feel like 60 to 70 field goals in a season now, so you've got to be mentally sharp the whole game, the whole season and there's really no room for error.
"That's obviously what the NFL wanted. They chose that distance for a reason. That's what they wanted to see. And I'm going to work at it, be the best I can be at that."
Hauschka, who turns 32 in June, understands the challenges that await him at New Era Field. There are the swirling winds that constantly shift from all directions. There is the cold and the rain that becomes snow and ice for those games in December and January.
If Hauschka was going to change teams after six years in a place where weather isn't always a kicker's best friend, wouldn't it have been better to end up in a dome?
Say, like the one in Minnesota, for instance?
"I think every kicker would love to be in a dome," he said. "But even that, nothing's ever a gimme. Just because you're inside in a dome doesn't mean it's a gimme. It's definitely going to be more of a challenge here, but I've kicked in a lot of tough conditions in Seattle and in the playoffs in Minnesota in the cold (before the Vikings' dome was finished).
"We've kicked in windy games and rainy games, so I've got that experience and I'm looking forward to the challenge I'm taking here. I mean, I know it's not easy, but that's part of what drew me to this challenge, too, was knowing that it was going to take my best and seeing how good I can be."
Even if it was something Hauschka didn't necessarily bank on facing.