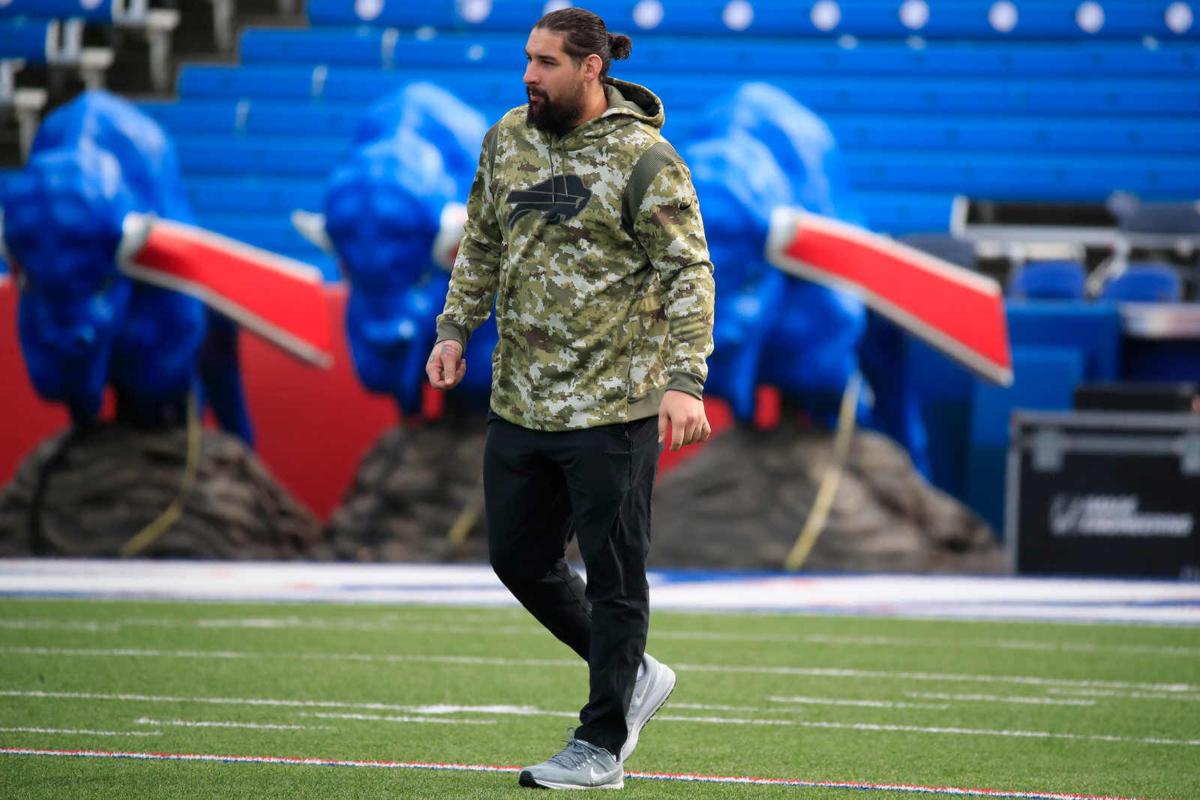 Buffalo Bills guard Jon Feliciano did heavy lifting of a different kind Monday. He handed turkey after turkey after turkey across the table at his Thanksgiving Dinner Giveaway. 
Feliciano has been on the injured reserve with a calf injury since early November, and is now eligible to return.
"I feel really good. If it wasn't a short week, I think there would be a good chance that I would be able to get in," he said Monday. "But also, we'll see how it goes. Not counting anything out."
Coach Sean McDermott said Monday the team is "just going to wait and see, and see how it goes the next day or two here" before making a decision.
Feliciano did not practice Monday, and with the short week, it is unlikely he'll be back for Thursday's game against the Saints. During his stretch on injured reserve, he's had a different vantage point of his position group.
"I think we've been getting better. I think since the Jacksonville game, we kind of hashed some things out," he said. "I think we're getting to runs that we're going to be good at. I don't like last week (against the Colts) was indicative of who we are as a team or a unit, and we just have to keep going and prove the rest of the season who we are."
There's been reshuffling on the line, both from Feliciano's injury and from rookie Spencer Brown missing games first for a back injury and later on the reserve/Covid-19 list. The Bills as a whole know there are improvements to make in the run game.
"There's a lot of things that go into a play. I think you can see with a play that popped in my head from last week, of [Matt] Breida basically just outrunning a safety that was coming down around the edges," he said. "There's plays, and then there's players that make plays work. … We were backed up, and we had a good outside zone scheme going. One of the linebackers had a shot on Ike (Boettger), and Mitch (Morse) and Ike ended up blocking the same guy just to get the play to go. And then Breida made a great play outrunning the safety."
Now in his seventh year in the league and third with the Bills, Feliciano's confidence in the offensive line comes from seeing how tight-knit they are.
He saw that deep camaraderie on display recently in another way. Ahead of meetings one day, the offensive linemen were all in the room early. Feliciano mentioned that he was getting ready for his first Thanksgiving giveaway in Buffalo. He knew other teammates had events as well, so he wasn't necessarily expecting anything.
"I was just like, 'Guys, no pressure, but if you want to donate to this cause as well,' and then it turned out everyone did," he said.
With donations from the entire Bills offensive line, and by partnering with West Herr Auto Group and the Belle Center, Feliciano's giveaway was able to provide 300 meals to families in Buffalo, complete with 19-pound turkeys, pies and sides. The host, the Belle Center, is a multicultural community center on the West Side of Buffalo that provides a number of services to local families. 
In another year, Feliciano said his teammates would have joined him to help hand out everything. However, with Covid-19 cases on the rise in Erie County, Feliciano felt the best way to balance giving back while minimizing risk was to represent the group.
"Everyone wanted to come out," he said. "But I was just like, 'Guys, we've had so many guys out.' And I'm on I.R. and I'm vaccinated. … Even though it was me out here, the whole O-line was a part of this. And that was really important."
The event also had an especially deep connection for Feliciano, who experienced homelessness growing up. One time around the holidays while he was in high school particularly shaped him.
"There was a moment where in my junior year I was homeless, and I didn't really have food," Feliciano said. "My basketball coach and the (athletic director) at the time, they just handed me a Publix gift card, and it had X amount of money on it. And to be able to go home and eat and feed my people that I was around, that stayed with me."
Once he got to the NFL, he started looking for ways to give back. Feliciano was drafted by the Raiders, where he saw teammate Donald Penn get all the offensive linemen involved in his community efforts. They would hand out turkeys and pies as a group.
Feliciano had made notable donations in Florida, and is getting more involved in Buffalo. He held an event in August to give out backpacks and school supplies, but his relationship with the Belle Center began when he arrived in Buffalo. Former Bills linebacker Lorenzo Alexander had been involved before him. When Lucy Candelario, the center's executive director, saw Feliciano become a Bill, she wanted to get him involved.
"I'm Puerto Rican and him being Puerto Rican, I was like 'I think this is a perfect match,' " she said.
She wrote a letter to Feliciano, mailing it to the Bills' facility. He got it, and he responded. It was indeed a perfect match.
"Honestly, it just reminds me of the way I grew up, and being in the types of places where parents rely on the people here to basically shape their kids," Feliciano said. "And I just believe it's an important place."
The connection to the Hispanic community was important for Feliciano, too. Charles Torres, president of the Puerto Rican and Hispanic Day Parade, has seen Feliciano embrace that.
"It's very important that we highlight individuals that look like the community," he said. "So when they see a Jon Feliciano at the top of the game and playing for an NFL team, they can feel that that's achievable."
Feliciano was supposed to be a part of the parade in August, but a preseason game conflicted. Torres was able to finally give Feliciano the sash he would have worn in the parade at Monday's giveaway.
"He was honored," Torres said. "I don't even know if he tried it on yet, because he's a big guy. I hope it fits, but he was humbled."