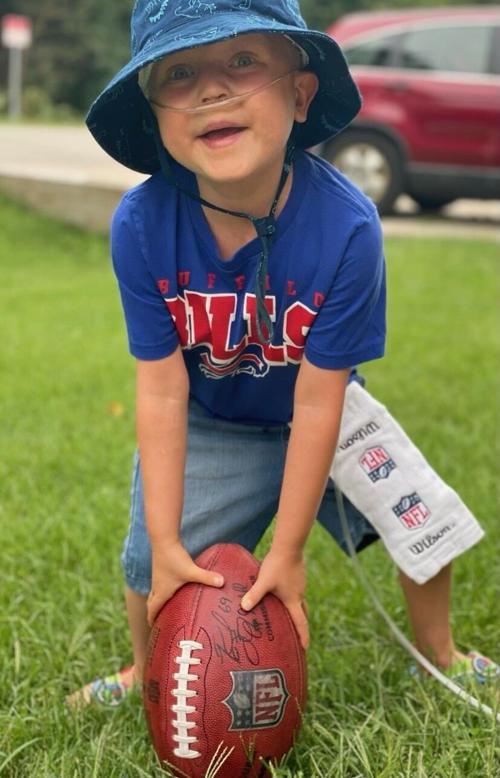 Nick Mayerik was angry about the people who refused to wear masks in public to reduce the spread of Covid-19.
The fitness coach couldn't guarantee that masks were effective, but it was such a simple gesture. And it could mean the difference between life and death for his young son.
"Instead of going on Twitter and cussing everybody out and getting into it with people," Mayerik said, "I thought maybe I could show people Eddie. If he got Covid, it's not a debate, he wouldn't have a shot."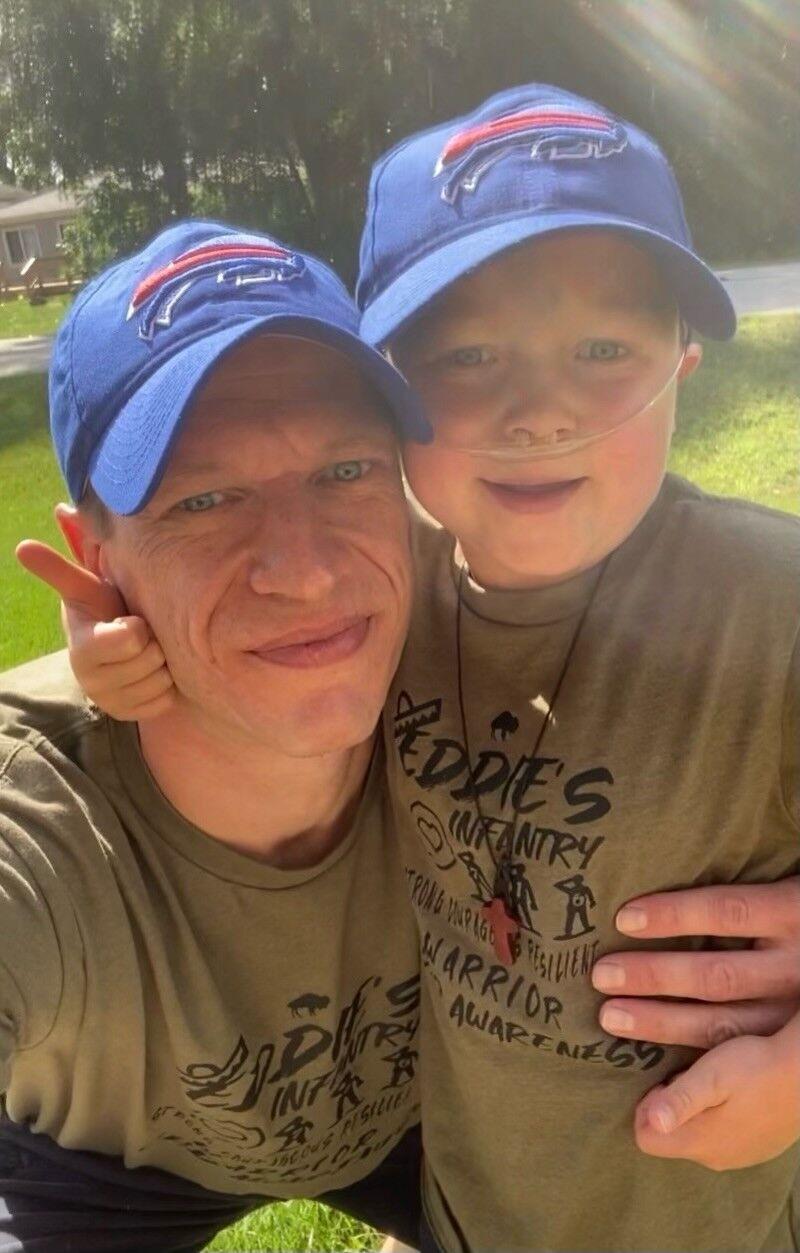 Eddie Mayerik is 6 years old, a massive Buffalo Bills fan and only a couple of months removed from his eighth heart surgery. He was born with two valve defects and essentially no pulmonary artery, which carries blood from the heart to the lungs to deliver oxygen to the rest of the body.
Eddie and his family have spent the better part of his life in the hospital.
But Nick, a former NAIA football player and coach who trains adults to push themselves to reach peak condition, has drawn immeasurable strength and motivation from his child's endlessly sunny disposition. By sharing his story and Bills-themed videos on social media, he's inspired others and reaffirmed his faith in humanity.
"To be Eddie's dad and to see what he does every day and all the meds, all the therapies, and he just stays positive," Nick Mayerik said. "How can I attack things like that? That's what I ask myself a lot. Sometimes if I start complaining, I check myself real quick. Or he'll check me. Even if he just says, 'Daddy, what's wrong?'
"I use him as an example constantly about how to approach anything. One of the things I always talk about that we can control is our attitude, and he does it better than anybody I know."
Mayerik, 38, lives in Winfield, Ill., a suburb of Chicago.
In the early 1990s, his parents took him to an NFL game between Buffalo and nearby Indianapolis. They happened to stay at the same hotel as the Bills, and he met a number of players in the lobby. He still has a hat signed by John Fina and Bill Brooks. He recalls Darryl Talley and Pete Metzelaars taking time to chat. And he was hooked.
"It made a real big impression on me," Mayerik said.
But growing up in the Midwest meant he didn't have any friends who were Bills fans. That all changed once Mayerik started a Twitter account in January and embraced #BillsMafia.
At one point this spring, he sent a direct message to Marc Johnson, a Bills fan and two-time cancer survivor, explaining how he served as an inspiration to him and his son, who was scheduled to have his latest surgery on Sept. 3 at Stanford.
"It was a full 24-hour, basically, a Hail Mary," Mayerik said, "because nothing else had worked."
Johnson had befriended the late Bills superfan Ezra Castro, who went by Pancho Billa, in much the same way throughout their battles with cancer.
And he was moved to action.
"What I've come to know in the 35, 40 years of being a Bills fan is Bills Mafia is a different crew," Johnson said. "It's inspiring. And it just makes you want to do more. It makes you want to be a better person. And, really, that's what Nick and Eddie have done for a lot of people. They see this 6-year-old who's endured eight open-heart surgeries and a father that is doing everything he can and it's just an amazing story. It really is."
Johnson and Anthony Trifilo, who founded the philanthropic group "Pancho's Army," hatched a plan.
Mayerik thought they were out of their mind.
He wasn't asking for anything.
"I didn't say you were asking for anything," Trifilo said he told him. "I want to do this for you. What Eddie's going through – the kid is tough as nails and he isn't fazed and fatigued by any of this and it's just inspirational."
Together, they started the group "Little Eddie's Infantry," a branch of Pancho's Army, and named Eddie the commander.
"It was a funny way to keep his spirits up and keep him motivated," Trifilo said.
Trifilo raffled off tickets to the Bills' preseason game against the Green Bay Packers and donated the money to the Mayeriks.
Johnson created and sold Eddie's Infantry T-shirts to support the cause, and got them into the hands of some of the former Bills players Mayerik met as a kid.
Other fan groups, like Bills Mafia Babes, have supported the Mayeriks, as well.
"Honestly, Eddie is the toughest human on this planet that I know," Babes founder Kristen Kimmick said. "When I'm going through stuff, I remind myself what that little baby is going through and how he always does it with a smile, a thumbs up and 'GO BILLS.' He's really something."
Players have sent messages of support and signed game equipment.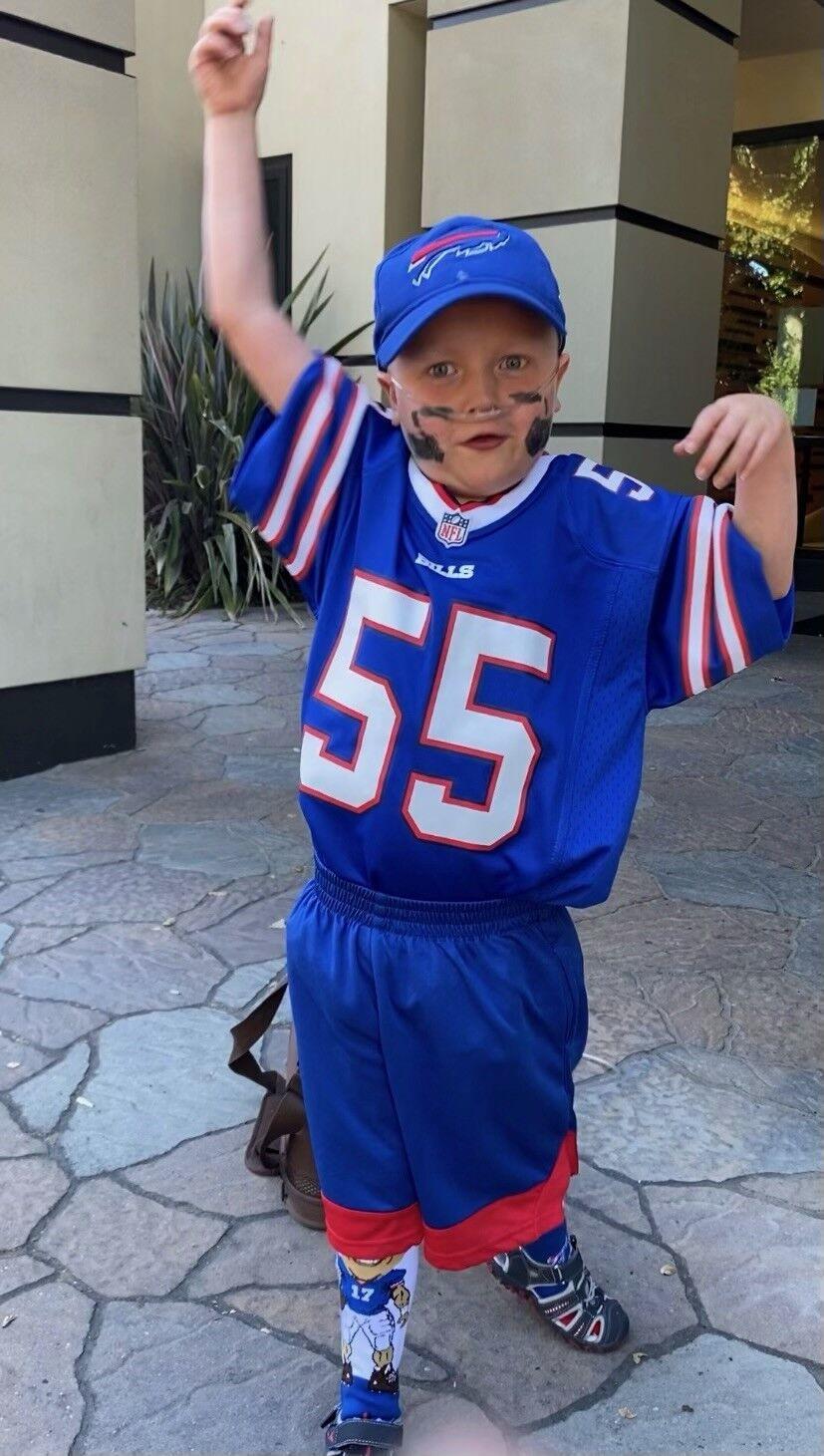 "He gets jacked," Mayerik said. "He gets all excited to do a video if he knows people are asking about him and they're Bills fans. And the feedback I get about some of these videos, what he does for people is uplifting to me."
Mayerik said the recent surgery was a success, that doctors hope to wean Eddie off his oxygen tube in the near future, and that the last six years have taught him a tremendous lesson about perspective.
"Some of the things people complain about in this world ... " Mayerik said. "And this kid's sitting in a hospital bed, eating through a tube, he can't keep food down so he's dehydrating after the latest surgery, and he's laughing and having a good time. That's perspective to me."
The outpouring from fellow Bills fans – complete strangers – was a needed boost, not only financially, but emotionally.
"I've always been a people person," Mayerik said. "And during the pandemic, I started to feel jaded. I started to feel like I wasn't seeing the good in people anymore. And then all of a sudden – boom – this happened. And I do. ... It's reminded me that there's really good people in the world, and it's all about who you surround yourself with."