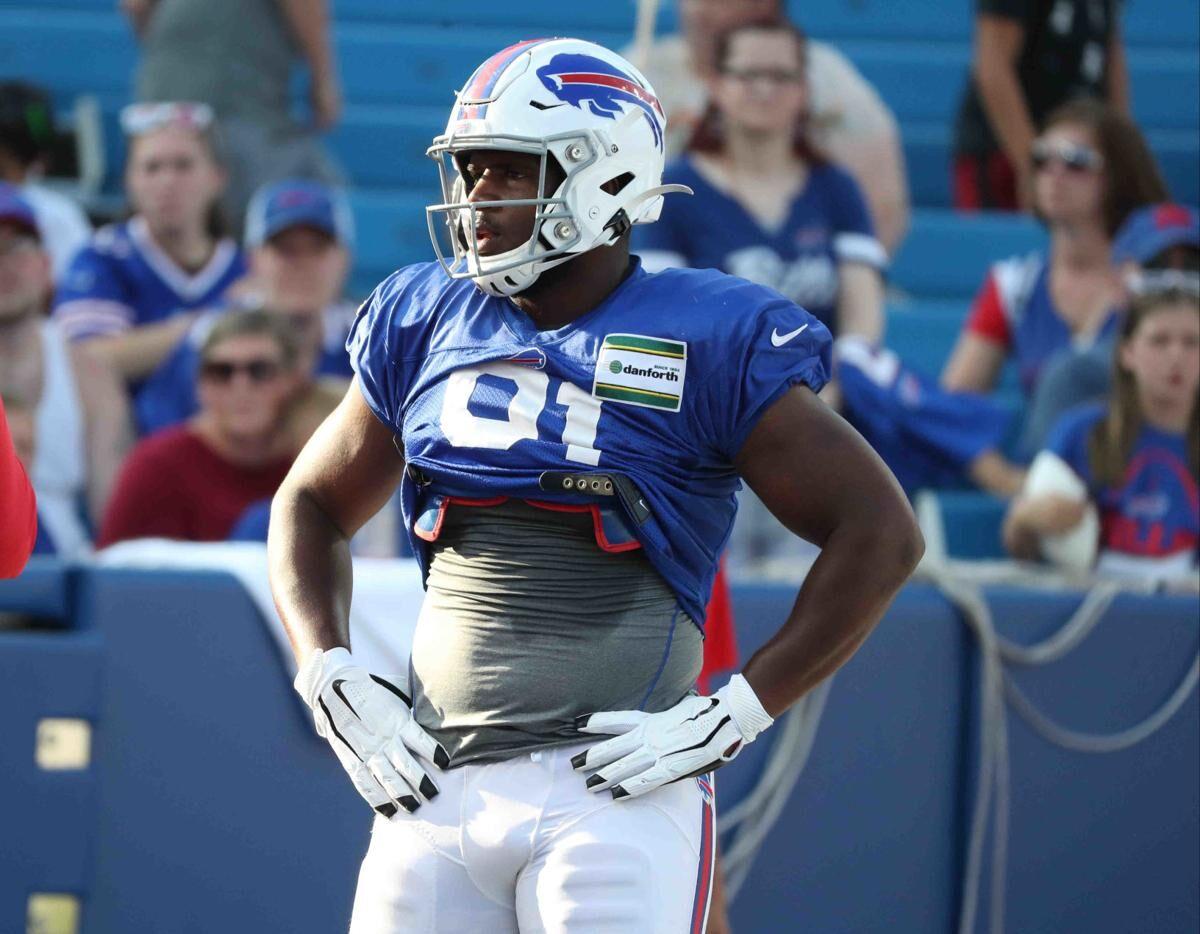 Ed Oliver recalled the helplessness of being sent to jail when he was certain of his innocence.
"I don't know if any of y'all ever been to jail, but you get stripped down," the Buffalo Bills' defensive tackle told reporters on a Zoom call Monday from training camp. "You get put in this jumpsuit. My jumpsuit had holes by your private parts."
Oliver proceeded to talk about the slippers he was issued while feeling an overwhelming sense that he wasn't supposed to be going through such an experience in May in his native Texas.
It came after he had been charged with driving while intoxicated and unlawfully carrying a weapon, both misdemeanors. The charges were dropped in late July. His attorney, Gary Patterson, said results of Oliver's blood tests "were all negative."
Speaking with the media for the first time since the incident, Oliver said he's not sure why he was arrested with nothing in his system after taking a field sobriety test. He said he blew .00%, but that the officer involved told Oliver, "I still think you're intoxicated." Oliver said he attempted to explain that he was "just tired," but that the officer either "wasn't understanding" what the player was saying or "didn't want to understand" and proceeded with the arrest.
"I kind of felt like, 'I shouldn't be doing this. I didn't work and walk the straight line my whole life to be put in a jumpsuit and taken to jail," Oliver said. "For what? That's how I felt: violated."
He also made it clear that he felt fortunate that the situation didn't turn any worse, given that the arrest came only eight days before Houston native George Floyd was killed by a Minneapolis police officer.
"That really put things into a perspective, like that could have been me," Oliver said. "If I didn't just, 'Yes sir, no sir,' and just comply, all it took was for me to move the wrong way or do something the wrong way and that could have been me."
Still, he was left with lingering frustration, particularly from knowing there were people who immediately jumped to the conclusion that he was in the wrong.
"I feel like nobody believed me," Oliver said. "I feel like I was guilty until proven innocent, not innocent until proven guilty. I feel like everybody was like, 'Why are you drinking and driving? You can kill people doing that.'"
He also expressed dissatisfaction with the NFL for, according to Oliver, placing him in its substance-abuse program.
"That's when I really got mad, because you get pulled over and your test comes back with nothing and they try to enter you into the program," he said. "It's kind of like, 'Wow!' So that's a big inconvenience. But it is what it is."
Bills veteran defensive end Jerry Hughes, who also lives in Houston during the offseason, said he was in the area of Oliver's arrest a week after it happened and was able to "survey the surroundings."
"It's sad," Hughes told reporters during a Monday Zoom call from camp. "It really is sad that we're still doing things like that in the year 2020. I shared a story with him about how, growing up in Houston, we used to hear stories about certain guys who went to certain small towns in Houston and the horrific events that kind of happened and took place. Really, it just became a word of mouth. Now, we actually have cameras and things like that are able to kind of capture those stories so the world can really see what is truly taking place in this country."
Oliver did credit his arrest with providing valuable life lessons, especially while driving.
"You've got to slow down, he said. "You've got to watch your surroundings and keep yourself out of situations like that. … You just have to be careful. Life is real. Life comes at you fast.
"I was on the way to the house and not expecting to be arrested. You never know, you can be doing anything and life could just hit you."
Hughes said he thinks Oliver has "grown tremendously as a person" as a result of the incident.
"And I think that's one key thing that you've got to be able to do with these different life lessons that are going to really fall upon us, is how you can grow and continue to move forward and not let it impact you negatively," Hughes said. "So I think that's been really huge that I've really loved to see with him."
At the same time, he has been looking to benefit from what he learned during his rookie season in 2019. After the Bills made him the ninth overall pick, the former University of Houston standout was expected to make an immediate impact, especially as an inside pass-rusher. Oliver began the year as a starter and remained in that role through the first seven games, during which he had only one sack that didn't come until his fifth start.
After that, however, veteran Jordan Phillips took Oliver's place and remained the starter through the final nine games. Oliver's production improved in a reserve role. He had four sacks as a backup, two coming in what the coaches considered a breakthrough performance in the Bills' Thanksgiving Day victory at Dallas.
"It all comes with experience," Oliver said. "If I knew what I knew the second half of the season the first half of the season, I'd have had three or four (sacks). But I didn't know, so you don't know what you don't know.
"I missed some easy layup ones at the beginning of the year. If I had just known, 'Keep rushing and just flip your hips right here and just reach,' I'd have had three or four."
What does he know about himself after that harrowing arrest in May?
"I just learned that I was a resilient human," Oliver said. "You go through stuff and I just knew, in the back of my mind, it ain't going to last forever. You've just got to through it, you can get through whatever.
"And another thing I learned about myself was just because you're having a bad day or whatever, there's always going to be a light at the end of the tunnel. My mama was telling me, 'You live through 100% of your worst days. Your worst day? You've already been through that, so there's no reason to sit and ponder on that.'"