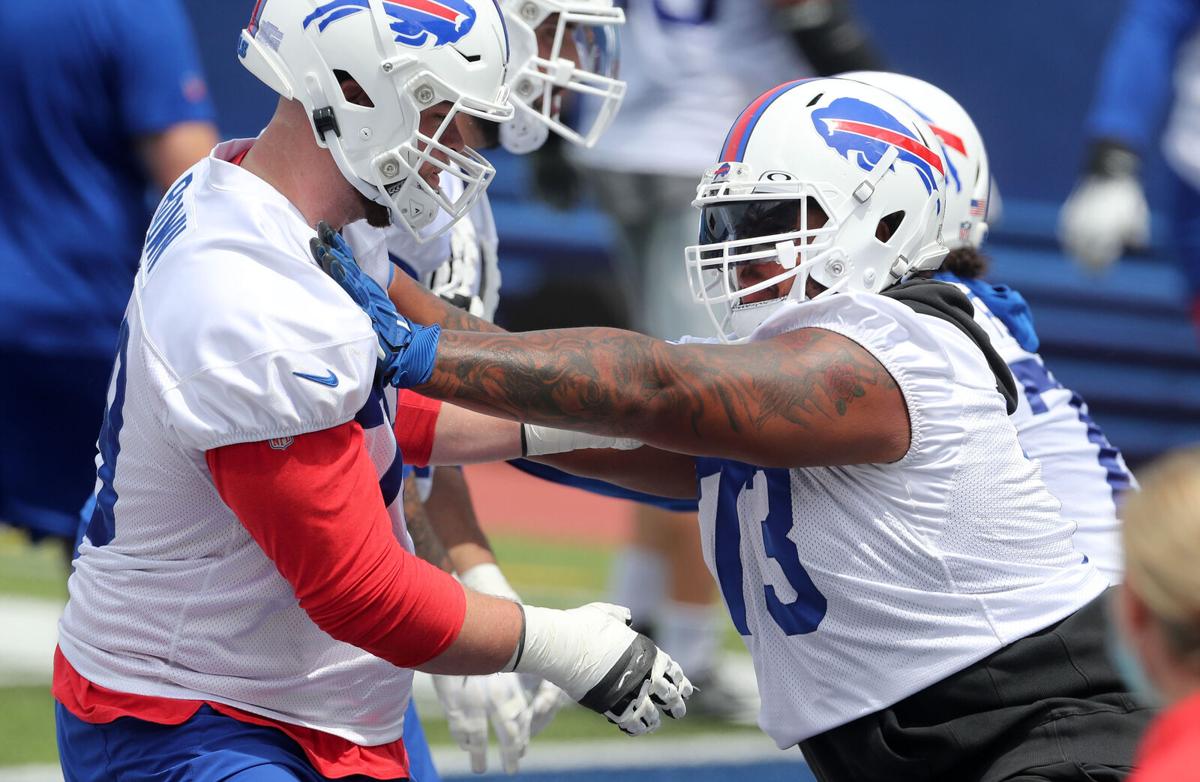 The Buffalo Bills will open training camp without offensive linemen Dion Dawkins and Ike Boettger because they are in Covid protocols, General Manager Brandon Beane said Wednesday before the team's first practice. 
"As we're seeing in this country, unvaccinated or vaccinated, sometimes guys that are vaccinated and also getting those breakthrough cases," Beane said. "We've had a couple of those, counting these guys. We're still dealing with this. We're still learning. It's a tough situation for our country and no different here. We've been trying to educate our guys. Our guys have done a really good jobs of listening and trying to educate themselves. ... At the end of the day, we're not going to force anything on any of our staff or players. It's a personal decision."
Beane said the Bills are "just over" 80% of players who have had at least one shot of the vaccine. He said the team had a "few cases" over the summer."
Beane said dealing with Covid this year is more difficult because it involves creating an equal environment for players who are vaccinated and those who are not, compared to last season when everyone was in the same situation because everyone was unvaccinated. 
"The landscape is a bit different this year … and that creates a bit heavier of a lift," coach Sean McDermott said. "We use that as an opportunity to come together as a team as opposed to allow that to divide. … We are making progress. I keep coming back to work to gain understanding and respect, respect people's position."
Beane said all the team's coaches are vaccinated. One staff member is not vaccinated but he has an exemption. 
The GM said he has had a lot of conversations with players, including Cole Beasley, who has been outspoken on social media about his intention not to get vaccinated. He said the focus will turn to football with the start of camp and he expects everyone will be professional. He said the social media outcry was not a distraction.
"We've got professionals," Beane said. "We allow them to express their views and as long as it's not going to be a distraction and we don't think anything else, when we got back out there and get on the football field, you'll see where our players are focused."
 "People are passionate about a lot of things these days," McDermott said. "I respect that. I want to gain as much understanding as I can and expect (Beasley's) teammates to do that. We're here to play football and get our minds focused and get into a good healthy routine."
Defensive end Jerry Hughes did not pass his physical because of a calf strain suffered in training and will open camp on the non-football injury list. Beane said the injury was not significant. 
McDermott said offensive lineman Cody Ford and running back Zack Moss have a green light physically after not taking part in on-field sessions during the spring. But he said it'd be irresponsible for them to be full go at the start of camp.