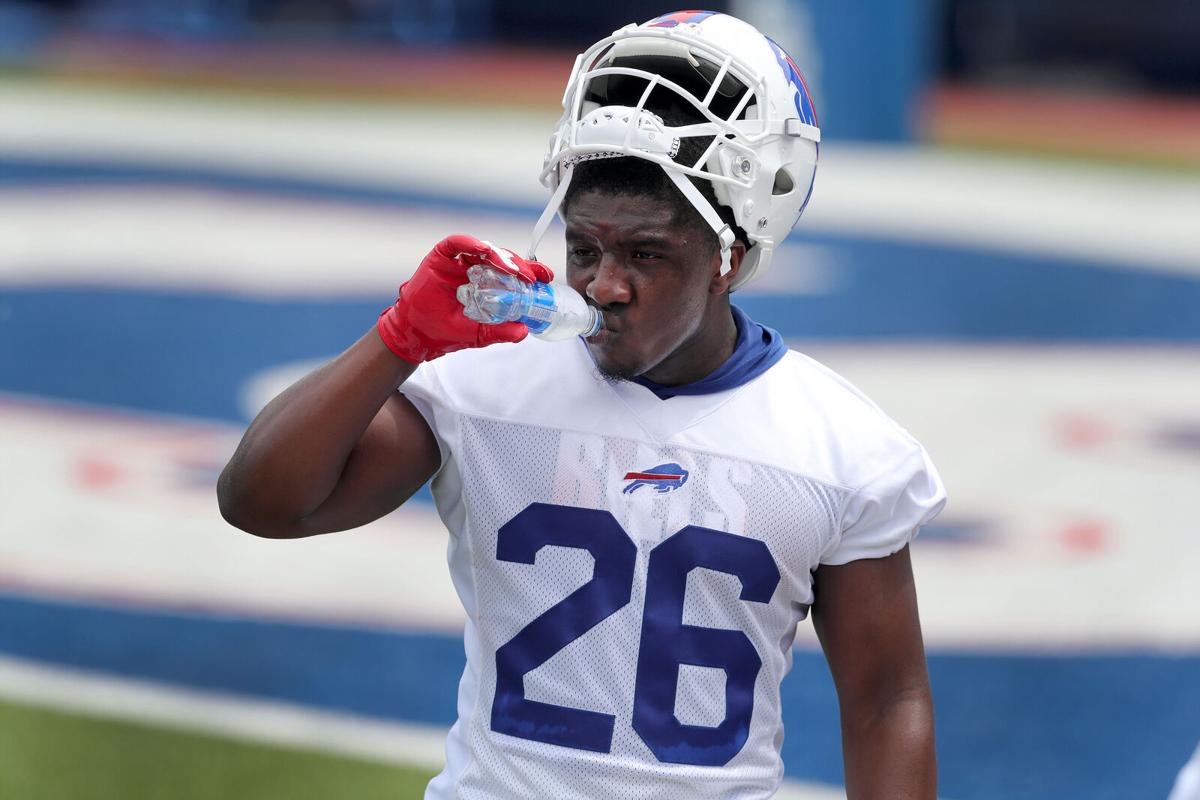 When Nick Hicks met Devin Singletary for their first training session in January, he saw an NFL running back who, "honestly, was out of shape."
Will Josh Allen, Mitchell Trubisky, Davis Webb and Jake Fromm all find a roster spot on the Bills for the upcoming season?
"He was a little heavy, he was a little blocky, so to speak," Hicks, co-owner and director of performance at PER4ORM Sports and Fitness Training in Davie, Fla., told The Buffalo News. "He's a thick guy, a strong-looking guy, but he didn't have too much definition. He had big legs, big butt, big back."
Fresh from a disappointing second season with the Buffalo Bills, Singletary spent the next four months following an intense, four-days-per-week training routine.
Last month, when he arrived at the Buffalo Bills' facility for the start of organized team activities practices, his physical transformation was unmistakable. Singletary looked muscular and fit. There was, indeed, the sort of definition one expects with someone at his position playing at the highest level of his sport.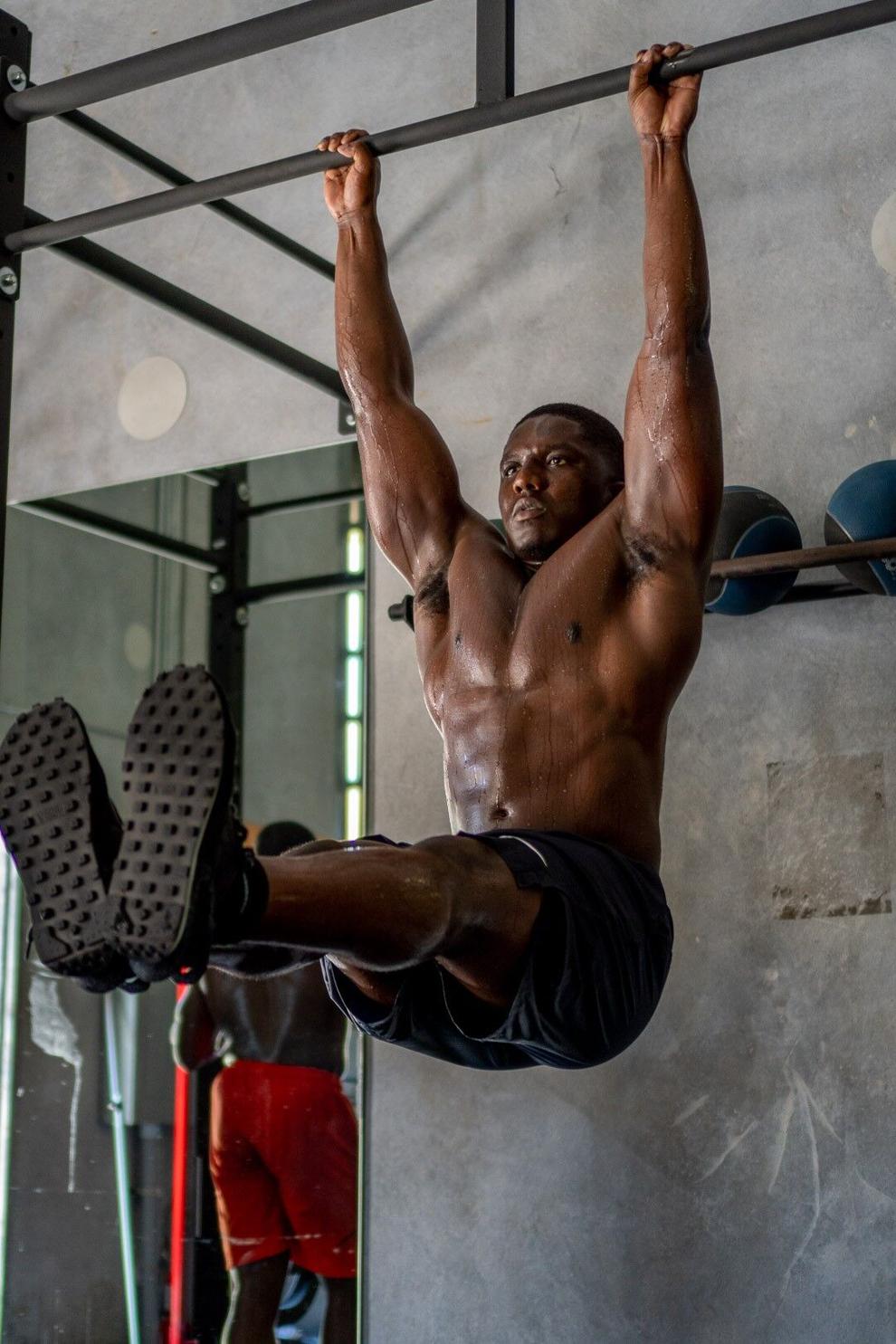 Hicks said the 5-foot-7 Singletary weighed close to 210 pounds when their sessions began. After a recent OTA practice, Singletary told reporters that even though he "got bigger" during the workouts, he's only about two pounds heavier than his listed 2020 weight of 203 pounds.
"I added more muscle," he said.
"What he did was he burned his fat and put on lean muscle mass," Hicks said. "I remember him leaving here and he was at 205, and he looked huge."
Singletary wouldn't cite last year's significant decline in his production from his rookie season in 2019, when the Bills made him a third-round draft pick from Florida Atlantic, as the specific reason he trained as he did this offseason.
"That's always the goal, to try to basically be better than you were last year," he said.
He also said he has ignored the "noise" of fan and media criticism of the struggles of the Bills' running game in a season that otherwise brought mostly high praise for the offense's major contribution to a 13-3 record and appearance in the AFC championship game.
"Noise is noise," Singletary said. "I don't pay attention to it. There's always going to be noise if you do good, if you do bad. That's just what it is."
If it is possible for a player who has never been on the 53-man roster to become a fan favorite, Wade's figured out a way.
After a solid rookie year, during which he ran for 775 yards and averaged 5.1 yards per carry in 12 games (including eight starts), Singletary experienced a slump. Despite starting all 16 games in which he played last season, he ran for 687 yards and averaged 4.4 yards per attempt.
The Bills ranked 20th in the NFL with 1,723 rushing yards, 12 spots lower than when they had 2,054 in 2019. In three postseason games, Singletary ran for a mere 63 yards, including 17 in the AFC title game loss at Kansas City. In the playoffs, the Bills averaged just less than 86 yards per game rushing.
Whatever convinced Singletary to show up at PER4FORM, his sense of purpose was apparent to Hicks, who specializes in working with running backs and has a client list that includes Minnesota's Dalvin Cook, Baltimore's J.K. Dobbins and Bills free-agent signee Matt Breida. 
"He knows he could have done better," Hicks said. "He knows he needed to put the work in. I think that's why he got outside of his comfort zone and decided to find us, a facility he wasn't really used to, and understands that there is no given this offseason. I really don't think that there's any external motivation for him. It's all him just understanding and knowing that he could have done better.
"Matt and Devin worked out with each other, side-by-side, every single day. It was never an issue. It was never some sort of cause of animosity. It was like, 'Yo, let's get this work and let's make each other better.' "
Sweeney is believed to be the first and, to date, only known NFL player to develop myocarditis following a Covid-19 infection.
It's fair to say that he shortcomings in the Bills' running offense were more stark in light of how dominant the team was throwing the ball. The Bills were third in the NFL with 4,620 passing yards, and quarterback Josh Allen threw his way to the top of multiple categories in their record book.
Nevertheless, the virtual disappearance of a ground attack sparked considerable speculation before the draft that the Bills might attempt to move up from the 30th overall pick to select a highly rated collegiate back. Clemson's Travis Etienne was a popular name fans and pundits mentioned in connection with the Bills, but Buffalo stayed put and selected defensive end Greg Rousseau. Etienne went to Jacksonville at No. 25. Though the Bills signed Breida, they didn't draft a player at the position.
Still, for all the criticism directed at Singletary, fellow running back Zack Moss and the Bills' offensive line, you won't hear any misgivings from Singletary or offensive coordinator Brian Daboll about the state of the ground game in 2020.
"I felt like it was decent," Singletary said. "Of course, I always feel like I have to do something better. I feel like the team can do something better. That's just what it is."
"There were a lot of good runs and there were some runs that weren't as good as we'd like them to be," Daboll said in his session with the media during OTAs. "And you can really look at the pass game and say the same thing. You're always trying to be better. You want to be the best offense you can be. Whether you rank higher in one area or the other, at the end of the day, we're going to try to do whatever we need to do to win a football game."
Singletary did a wide range of drills at PER4ORM. Between the weight room and the field, he addressed a multitude of physical and mental aspects of playing running back.
"You're always trying to find ways to better everything ... reads, catching the ball, blocking, everything," Singletary said. "Going into the offseason, that's what you've got to work on. ... It's just working on the small things and the big things."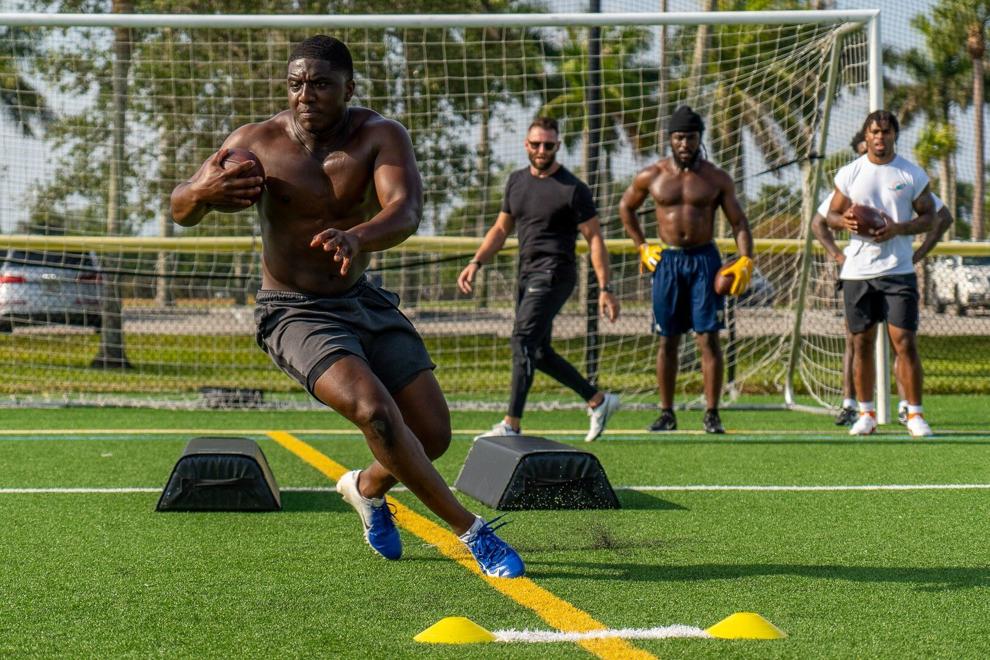 Hicks broke down the training regimen as follows:
• Monday. "Acceleration day on the field when we usually pull sleds. Then, we go back in the gym for lower-body strength."
• Tuesday. "Install of movements. Then, we go back to the gym and do upper-body lift."
• Thursday. "On the field, it's top-end speed and terminal velocity. Then, we come back to the gym and do lower-body functional work and plyometrics, a lot of jumping."
• Friday. "On the field, we do a lot of specific running back drill work, route running and so forth, and then back to the gym for a functional lift, which is max repetitions of high volume for muscular endurance."
Hicks said he did extensive study of Singletary's game video to determine the best approach to training him.
"What I noticed about Devin was that he's got a lot of good shake, a lot of good lateral movement, but he doesn't really do well once he gets to the second level," Hicks said. "That's what separates you in this league, that's what gets the big plays. So, what we focused on with him was making a cut, but do it moving north. Instead of just getting lateral and then bouncing a play and then trying to shake a guy, then shake the next guy, let's choose what cut we want to do, but make sure we're still moving north, make sure we're still gaining ground.
"For example, a jump cut doesn't need to be something that creates a very, very wide lateral separation. A jump cut is just a smooth cut just to get outside the frame of the defender and then keep going north. There's also a sweep cut where you want to gain lateral separation and lateral leverage on somebody. You're going to get two or three yards outside of a defender and then you get north.
"It's just really picking and choosing the right cuts and understanding that, 'I need to get going forward, not side-to-side.' And Devin agreed. He said, 'That's exactly what my coaches told me to work on and what I think I do need to work on.' And he attacked it every single day. I thoroughly believe he's going to reap the benefits this season."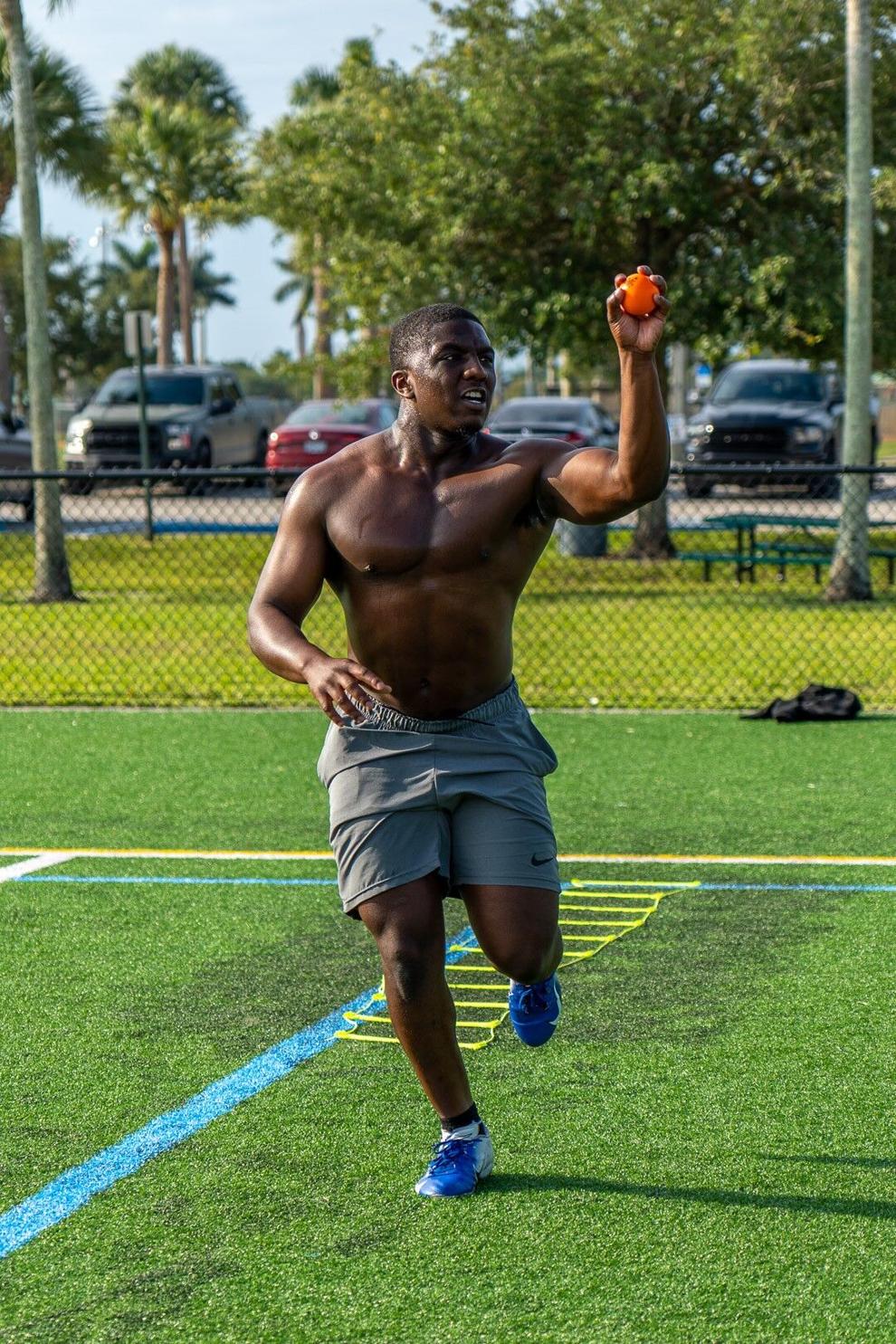 Daboll explained that total yards don't tell a complete story when assessing the performance of an individual or the offense as a whole. He made it clear he isn't hung up on numbers that indicate that the only part of the offense that was successful last season was the passing game.
"There's yards and then there's efficiency," Daboll said. "And there's all these numbers you can look at. Same thing in the passing game, where you rank in the pass game versus where you rank in the run game. We're not really concerned with that.
"What we're concerned with is the things that we do install and the things that we ask the players to do. Are we doing that the proper way? And then, are we going out there and executing it the proper way? Whether it's the run game or whether it's third-and-long or the red zone, you can look at rankings and all these stats and things like that, but ultimately, it comes down to putting the players in the best position we can put them in with a good plan, and then going out there and executing it."
Daboll said Singletary and Moss "did a good job" last season. The coach said their understanding of pass protections is strong enough for him to trust them to be three-down players.
Listening to Daboll, it sounds as if the Bills intend to continue to make use of Singletary and Moss as their primary backs on a rotational basis. Breida could also figure into the mix in some form.
"Nowadays, you're going to have two and sometimes three backs playing for you," Daboll said. "Some teams even have more than that. Whoever's back there is playing good. Sometimes that happens where you're in a game and you just get a sense one guy's got it going a little more more than the other guy, and that's the guy you ride with a little bit.
"They're two good, young backs and there's going to be a good competition come training camp."