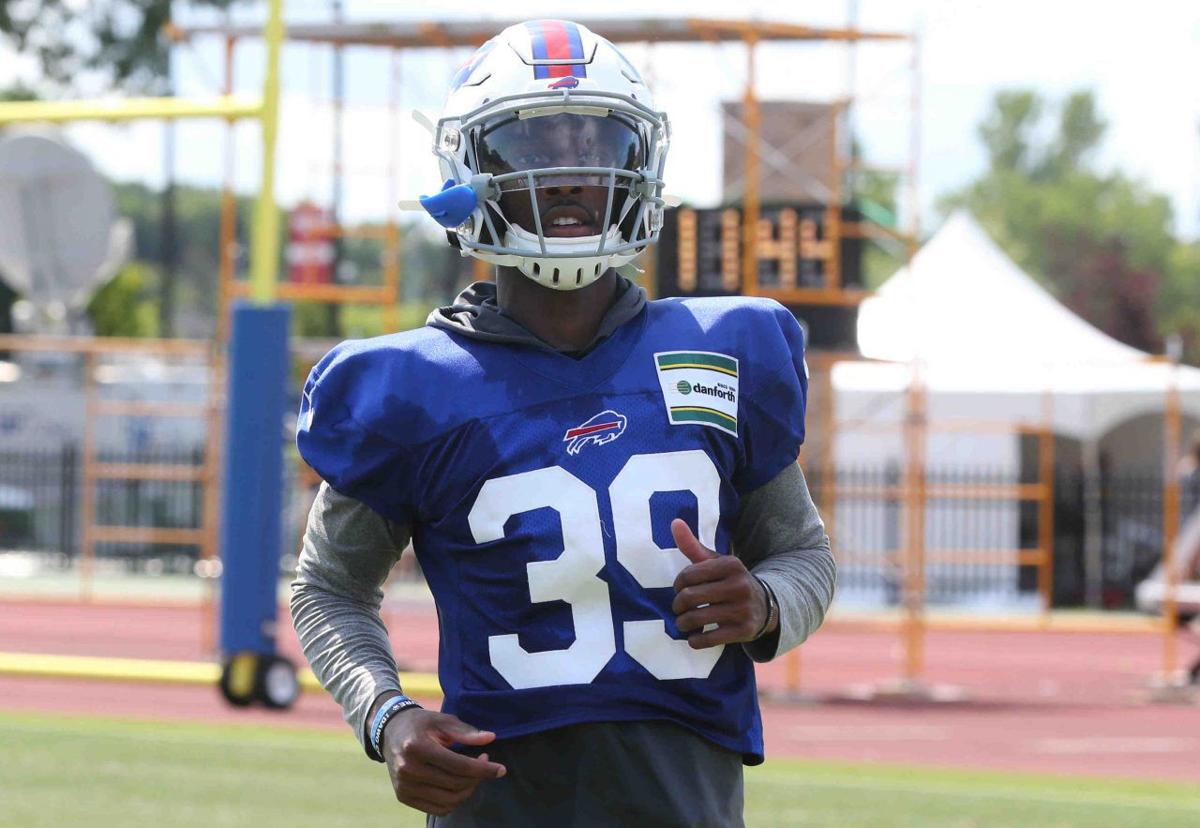 This is the seventh in a series previewing each position on the Buffalo Bills before the July 28 start of training camp.
There will be a lot of jockeying for position in the Buffalo Bills' defensive backfield during training camp, even though it is one of the team's strongest units.
Three spots are locked down, of course. Pro Bowler Tre'Davious White returns as the No. 1 cornerback for a fourth straight year. The stellar starting safety combination of Micah Hyde and Jordan Poyer also is back for a fourth straight year.
Exactly who fits where after that is up for grabs. Seven other players are likely to make the roster, and the Bills will bring seven other veterans to camp with NFL playing experience. So we have a good idea who will make the squad, but where do they fall in the pecking order?
The big question is who starts at cornerback opposite White. It's a three-way battle among incumbent starter Levi Wallace and free-agent signees Josh Norman and E.J. Gaines.
One thing the cornerback has going for him is versatility. He can play outside or in the slot.
Taron Johnson has held down the slot cornerback job in the nickel defense the past two seasons. But Gaines can play the slot, too. So can third-year man Siran Neal, a fifth-round pick in 2018. Neal was drafted as a safety but practiced mostly at corner last year. He played 47 snaps in the slot in the playoff game at Houston after Johnson got hurt. Neal also played almost the entire regular-season finale against the Jets at outside cornerback.
Kurt Coleman served as the No. 3 safety last season but he's out. The Bills elected not to bring him back at age 31.
Jaquan Johnson and Dean Marlowe are the favorites to earn the two backup safety spots. The 5-foot-10, 191-pound Johnson, a sixth-round pick from the University of Miami last year, may be ready to be the No. 3 safety. Marlowe, 6-1 and 208, has the chance to force his way into more snaps as the "Buffalo nickel," the hybrid safety-corner role the Bills use when they want a more physical fifth defensive back on the field. It was little used last season. Marlowe played just 5% of the snaps.
Looking for a way to crack into the top 10 are young corners Cam Lewis, who played well in training camp last summer, and seventh-round pick Dane Jackson from the University of Pittsburgh. The Bills kept 10 defensive backs each of the past two years.
Who's back: Tre'Davious White, Micah Hyde, Jordan Poyer, Levi Wallace, Taron Johnson, Siran Neal, Dean Marlowe, Jaquan Johnson, Cam Lewis.
Who's new: Josh Norman (Panthers), E.J. Gaines (free agent), Dane Jackson (draft, 7th round), Isaiah Brown (undrafted), Josh Thomas (undrafted), Garrett Taylor (undrafted).
Who's gone: Kevin Johnson (Browns), Kurt Coleman (free agent).
Key numbers: The Bills ranked fourth in the NFL in passing yards allowed last year. Buffalo allowed the fewest pass plays of 40 or more yards in the NFL last year and tied for first in fewest 20-plus pass plays. This is an assignment-sound group.
Biggest camp storyline: Who wins the starting cornerback job opposite White?
Breakout candidate: Jaquan Johnson had a solid preseason last summer. He was active for 13 games, playing 43% of the special teams snaps. He finally got his shot on defense in the regular-season finale against the Jets and played well. He showed range from the deep free safety spot. He was involved in run support. He made a nifty sideline interception off Sam Darnold (that was nullified by a Bills penalty). Johnson doesn't have great size. That's the downside. But he has a linebacker's mentality.
What to expect: At age 32, can Norman recapture some of the form that made him a Pro Bowler with Carolina in 2015? It will be interesting to see what kind of progress young players like Jaquan Johnson and Neal have made. Health figures to play a big factor in the battle, too. Defensive backs tend to get nicked up during the course of the season. Can Gaines stay healthy? If so, he's a threat to win a significant role.