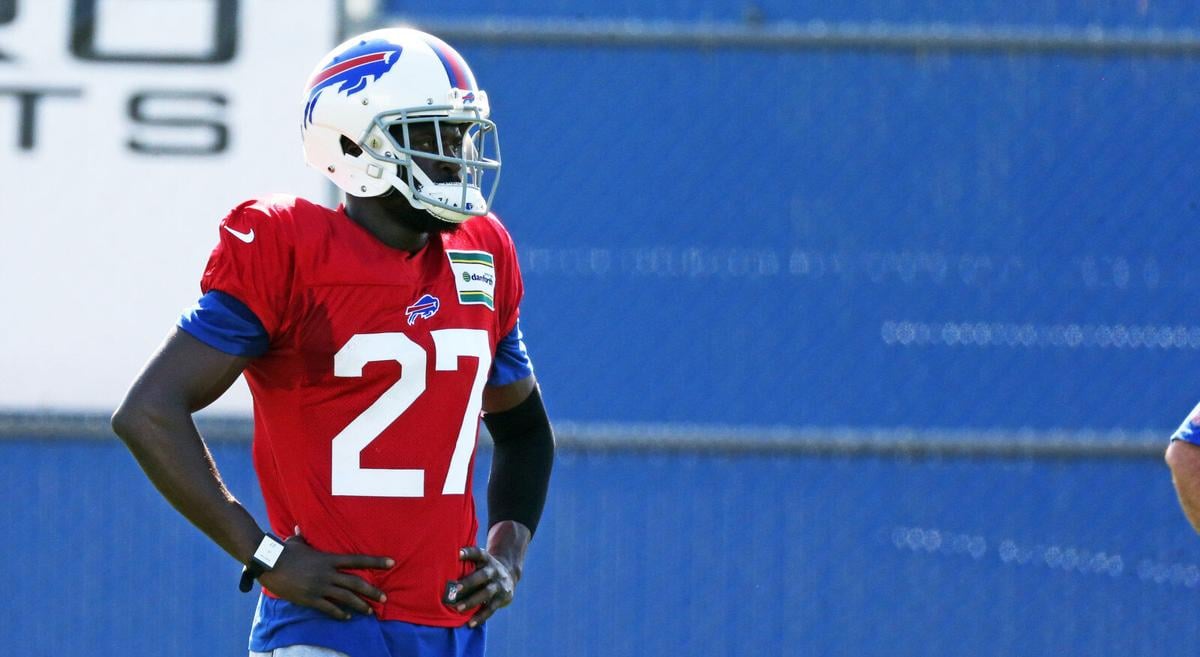 Ronnie Lott knows what it's like to line up against one of the greatest receivers in NFL history and feel like he's going to dominate and shut down his half of the field.
"No disrespect," the Hall of Fame defensive back said. "You take all the greatest wide receivers, and I practiced against Jerry Rice a lot, and when you're practicing against Jerry Rice and you think you have that (belief), that's a lot of confidence. ... You're not meant to stop every play. But when ... you're able to do it on a consistent basis, that's a confidence builder for a great defense. And that usually results in winning."
Jalen Ramsey will have that confidence when he lines up against Stefon Diggs when the Los Angeles Rams play the Buffalo Bills on Sunday in Orchard Park. Tre'Davious White will have that confidence when he lines up against Robert Woods. They'll believe they can stop anything. And their teams believe them, too.
Earlier this month, within days of each other, the All-Pro "shutdown" cornerbacks each signed the richest contracts by both average annual value and guaranteed money for a defensive back in the NFL.
White, 25, signed a four-year, $69 million contract on Sept. 5, with $55.25 million guaranteed and an average annual value of $17.25 million. At the time, he had two years remaining on his rookie deal.
Four days later, on the Wednesday before the start of the regular season, Ramsey, 25, signed a five-year, $100 million contract, with $71.2 million guaranteed and an average annual value of $20 million, becoming the first non-quarterback in league history to hit nine figures. Ramsey was entering the final year of his rookie deal.
But a closer examination of those agreements, the circumstances surrounding them, the caliber of the players, and the NFL cornerback market reveals a huge win for the Bills, who signed White to one of the more team-friendly contracts in the NFL, one some league observers believe White could come to regret.
"You can't argue with someone becoming the highest-paid player, although temporarily," said Joel Corry, a former NFL agent and contracts and salary cap expert for CBS Sports. "But the fact that he and his agent should have known (the) Ramsey (contract extension) was probably going to get done, what's the rush? That's my biggest thing. What's the rush?
"You cost yourself money by not being patient."
Corry said White could have commanded at least $19 million per year and suspects the timing of his agreement also might have cost Ramsey money in his negotiation with the Rams.
Brad Spielberger, an NFL contract and salary cap expert for Pro Football Focus and contributor at OverTheCap.com, also said White missed out on a bigger payday.
"When Tre White's deal came down, obviously before Jalen Ramsey's, we already thought that was a steal, without that added data point available to us," Spielberger said. "It's not a steal to the effect of me saying this guy should fire his agent, this guy just got robbed. It's still a phenomenal contract. Don't get me wrong."
White's four-year extension provided a massive raise this season and keeps him under team control for six years, through 2025. He was slated to make $1.8 million this season under the fourth year of his rookie contract and $10.2 million next season, under his fifth-year option. But White's base salary rocketed to $8.25 million this season – he also pocketed a $10.5 million signing bonus – as the Bills wisely spread the cap hit over all six years. The team has a potential out in 2023.
White grew emotional during a press conference to announce the deal.
"With this contract, it's not about me because I've been good off the first one," White said earlier this month. "I have a lot of people and a lot of family members that I could change their lives, and that's what I plan to do."
White's agents, Robert Brown and Kevin Conner at Universal Sports Entertainment, did not respond to a request for comment.
"Tre, you want to talk about earning it, he's done it since the day he walked in here," Bills General Manager Brandon Beane said when White signed. "I'm just so happy for him and his family. Negotiations are never easy. It took us a little time, but as I said way back when, this will happen at the right time. I'm happy we got it done before the season. He can take that off his shoulders and just play free and know that he's got financial security for his family."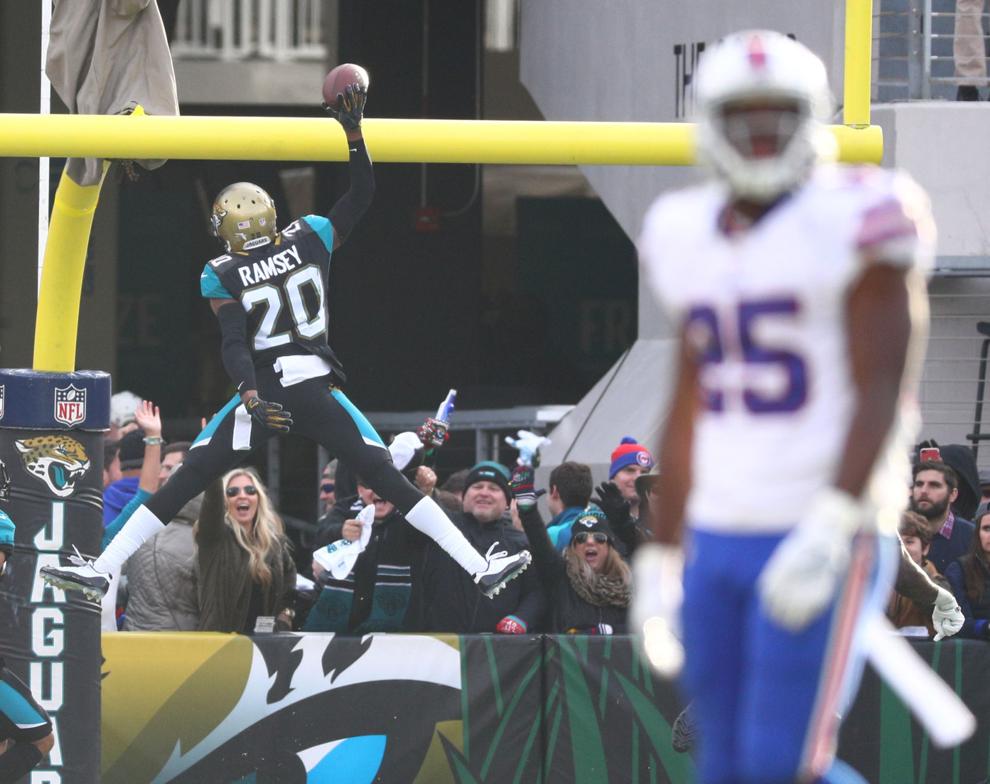 Beane was shrewd to complete White's deal before Ramsey reset the market, considering Rams GM Les Snead would soon be forced to break the bank.
Last season, Los Angeles traded two first-round draft picks, in 2020 and 2021, as well as a 2021 fourth-round pick to acquire the mercurial cornerback from the Jaguars. The Rams were heavily invested in an elite player with one year remaining on his deal and couldn't let Ramsey hit free agency next offseason.
"The Rams had no choice and they had no leverage," said Floyd Reese, the former Oilers/Titans GM and Patriots executive whose radio show airs in Ramsey's hometown near Nashville. "They just gave up two firsts for this kid. They've got to sign him. He's got to be the wealthiest DB in the league. They knew that, I think, when they traded for him."
The cornerback market had been relatively stagnant for some time, growing incrementally since Darrelle Revis signed a six-year, $96 million contract with no guarantees and an annual average value of $16 million or $18.2 million, depending on how analysts account for the new money, after being traded from the Jets to the Buccaneers in 2013.
Revis was released after one season, for which he earned $16 million.
The Dolphins made Xavien Howard the highest-paid cornerback in the NFL in 2019, signing him to a five-year, $75.25 million contract with $39 million guaranteed and an average annual value of $15 million.
In March, Miami did the same for free agent Byron Jones, signing the former Cowboys corner to a five-year, $82.5 million contract with $54.375 million guaranteed and an average annual value of $16.5 million.
A few days later, the Eagles made Darius Slay the highest-paid corner in the league. Slay, who was traded by the Lions, received a three-year, $50 million contract with $30 million guaranteed and an average annual value of $16.68 million.
Then came White's deal, just days before the blockbuster for Ramsey, whose $20 million per year contract likewise runs through 2025. The Rams have a potential out in 2024.
The total value can reach $105 million with escalators.
White said he and Ramsey are good friends who talk several times per week.
"I told him, 'Congratulations. You deserve every dollar that you got, because since you've been in this league, you've been one of the top guys at the position. You've been doing it at a high level and you haven't missed time. You've been very consistent. You've been doing it year in and year out, and I've seen the work that you've put in, so I'm very proud of you,' " White said.
NFL Network analyst Bucky Brooks, a former Bills cornerback and scout for the Seahawks and Panthers, said Ramsey and White are "two completely different style players."
"Jalen Ramsey is basically a world-class athlete with a football mentality, an alpha dog mentality," Brooks said. "This is a guy who was a legitimate high-end long jumper, won the ACC's long jump title, so that speaks to his athleticism. He plays the game in a way where he can physically overwhelm his opponents with his speed, athleticism, his length. He has a tenacious playing style and he really challenges wide receivers from a physical and mental standpoint."
Ramsey is listed at 6 feet, 1 inch and 209 pounds, with a 79.6-inch wingspan, 4.41-second 40 time and a mouth that never quits.
The relentless trash talker was drafted fifth overall out of Florida State by Jacksonville in 2016, then traded to the Rams midway through last season after arriving at training camp in an armored bank truck and inciting a Week 2 sideline confrontation with coach Doug Marrone during a game against Houston. He's a three-time Pro Bowler and was named first-team All-Pro in 2017.
"I was fortunate to get to do probably six of his games over his first two seasons," said CBS analyst James Lofton, the Hall of Fame former Bills receiver, "and his teammates and the owner were all on board for re-signing him. It was funny, the little mantra that they had for him down there was, '20 for 20.' Basically, pay Jalen Ramsey $20 million. And his teammates were behind it. So he was well-liked on his team. What he did, though, is he took a stand and a calculated risk, and players are really savvy nowadays in negotiating and maneuvering for their contracts.
"You've got to take what a player does to get a contract kind of out of the equation, if that player can play, and Jalen Ramsey can certainly play."
White, who is 2 inches shorter, nearly 20 pounds lighter and perhaps a hair slower than Ramsey – he's listed at 5 feet, 11 inches and 192 pounds, with a 76.1-inch wingspan and 4.47 40 time – was selected 27th overall out of LSU by the Bills in 2017.
White was the fifth cornerback drafted in his class, behind Marshon Lattimore (11th, Saints), Marlon Humphrey (16th, Ravens), Adoree' Jackson (18th, Titans) and Gareon Conley (24th, Raiders), all of whom might receive new contracts next offseason.
He then promptly taped a photograph of a gold Hall of Fame jacket above his locker at One Bills Drive.
"Watching White play over his career, the confidence of where he's at now, you can see it just keeps getting better and better," Lott said, "because he wants to belong in that elite group of guys. And the only way you can break into that elite group of guys is shutting down the best and showing people that you can shut down the best."
White enjoyed a breakout season in 2019, when he was named first-team All-Pro.
White's six interceptions in 15 games tied for the NFL lead and he did not surrender a touchdown in coverage while contributing 58 tackles, 17 pass breakups, one sack and two forced fumbles. He allowed a passer rating of just 43.3 when targeted.
"Tre White is what I call a blue-collar worker on the perimeter," Brooks said. "He is a worker bee. And coming from LSU, he's been taught how to play the right way. He does everything from a technical standpoint to put himself in the best position to win. So he understands the nuances of the position – where the receiver lines up in relation to where the ball is, route combinations, situational awareness – and those things give him the edge. He's competitive and resilient and a refined technician more so than a high-end athlete on the perimeter. And because of that, I think he fits in really well in Buffalo's defense and also in the culture."
In nine games with the Rams last season, Ramsey had 33 tackles, four pass breakups, an interception and a forced fumble.
He allowed no touchdowns and a passer rating of 87.5 when targeted.
"I'll put it this way – who was first-team All Pro last year?" Corry said. "So you could make that case. Should one really be at $20 million and the other be at $17.25 million? No. How happy is (White) going to be when Marshon Lattimore and Marlon Humphrey are (making) $19 million or above?"
The term "shutdown corner" is a bit of a misnomer.
Shutting down half the field is an exceedingly difficult trick in today's NFL, where the rules favor the offense and teams regularly line up with three wide receivers and employ more pre-snap shifting and motion. But White and Ramsey are held in similar esteem around the league.
"Obviously, those two are on the same plane," Reese said. "I think it depends on what it is you're looking for sizewise, speedwise, all of those kinds of things, as to which one you would probably take, but the cornerback position in the NFL is one of the two or three most valuable spots on the entire team, and when you can get somebody of that caliber, it gives the defensive coordinator so many more options, things he can do with the defense, because he allows you to do things that you just can't do with regular corners."
Not only can a shutdown corner severely limit the opponent's best receiver, but his elite coverage ability can free a safety to focus his attention elsewhere, whether helping another corner over the top or blitzing or stopping the run.
"Shutdown corners, to me, they're beyond valuable," Lott said, "because they give you an extra half-body sometimes that can be additive to the defense."
Sometimes, a team might elect to put its top corner on the opponent's second-best receiver and double-team the No. 1 wideout, forcing the quarterback to look to the third option.
"By having that one chess piece," Brooks said, "it gives the coaching staff the flexibility each and every week to figure out, 'What is the best way for us to make this team play left-handed?' "
A shutdown corner can also bait quarterbacks into mistakes.
Deion Sanders, with his elite closing speed, was a master at this, and if a corner is savvy and opportunistic enough, a quarterback might not bother to throw his way, even if a receiver appears open.
"It's so often easier to just turn and go to the other side," Reese said.
Bills quarterback Josh Allen said Ramsey lays traps.
"I think he does a good job of reading the quarterback in his drop," Allen said. "His eyes are really in the backfield and he's able to tell if a quarterback is speeding up his drop to try and get quick, ready to jump a route. He's a very aggressive corner. He can play you man, he can play in zone. He's very good at route recognition and it's going to be tough to win some matchups versus him."
In last week's Rams victory against the Eagles, the receiver whom Ramsey covered was targeted just twice. Both passes fell incomplete.
"We're certainly aware that people may take that approach," Rams defensive coordinator Brandon Staley said, "but we moved him around some in that game ... and they can't avoid him forever."
Ramsey was asked Friday whether he's hungry for a quarterback to test him on the field. He responded by alluding to his record contract.
"For sure, I'm always up for the challenge and always kind of want that," Ramsey said, "but, you know, I got 105 reasons why they might not do that."
The Bills picked up the fifth-year extension on White's rookie contract in April, tying him to the franchise through the 2021 season.
At that point, it appeared there were two probable outcomes: The sides would either negotiate a long-term extension next offseason, or White would play out the final season of his contract with the chance to win a monstrous contract in free agency. Bottom line, he was getting paid.
Then the pandemic hit, and along with it, the opportunity for players to opt out.
White, a father of two with a newborn at home, seriously considered it, going public with his angst, lashing out at his critics on social media and taking his decision down to the 4 p.m. deadline on Aug. 6.
Had he opted out, his contract would have tolled, meaning his big payday likely would be at least two years away, if not three, assuming he returned to All-Pro form after sitting out a season.
White decided he was playing.
It is unclear whether or to what extent contract discussions played a role, but a month later, the Bills announced his extension.
The timing, for the team, eight days before the start of the regular season, was masterful.
White had the richest contract for a cornerback in NFL history. For four days.
"If your deadline (to complete a deal) is the first regular season game, then why not take it down to that Saturday?" Corry said. "I think he jumped the gun, particularly if you know or you think Ramsey is close. Or if you call Ramsey's agent (Athletes First partner David Mulugheta) and he's like, 'Hey, I'm going to change the market tremendously, wait.' Because Ramsey's agent isn't going to want you to do something that's going to hurt him, so he's probably going to be open with you and tell you something.
"Now what you're going to have is Marshon Lattimore and Marlon Humphrey blow past this deal (next offseason). They're going to be closer to Ramsey than they will be White."
The structure of White's deal, spread over six seasons, including the two he was already under contract, was beneficial for both the player and team.
It put more money in White's hands up front and lowered his cap hit in the future, which the Bills will find useful when it's time to re-sign Allen to a long-term extension. The cap is expected to decrease or remain level next season, due to the NFL's financial losses stemming from the pandemic.
"They're basically front-loading," Spielberger said, "and essentially paying the guy now so you have even more of a discount later, and that's a smart move for the Bills."
The Rams, up against the salary cap after handing out monstrous extensions in recent years to defensive tackle Aaron Donald, quarterback Jared Goff, wide receiver Brandin Cooks and running back Todd Gurley – those last two are no longer on the roster, but combine to eat more than $31 million in dead cap space this season – had to take an opposite approach with Ramsey's deal.
They gave Ramsey a $25 million signing bonus, but his base salary is only $1.2 million this season.
Ramsey will count $22.5 million against the cap next season, and hover around there for five years. White's future cap hit is about $14 million per year.
That's a bargain for the Bills, on top of the roughly $9 million they may have saved over the life of White's contract by his agreeing to a deal before Ramsey reset the market.
For that, he'll always have bragging rights, something White acknowledged as so emotional for him that he didn't have the words. 
"Absolutely," Reese said. "White gets the pleasure of saying, 'I'm the highest-paid DB in the league.' Maybe he can only say that for a week, but his story can always be, 'When I got my new contract, I was the highest-paid DB in the league.' "