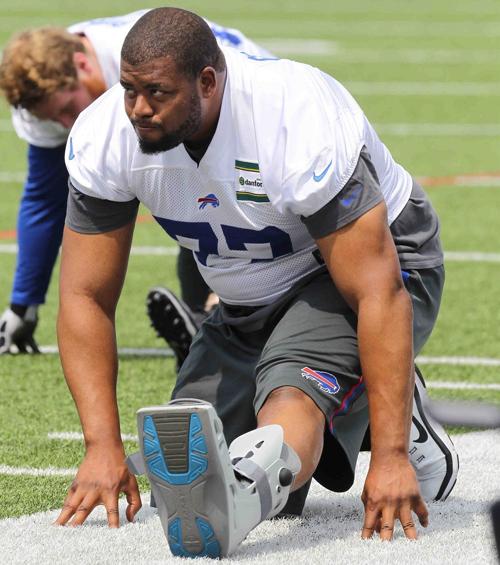 PITTSFORD -- Cordy Glenn's nagging health issues, which sidelined him throughout the offseason, continue to bother the left tackle during the Buffalo Bills' training camp.
Glenn was held out of Thursday's practice at St. John Fisher College with what coach Sean McDermott described as "a little bit of foot soreness."
"He's done a good job to this point, he's been moving well," the coach said. "So we're just going to continue to evaluate. I am concerned about it. It is concerning, because it's gone on so long, so we'll see where it goes."
Glenn, who wore a walking boot during offseason workouts while dealing with an ankle problem that dated back to last preseason, has practiced on a limited basis since the Bills began practicing here on July 27. McDermott said his foot soreness was related to what kept Glenn out in the spring.
"He's practiced, he's done a good job. It's, at this point what we believe it to be is just general foot soreness. So we'll see."
Seantrel Henderson took Glenn's place as the primary left tackle.
Also missing from the workout were safety Micah Hyde, who suffered a hip injury while intercepting a pass Wednesday; wide receiver Philly Brown, who has an illness, and tight end Charles Clay, who was given his second "veteran's day off" from camp workouts.
McDermott said the Bills were being "proactive" on Clay's chronic knee problems and giving him multiple days off is part of a plan.
"It's just something he's been dealing with for quite some time and just proactive," the coach said. "Nothing new, just us being proactive, trying to stay ahead."
McDermott didn't sound overly concerned about Hyde's status.
"Generally speaking, I'm always concerned with guys that are hurt, held out of practice," McDermott said. "At this point, we're going continue to evaluate, but generally speaking, no (he isn't concerned with Hyde's injury). We just want to give him some time here. He hit the ground pretty hard."
Be the first to know
Get local news delivered to your inbox!