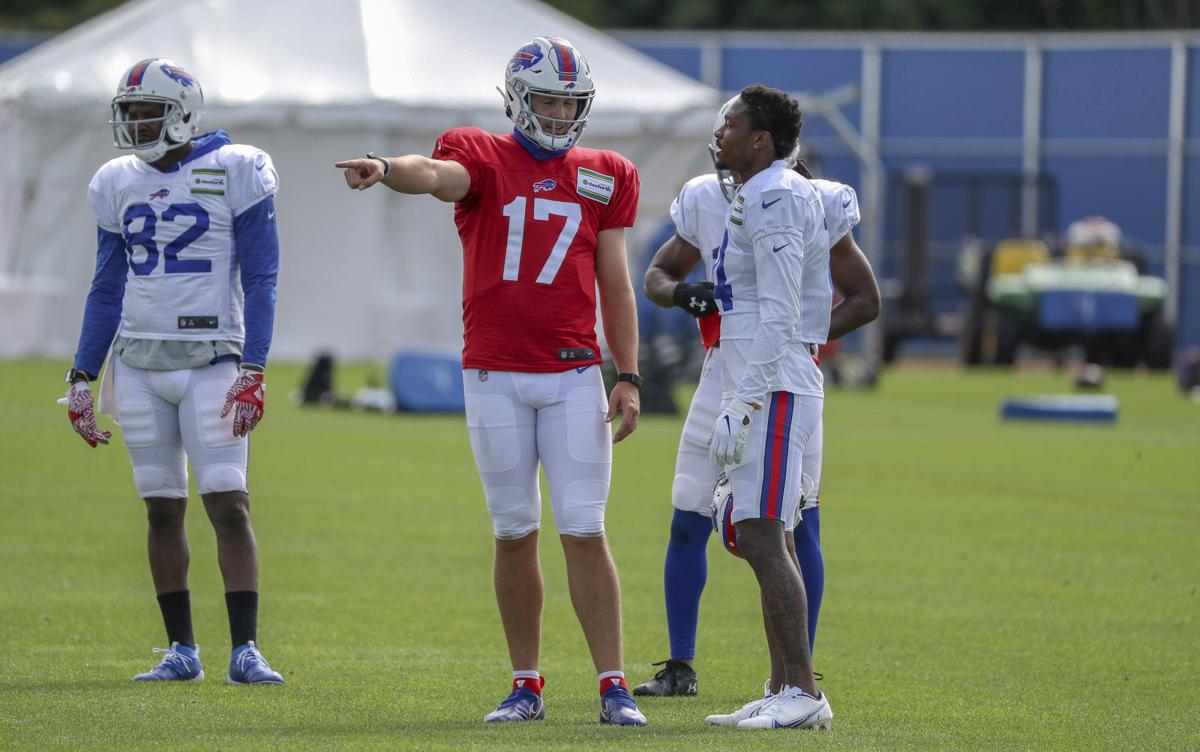 Zack Moss is expected to be a big part of the Buffalo Bills' rushing attack this season.
The rookie running back showed during practice Tuesday, though, that he might be able to contribute in another way. Moss made at least three catches during the second padded practice of training camp at the ADPRO Sports Training Center. The first of those, which came from quarterback Josh Allen during a 7-on-7 drill, was a perfect touch pass down the right sideline. Moss displayed good vision to pull in the over-the-shoulder catch.
Later in 11-on-11 work, the Utah product contributed in a traditional way. Moss bulldozed through a couple of would-be tacklers on his way to the end zone, capping what was a solid practice. It's worth noting the Bills still aren't tackling to the ground, but it looks like Moss will be a handful when they do.
The Allen report: Quarterback Josh Allen's first pass of 7-on-7 drills didn't go well, as it was behind intended receiver Stefon Diggs and intercepted by safety Micah Hyde for a would-be pick-six. Allen, however, improved after that, completing his next four passes in the drill to rookie Isaiah Hodgins, Duke Williams, Isaiah McKenzie and then the dime to Moss.
During 11-on-11 work, Allen went an unofficial 16 for 23, as charted by The Buffalo News. Diggs and John Brown made three catches each, as did running back Devin Singletary. Allen targeted Diggs at least a few more times, but safety Jordan Poyer and cornerback Tre'Davious White made plays to break up the passes. On one of Diggs' completions, White pleaded for a push-off call.
Allen's best pass during 11-on-11 work went to an unlikely target – fullback Reggie Gilliam. The rookie undrafted free agent got behind linebacker A.J. Klein and made a nice catch on a perfect throw down the right sideline, drawing a big reaction from the offensive sideline.
Standing tall: Sean McDermott famously referred to his wide receivers last season as a collection of smurfs. That's no longer the case. The Bills added height at the position this offseason, and that increased size was on display Tuesday. On consecutive plays, Hodgins leaped over cornerback Levi Wallace to make a catch of an Allen pass, and Duke Williams reached over rookie cornerback Ike Brown to wrestle the ball away and bring in a throw from backup quarterback Matt Barkley. It was a strong day for both Hodgins and Williams, both of whom are listed at 6-foot-3 but seem to play bigger than that.
Injury updates: Rookie wide receiver Gabriel Davis missed Tuesday's practice because of a leg contusion. Fellow wide receiver Robert Foster also missed practice due to being placed in the NFL's concussion protocol. … Fullback Patrick DiMarco missed practice with neck soreness. … Defensive tackle Ed Oliver (hip) and right guard Jon Feliciano (pectoral) did not participate for a second straight day, nor did tight end Tommy Sweeney (foot), who remains on the non-football injury list. … Wallace returned to practice after sitting out Monday because of a back injury, as did veteran offensive lineman Ty Nsekhe (undisclosed). … Hodgins and second-year linebacker Vosean Joseph continue to wear red, non-contact jerseys.
Kicker update: Veteran Stephen Hauschka went 6 of 7 on field goals during the special-teams portion of practice. Hauschka's makes were from an estimated (based on The News' vantage point) 38, 40, 43, 48, 51 and 53 yards. His lone miss came from 53 yards. It had enough distance, but went wide right. On Monday, rookie Tyler Bass went 6 of 9 on his field-goal attempts.
Up next: Practice continues Wednesday morning at One Bills Drive. All sessions are closed to the public.