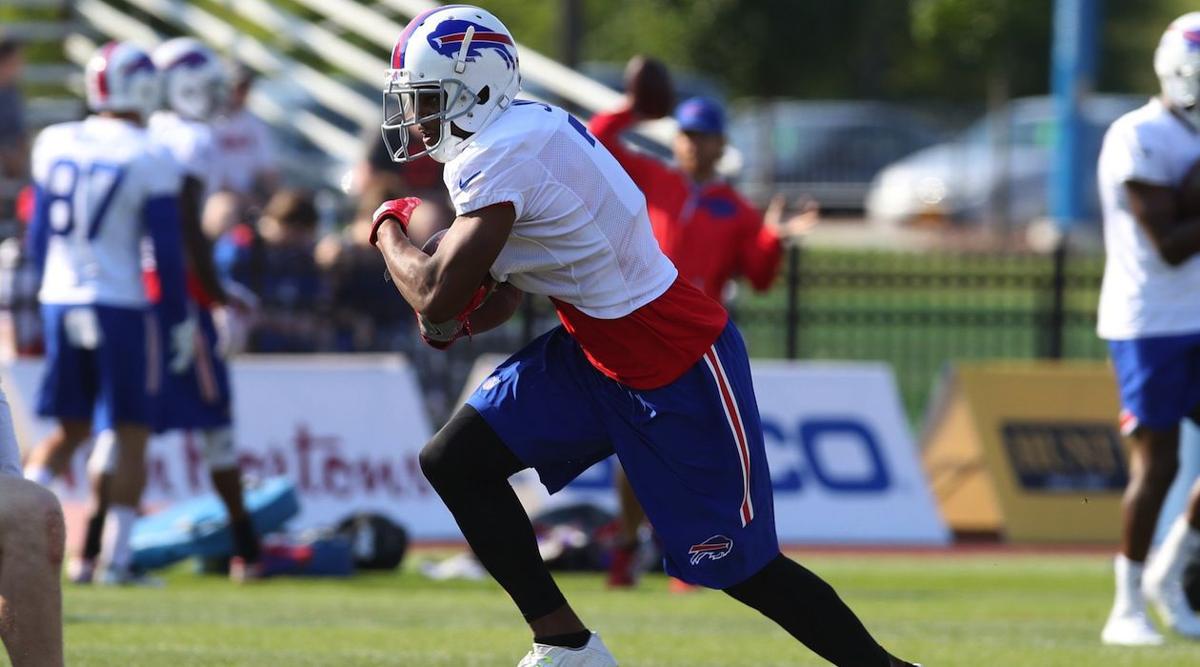 A familiar face is returning to the Buffalo Bills' backfield.
The team has agreed to a one-year contract with running back Taiwan Jones, according to a report from NFL Network's Mike Garafolo.
Jones, who turns 32 in July, played 14 games for the Bills from 2017-18. He spent last season with the Houston Texans, appearing in 11 games. His primary role throughout his career has been on special teams.
That's expected to be the case in Buffalo. Jones was a captain on special teams for the Bills in 2018. According to a report in the Houston Chronicle, the Texans were in negotiations with Jones about a possible return, but he is instead reuniting with the Bills. Jones' last season with the Bills in 2018 ended on injured reserve after he suffered a neck injury.
His addition likely means the Bills will not bring back veteran Senorise Perry, who is an unrestricted free agent.
While Jones hasn't gotten many chances on offense throughout his career, he memorably made the most of one against the Bills earlier this year. His 34-yard reception after a miraculous play by Texans quarterback Deshaun Watson put Houston in position for the game-winning field goal against Buffalo in an AFC wild-card playoff game.
"That was a moment I'll always remember," Jones told the Chronicle after the game. "It was a great call and a great play by Deshaun Watson. I just happened to be in the right position. He made the adjustment to get me in that route. I don't know how he got free, but he did and it shows the kind of athlete he is. He threw it to me right on point and the rest is history."
Here's how that play looked:
The Denver Broncos are reportedly looking at one of the Bills' unrestricted free agents.
According to a report from KUSA-TV's Mike Klis, the Broncos have an interest in cornerback Kevin Johnson. A former first-round draft pick of the Houston Texans, Johnson played in all 16 games last season for the Bills, his first year in Buffalo. He finished with 36 tackles, one sack and five passes defensed.
Players are prohibited from entering team facilities throughout the NFL until at least March 31 because of the coronavirus pandemic. As a result, newly acquired free agents are prevented from taking physicals that are required before contracts can be finalized.
In a message posted on their official website, the Bills explained that's why their free-agent acquisitions have yet to be officially announced by the team.
"As the world and the United States deals with this health crisis, circumstances will continue to change on a daily basis," the message reads. "We will do our best here at Buffalobills.com to keep you informed at a very exciting time in our team's development, but at this point all of the media reports about the transactions that have taken place with our club will not be finalized for the foreseeable future."
One move the team was able to make official Wednesday was a one-year contract with cornerback Josh Norman. The Bills were able to complete a physical with Norman before team facilities were shut down. He appeared in 12 games last season for Washington, making eight starts and finishing with 40 tackles, six passes defensed, an interception, a forced fumble and a sack in 2019.
Norman's deal is for $6 million.
Cornerback Chris Harris, who was reported to be a player the Bills had an interest in, agreed Wednesday to sign with the Los Angeles Chargers. Harris, 30, is a four-time Pro Bowler who has spent the first nine years of his career with the Denver Broncos.