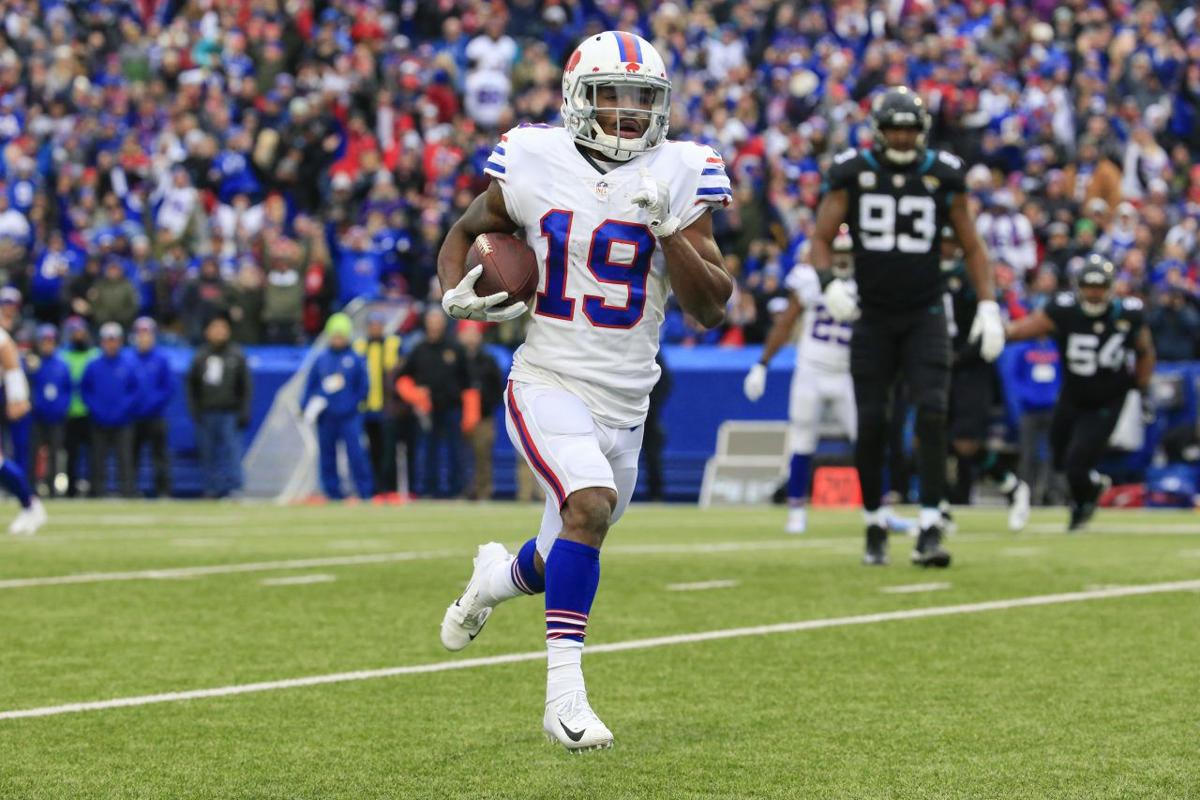 The Buffalo Bills kept one of their own Tuesday, re-signing wide receiver Isaiah McKenzie.
McKenzie's agency, SportsTrust Advisors, first announced the news on Twitter. The Bills announced it is a one-year contract, although the total value has not yet been made public.
McKenzie, who turns 25 next month, appeared in 15 games, making eight starts, in 2019. He finished with 27 catches for 254 yards and one touchdown, and rushed eight times for 49 yards. Most of those carries came on jet sweeps. He often served as a decoy, going in motion to fake jet sweeps as a way to keep the defense going. In terms of playing time, McKenzie was the Bills' No. 3 receiver in 2019. He played 451 offensive snaps, 42% of the team's total.
McKenzie rejoins a wide receiver room that has added Stefon Diggs in a trade with the Minnesota Vikings. Diggs, John Brown and Cole Beasley figure to be the Bills' top three receivers in 2020, but there will be plenty of competition for jobs behind them. McKenzie is part of a group that includes Robert Foster, Duke Williams and Andre Roberts, all of whom ended last season on the 53-man roster, as well as Ray-Ray McCloud and Nick Easley.
It's also possible the Bills add a wide receiver in next month's draft, given that it is thought to be an especially good year at the position.
McKenzie was a restricted free agent, but the Bills declined to make him a contract offer, which made him an unrestricted free agent. As a former fifth-round draft pick of the Denver Broncos in 2017, the Bills could have placed an original-round tender on him, which would have meant they got back a fifth-round draft pick in return if he signed elsewhere. Although the NFL has not officially released information on the cost for restricted free-agent tenders, contracts website overthecap.com estimates that it will cost $2.144 million this year for an original-round tender.
It's a good bet, then, that the contract McKenzie agreed to is worth less than that amount. McKenzie came to the Bills in 2018 after being claimed off waivers from the Broncos.
A 5-foot-8, 173-pounder, he played in seven games for the Bills in 2018, catching 18 passes for 179 yards. He also rushed 10 times for 66 yards and two touchdowns, becoming the first Bills receiver to have two rushing touchdowns in a season since Elbert "Golden Wheels" Dubenion in 1961.
McKenzie's first career touchdown reception came in Week 2 of the 2019 season against the New York Giants on a 14-yard shovel pass from quarterback Josh Allen. In Week 17, McKenzie played on all three phases against the New York Jets, playing snaps at wide receiver, cornerback and returner.