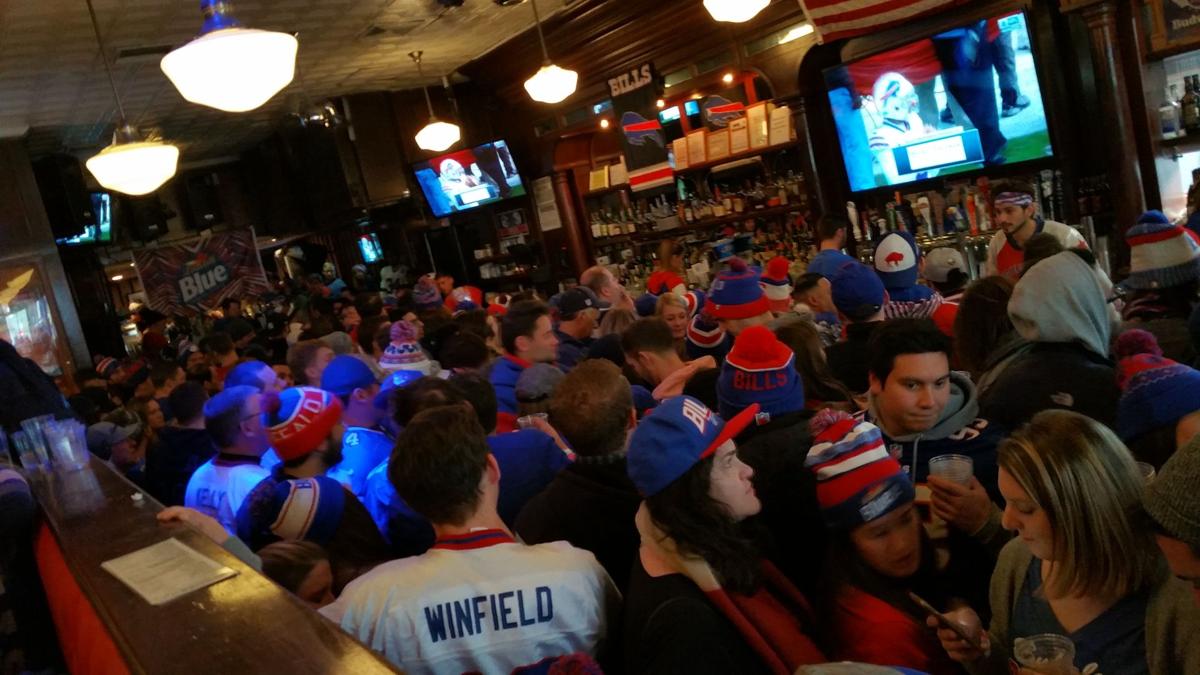 Bills fans near and far will gather tonight to watch one of the most anticipated drafts in decades for their favorite team.
One of the biggest draft parties will take place in one of the world's biggest cities.
The New York City Buffalo Bills Backers are expecting around 200 revelers to attend their annual draft party at McFadden's Saloon, the Midtown East Irish pub the chapter has called home for more than 15 years.
On game days, the crowd swells to nearly 500 people and fills the adjacent Calico Jack's Cantina. Another couple hundred fans poured into a third location, Johnny Utah's near Rockefeller Center, for the drought-ending playoff game in January.
Like the tailgaters in Orchard Park, the NYC backers arrive early in the morning to line up for a good seat. By the time McFadden's opens, the line is usually wrapped around the block.
"I've watched Bills games at McFadden's since Day One and I still get excited to go there on Sunday mornings," Niagara Falls native Phil Mann wrote in a text message. "Actually, I get more excited now, because I've made so many Western New York friends at McFadden's. We're all different ages, but the Bills and our shared Western New York heritage are the great equalizers. For a few hours every football Sunday, I'm transported back home, and to everything that's uniquely good about Western New York."
NYCBBB co-founder Matt Kabel boasts that "before Buffalo had its rebirth and everybody started moving back, we made Buffalo cool again." In addition to the usual Bills gear, backers will often wear shirts or hats commemorating WNY cultural landmarks such as Bethlehem Steel or La Nova Pizzeria.
"It's a pride thing," Kabel said. "It's a place for everybody to reconvene and celebrate Buffalo."
With its large, raucous crowd of WNY expats and NYC visitors, McFadden's is the quintessential Bills bar, serving chicken wings and Labatt Blue while patrons sing along to the "Shout!" song after every score.
Draft day has always been a big event for the NYCBBB. After an earlier incarnation of the chapter disbanded in the late 1990s, Kabel, an Orchard Park native who used to attend the same church as Jim Kelly, and Matt Soreco, a lifelong Yonkers resident who became a Bills fan when he learned they were the only NFL team that actually played in New York State, reformed the group prior to the 2002 draft.
"That was a big draft. We had the No. 4 pick and traded for Drew Bledsoe," Kabel said. "That was probably the most anticipated draft until this year."
About two dozen people attended the first draft party at Bar Coastal, a small dive on the Upper East Side. The club migrated to McFadden's for the following football season and has held the draft party there every year since.
"For the first several years, when the draft was on Saturdays, it was awesome," Kabel said. "People would come in early in the morning and stay all day. And it was a chance for Bills fans to bring their friends who were fans of different teams and get the McFadden's experience."
Adding to the experience this year, former Bills players Ruben Brown and Donald Jones will record the launch episode of their "Buffalo Soldiers" podcast, with guest Ted Washington. While the show will go on the road to other Bills bars this season, McFadden's will remain a regular recording site, Jones said.
"It's going to be a lot of fun," Jones added. "We're going to showcase the fans everywhere we go."
Membership: More than 2,000 on email list; game day crowd close to 500
Philanthropy: Raised funds to assist the daughter of co-founder Matt Kabel in her battle with infant leukemia in 2013; regular fundraisers for Brian Moorman's PUNT Foundation.
Watching the draft at a Bills Backers bar? Tweet your photos and videos to @BNBlitzNow.