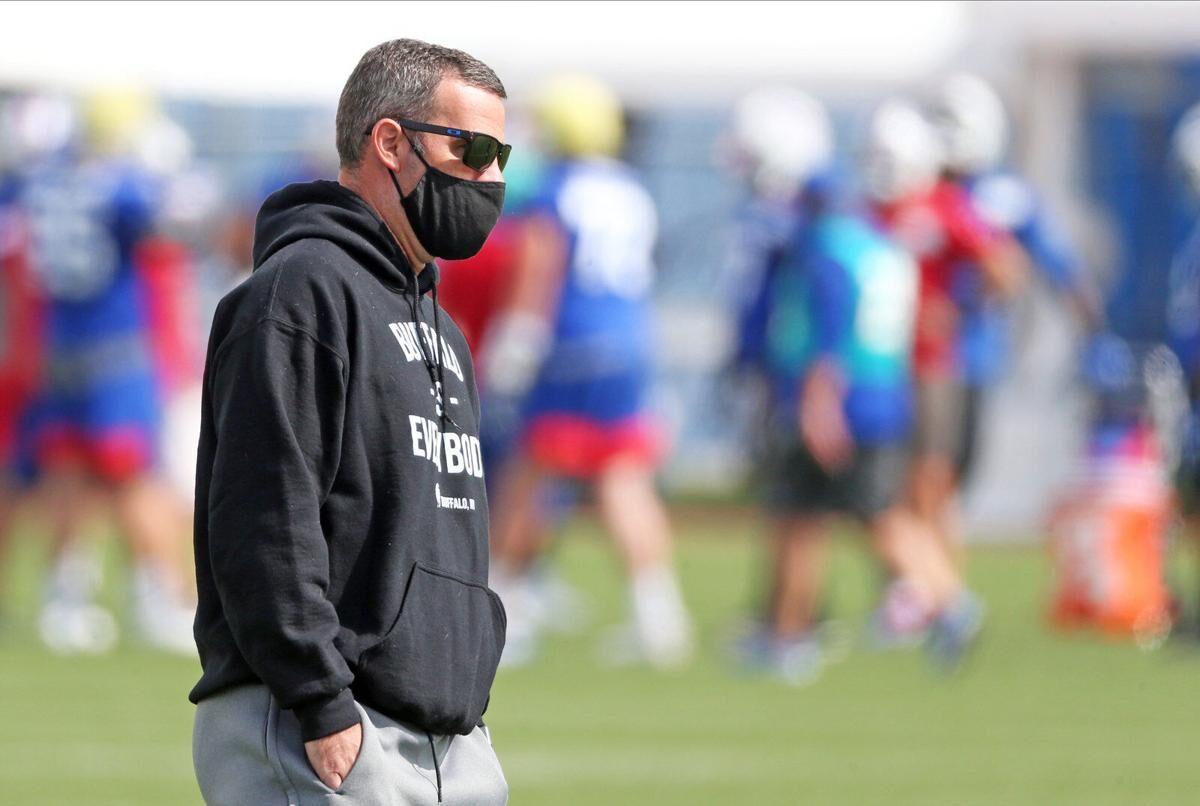 Even before Wednesday's official start of the NFL's free-agency signing period, teams have opened checkbooks wide for players at the top of the market.
That has been particularly true with defensive ends/outside linebackers who excel at rushing the passer, an area the Buffalo Bills had been expected to address.
Jay Skurski presents an updated look at the list of notable players who have reached contract agreements and a partial list of those who are still available at positions of need for the Bills.
Since the league's "legal tampering" window opened Monday, the pickings there have quickly become slim.
Two of the top available ends, former New Orleans Saint Trey Hendrickson and former Cincinnati Bengal Carl Lawson, have signed with the Bengals and New York Jets, respectively. Hendrickson's deal is for four years and worth $60 million, per Spotrac.com. Lawson's contract is three years and worth $45 million.
Yannick Ngakoue has moved from the Baltimore Ravens to the Las Vegas Raiders, who gave him a two-year deal worth $26 million.
Bud Dupree, widely considered one of the best outside linebackers in free agency, has gone from the Pittsburgh Steelers to the Tennessee Titans on a five-year, $82.5 million contract.
Matt Judon, another highly regarded OLB, jumped from the Ravens to the New England Patriots. The Pats, who have been among the more aggressive early spenders, gave Judon a four-year, $56 million deal.
Meanwhile, Shaq Barrett, whose edge-rushing prowess helped the Tampa Bay Buccaneers win Super Bowl LV, received a four-year, $68-million contract to remain with the team.
So far, the Bills' free-agent spending has largely been devoted to keeping their own players. They re-signed the top five of the 14 due to enter the open market -- linebacker Matt Milano, offensive tackle Daryl Williams, guard Jon Feliciano, cornerback Levi Wallace and running back Taiwan Jones -- and tendered restricted free-agent guard Ike Boettger.
They've also acquired veteran receiver Emmanuel Sanders, tight end Jacob Hollister, punter Matt Haack and quarterback Mitchell Trubisky.
Feliciano, 29, became the third key free agent to re-sign with the Bills – joining linebacker Matt Milano and right tackle Daryl Williams – before the start of free agency.
However, before they began focusing on their own, the Bills did make a run at the most recognizable free-agent defensive end: J.J. Watt, who entered the market last month after his release from the Houston Texans. Watt, who turns 32 next week, spoke with the Bills and several other potential suitors before agreeing to a two-year, $28 million deal with the Arizona Cardinals.
The Bills' pursuit of Watt could be an indication of their willingness to still address edge rusher in free agency. The team's lone D-line pending free agent, Trent Murphy, is not expected to return. The Bills' top pass-rusher, Jerry Hughes, needs a far better complement than A.J. Epenesa, a second-round pick last year, demonstrated he could provide through most of his rookie season. 
"We'll definitely always look to add," General Manager Brandon Beane told reporters Thursday. "What I would say is, there's a lot of guys out there. We're still looking; I know JJ Watt was mentioned earlier. They've still got to be the right fit."
Finding an answer in the draft could be a challenge, given that the Bills' first pick is 30th overall.
Veteran offensive tackle Ty Nsekhe has reached a deal to sign with the Dallas Cowboys.
If the Bills are still shopping for an edge rusher, some notable names remain available. They include ends Carlos Dunlap (Seattle Seahawks), Jadeveon Clowney (Tennessee Titans), Justin Houston (Indianapolis Colts), Ryan Kerrigan (Washington Football Team), and outside linebackers Melvin Ingram (Los Angeles Chargers), K.J. Wright (Seahawks) and Aldon Smith (Dallas Cowboys). All have played long enough to be seen as players who are in the open market because some, if not most, of their best football is behind them.
Listening to Beane, though, it also sounds as if the team wouldn't necessarily be opposed to standing pat with its defensive front.
It will be the Year 2 with the Bills for defensive line coach Eric Washington, and the second years for Mario Addison and Vernon Butler, each of whom recently took a pay cut. Tackle Star Lotulelei also will be back after opting out last year because of the pandemic.
"I think we're going to have more continuity," Beane said. "At the beginning of (last) year, I didn't feel like these guys were in sync with rush gains and all that. I felt after the first four or five games, they really got in their groove and started getting better. We anticipate these guys to pick up where they left off."